Refinishing a Peacemaker Part 1
The pursuit of imperfection
By Dennis Adler
While I have seen alloy guns with brilliant finishes and even something approximating color casehardened receivers, I have not seen this with CO2 air pistols or air rifles. Most finishes, except for nickel or Cerakote-like (such as the Sig Sauer M17 and Umarex Glock 19X FDE) are flat black, and that is rarely authentic to the handgun except for some black Cerakote and Parkerized military finishes. As for Umarex Colt Peacemakers, which now are offered in nickel or weathered finishes, weathered is nice, but not what an actual weathered Colt would look like.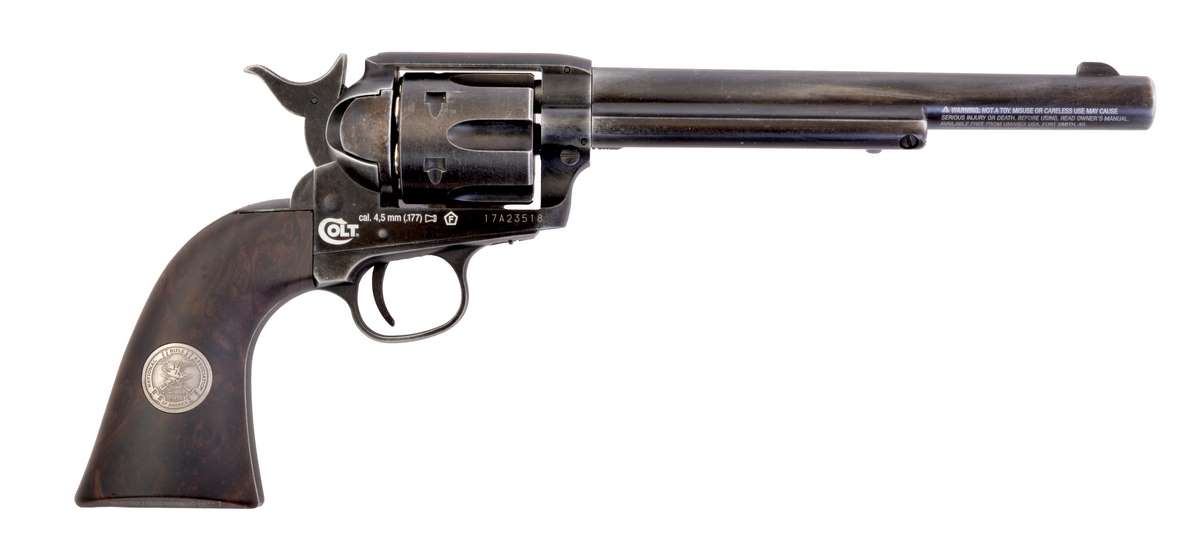 The closest example I can offer is the Colt Model 1911 (a Swiss Arms 1911A1 model) that I defarbed and refinished in 2018. This approximates what a well worn, but still blued, 1911A1 from the WWII era might look like. This is what I mean by the pursuit of imperfection. We want to transform a production gun with a modern finish into one that looks realistically like an actual gun that has aged over decades, if not a century or more. Certainly, there are well preserved original guns that look as though they have been kept in a time capsule, but the vast majority of vintage firearms look their age.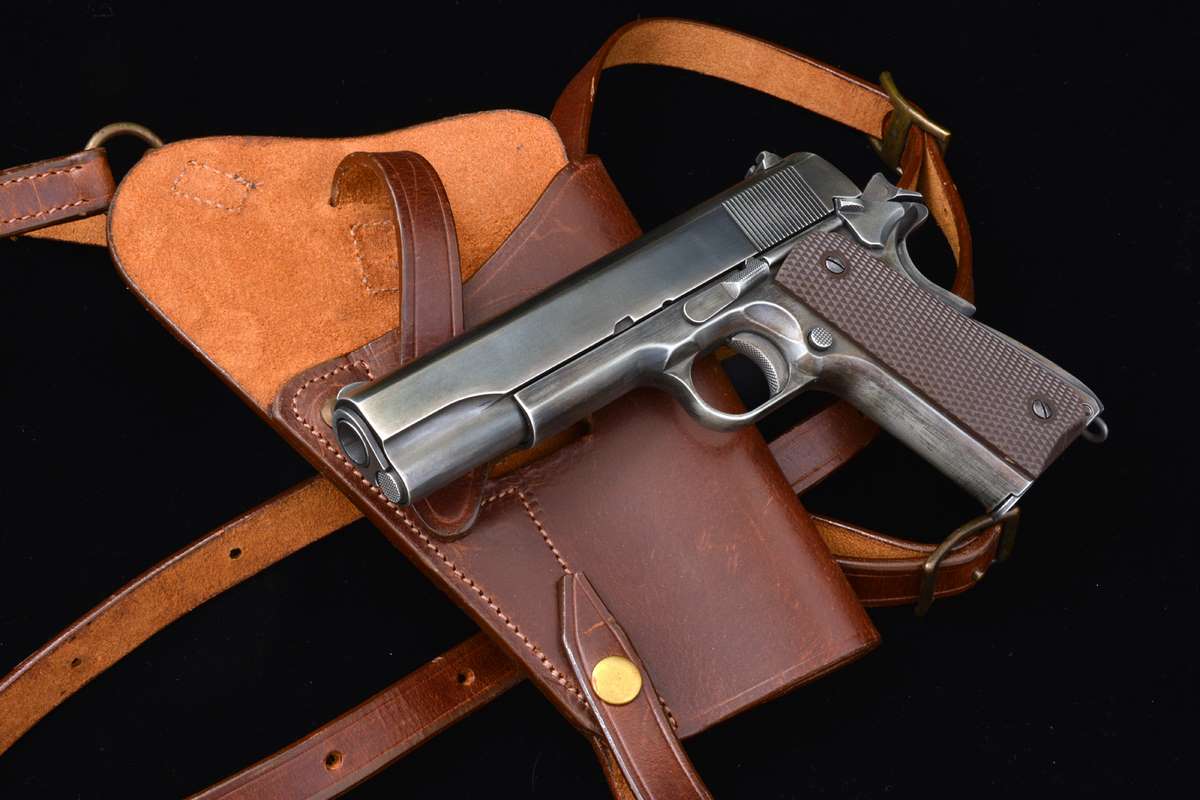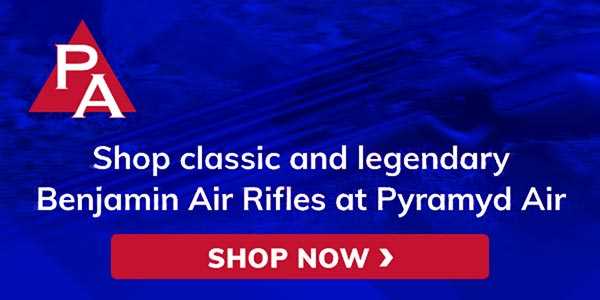 At this point in time
Right now, at this point in time, when we are being asked to help prevent the spread of Covid19 (Coronavirus) by social distancing and staying at home, it seems like a good time for an indoor project, especially for those of us who are airgun enthusiasts. My goal in this series of articles is to perform the same process used on the 1911 with a 7-1/2 inch, weathered finish Peacemaker. Why a weathered finish gun? This was a tough choice, since the only weathered Peacemakers are special models, and currently the only 7-1/2 inch pellet model available is a weathered finish gun (and if you are going to spend the time on this it should be time spent on a 7-1/2 inch rifled barrel model), so this is the choice of gun by default. This model is still readily available, so if you have it and are worried about ruining a possible collectible, don't. You can get another and they are on sale for $149.99.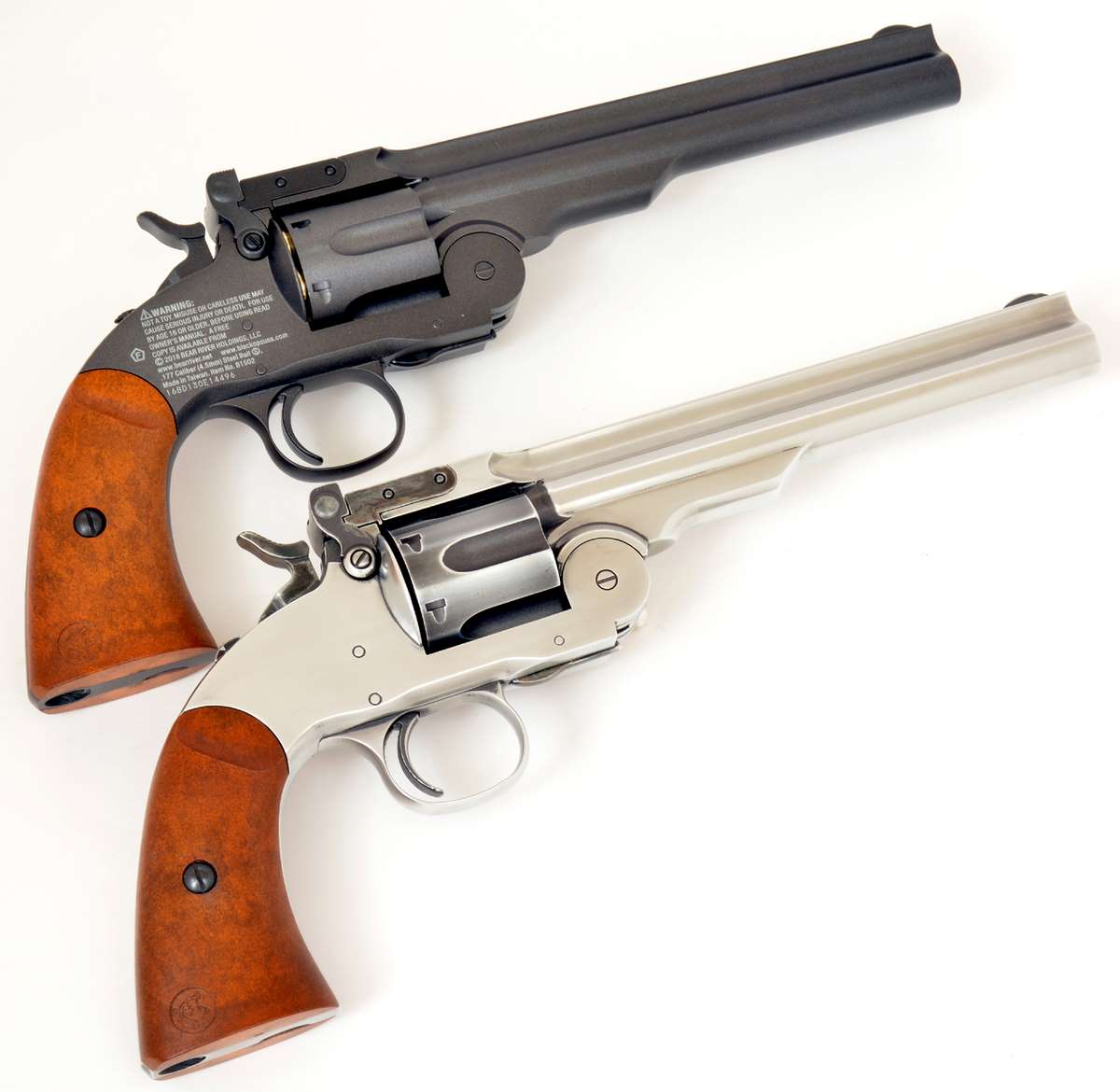 More to the job
There is a dual challenge in doing this gun, first, removing the weathered black finish, which will require careful attention to surfaces and sealing off opening where debris can get into the firing system. Secondly, in addition to applying various bluing mixes to create a worn, polished blued finish to the barrel, backstrap, and cylinder, I will also attempt to create an authentic looking faux color cased finish for the frame and hammer. I have only done small areas of faux color cased finish on one gun, the Schofield I did back in 2016, and that was just the top latch (photo above). The frame of the Peacemaker will be a much more demanding task. I have no certainty how this will work out, so just follow along and if I have a successful outcome, you will know how it can be done. I also know a number of readers have made various attempts at this and have achieved an interesting variety of results. My methods have been successful on a few air pistols now, and I am not deviating from what I know works. So, let's begin.
The gun and finish
The weathered black finish on this Peacemaker is the same basic finish you find on all weathered finish models sold by Umarex. It is not the same finish you find on the Webley branded and manufactured (for Webley) MK VI. That is a distinctive finish that looks much closer to that of military finish Webley models, as opposed to the high polish blue finish seen on early military and civilian models. The Webley has the look and feel of old time Parkerizing, which was a phosphate process used on steel to resist rusting and corrosion. While the process did exist in the 1870s (actually as early as the 1850s), it was not used on handguns, so you won't find any original Peacemakers with that look. (And even modern Parkerizing would not work on the vast majority of air pistols, since nearly all of their parts are cast aluminum alloy; the phosphate process only works on steel. On the Colt, the weathered finish is more grey than black with some exposed white metal underneath; pleasing to the eye, but still wrong. The good new is that very early on into this refinishing project I discovered that the weathered finish used by Umarex is not hard to polish off down to the bare metal. This means less time polishing out the gun.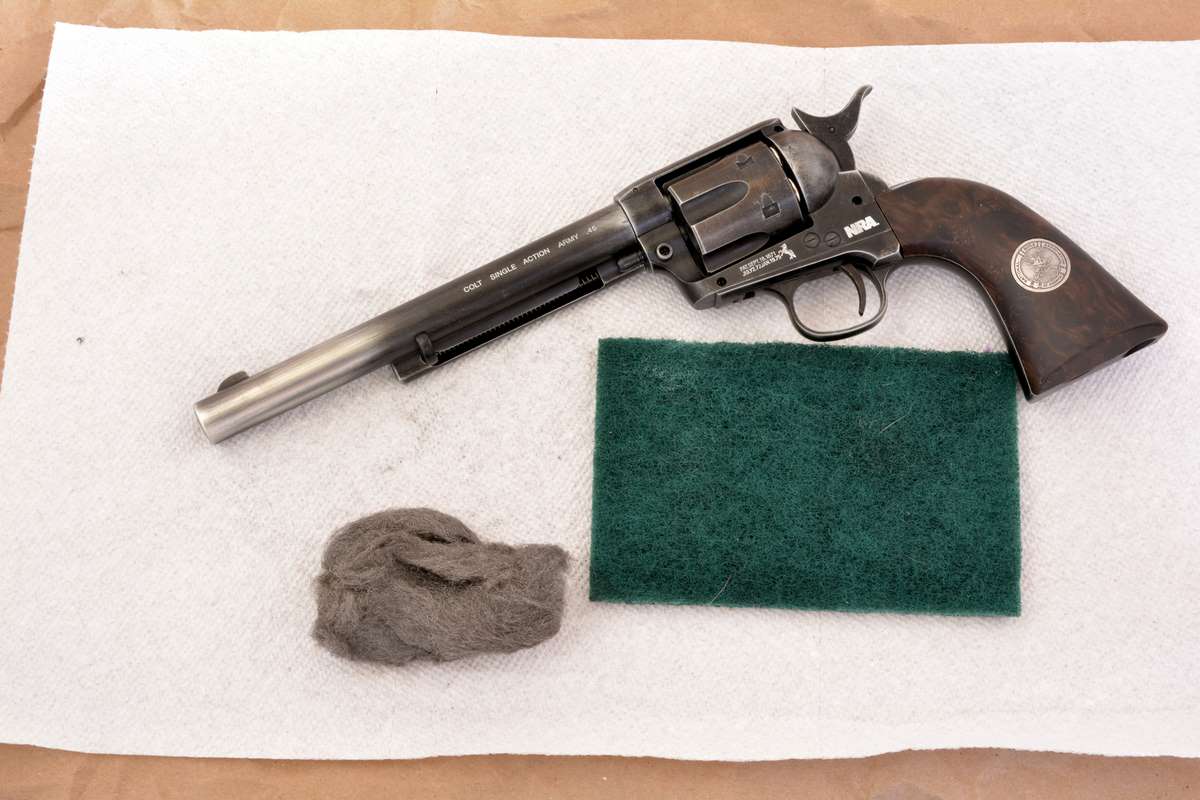 Things you will need
I can tell you from experience, having antiqued many reproduction black powder western handguns for articles in Guns of the Old West that this is not an easy job. It is labor intensive, and you need strong hands to do the work, and your fingers and hands will be a little sore when you're done. This is not to discourage anyone, but to encourage the effort and the time and patience necessary to do a good job. Is it harder to do than ordering a nickel plated gun and being happy with that? Absolutely, but what you will have when you are done, is a one-off, antiqued pistol you can call your own. It's hard to put a price on that. I still look at the Model 1911A1 I did a couple of years ago every few days as I walk into my office and think how much it looks like a real vintage WWII model.
Almost everything you need you probably have at home, especially if you are a gun collector. You will need a package of Grade #0000 steel wool. This usually has nine of the final finish super fine pads in the package. You'll need at least half of them to do one gun. You need a package of the green 3M scrubbing pads. This will help quickly break down the outer finish. Next, some quality gun oil like Hoppe's No. 9 lubricating oil, a Gesswein jewelry polishing cloth for the final polish of the gun's finish as you rub it our to white, and a can of compressed air like Dust Off to blow off debris as you work. Last, a supply of nitrile rubber gloves. You should double glove when working with the steel wool. This is dirty job, so have a dedicated workspace that is easy to clean up. I used a table covered with brown wrapping paper and did my work over a few sheets of paper towels, which do a good job of catching and holding finish debris as it falls from the gun.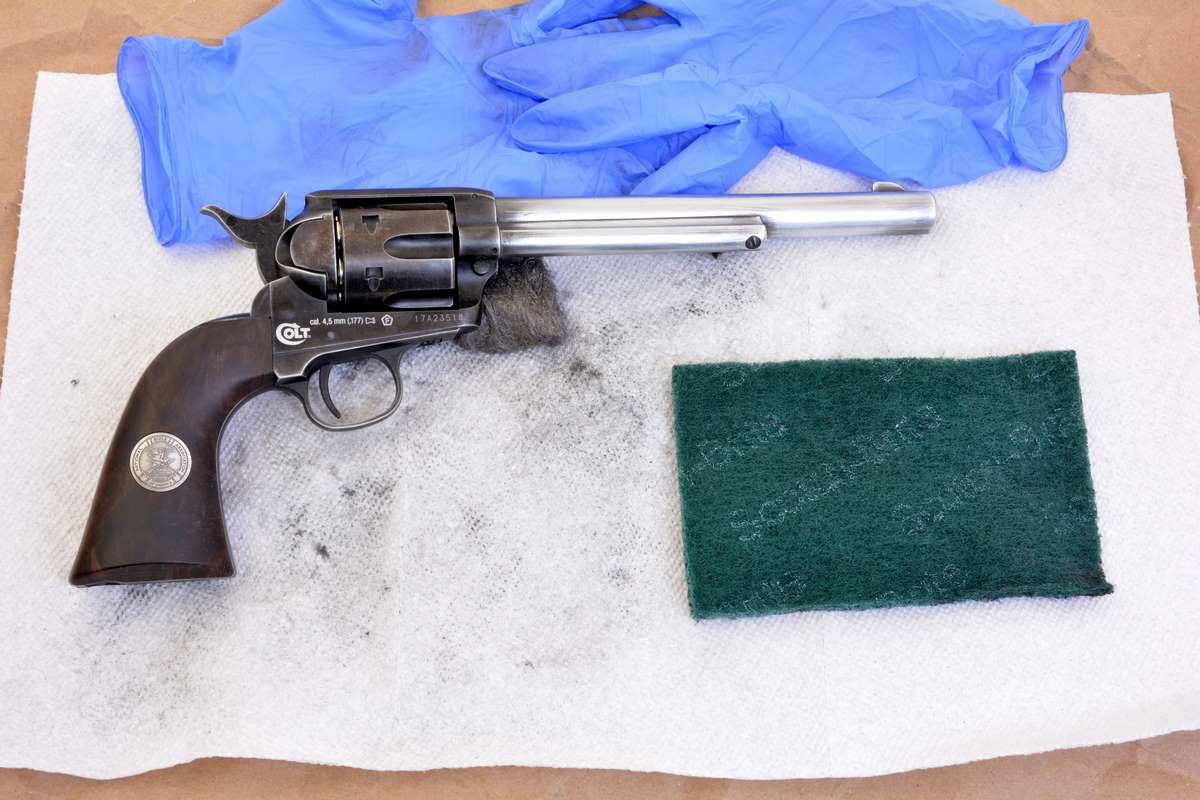 The first steps
This is a "non-disassembly" project; we're not taking the gun apart because the Umarex Colts do not disassemble like a real SAA, where the cylinder is easily removed. You would need to do some major disassembly of the left sideplate on the Umarex to be able to remove the cylinder and there are small parts that can fall out in the process. So, like the Schofield I did in 2016, this is all done on the assembled gun.
I will do the barrel and triggerguard today. I did a finish removing test on the left side of the barrel using the 3M pad and steel wool before I started. The green scrubber quickly breaks down the outer surface revealing the metal beneath. Always use straight back and forth movements, never polish in a circle, only back and forth. After using the 3M pad to expose the metal, I switch to the 0000 steel wool to polish off any remaining finish to bare metal, as shown in photo 2 (above).  From this point you can begin taking off the finish on the entire barrel, and remember, the ejector is part of the barrel, not a separate or removable piece like it is on centerfire Colt SAA.  
Care should be taken when working around the open areas of the ejector rod and spring to avoid grit getting into the opening. After you have the initial finish polished off, use the compressed air to blow out the ejector channel, and don't forget to do the curved, indented-style rod head.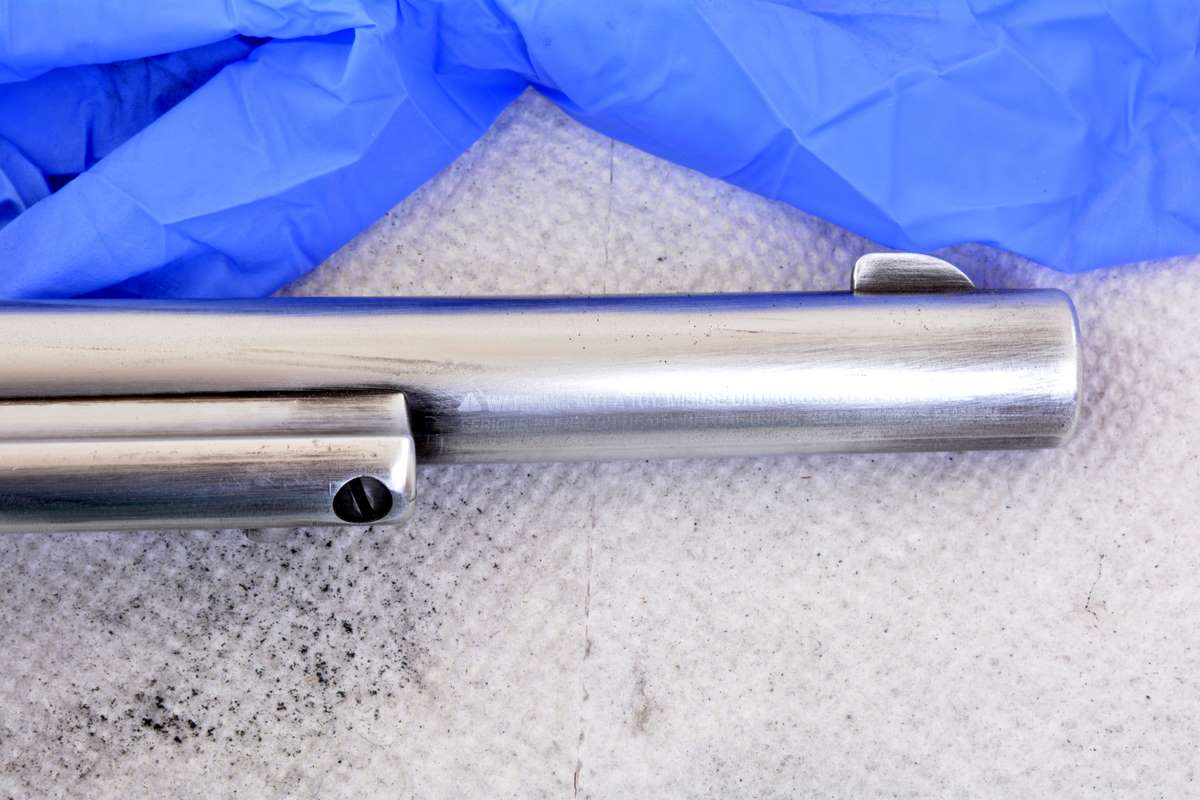 As you progress the white lettering on the right side of the barrel will begin to polish off, as will the markings on the left side of the barrel. This will give the gun a totally unmarked finish (manufacturer's marks, warnings, etc.) as you progress. When we get to the frame, I will look at ways to preserve some of the markings that are beneficial to the gun. This was not possible on the 1911, but I am looking at alternatives for the Peacemaker. You will also see some grit on the surface of the guns in the early photos because I have not done the first cleaning. What the first pictures show is the rough polishing out with the 3M pad and light cleaning and polishing with the steel wool. This process needs to be repeated until the finish is as smooth and bright as you can get it. As for areas that are hard to reach, on real worn Colts where some of the original bluing remains, this is called a protected area, where the least amount of wear occurs. Don't spend too much time on this as the bluing will work into these areas, which will be darker as they would be on an actual old Colt with a worn finish.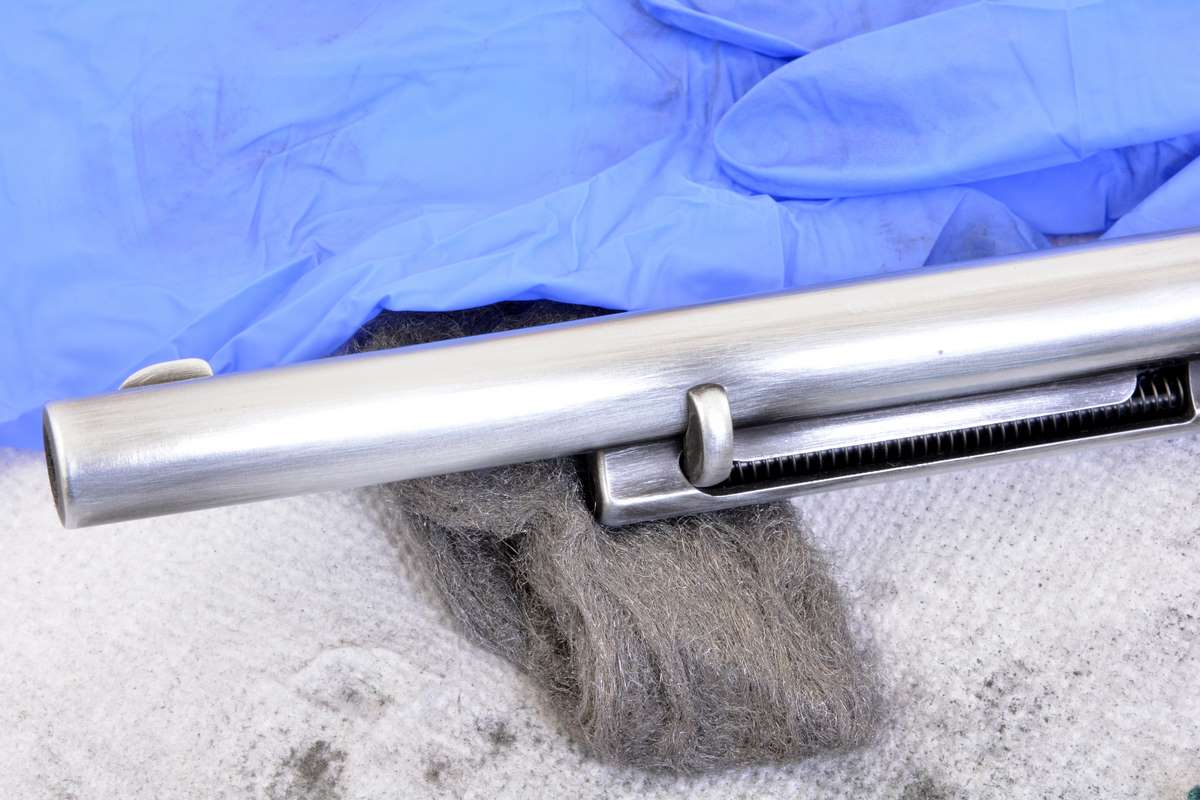 After a second polishing I used Dust Off to blow as much debris as possible off the gun and into the trash can, and then wipe the gun down with a clean rag. Also use the air in the cylinder chambers to blow out any small debris that might have ended up inside. I went over the polished areas with a clean dry patch to get any other surface residue removed.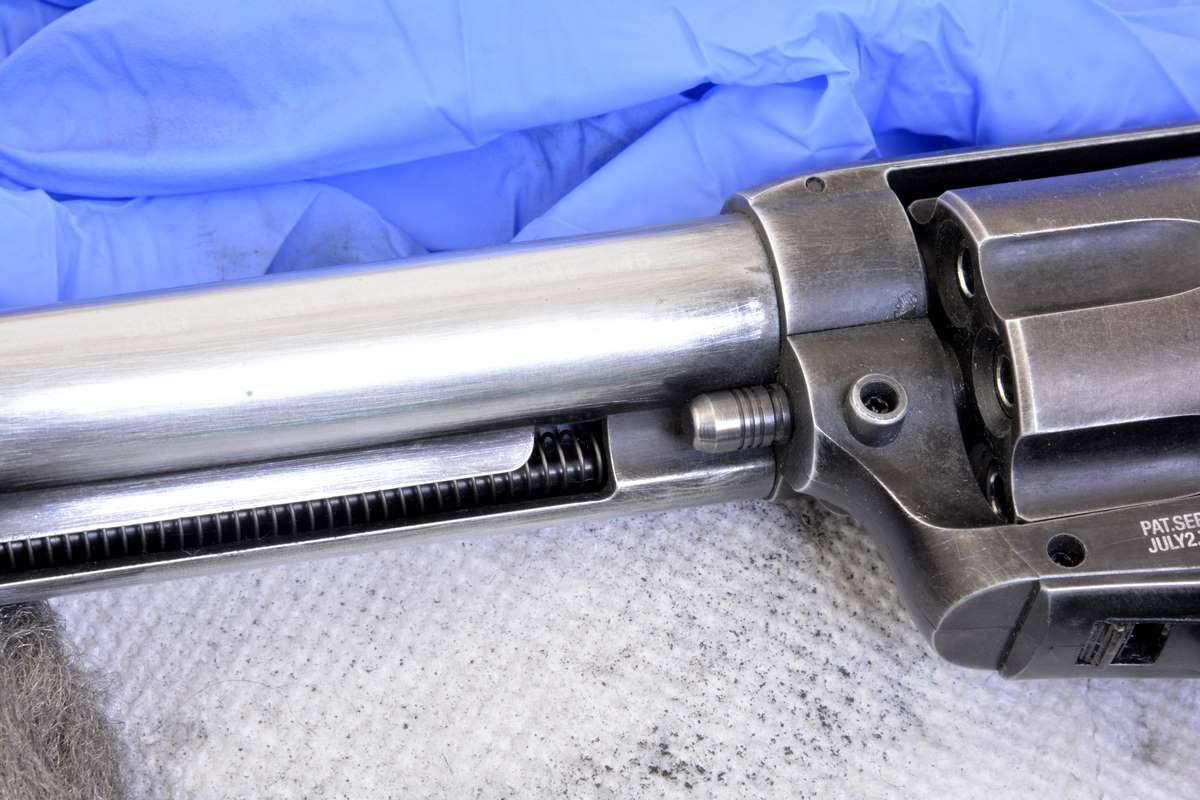 This is a good time to examine up close any imperfections in areas or remnants of the white markings. I also threw out my old paper towels that were covered in grit and polished off finish. Now I am going to use the Gesswein jewelry polishing cloth to get the barrel finish as smooth and bright as possible. This will remove many of the fine scratches left by the 3M pad, but remember, an old Colt is going to have scratches, so don't worry about leaving a few behind. This has been the easy part.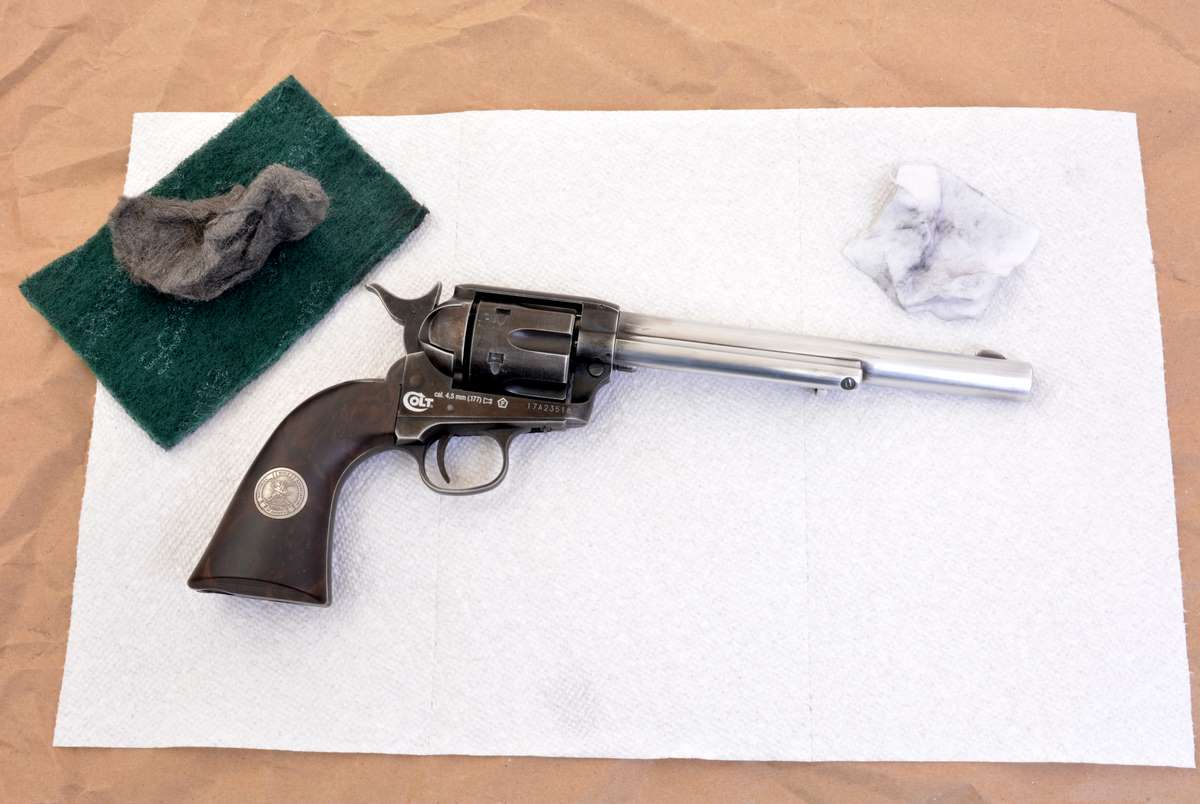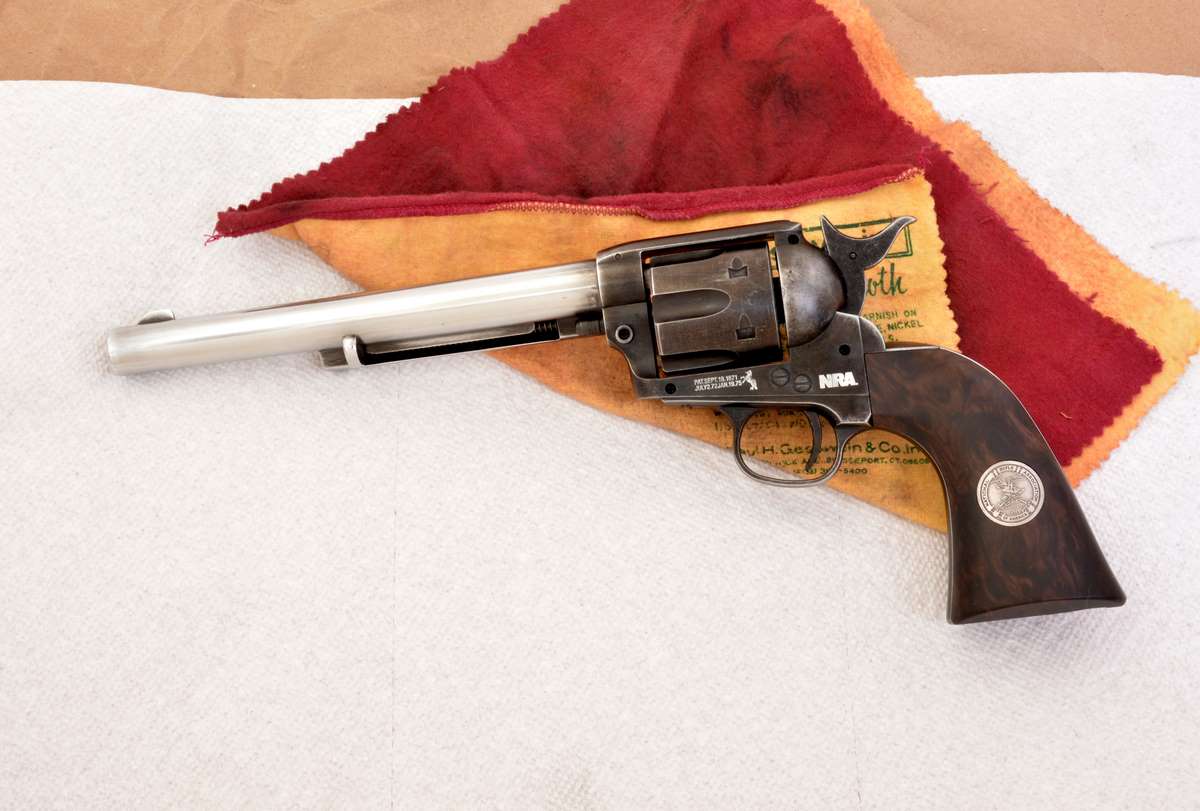 To finish today's work I am going to polish the triggerguard and backstrap, as these areas are least likely to deposit any grit into working areas of the gun. I am leaving the grips on the gun as I will not be using them for the final project, but rather a pair of white grips ordered separately. I will also be experimenting on changing the white finish on those grips as we get to the end of the series.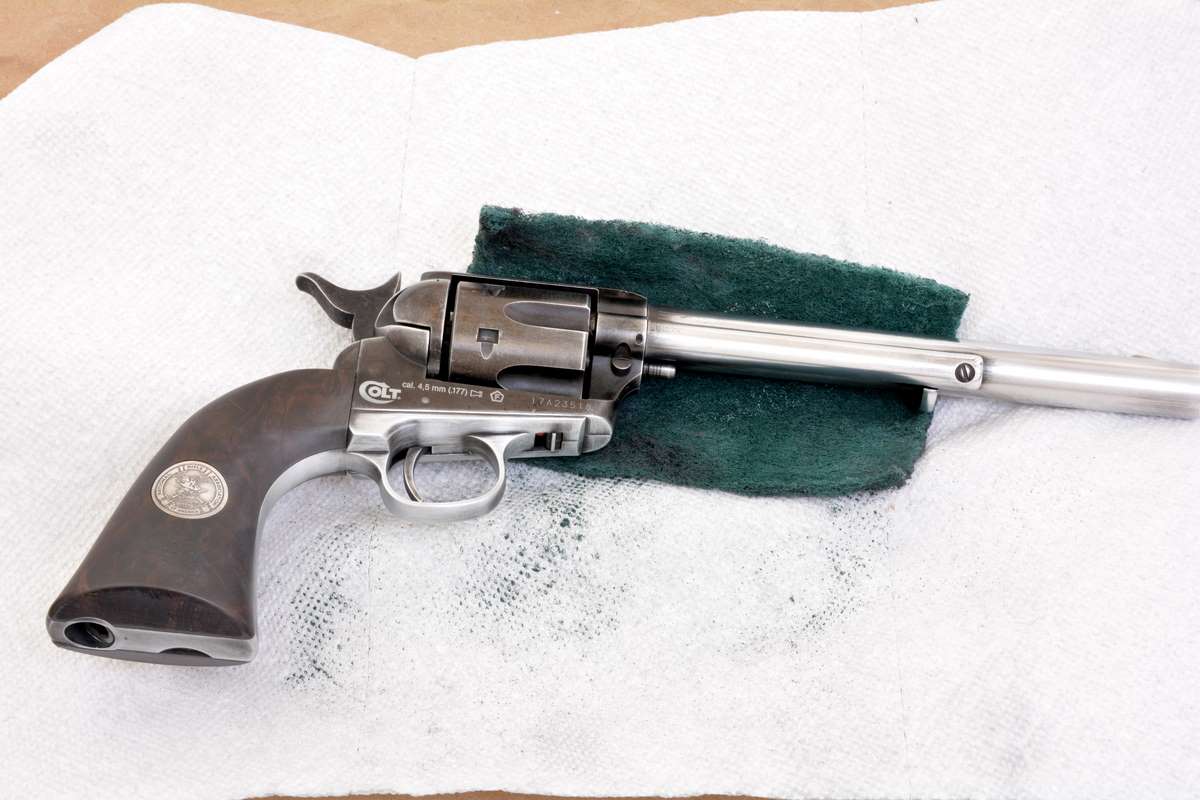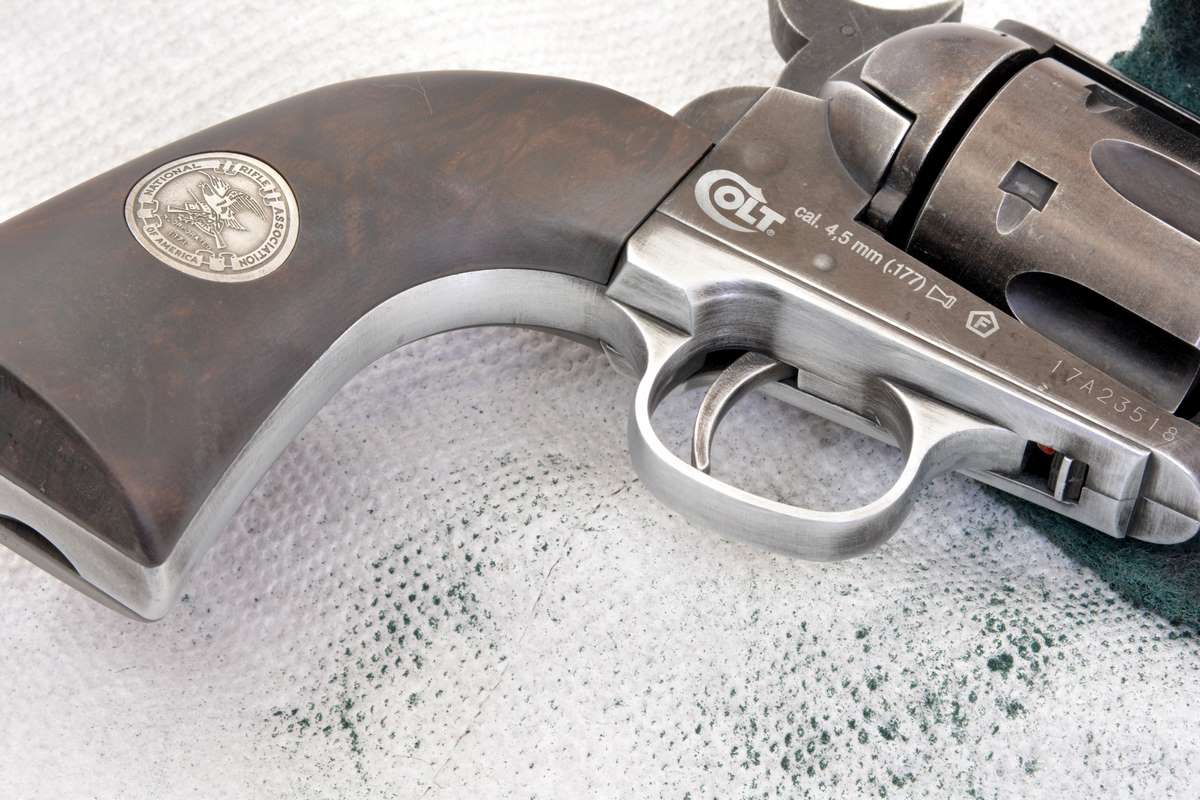 The triggerguard has protected areas that show less wear, so don't fuss over getting every little bit of the original weathered finish off. Most of this work is accomplished by rolling the surfaces over the pad wrapped over your hand or fingers and working the pad in smooth rocking motions and checking the finish removal ever few seconds. It is the same method as polishing with the steel wool, a slow but methodical process, and always be sure to hold the gun upright so no debris can fall into the trigger area as you are working around it. At this same time I am also rolling the pad into the frontstrap to remove the finish there as well. When completed, only the backstrap will be left to polish out.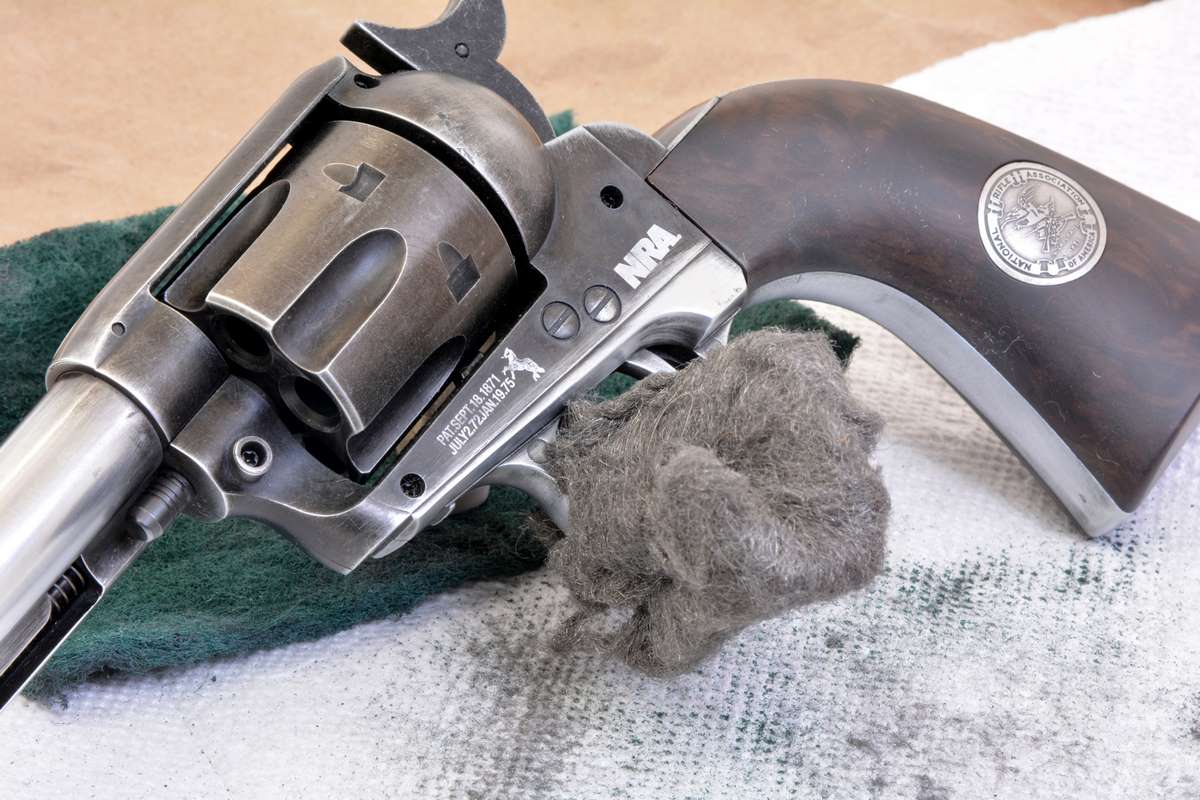 Be sure to get the edges of the triggerguard where it meets the frame, but try not to get into the frame area just yet. After this is done, wipe down the area, use the canned air and then polish with the Gesswein cloth to the brightest finish you can get.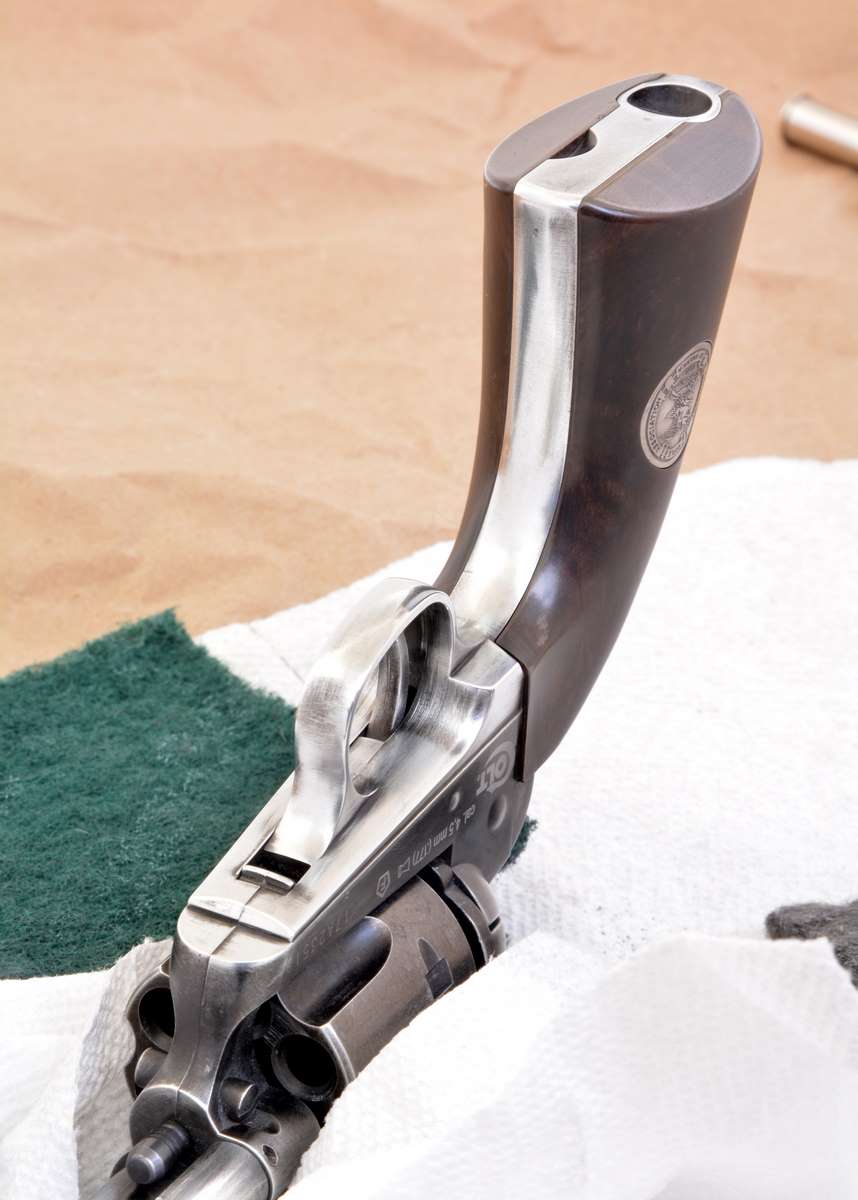 In Part 2, the backstrap, hammer, and cylinder get their finishes removed and polished out. This is where we begin taking protective measures to keep debris out of the gun's action. It is a slower process than what has been done in Part 1.