Replica Air Pistol of the Year Part 5
What it takes to become 2018's Top Gun
By Dennis Adler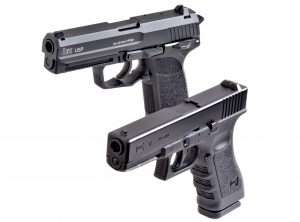 This pairing is another ideal match, two polymer frame semi-autos, the Umarex Heckler & Koch USP and Umarex Glock 17, and while they both take different approaches to the same end, one is vastly superior, both as a centerfire pistol and as a CO2 model. But superiority, like beauty, is in the eye of the beholder!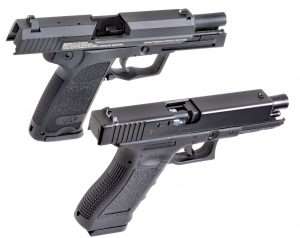 We begin with the H&K USP, a centerfire pistol design that has been in use since 1993 but only this year has become available as a blowback action CO2 model. Waiting a quarter of a century for a gun to be developed into a CO2 model is not unusual (the Mauser Model 712 Broomhandle was developed in 1932, so we waited more than 80 years for that one). Over the decades since WWII, Heckler & Koch has not introduced as many pistols as some of their competitors, but when they do, the design and design variants generally stay around for a long time. H&K moves at its own pace, seldom influenced by trends, but also has a penchant for surprising the firearms world with innovative designs, and that is why the USP makes a good match for the Glock 17. To Gaston Glock's chagrin, the Glock 17 was not the first polymer-framed semiautomatic pistol; the first was developed in 1970 by Heckler & Koch, the VP70.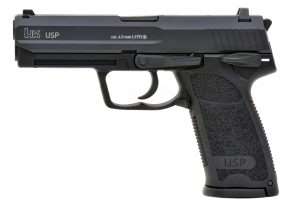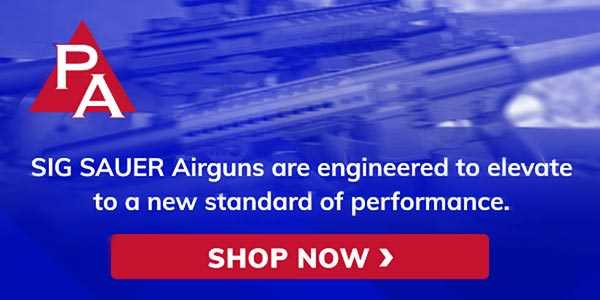 Since 1949 H&K has only introduced around 10 model platforms; the P7, P8, and P9 series, the HK series, P30 and P2000 series, SP series, USP series, and VP series. The original VP model was continued until 1984 and the VP designation resurrected in mid-2014 for the new VP9 and VP series. The USP is regarded as one of Heckler & Koch's most significant models, having been designed for the U.S. Army SOCOM project (United States Special Operation Command) in 1989. To rationalize developmental costs the new semi-auto had to be suitable to both military, law enforcement and civilian markets, and thus the USP "Universal Self-Loading Pistol" was introduced to the civilian market in 1993 and is still in production.
The overall design of the centerfire USP has been duplicated in the blowback action CO2 model, including the Browning-based, short-recoil, locked breech design with tilting barrel. The CO2 model also uses a USP style dual wound recoil spring system. The Heckler & Koch branded USP blowback action model is built as close to the centerfire pistol's specifications as possible for a CO2 powered BB gun. This makes it a very substantial training substitute, as well as a sturdy, hand-filling, and hefty blowback action air pistol.
The cartridge firing HK USP model is manufactured in 9mm, .40 S&W and .45 ACP. The centerfire models weigh an average of 28 ounces (without magazine), and have an overall length of 7.68 inches, width of 1.26 inches and barrel length of 4.25 inches. Interestingly the centerfire pistols use injection molded magazines while the air pistol has a heavy duty all-metal design, and this accounts for most of the weight differential. The actual USP magazines weigh a modest 1.87 ounces (empty) while the CO2 model adds 12.5 ounces making the overall pistol weight of the USP 34.2 ounces (empty) compared to the centerfire model's average carry weight of 29 ounces (in 9mm).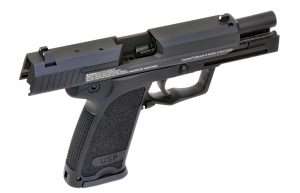 The heaviest part of the centerfire pistol is the slide and while the CO2 model has the same milled contours, it is an alloy slide compared to the centerfire model's forged steel slide. The sight designs are identical, a squared rear notch with white dots and white dot front. Both appear to be actual dovetailed pieces on the Umarex USP but they are either epoxied in place or the best molded-in sights so far. Either way, they do not adjust for windage. The CO2 BB magazine has a 16-round capacity so you have the equivalent of a 9mm with 1 round chambered and 15 rounds in the magazine; again ideal uniformity for a training gun. And the H&K CO2 pistol totally fieldstrips like its centerfire counterpart, its first guaranteed 10 points.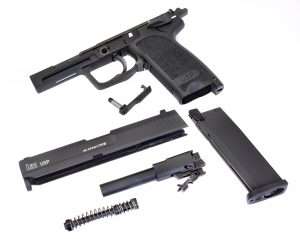 The trigger pull on the centerfire guns averages around 5 pounds fired single action and a robust 12 pounds average double action, about the same as many double action revolvers. The CO2 model stacks up pretty close with an average SA trigger press of 5 pounds, 1.5 ounces and a DA pull of 11 pounds 8.0 ounces. Like 9mm, .40 S&W and .45 ACP models, the DA pull is a long 0.68 inches but it is smooth and the hammer comes back quickly as you pull through. There is zero over travel, and of course, after the first round the gun fires single action unless it is de-cocked. SA take up is 0.25 inches and reset is 0.25 inches. Authenticity of design earns another 10 points.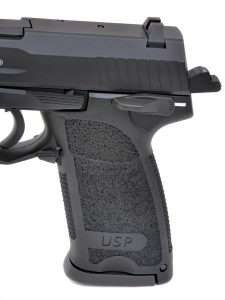 Knowing that the Umarex HK USP's DA/SA trigger pull is within an ounce of the average trigger pull on the centerfire USP standard DA/SA models, the CO2 offers the best advantage for learning trigger control and again reinforces this airgun's use as an understudy for the corresponding cartridge model. (It also fits all standard USP holsters and uses USP accessories and rail adaptors, making it 100 percent compatible).
HK USP self-contained CO2 BB magazines are very similar to the build of the Umarex S&W M&P40 and have a very heavy follower spring, and unfortunately, also like the M&P40 mags, there is no lock for the follower, which is just as small as the S&W's. The only improvement is a slightly larger loading channel exposed when the follower is pulled all the way down. This is not an easy magazine to load.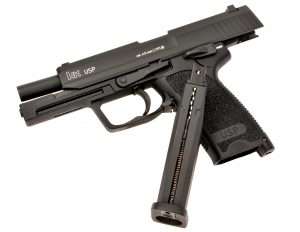 Using Umarex Precision .177 caliber steel BBs, the USP chronographed at an average velocity of 328 fps with a high of 333 fps, a low of 323 fps and a standard deviation of 3 fps for 10 shots. This is well within Umarex factory rated specs which list velocity up to 325 fps. During the initial USP test I had also run the gun with Hornady Black Diamond anodized steel BBs and picked up a few fps with a high of 338 fps and an average velocity for 10 rounds of 336 fps. Anyway you load it; the USP beats the usual 300 to 320 fps averages for blowback action CO2 pistols, another plus in the Performance & Accuracy category.
What about accuracy? Here again this pistol delivers on its looks, authentic handling, correct thumb safety/decocker (something I really like) and high velocity with good POA hits that pack in tight from 21 feet. The HK shoots low and this is a known fact in the design and the instruction book illustrates aiming at the middle of the target (red bullseye on top of the sights). The feel of the gun when you pull the trigger is impressive, the weight of the slide coming back imparts decent felt recoil for a CO2 pistol and the gun holds well on target. My best 10-shot group using Umarex steel BBs measured 1.375 inches (shot in two 5-shot groups) with the best 5-shots at 0.56 inches in the red.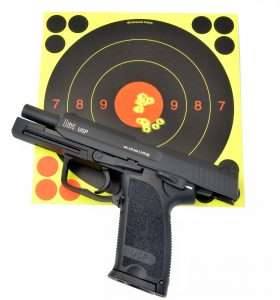 The USP CO2 model in the combat configuration with fixed sights handles very much like the 9mm model it is based upon, with more tactile feel, shooting response, a medium-loud report, and predictable accuracy. This is the polymer frame, DA/SA version of a Sig Sauer WE THE PEOPLE 1911 for all the best features.
Model: Umarex HK USP
Authenticity 1 to 10:  10 (matched to centerfire model)
Ingenuity of the design 1 to 10: 10 (fully accurate short-recoil, locked-breech, tilting barrel design)
Ease of use 1 to 10: 9 (magazines are hard to load)
Field stripping capability 1 to 10: 10 (fieldstrips like the centerfire pistol)
Performance & Accuracy 1 to 10: 10 (best 5-shot group at 0.56 inches)
Total Points: 49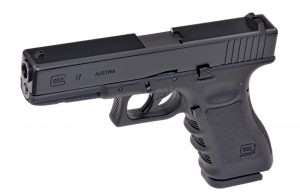 Just as the Glock 17 was designed with (then) unique features for a semi-auto pistol, the Umarex Glock 17 is built a little differently than the rest of the blowback action CO2 models being compared. The Umarex uses an internally closed design with an interlocking drop free magazine and much shorter recoil stroke than the H&K USP, Sig Sauer WE THE PEOPLE and CZ 75 SP-01 Shadow models.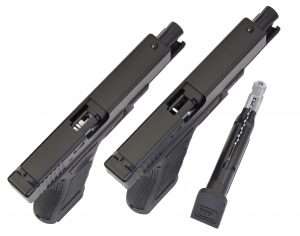 This design serves one noteworthy purpose, higher velocity. With Umarex Precision .177 caliber steel BBs the Glock 17 hits an impressive average velocity of 376 fps, a high of 395 fps, a low of 366 fps and a standard deviation for 10 shots of 10 fps, making it the fastest shooting CO2 model in the comparison. But, the cost is field stripping capability. The Glock 17 cannot be taken apart. No matter how good this gun is, and it is very good, it cannot earn more than 40 total points against its blowback action competitors. This is where the points system can sometimes be unfair. Glock enthusiasts, however, should not despair; the G17 still has a lot more to offer even if it can't win the Replica Air Pistol of the Year crown.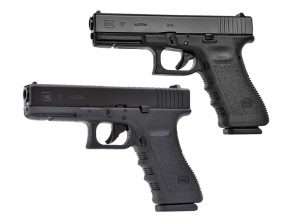 The Glock 17 is 100 percent accurate in its exterior design, which makes it suitable for all Glock 17 holsters. This opens up the door for additional training with different level retention locking holsters as well as all Glock GTL light and light laser accessories and other rail mounted lights and laser units. The Umarex G17 is based on the Third Model Glock design (still manufactured) and matches the 9mm pistol in length of 8.03 inches, barrel length of 4.49 inches (external, internal smoothbore barrel is 4.25 inches), overall height of 5.47 inches, slide width of 1.0 inches, and slightly outweighs the 9mm pistol by 2.13 ounces at 27.0 ounces even. The self-contained CO2 BB magazine has a capacity of 18 rounds, which measures up to the Glock 17 with 17 rounds in the magazine and one round chambered. This is also one of the easier to load magazine designs with a Glock embossed base pad that slides forward to expose the seating screw for the CO2 channel. The small follower locks down and BBs are easily fed right into the firing port.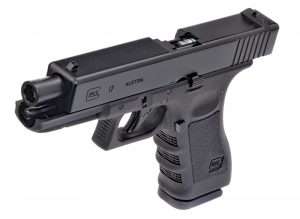 There are a couple of minor compromises in the design that the other blowback action pistols did not have to deal with, notably the need for a manual safety since the G17 actually has none with its Safe Action trigger system. Umarex and Glock deviated here by not using a functional (firing system locking) Glock Safe Action trigger, even though it looks like they did. If you try to pull the trigger from the side without engaging the blade safety, the CO2 model will still fire. To compensate, Umarex has added a sliding manual safety as unobtrusively as possible on the underside of the dustcover, where the serial number plate usually resides. It is a cleaver workaround and the blade safety does move when you pull the trigger; it's just not connected to any internal safety mechanism like the 9mm model.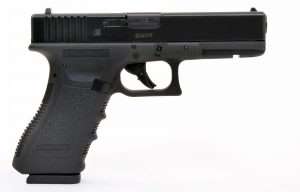 Unlike many earlier handgun designs, and I hold up the Colt Model 1911 as the preeminent example, a Glock 17 (or any factory-built Glock) is not a work of art it, is a work of purpose, squared off, flat sided, unimaginative beyond anything more than it need be to do its job. But as a purpose-built handgun for military and law enforcement, as a civilian handgun that is practical, almost indestructible, and easy to shoot, it is almost unassailable. That is carried forward into the Umarex Glock 17.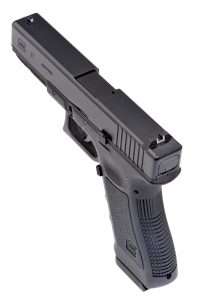 As for its performance, this too, is better than many of its competitors. Firing from a Weaver stance, using a two-handed hold and the sights held solidly at 6 o'clock, 10 rounds hit at 0.84 inches with five shots clustered into 0.56 inches. There were no appreciable windage or elevation issues beyond my own movement; the gun was right on target. For an air pistol with fixed sights this is commendable.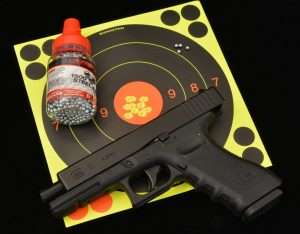 My best overall 10-round group measured 0.84 inches with five shots clustered into 0.56 inches. This is dime-size accuracy. As a CO2 blowback action pistol it is not everything may you want, but as a Glock it is everything that a Glock need be.
Model: Umarex Glock 17
Authenticity 1 to 10:  10 (matched to centerfire model)
Ingenuity of the design 1 to 10: 10 (exceptional fit, authentic Tenifer-style finish)
Ease of use 1 to 10: 10 (magazines are easy to load)
Field stripping capability 1 to 10: 0 (cannot be field stripped)
Performance & Accuracy 1 to 10: 10 (best 5-shot group at 0.56 inches)
Total Points: 40
We now have two guns tied at 49 points each. Saturday it is Sig vs. Sig, as the X-Five ASP tackles the M17 ASP for Top Gun honors.