Retrospect Series Part 2 – Walther CP 88
The first multi-shot, semi-auto pellet pistol
By Dennis Adler
We have an air pistol that is nearly a quarter of a century old and still in production, while other CO2 air pistols have come and gone in the same time. The design and purpose of the CP 88 Competition is such that its appeal has never waned, and there is a lot to be said for longevity. The Umarex Walther CP 88 remains one of the few Umarex CO2 pistols still handcrafted in Germany and handsomely packaged in a hard plastic foam-lines storage case. It has always been a top-drawer and top-dollar CO2 model.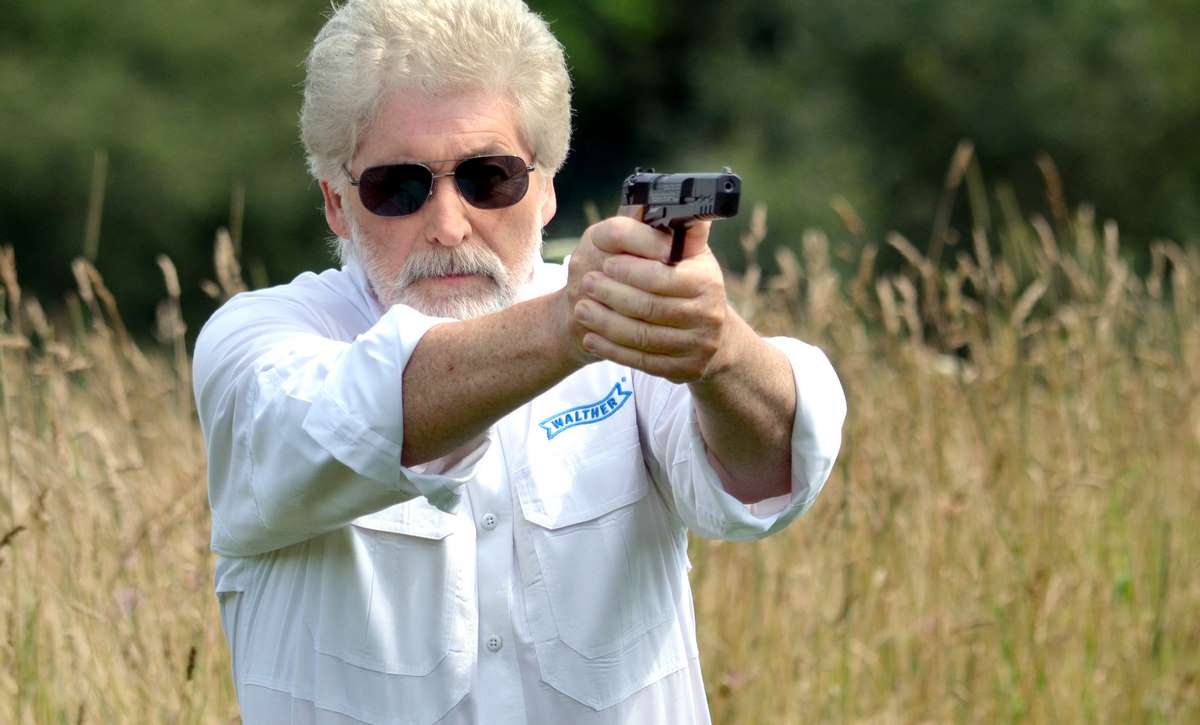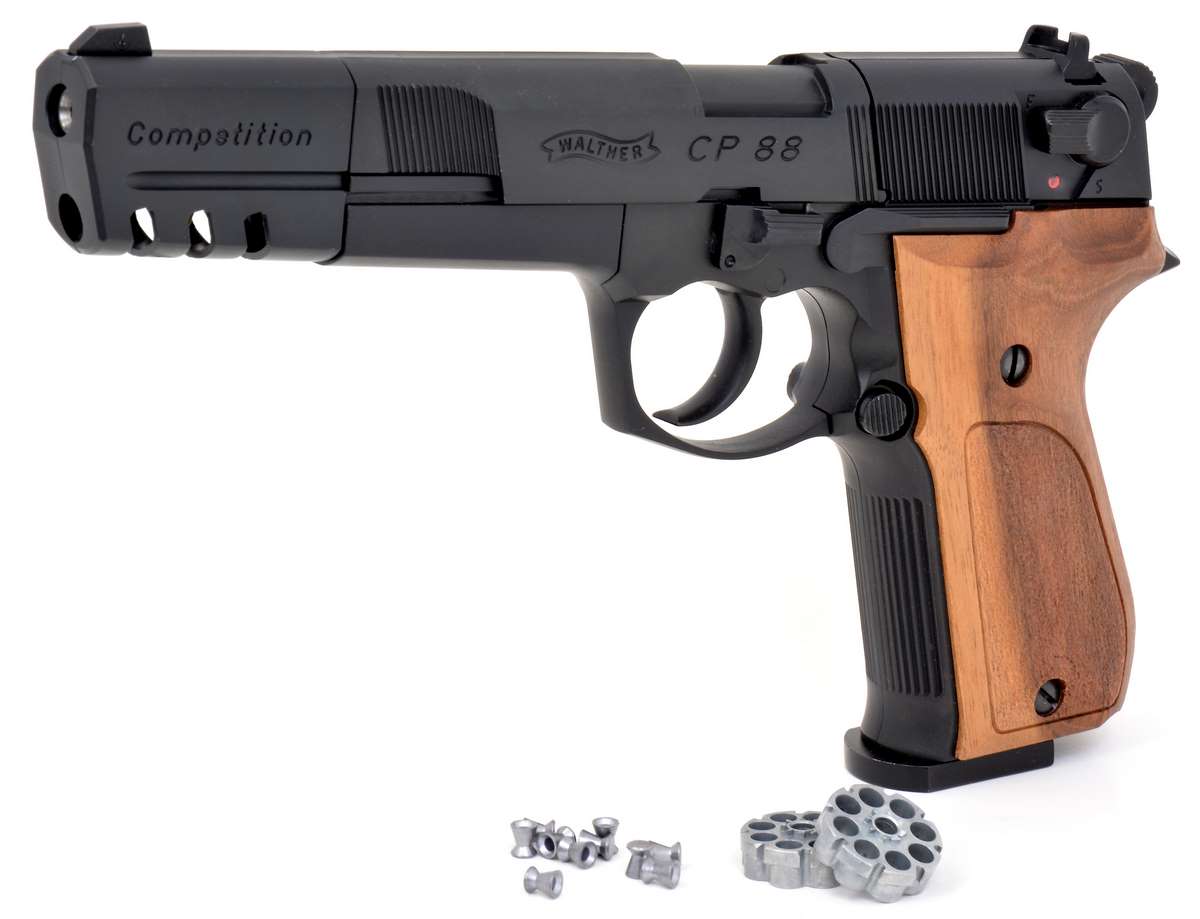 As I mentioned in Part 1, the CP 88 models have a couple of interesting features worth noting, first is the trigger, which is equivalent to firing a DA/SA or DAO revolver with the trigger pull cocking the hammer. As I show in the accompanying photos, the trigger is staged when the hammer is manually cocked, and while the balance of the pull is still heavy, the big job of cocking the hammer and rotating the internal pellet cylinder is already done. Unfortunately, since this is not a blowback action air pistol, every shot is double action unless you cock the hammer each time. For target shooting, it's no big deal.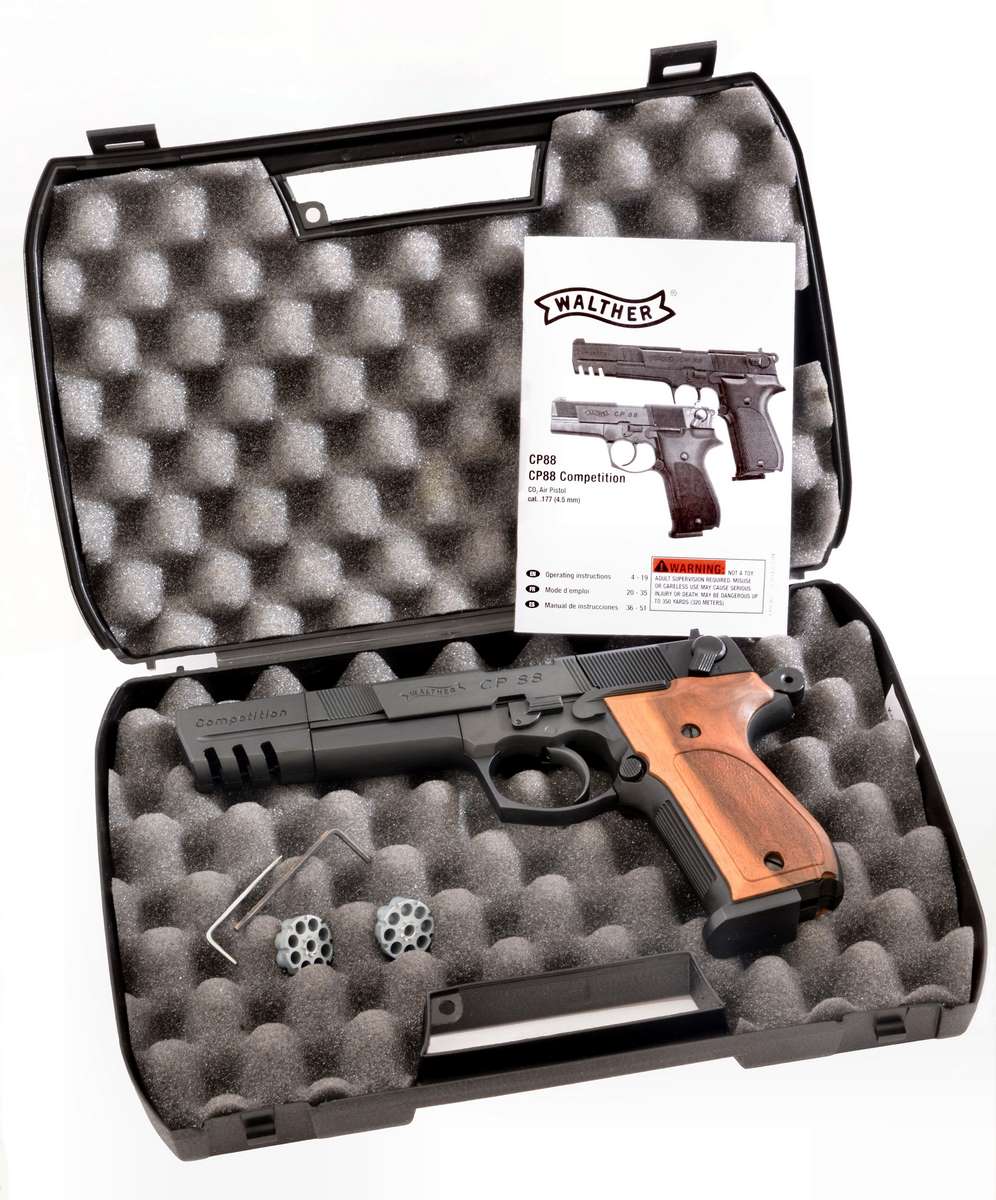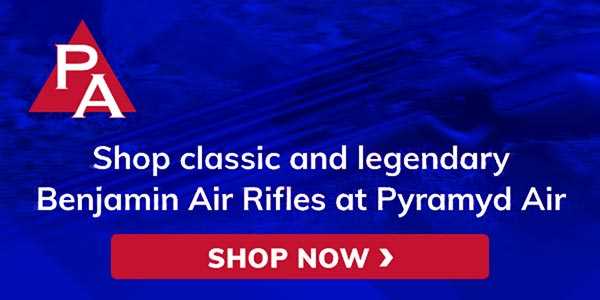 I have tested this model before, both outdoors at 10 meters and indoors at 21 feet and 10 meters and my average groups have been around 1.25 inches, sometime better and under an inch for all eight rounds. The CP 88 Competition's 6-inch rifled steel barrel makes it easy to consistently shoot sub-1.5 inch groups. Of course, in actual 10 meter competition, that's not going to win any trophies, but then again, this is an 8-shot, 12 gram CO2 powered airgun, not a PCP Olympic target pistol. For training indoors or out, it is nevertheless a very practical target pistol with a legacy of its own, having been among the very first 4.5mm, CO2-powered Walther semi-auto style air pistols. It is a gun done right, right from the start.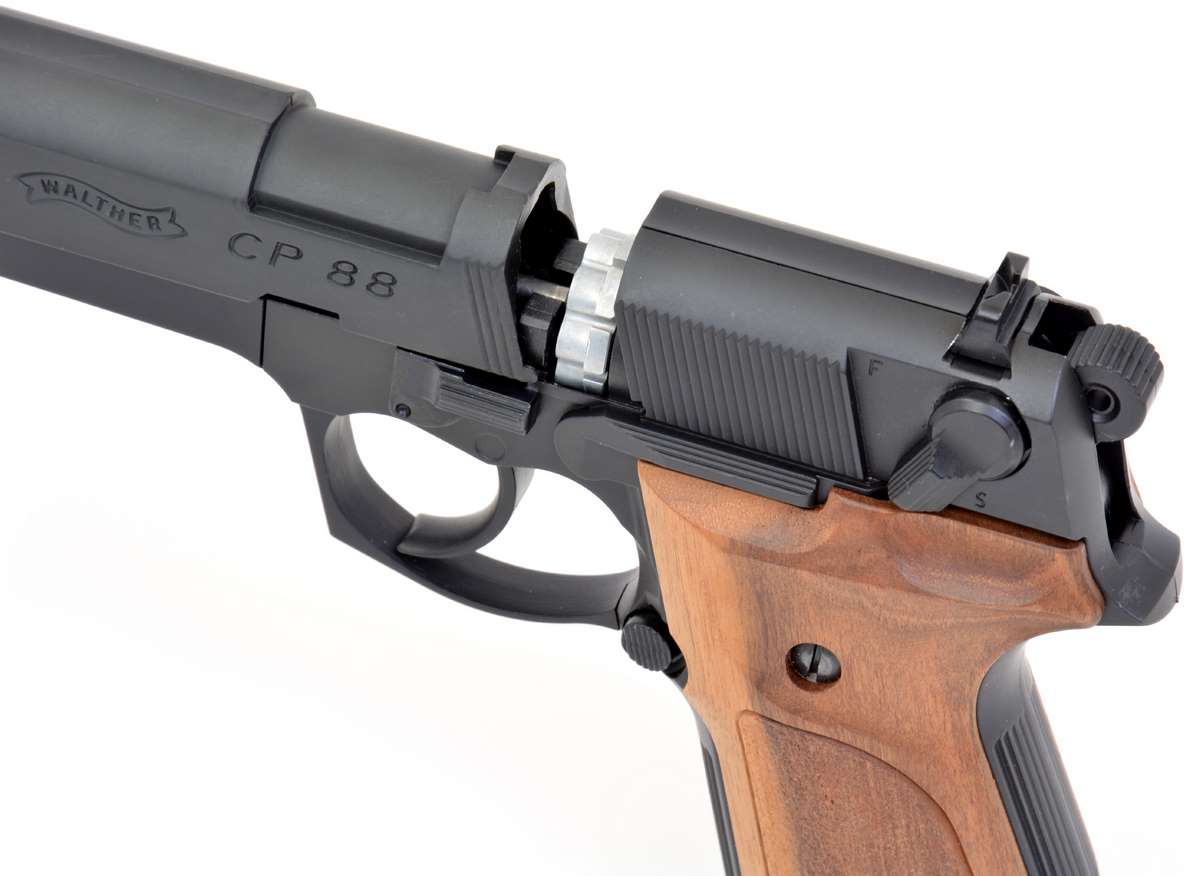 Some caveats
Having shot this one for several years I have learned a few idiosyncrasies about the CP 88 and one of the most important is how to open the action for loading. The disassembly lever must be worked carefully, don't just yank down on it and watch the slide jump forward. Eventually the stress of the movement will begin to wear on the parts. Take note of the large coil spring exposed under the barrel when the action is open; that exerts a lot of force driving the slide forward, which you can feel when you push the barrel closed after loading a rotary magazine. Use your hand over the top of the slide so as not to allow it to slam forward when released. The disassembly lever should return parallel to the slide after opening the action.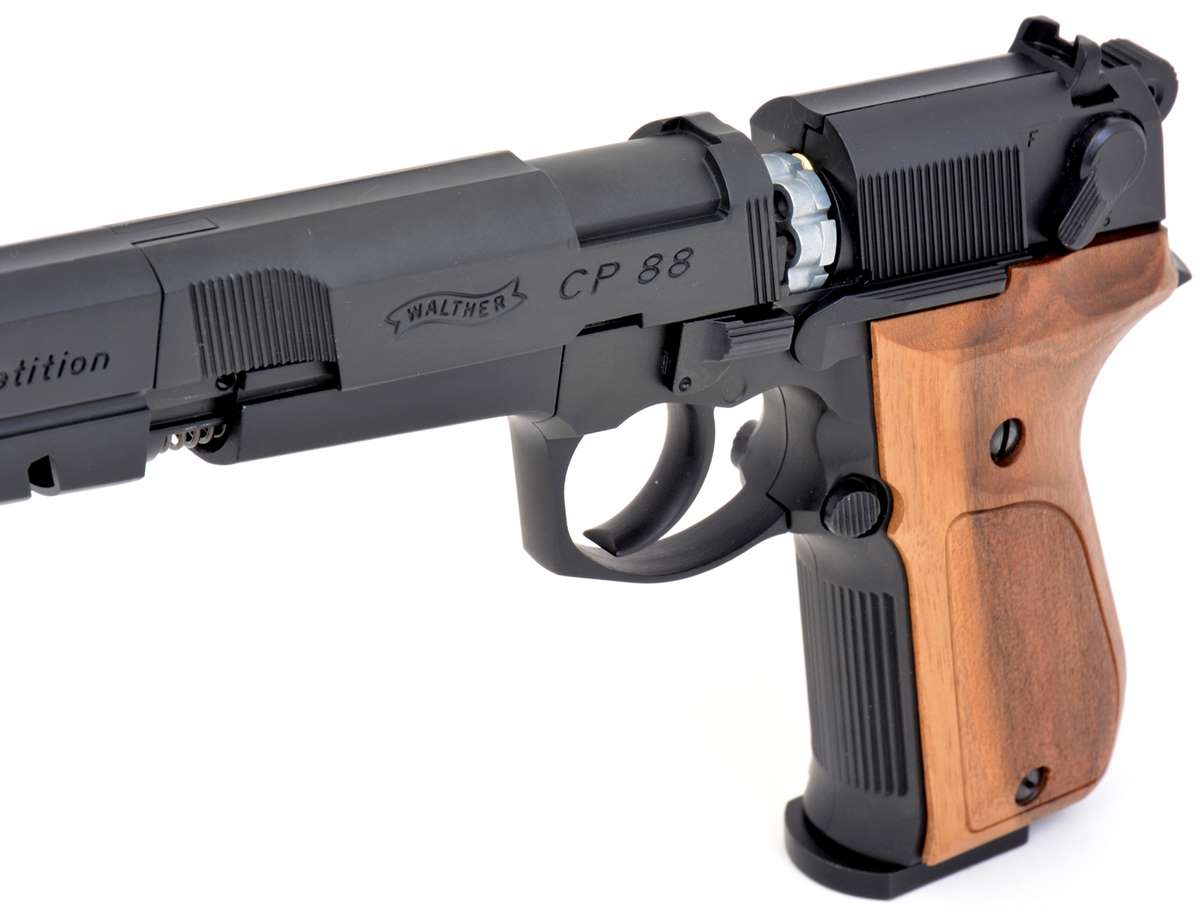 Here is another thing that everyone who has this gun, or any of the Umarex designs using this same firing system, like the Beretta 92FS, Walther CP 99, and HK P30 already knows, and you should hear about in case you are getting one for the first time or thinking about ordering one; be aware of how you are holding the gun when you open the action. This pertains both to loading and unloading but more so to retrieving an empty rotary magazine, because if the gun is at any kind of angle when the slide moves forward, the rotary magazine will simply drop out and onto the ground. Those well crafted cast alloy magazines will last a long time but they don't take kindly to being dropped onto a hard surface too many times.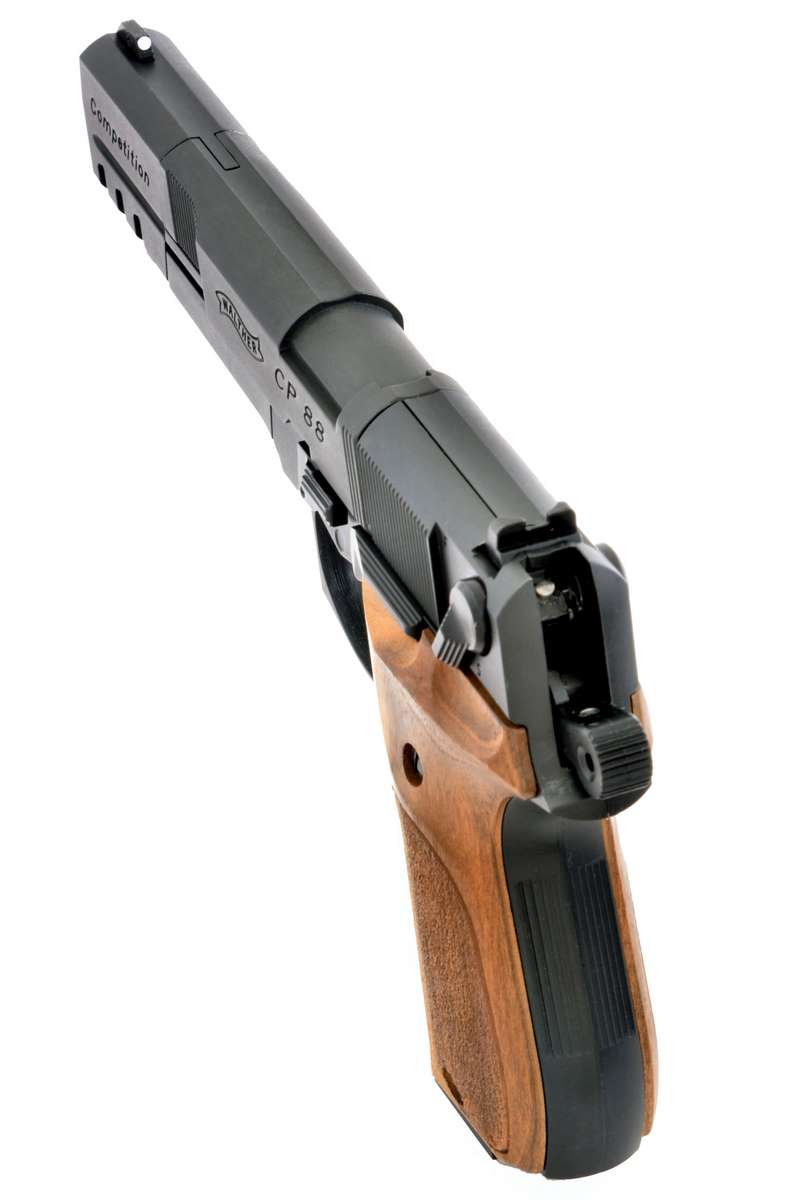 The only other real weakness in the design is not having a white dot front sight for better target acquisition, but I have remedied that with the punched out gummed label white dot I added. Combined with the windage adjustable, dovetailed u-notch rear sight, this provides a better sight picture. It's always nice when you can fix small deficiencies yourself and the white dot really helps with sighting, especially when shooting indoors.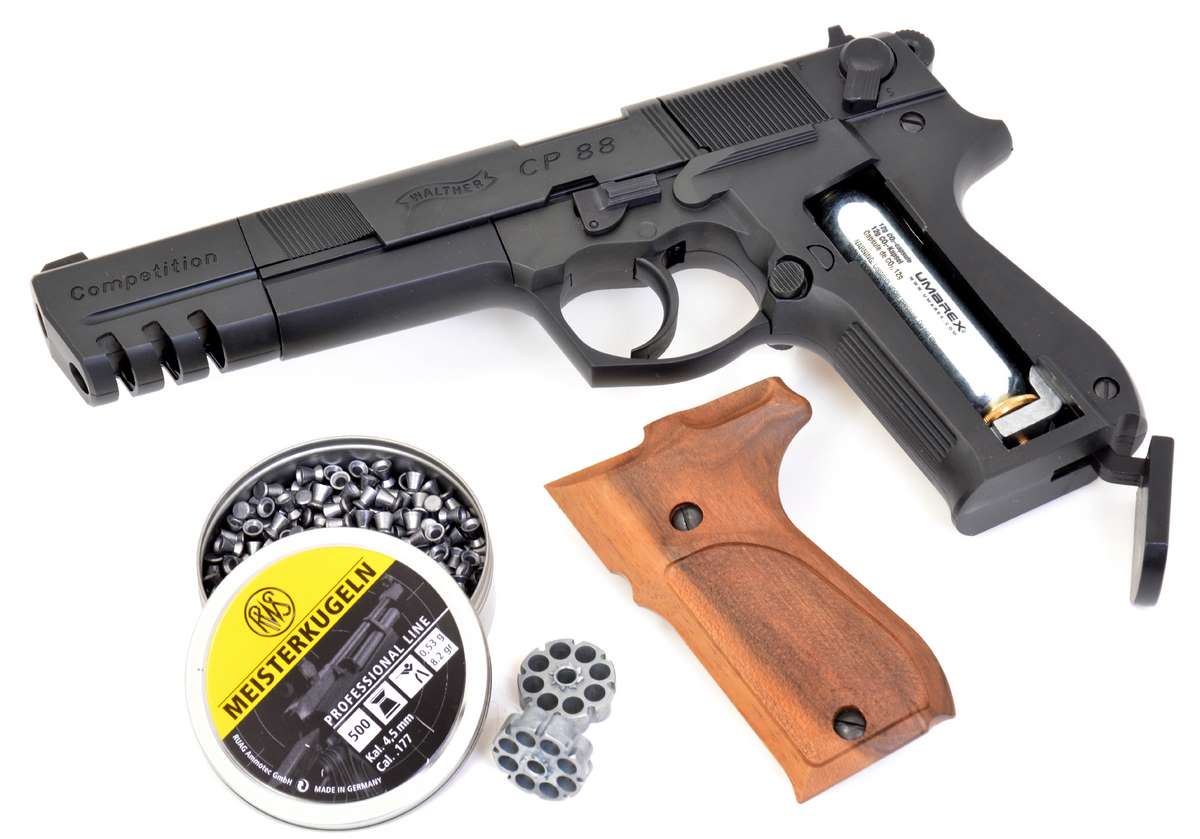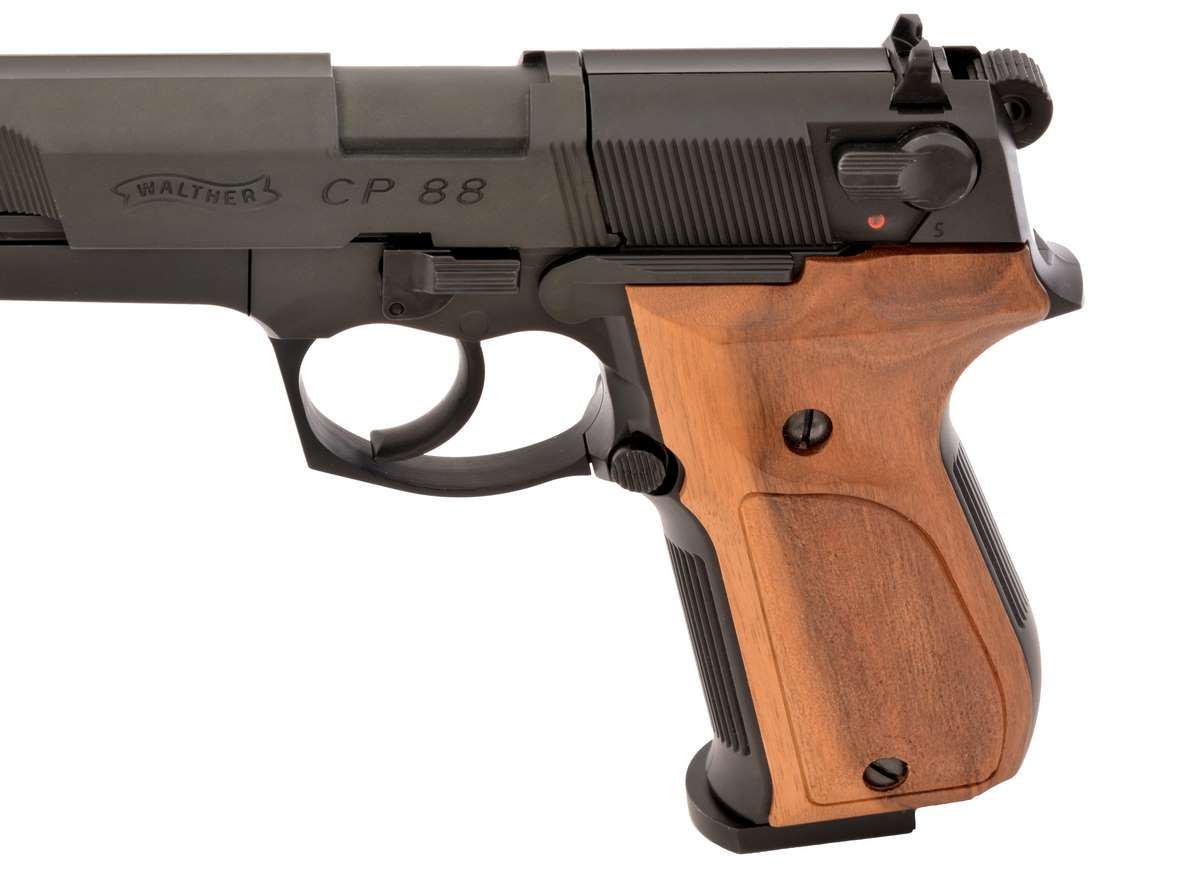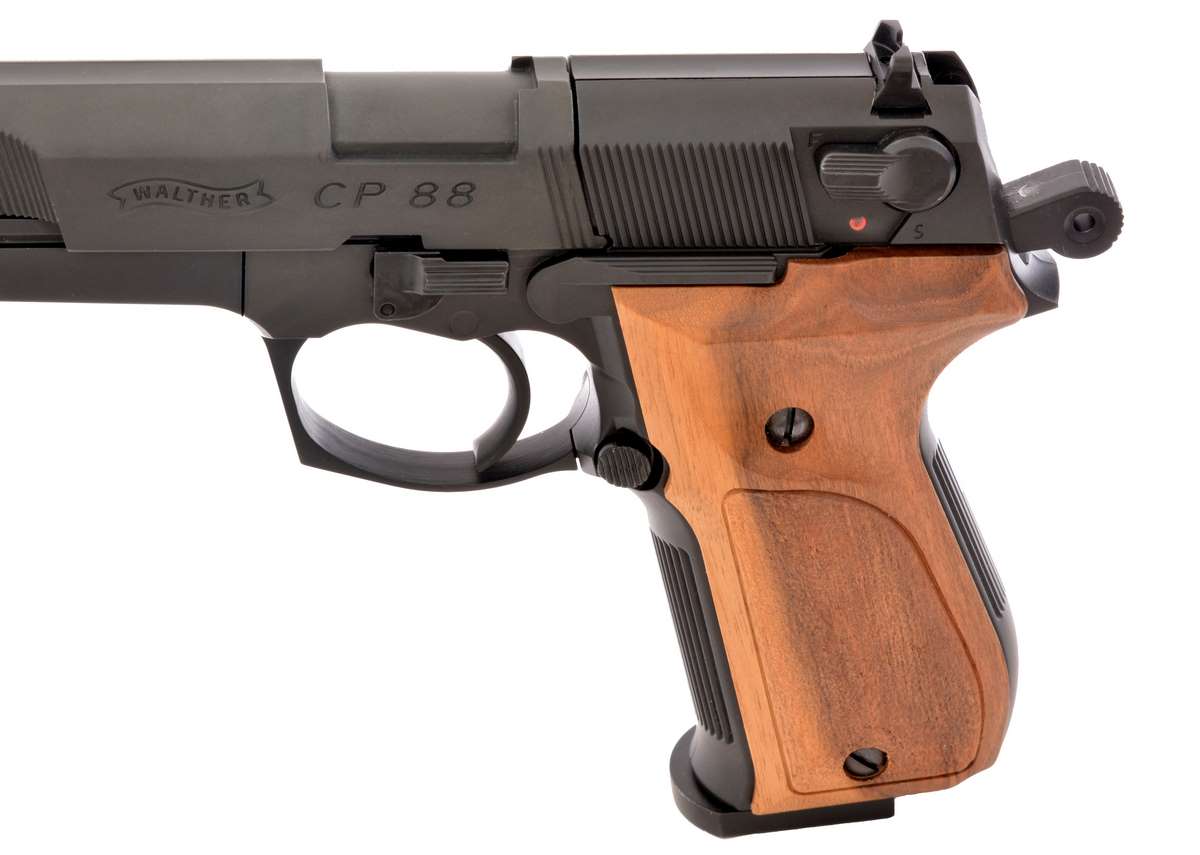 Meisterkugeln and H&N at 10 meters
I began with a new chronograph test with Meisterkugeln and shot eight rounds through at 21 feet. I used a 10 meter pistol target downrange so that I could see how well the white dot sight was working with aim and if any windage adjustments were needed. Average velocity was 440 fps with a high (on a fresh CO2) of 455 fps and a low of 438 fps. My 8-shot group measured 0.81 inches with six of eight in overlapping groups. I repeated the test with H&N Sport Match Green 5.25 gr. alloy wadcutters which clocked an average of 481 fps with a high of 514 fps and a low of 478 fps and grouped eight shots into 0.75 inches.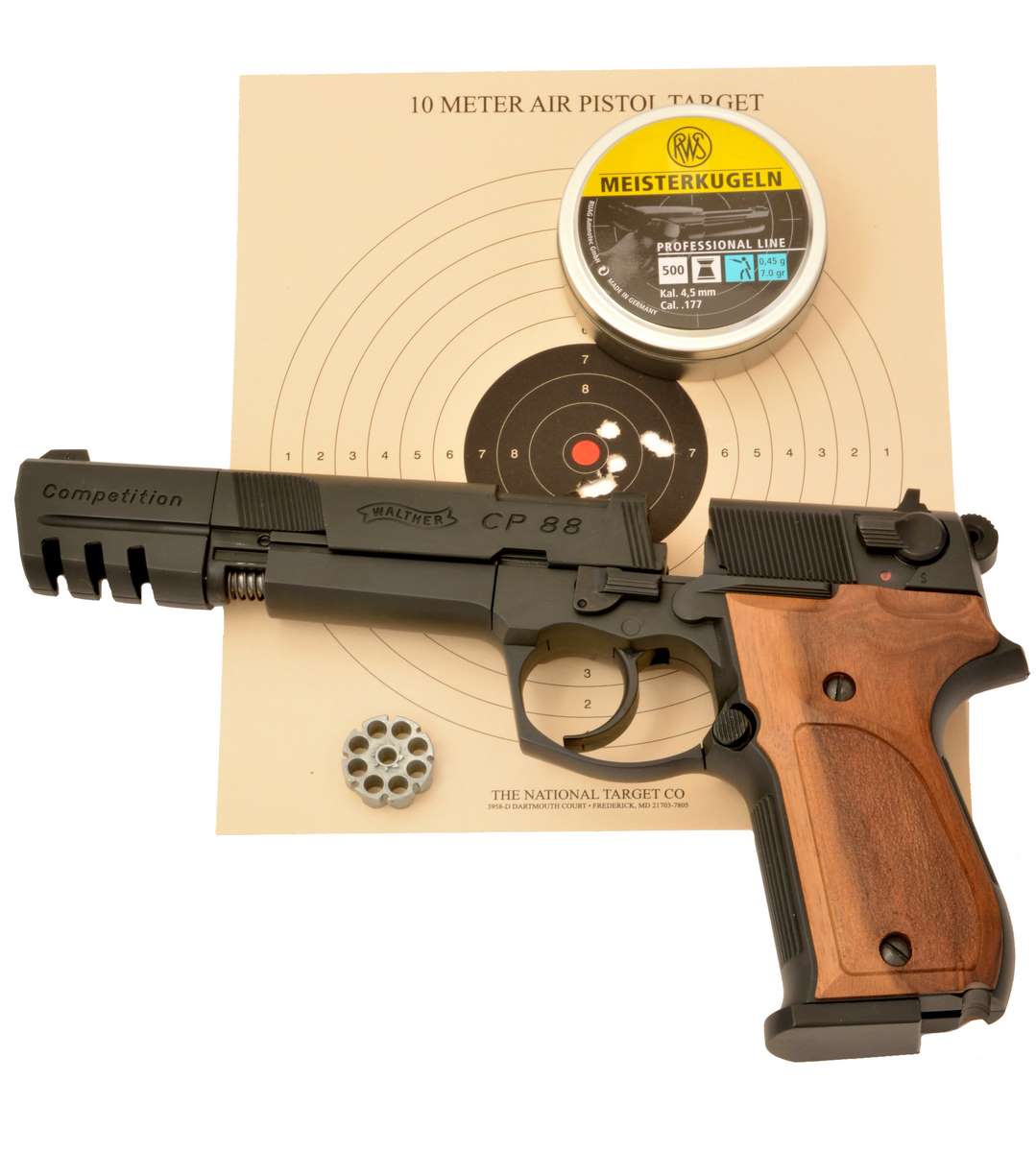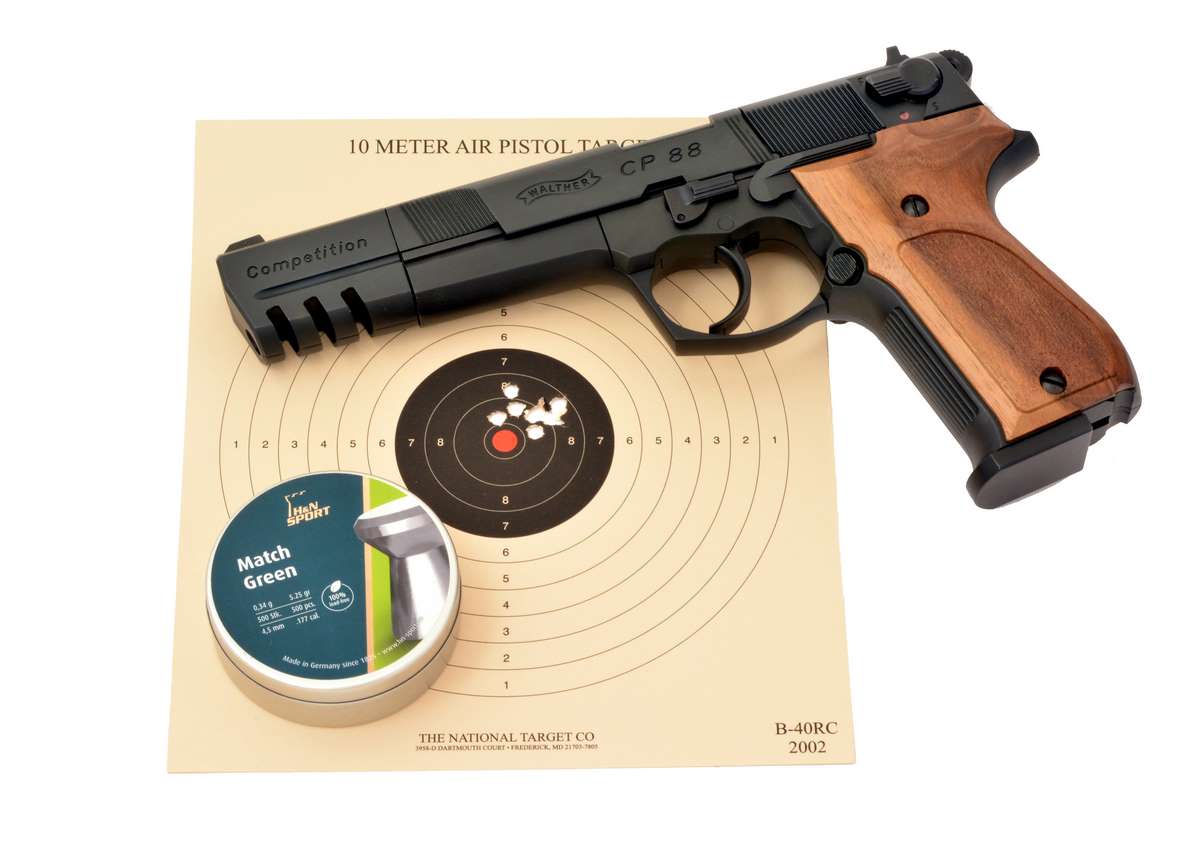 I went with the Meisterkugeln for the 10 meter test because of my history of success with these lead wadcutters. My best group fired off hand measured 1.12 inches with a spread through the 8, 9, 10 and bullseye and five connecting edge to edge for a measurement of 0.75 inches.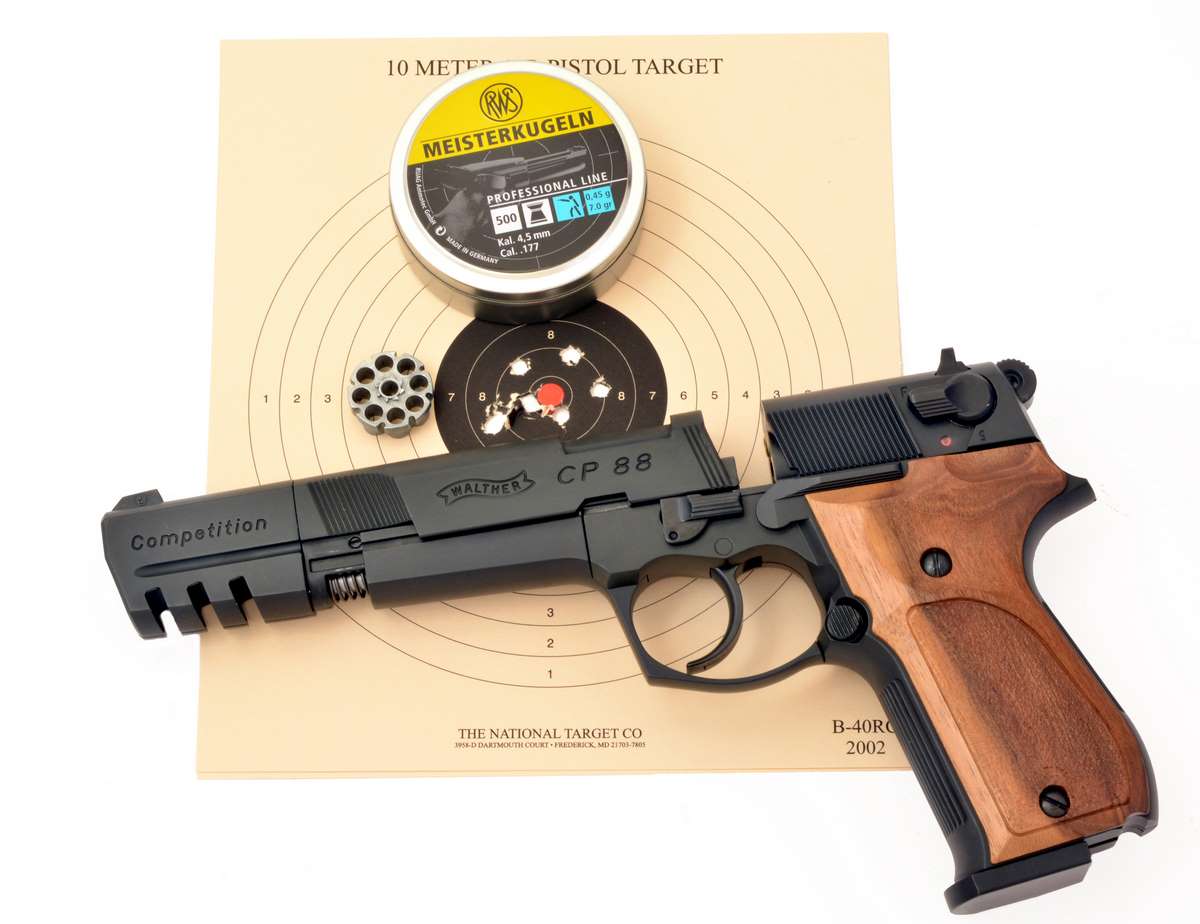 Final Thoughts
Overall, I have shot better with more current pellet models but this gun can still hold its own against dedicated target pistols like the Sig Sauer X Five ASP and any of the P 88's contemporaries like the Beretta 92FS and Walther CP 99. It is all a matter of taste in gun style and shooting preferences, but after 24 years on the market, in retrospect, the Umarex Walter CP 88 Competition is still worth every penny of its price.