Retrospect Series Part 3 – H&K P30
Heckler & Koch's take on Walther's rotary pellet semi-autos
By Dennis Adler
Umarex always has big shoes to fill, it's own, as the world's largest manufacturer of airguns, and those of the various brand names Umarex represents. The list reads like a Blue Book of Gun Values, from Colts to Walthers, revolvers and semi-autos, lever action rifles to full auto submachine guns. Scrolling down the brand name alphabet, when you get to "H" there is one famous German brand that jumps out, Heckler & Koch. HK is also one of Walther's greatest competitors (as Umarex and Walther are two divisions of one company), and Umarex treads the divide with one particularly intriguing CO2 model that lifts its internal design from the German-built Walther CP 88 (as well as the Beretta 92FS and Walther CP 99, among others), the c.2007 HK Model P30.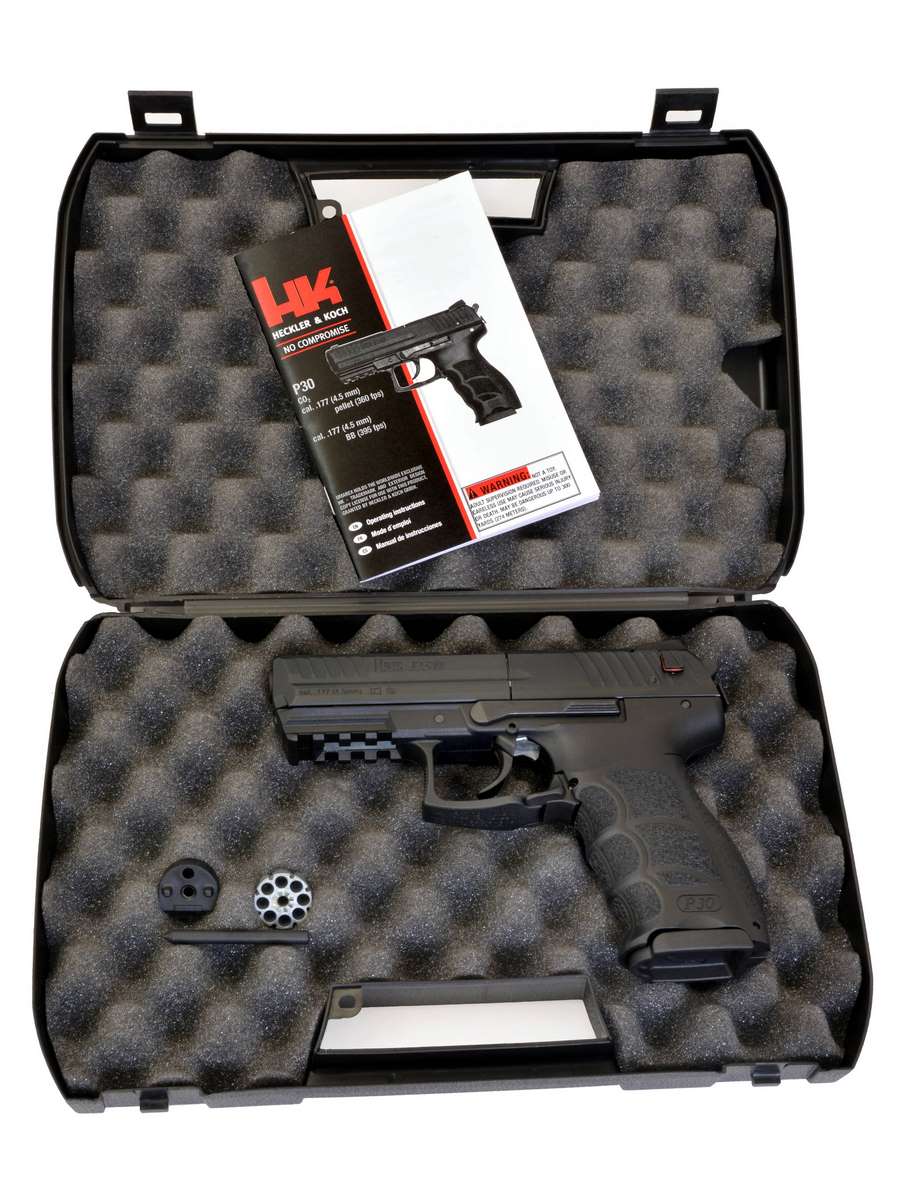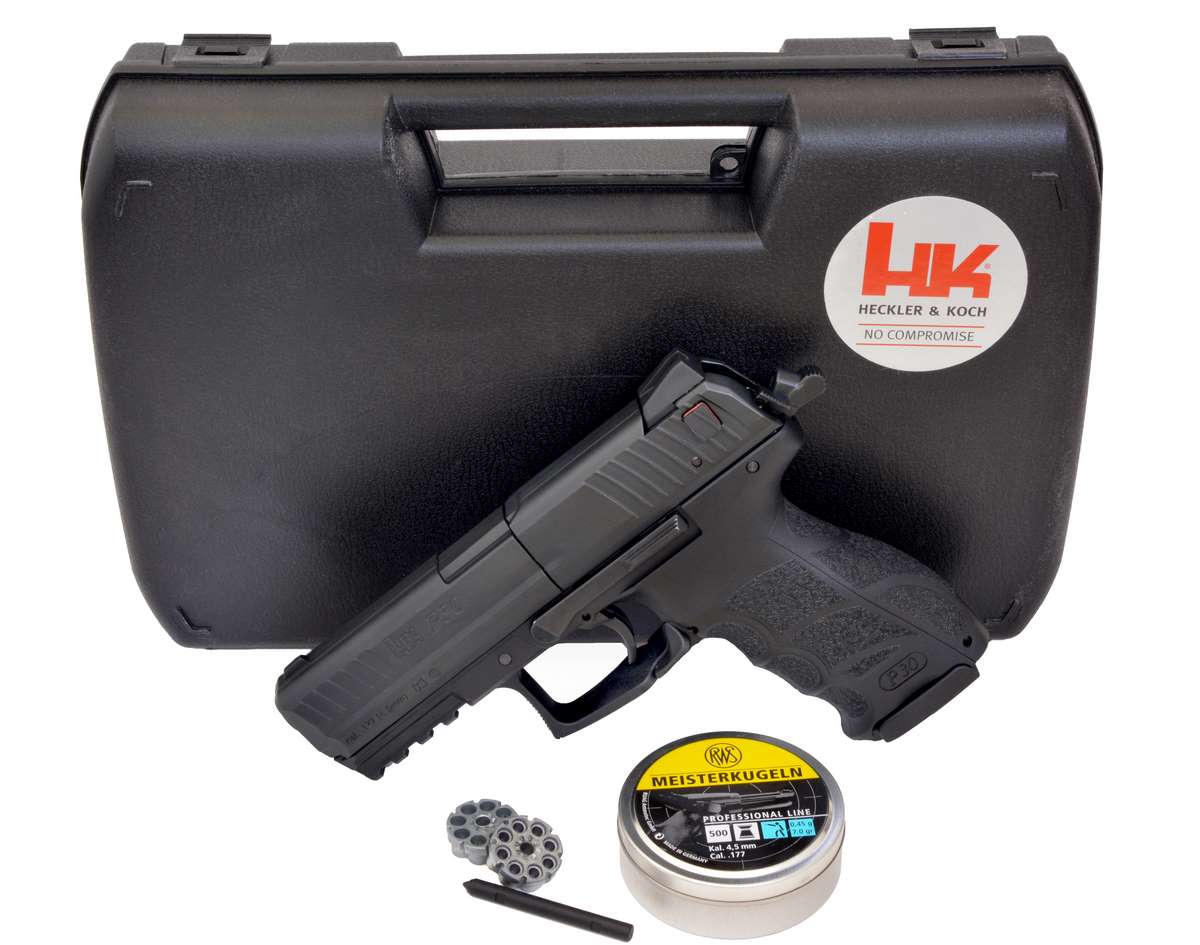 A late comer with old tech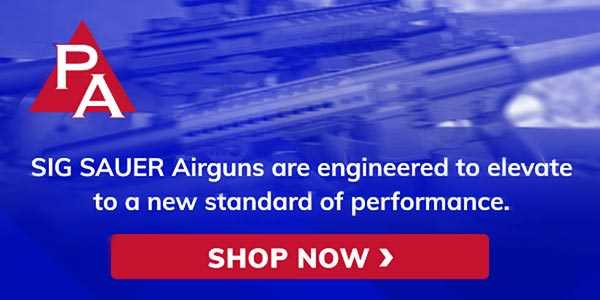 As an armsmaker,Heckler & Kochhas always catered to a diversity of clientele ranging from the civilian market tomilitaryand law enforcement (particularly in the U.S.) by tailoring specific models to meet the requirements of either law enforcement or the military. The civilian market is the benefactor of most of these options.
With the P30 there are multiple versions in V1, V2 and V3 configurations. From an air pistol training gun there is one more variation, the H&K licensed and Umarex built HK P30, which looks and handles like the Heckler & Koch model but has firing system firmly planted in the Walther CP 88, though the HK P30 is quite a bit more advanced in its design, finish, and operating features.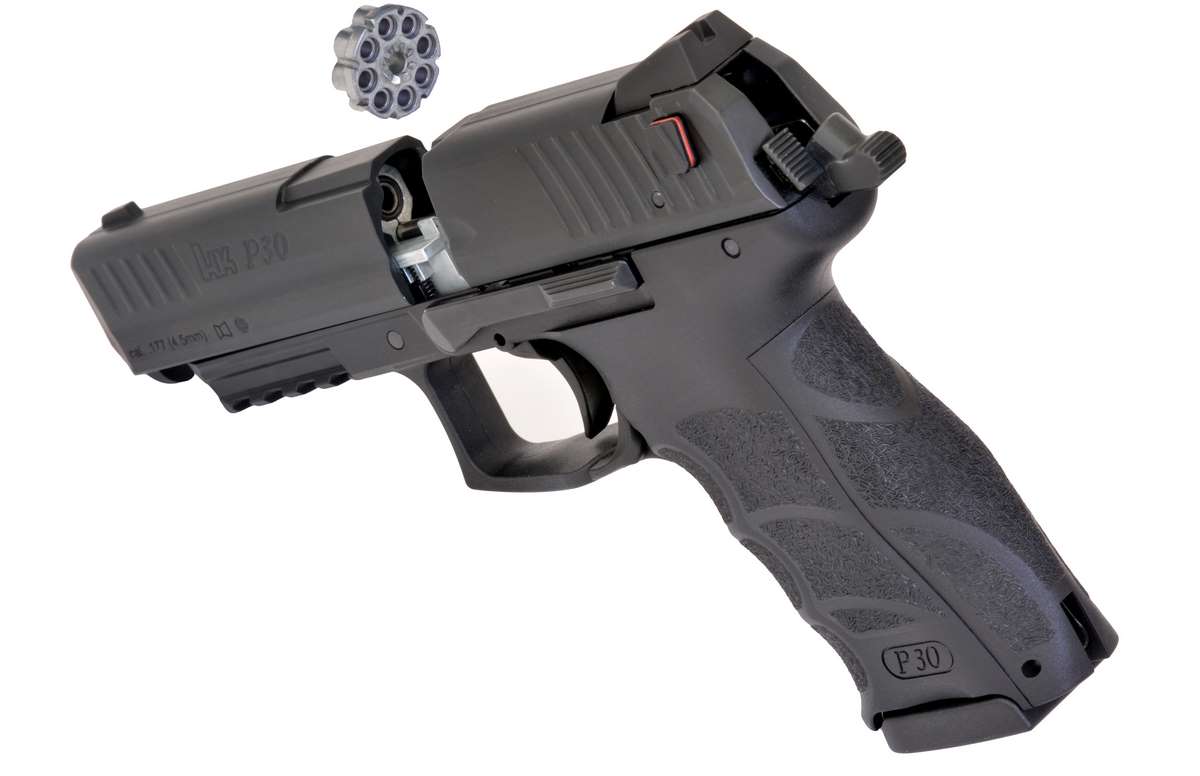 With multiple P30 models, HK and Umarex had to decide on which version to build as a training gun/CO2 air pistol, and there is a much more rewarding outcome in the P30's CO2 model's overall design that literally evolves beyond the older Walther CP 88 internal platform. Among centerfire P3 models the categories are divided into V1, an enhanced DAO with light trigger pull, also designated as the LEM (Law Enforcement Modification). There are variations of this as well as some law enforcement organizations do not want their offices carrying a gun with a light trigger, thus HK has the V2 LEM with enhanced DAO and a standard weight trigger pull. For those who want it all, there is the V3, a traditional double action/single action (DA/SA) model with a hammer spur for manual cocking, and a manual decocker, in my opinion the best of all combinations and the version duplicated by Umarex for the P30 air pistol. At its core the, the P30 still uses an 8-shot cast alloy rotary magazine loaded at the breech like the previous Walther and Beretta models.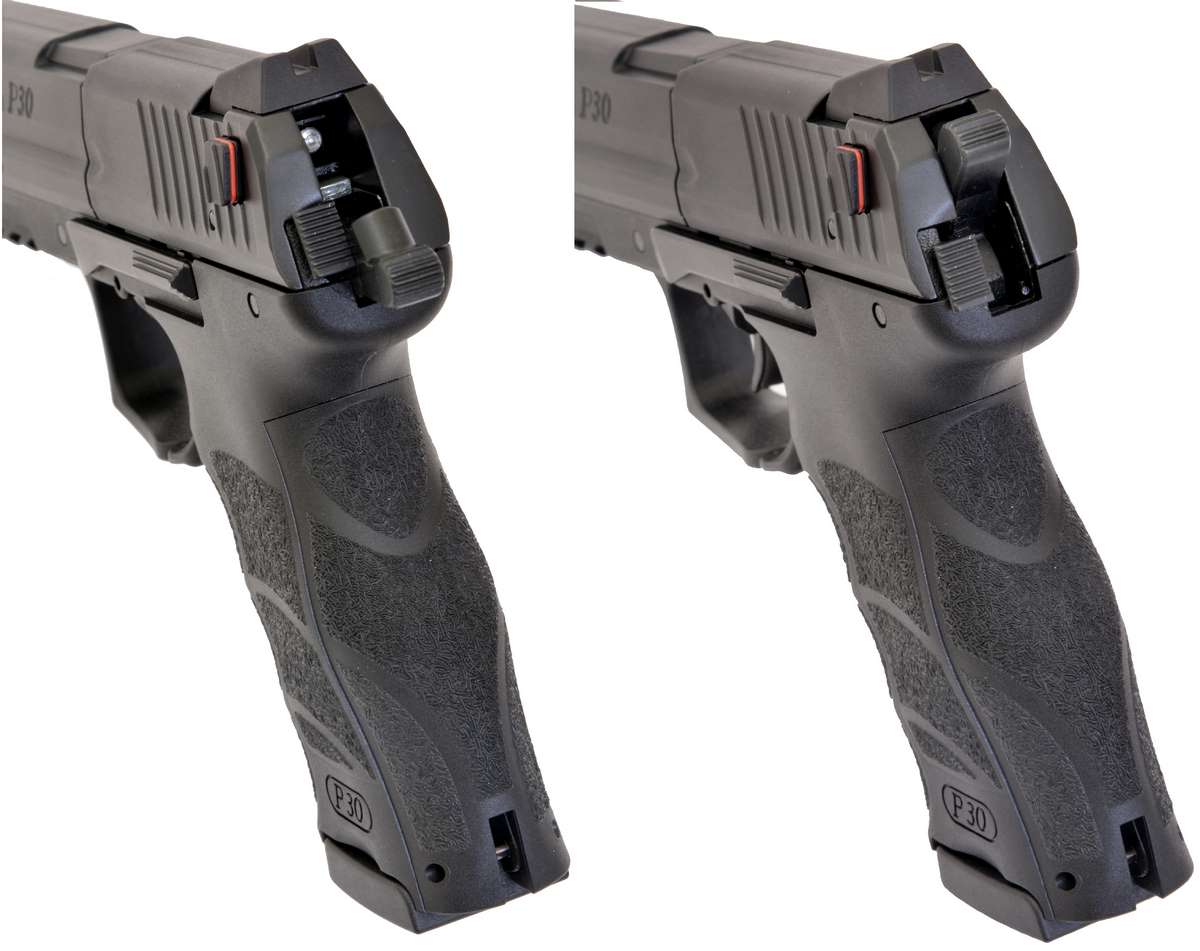 About the Gun
The Umarex HK P30 airgun is the full size V3 variation of Heckler & Koch's P30 Series introduced in mid 2007. The CO2 model has the same style V3 trigger design, manual safety, and ambidextrous rear decocker as the 9mm. The original P30 model has an overall length of 6.99 inches, a width of 1.37 inches, and height of 5.43 inches. The CO2 model also measures 6.99 inches in length, comes in at 1.25 inches in width, 5.5 inches in height (base of magazine to top of rear sight) and weighs 28 ounces empty, roughly 5-ounces more than the 9mm model.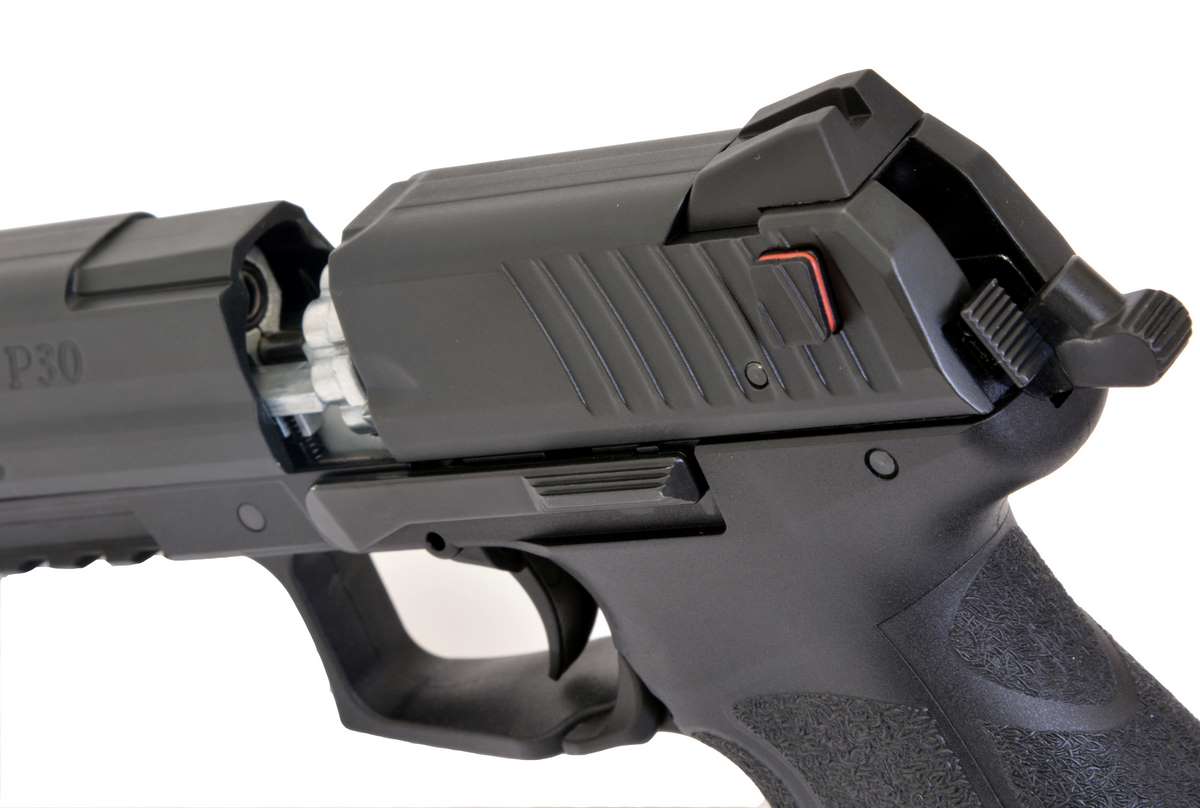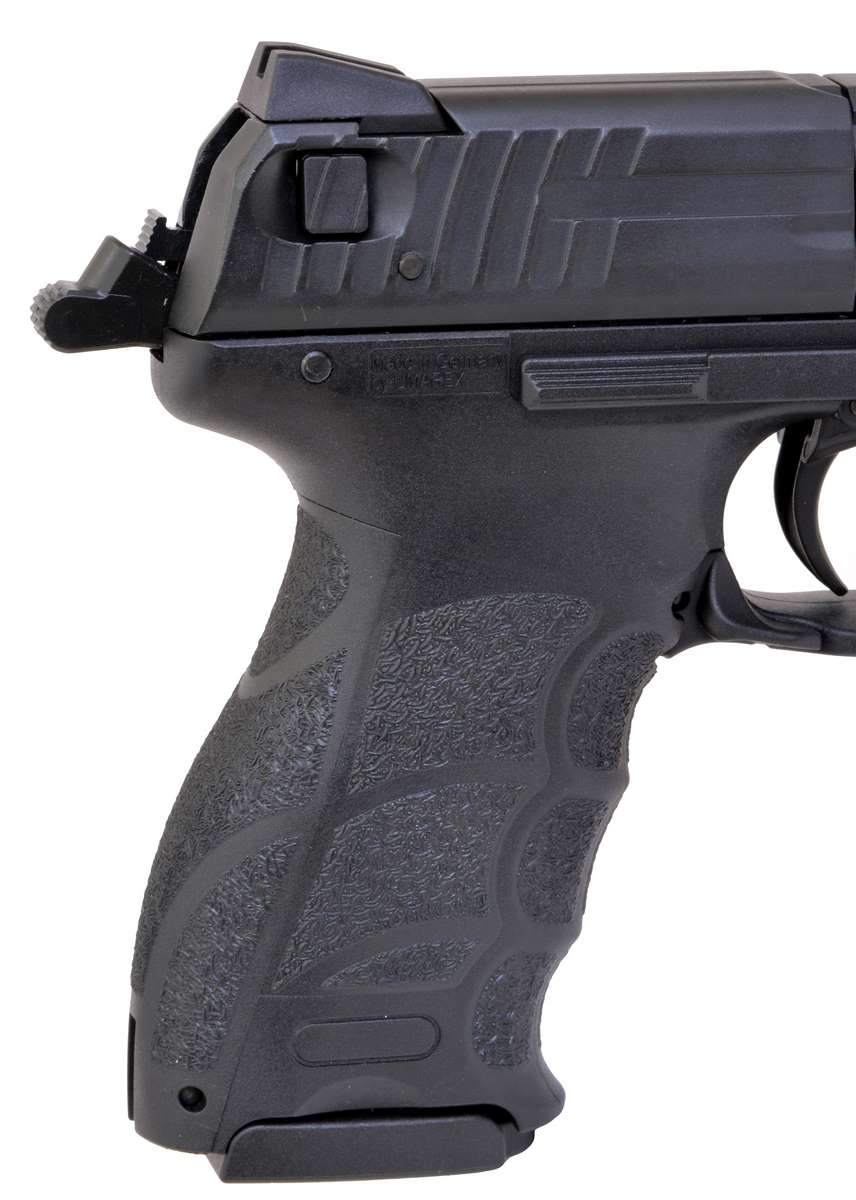 Among the few remaining CO2 models still made in Germany, the airgun uses a polymer frame like the 9mm P30, with the balance of the components; slide, hammer, trigger, slide release and decocker, all metal with a matte black finish similar to the 9mm model. The airgun also has a full length Picatinny rail to mount a weapon light or light/laser combination for enhanced training exercises and more precise targeting.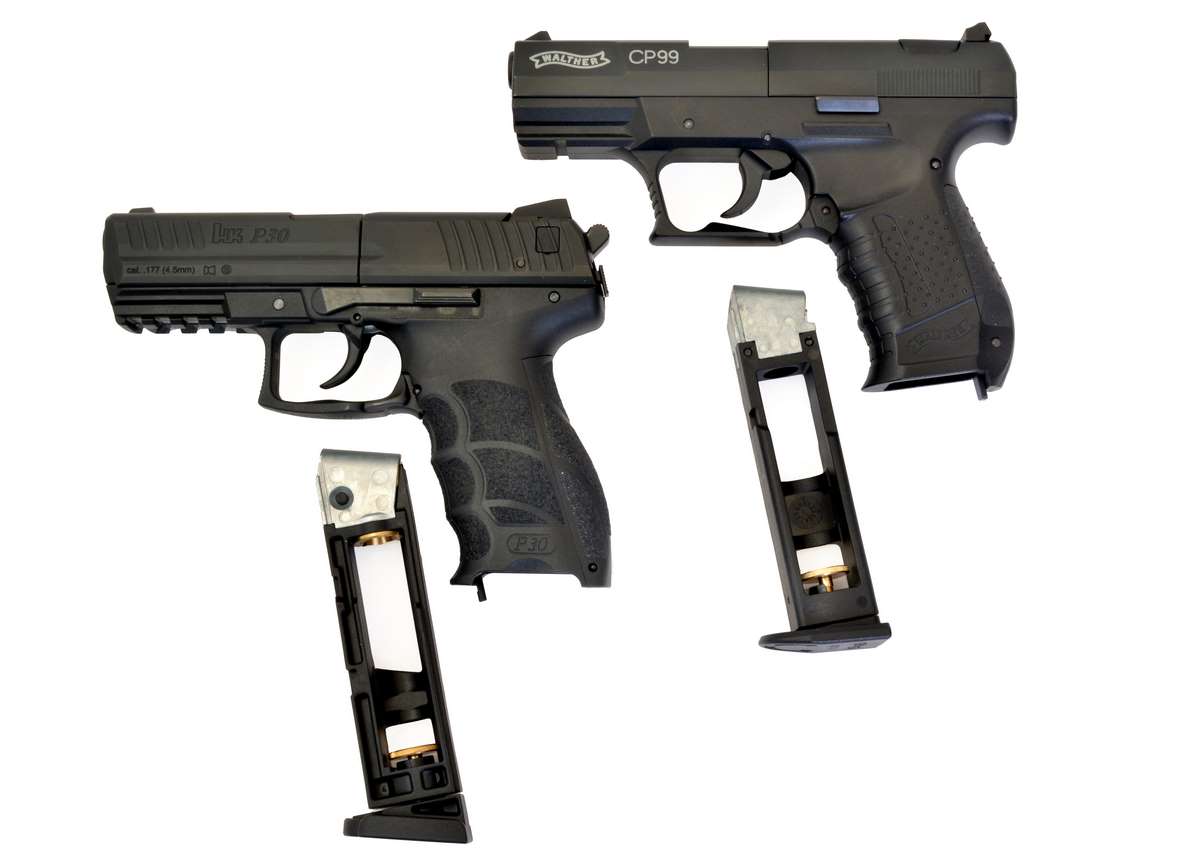 The update to old CO2 design
While the P30 is a pellet pistol with a rifled steel barrel and fires pellets using the same cast alloy rotary pellet magazines as other Umarex models, the CO2 is loaded in a separate magazine that loads into the grip, which is actually derived from the 2000 Umarex Walther CP 99. There is, however, one distinct difference, there is a BB channel in the front of the magazine (like other self-contained CO2 BB magazines that will load 15 steel BBs. Used in conjunction with the BB adapter in place of the rotary magazine, the P30 becomes a non-blowback action semi-auto BB pistol with a rifled barrel. This makes it an ideal gun for using lead BBs and Smart Shot (copper-coated lead BBs), since steel BBs could over time erode the rifling.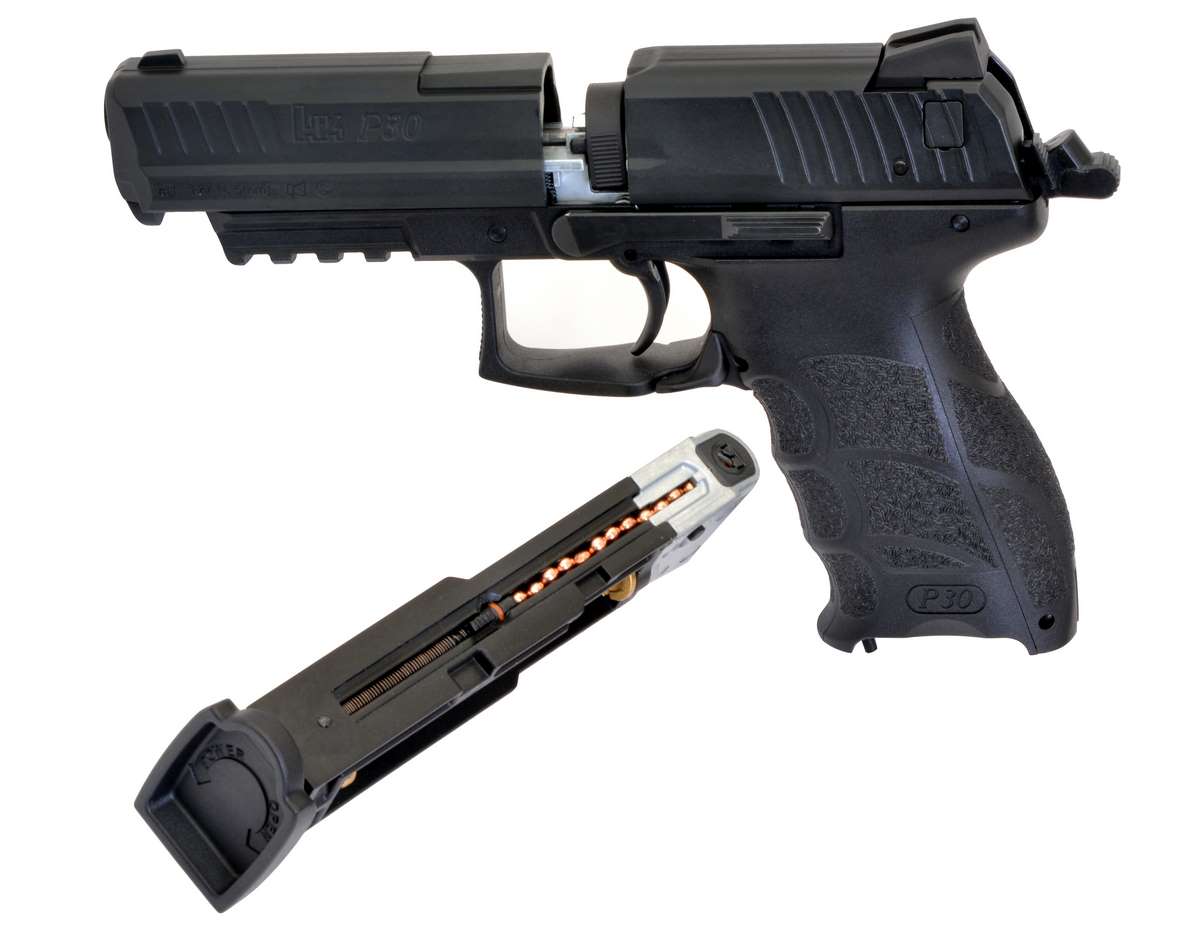 The only drawback to the Umarex HK P30 not having a blowback action is that you either have to fire every shot double action, or manually cock the hammer to shoot single action. This is the same situation with the Umarex Beretta 92FS and Walther CP88 pellet models, but not the CP 99 because it is based on a striker-fired design and is a double action only (DAO).
In Part 2 we take the HK P30 shooting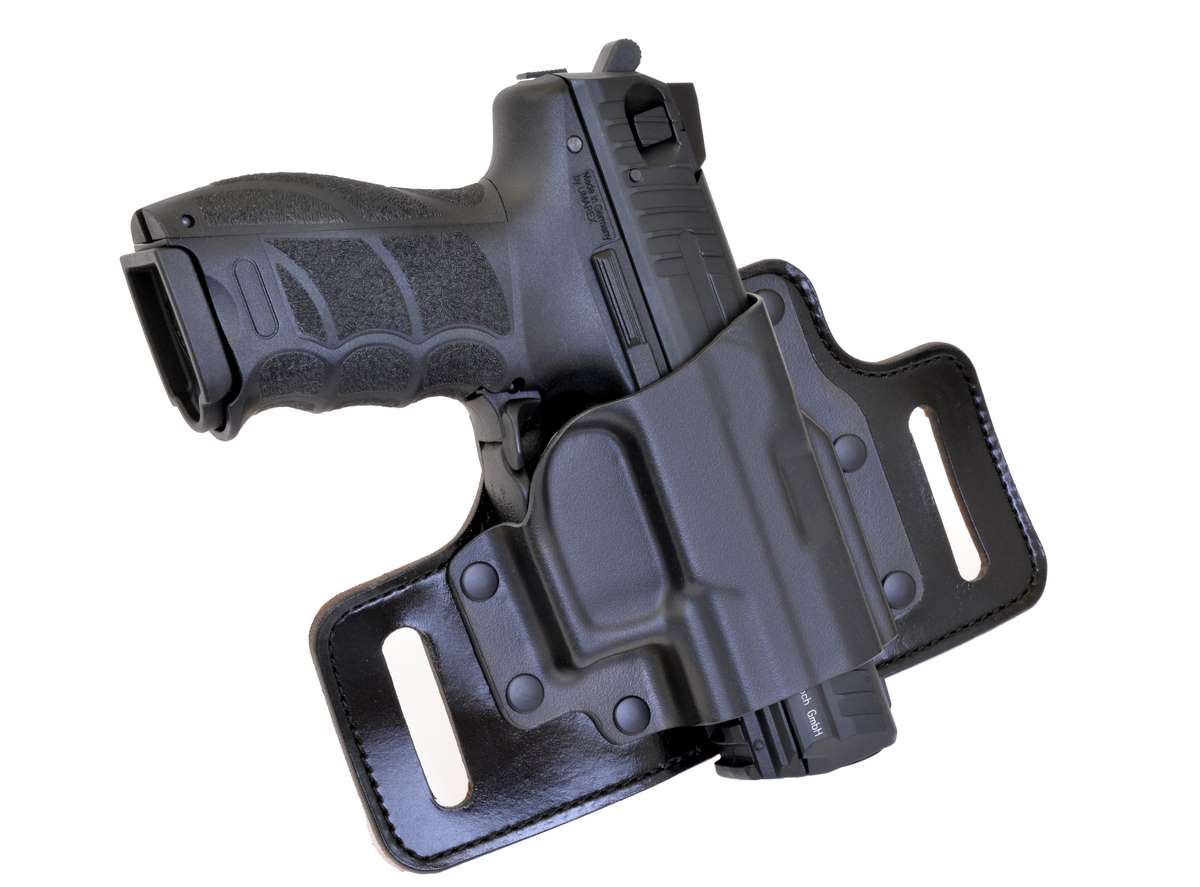 A word about safety
Authentic looking airguns like HK P30 provide the feel and basic operation of their cartridge-firing counterparts making them ideal for training purposes. All airguns in general look like guns, models like the Umarex HK P30 more so, and it is important to remember that the vast majority of people can't tell an airgun from a cartridge gun. Never brandish an airgun in public. Always, and I can never stress this enough, always treat an airgun as you would a cartridge gun. The same manual of operation and safety should always apply.