Retrospect Series Part 5 – H&K P30
The Heckler & Koch vs. Walther CP99
By Dennis Adler
The opportunity to shoot BBs from the HK P30 is a secondary feature; the gun by design is a pellet pistol with a rifled steel barrel. Its closest competitor, both as a 9mm pistol for law enforcement and military use, and as a CO2 pistol, is the Walther P99 and P99Q variations and the CP99. The CP99 has been in production going on 20 years and later in this review I will run the Walther against the HK.
Continued velocity tests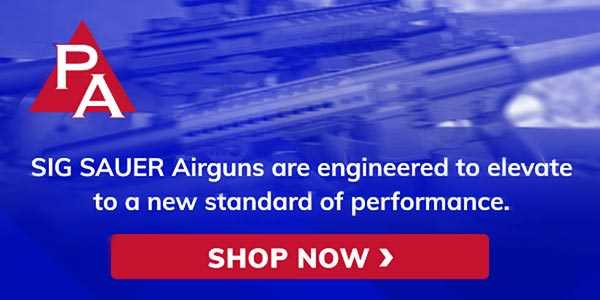 To recap, I shot Meisterkugeln Professional Line 7.0 gr. lead wadcutter pellets which averaged 342 fps, a little slower than expected. Today it is going to be lighter weight 5.25 gr. H&N Sport Match Green alloy wadcutters. Beginning with a fresh CO2, the first eight shots averaged 328 fps, which makes little sense and leads me to surmise the magazine is not holding air and is loosing pressure prematurely. My first shots started at 355 fps and after 16 rounds (two magazines) had dropped to 317 fps. I shot the Gamo lead BBs through the magazine and velocity again jumped around with a high that surprised me of 360 fps and then it dropped to 312 fps after half a dozen rounds. Since I do not have a spare magazine for the P30, we will have to suspend this test until a new one can be delivered. This rarely happens to me, but this gun has been sitting around in its case for a couple of years. This is definitely, "To be continued…"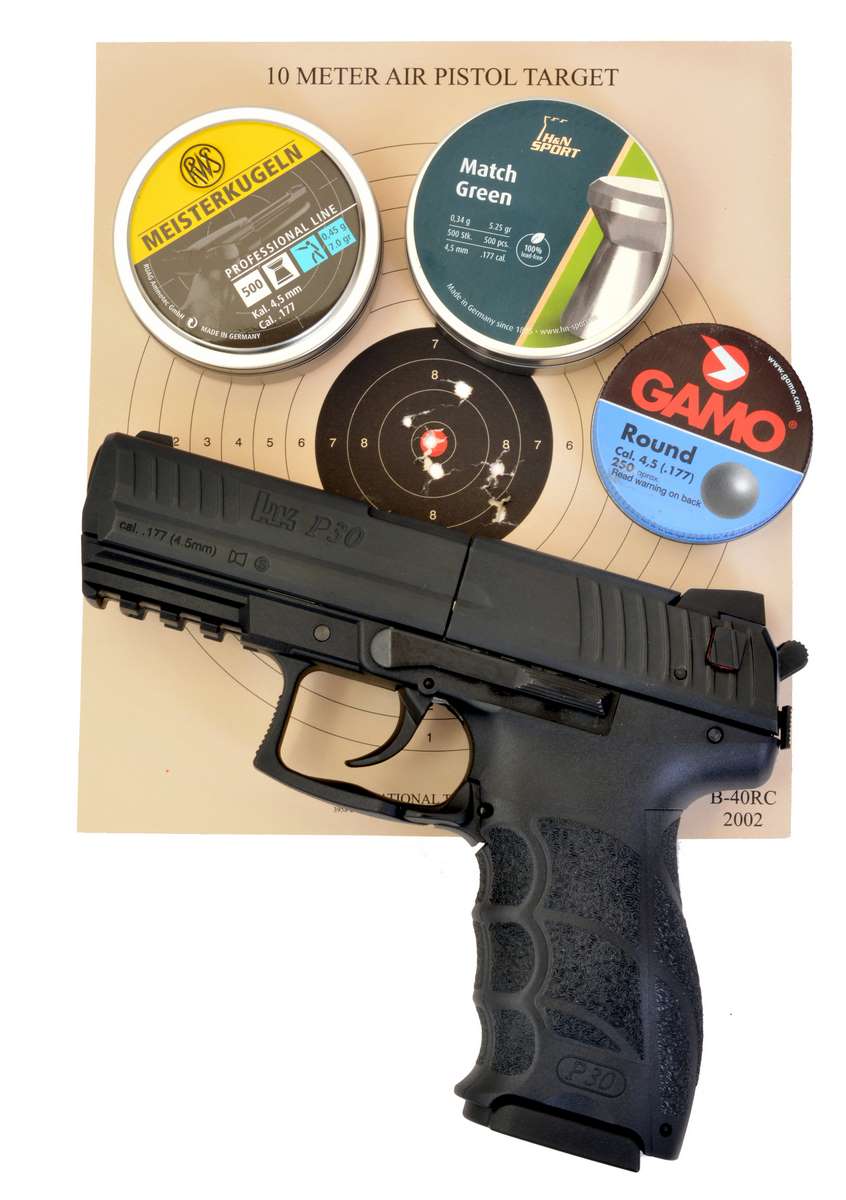 Moving on to the old CP99
I have had this CP99 pistol since 2001 and it has always performed well. It hasn't been shot in several years, so this will be an interesting test to see how the magazine and pistol's seals have faired in storage (in the factory hard plastic case).
First off, I am going to run a velocity test with the H&N alloy wadcutters, which I have not shot through the CP99 before, to see what the Walther delivers on alloy. With the H&N the CP99 averaged 382 fps with a high of 401 fps and three out of eight at 396 fps, and a low of 378 fps. At 21 feet, I shot two magazines and pretty much obliterated the bullseye. So this old gun still has it.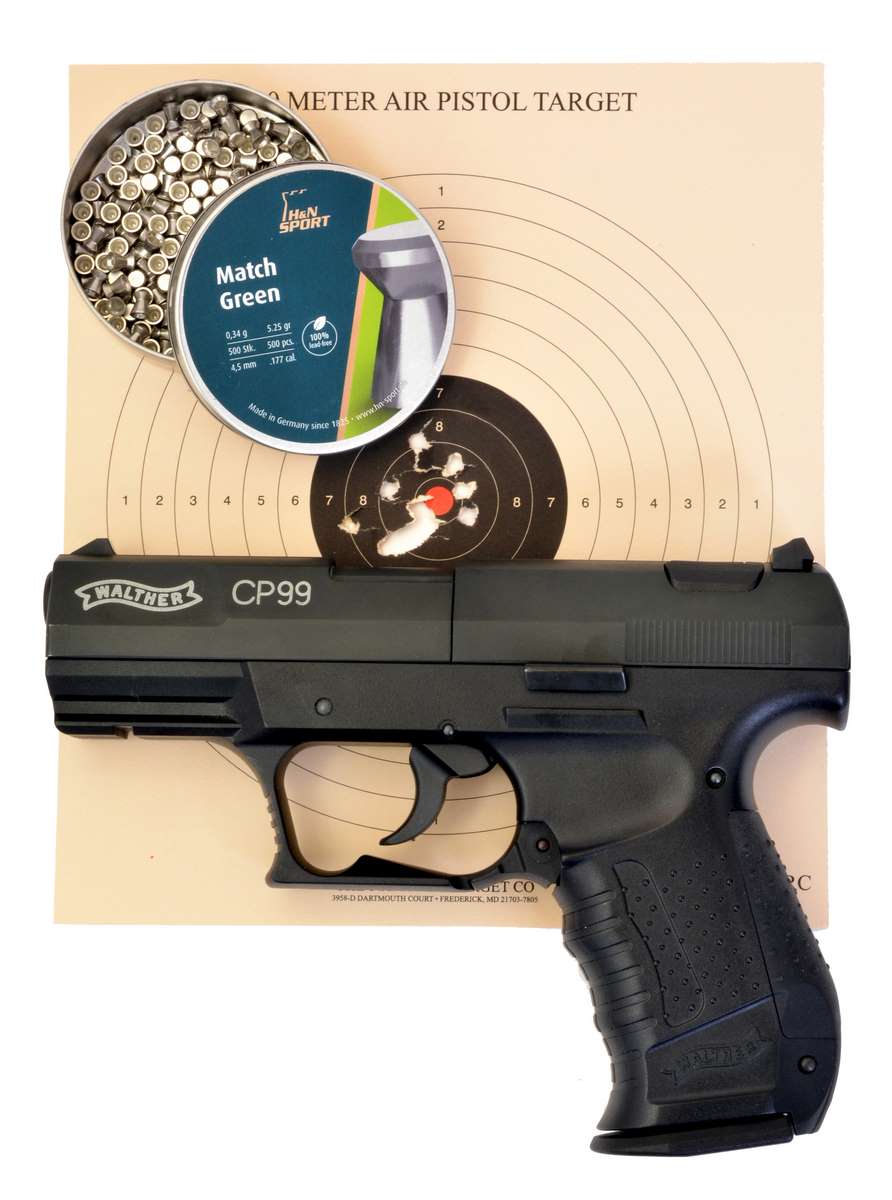 Given the failed magazine with the P30, this ends the article on that gun until the replacement magazine arrives. As for the old CP 99, I completed the 10 meter test and my best target with the Walther using H&N was 1.125 inches, which is about average for me with that gun at 10 meters. One advantage the CP99 has over the HK P30 is that the Walther comes with a white square front sight, which is very easy to center in the rear notch, so POA is pretty consistent, and the gun generally shoots well with a 6 o'clock hold under the black. With the heavy, 8 pound, 4 ounce average DA trigger pull, I attribute more of the windage issues to myself than the gun. As something of a postscript, the CP99 is a real DA/SA design just like the centerfire model, and you can fire the air pistol single action by pulling the slide to the rear, which cocks the internal hammer, rotates the rotary magazine to the next chamber and stages the trigger in SA mode. (I will follow up on this in the next article).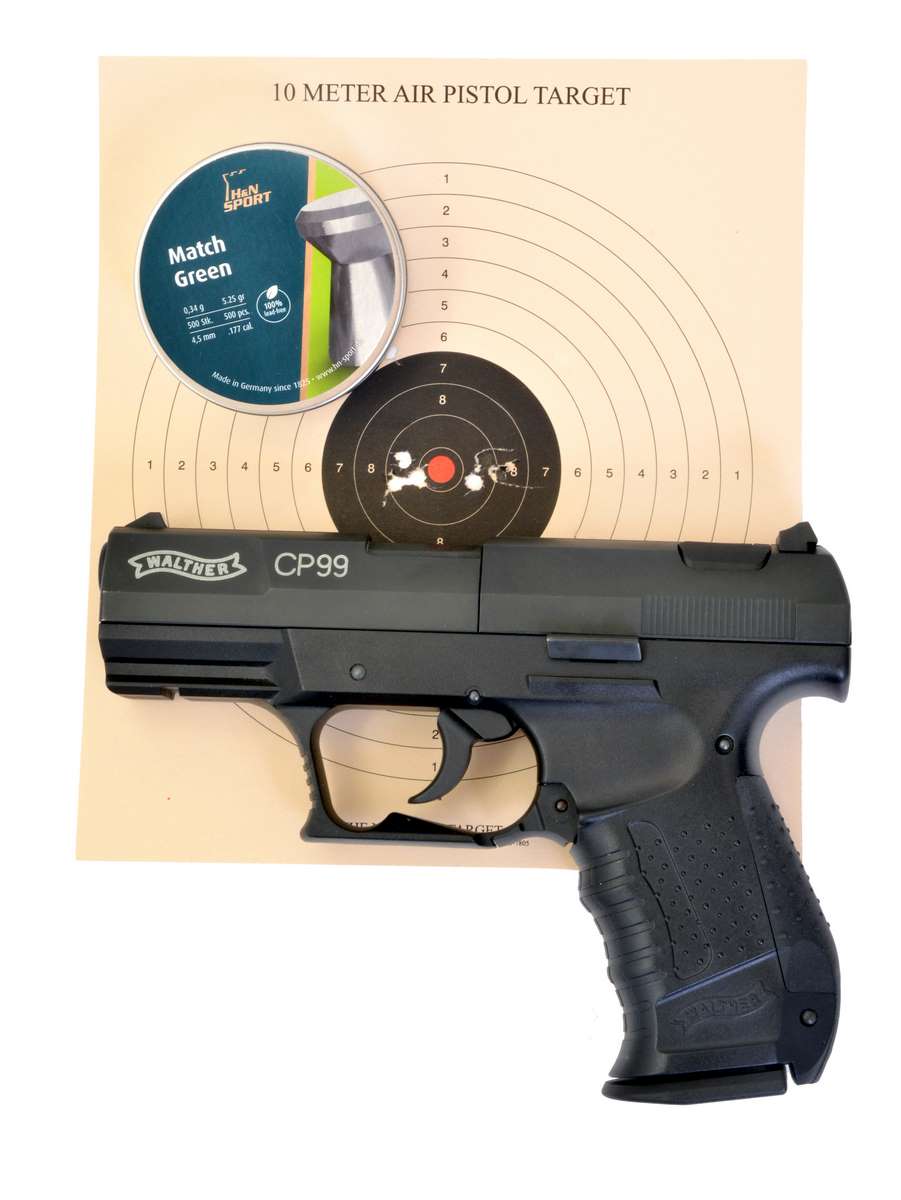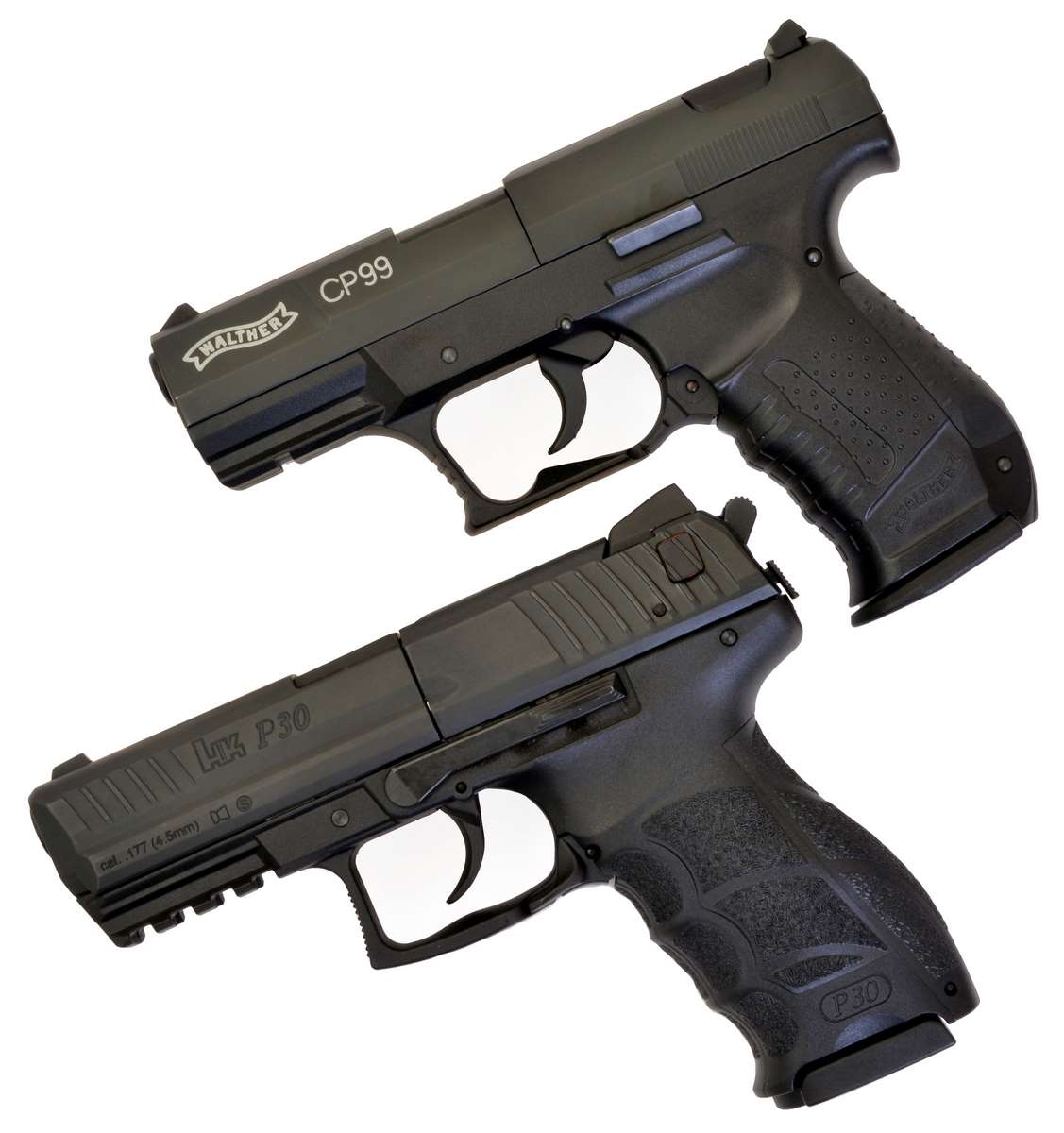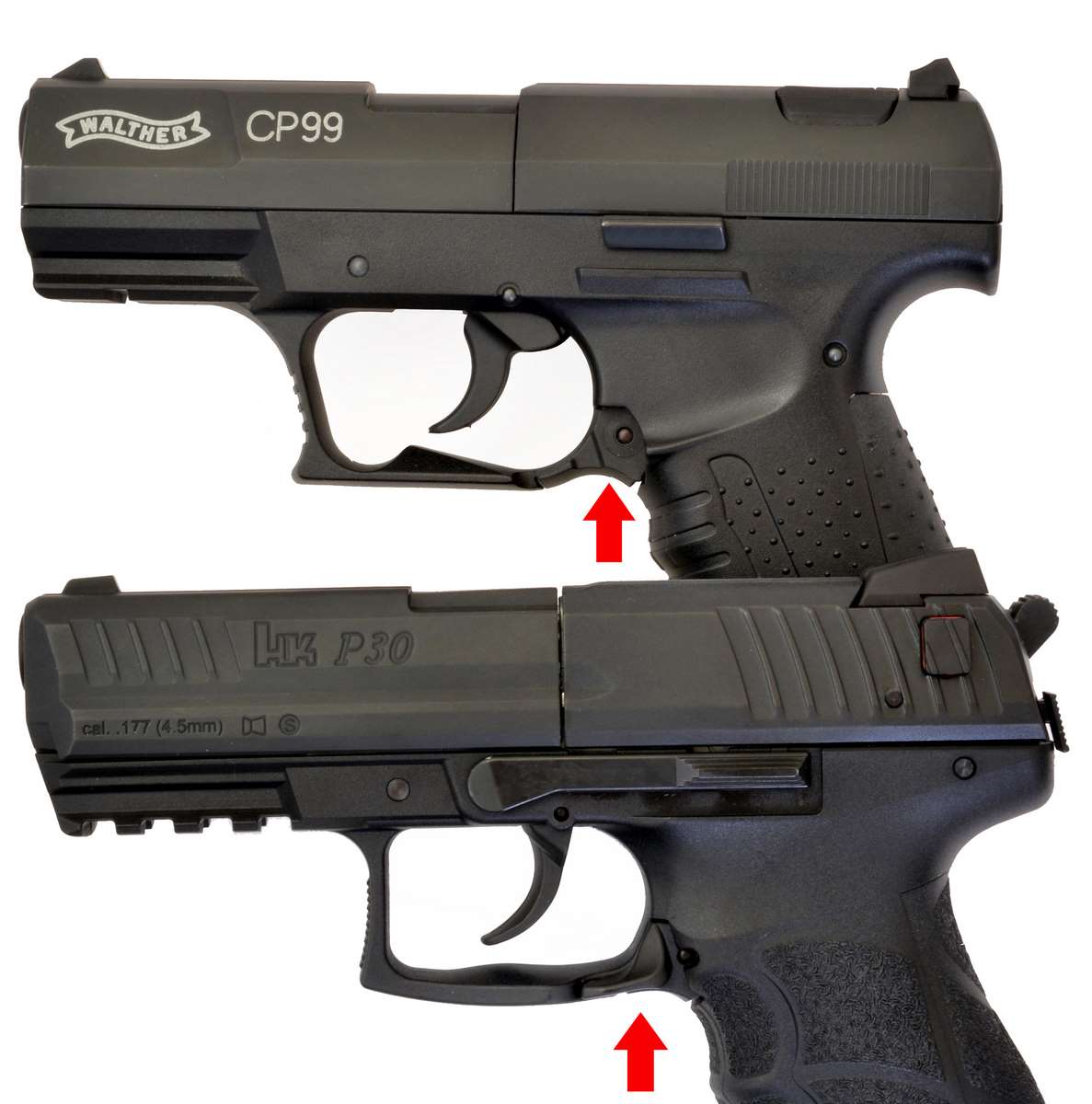 I ran one more target and went through a fairly rapid fire string of eight shots, all of which went a little high, but grouped into a tight continuous tear of overlapping hits measuring 0.84 inches.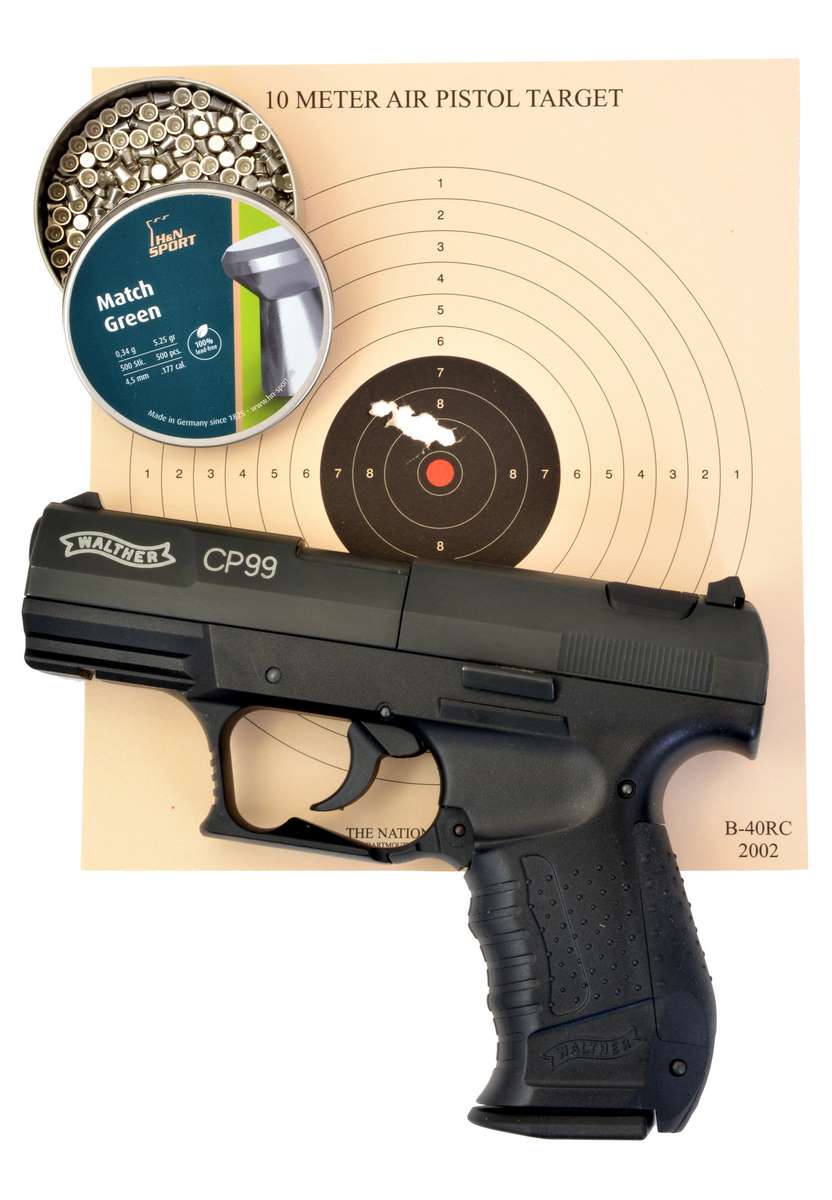 So, the old German-made Walter CP 99 still delivers on quality and decent accuracy, obviously longevity (this gun actually being almost 20 years old), and as a basic CO2 training gun has become a staple of the Umarex Walther line for two decades. A lot of air pistols have come and gone in that time, and I guess that says something for the CP99. As for the newer HK P30, don't let my issue determine your decision on ordering one. Even the best CO2 pistols have an occasional hiccup. We'll get back to the HK P30 as soon as a new mag arrives.