Retrospect Series part 6
King of the Classics – Walther P.38
By Dennis Adler
Eight years ago, before I began writing about airguns in magazines like Combat Handguns, I had a working relationship with Umarex, which has been instrumental in my collaboration on the First Edition Blue Book of Airguns almost 20 years ago. I tend to use that book as a focal point in my change from writing about airguns to becoming a collector. When that first book came out (the Blue Book of Airguns has since continued through a dozen editions), the number of, what I would call, interesting CO2 pistols was limited to the new models I wrote about in that book, nearly all of which are still made today by Umarex, but the guns I write about most in Airgun Experience hadn't been built in 2001; most weren't even on the drawing board at Umarex. It would take more than a decade for one of the best blowback action CO2 pistols built to be fabricated and put into production as a 2012 model. And like most of the occasional "exceptional air pistols" that comes from Umarex (those that stand out from the rest of the lineup), it would be a classic military handgun. I don't think 24 hours passed from the time I got the initial press release until I had placed an order for the new Umarex Walther P.38 blowback action model. I didn't buy it to write an article but rather to put this impressive replica among my real 9mm P.38 models. In fact, I would not write about it until article No. 20 for Airgun Experience back in the summer of 2016.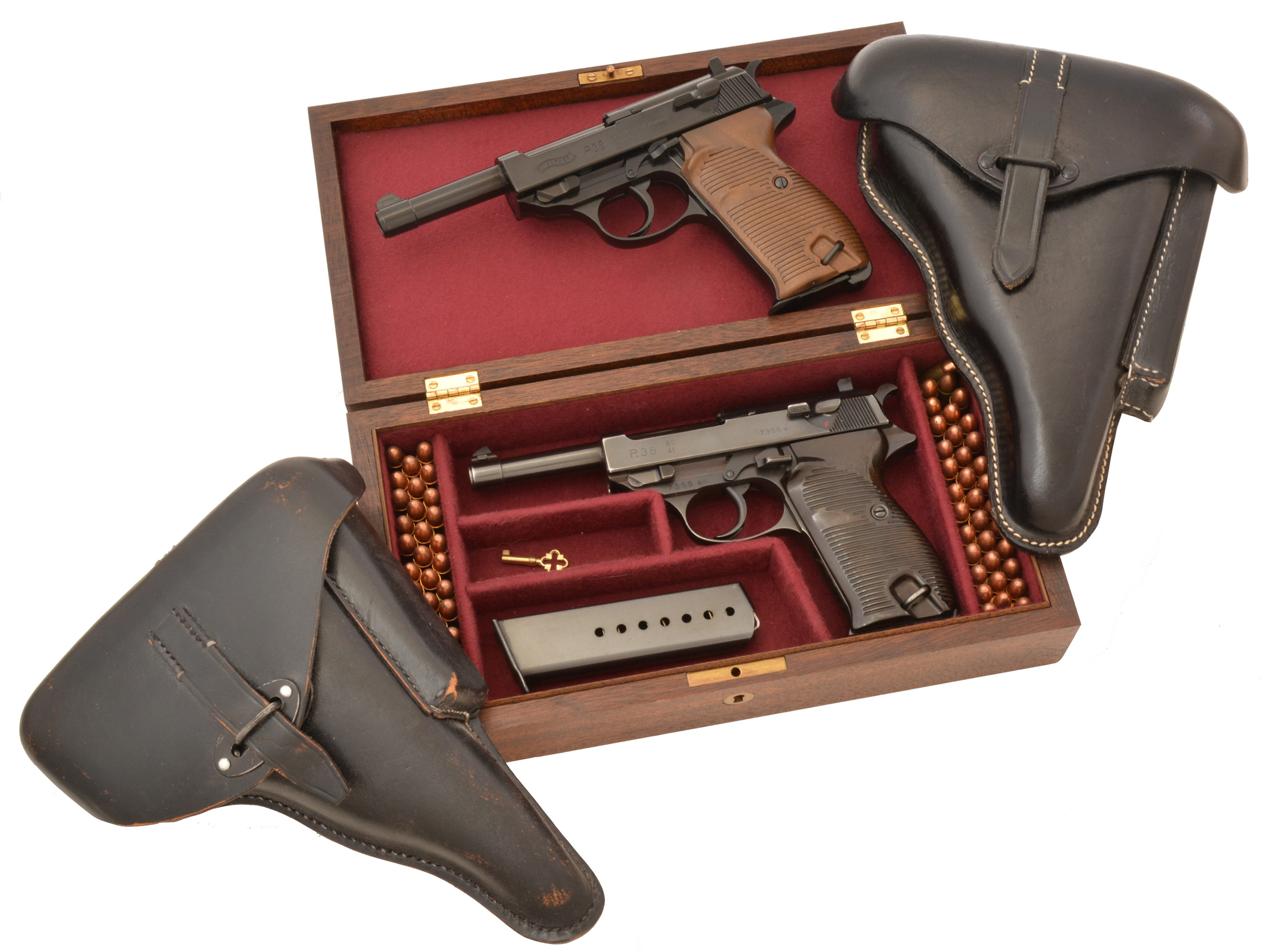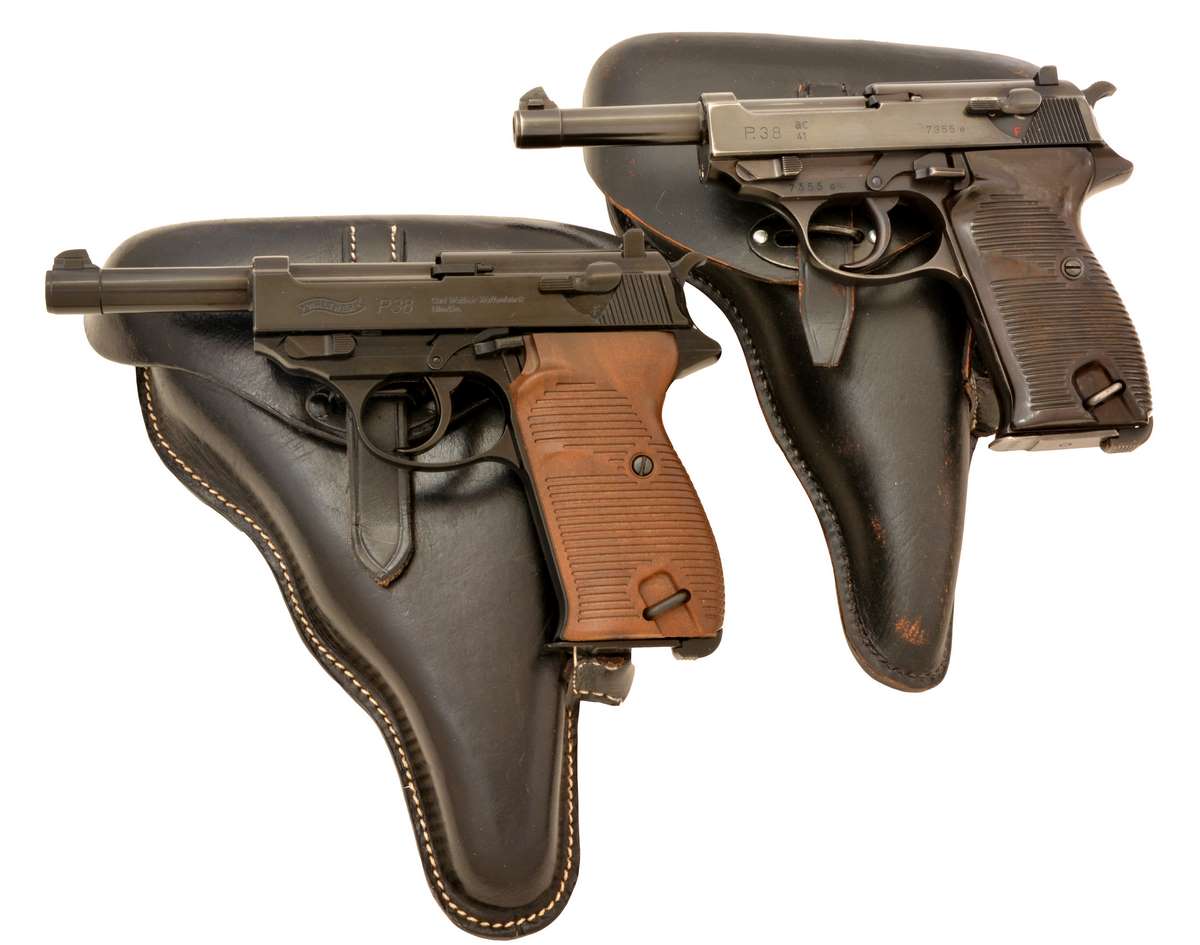 If you didn't already have one by then, and do not have one by now, I can tell you it is an air pistol you should have. It is distinctive for several reasons, the first of which is that the centerfire P.38 is among the most collectible and desirable of all WWII-era German handguns, and that Umarex and Carl Walther GmbH are two divisions of the same company, so these CO2 powered P.38 semi-autos are more than replicas, more than licensed copies; they are actually Walther handguns!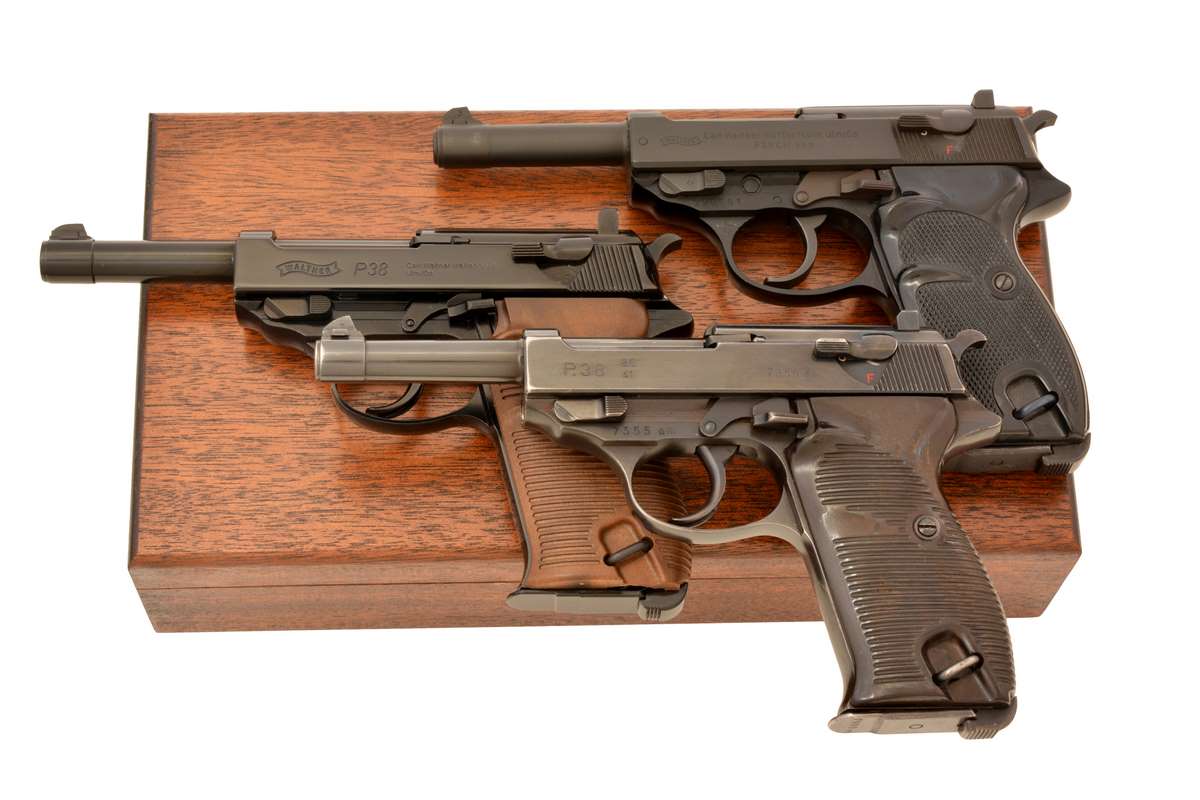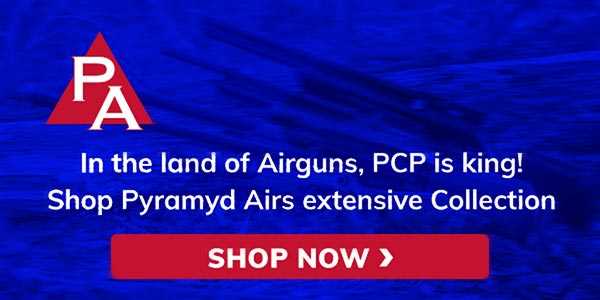 The second reason is the striking authenticity of the air pistol in its markings, the famous Walther banner, the model designation, manufacturer's stamping "Carl Walther Waffenfabrik Ulm/Do." andthe Walther AC proof mark. There are no white letter markings on the gun, the warning and manufacturer's information are subtly stamped into the right side of the slide, and as unobtrusive as possible, and this was back in 2012. But the most important thing about the P.38 is the finish. It is a deep, high polish, blue black that looks very similar to the centerfire models. Of course, finishes varied on the actual P.38s during and after the war, but high polish blue was and remains the most desirable. In short, the Umarex Walther P.38 was almost one of a kind when it came to air pistol finishes. You won't find many air pistols with a finish like the P.38 and Umarex says it is because of the factory that builds them. They have a process that is not used on many other air pistols that renders a high polish look (outside of chrome or nickel plating). It is as fine an original-type finish as you will find on a blowback action air pistol, then, now, and likely for the foreseeable future.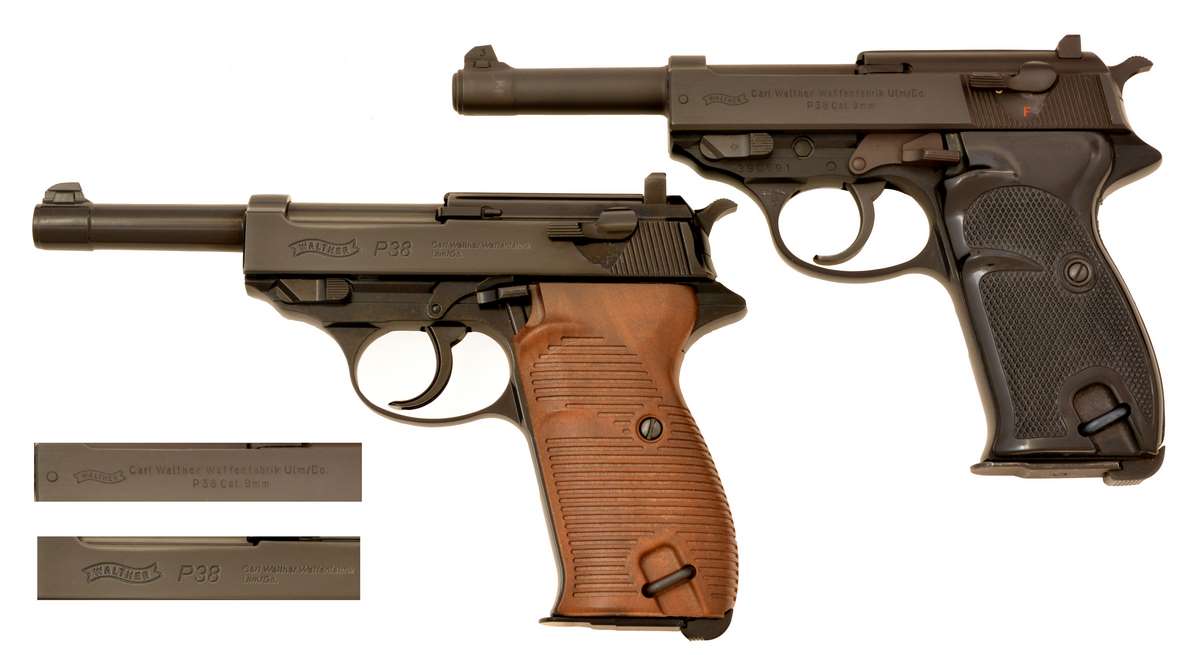 A Little P.38 History
Carl Walther introduced his first semiautomatic pistol 112 years ago in 1908. The company's continuing success with autoloaders throughout the 1920s and 1930s reached its pre-WWII zenith in 1938 when Walther introduced the world's first 9mm DA/SA (double action/single action) semiautomatic pistol. It was called the Pistole 38 or Walther P.38. In addition to its innovative DA/SA trigger, the new model featured a short open top slide (long, long before Beretta), was equipped with a manual safety lever that also functioned as a decocking device, and introduced an integral loaded chamber indicator, something that is almost mandatory in semi-auto handgun design today, and this was 82 years ago. Perhaps the only backward element of the entire design was a traditional European magazine release located at the heel of the backstrap, instead of the more Americanized magazine release button on the side of the frame.
Shortly after the P.38 was introduced it was being sold in the United States by A.F. Stoeger, which listed the new German-made semi-auto in its 1939 catalog for $75. In fact, the German military didn't adopt the P.38 until a year after the outbreak of war in Europe. The P.38 was being sold in the United States before it became a German military handgun.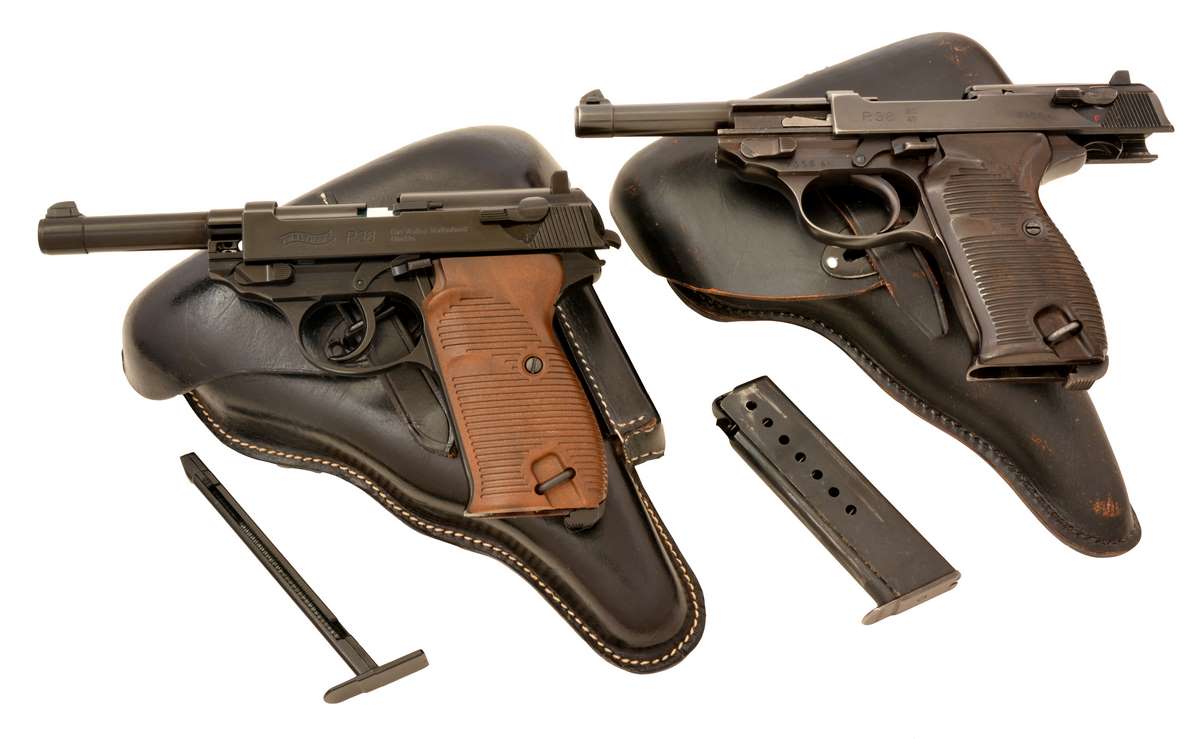 Wartime manufacturing reached a staggering 1.4 million guns by 1945, including models made by Mauser and other manufacturers. Today, the innovative P.38 is one of the most readily available classic military pistols in the world. Plus it was put back into production in 1950 at the Walther factory in Ulm, (in what was then West Germany).
Postwar P.38 models featured the same 5-inch barrel and 8-shot capacity 9mm magazine, along with a new alloy frame for lighter weight, (approximately 28 oz.) and an aluminum-frame variant of the P.38, called the P1, that served as a standard issue sidearm of the postwar Bundeswehr (West German Army). The finish on most postwar and P1 models is not like the WWII era guns, the alloy models have a flat matte finish on the slides, for example. The fact that Walther built an alloy version of the P.38 in the postwar era also makes the CO2 model, with its alloy construction, a correct Walther configuration.
Compromises for cost
To make a P.38 CO2 model that was authentic in appearance was first and foremost in its design and manufacturing. But this was in 2012; air pistol technology had not fully evolved. To keep the look of the gun correct was more important than how it actually worked. Handling was the second concern, it had to have a slide that locked open on an empty magazine, it had to have a working slide release, a proper hammer, correctly styled brown-finish grips (original guns can be found with brown or black resin molded grips), well fabricated from plastic, but it didn't need a more expensive and complicated DA/SA trigger, which was only required to fire the first shot on a de-cocked gun, less one had the time to cock the hammer. So the air pistol did not get an actual double action trigger, nor did it need the safety decocker. One could cock the hammer, put the air pistol on safe and it could not fire; different from the actual P.38 but not unacceptable. Racking the slide also cocks the hammer, and after the first shot, 9mm and CO2 models all fire single action. The great compromise, though not seemingly great in 2012, was the use of a stick magazine with a full size P.38 base. Even this was done as correctly as possible with the heel magazine release. The look was correct. The retail price of $120 was a fraction of the cost for a 9mm WWII model in mint condition. Umarex had just raised the bar for blowback action air pistols. It was the King of classic designs for the period and King of the stick magazine CO2 handguns then being manufactured by Umarex as vintage-style models. A year later a lot of very interesting guns would begin appearing between 2012 and 2015; a new chapter would be written in airgun design by Umarex, but the preface to that book really began with guns like the P.38.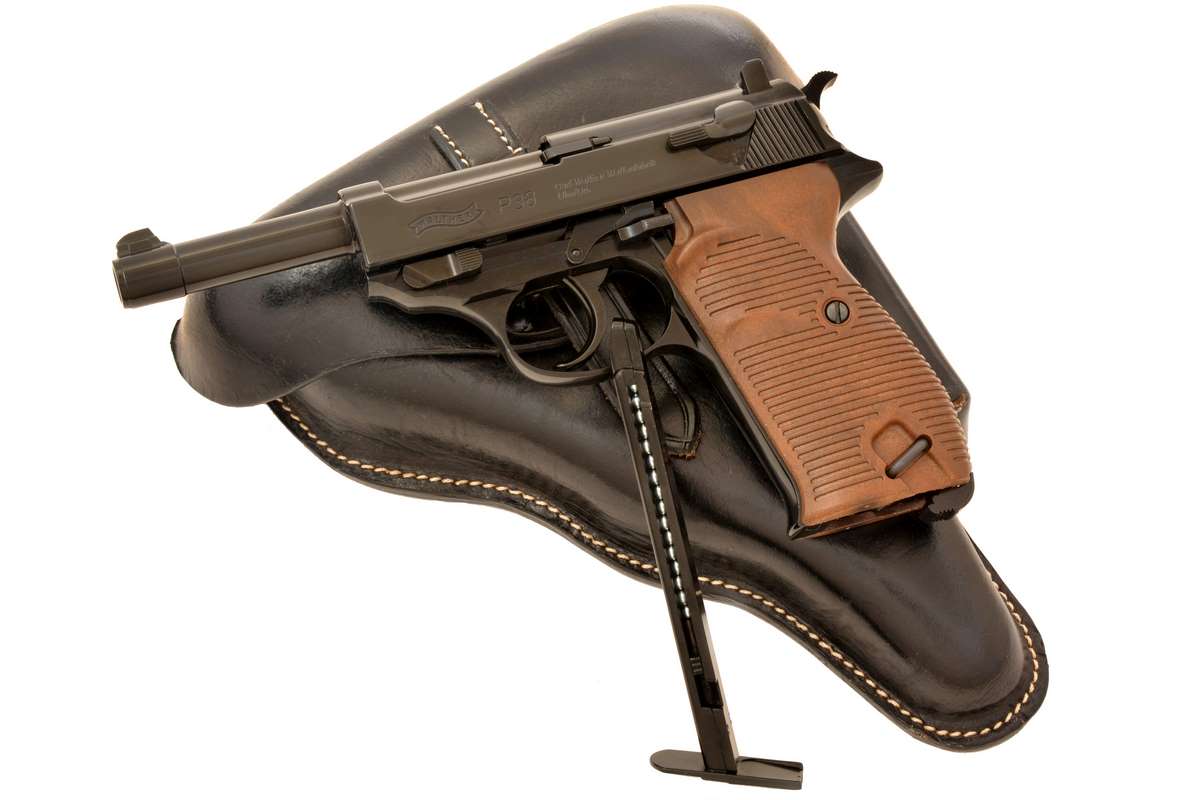 Umarex Walther P.38 Range Test
The Umarex Walther P.38 fires up to 20 BBs from a stick magazine inserted into grip. While the CO2 is housed separately in the left side of the grip frame (by removing the left grip panel) the stick magazine looks right from the outside as it has a full size P.38 floorplate and the CO2 seating screw key is hidden inside the frame. The airgun's all metal construction adds to the authentic weight and balance in the hand. Barrel length is slightly shorter (internally) at 4.75 inches, overall length of the gun is 8.5 inches and carry weight 30.5 ounces; very close to the original P.38's weight of 33.5 ounces. For Walther collectors having an airgun that is almost indistinguishable from a 9mm original has a lot of appeal. It has the correct front and rear sight design, left side slide release, the correct trigger shape, thumb safety (but not decocker) and takedown lever.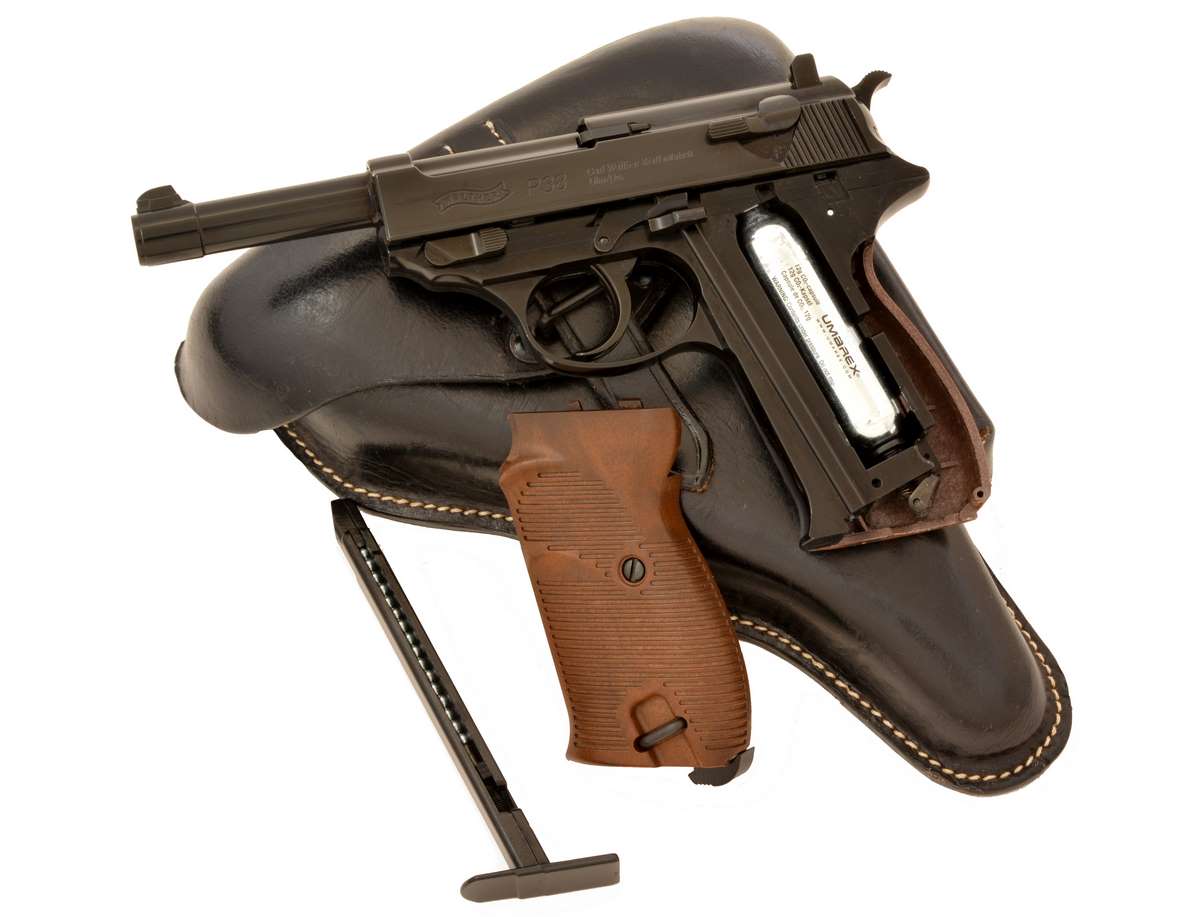 I am showing the Umarex P.38 alongside an original early AC41 (c.1941) P.38 for comparison and the attention to detail. And of course, it fits all original and reproduction P.38 holsters. I tried the Umarex P.38 in two authentic WWII-era holsters made today by World War Supply. The patterns they use are identical to the originals and the holsters even have the correct model stampings on the back. And like the Umarex P.38, the reproduction holsters are very reasonably priced.
The P.38 is rated at a maximum velocity of 400 fps. Trigger pull is crisp and heavy with an average weight of 8 lbs. 14 oz. with just a little stacking at the end of the two-stage trigger pull. A 9mm P.38 single action trigger pull averages 8 lbs. 2 oz. so the air pistol in right in the ballpark.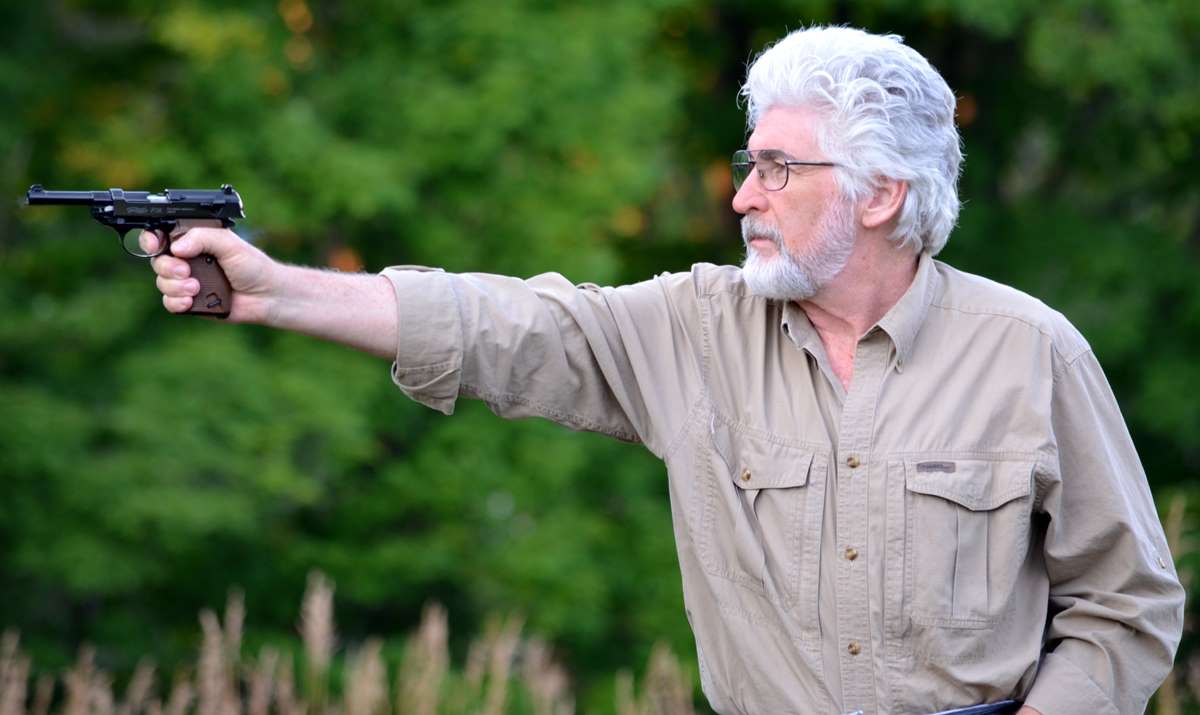 Among blowback action CO2 pistols, old and new, stick magazine or self-contained CO2 BB magazine, the P.38 ranks among the highest in average velocity at around 400 fps. Impressive for a blowback that has some kick. The test gun is eight years old, and has been shot a lot over that time and today with a fresh CO2 and Umarex steel BBs clocked an average velocity of 387 fps with a high of 395 fps and a low of 378 fps. At 21 feet, this gun generally will deliver 1.25 inch groups all day.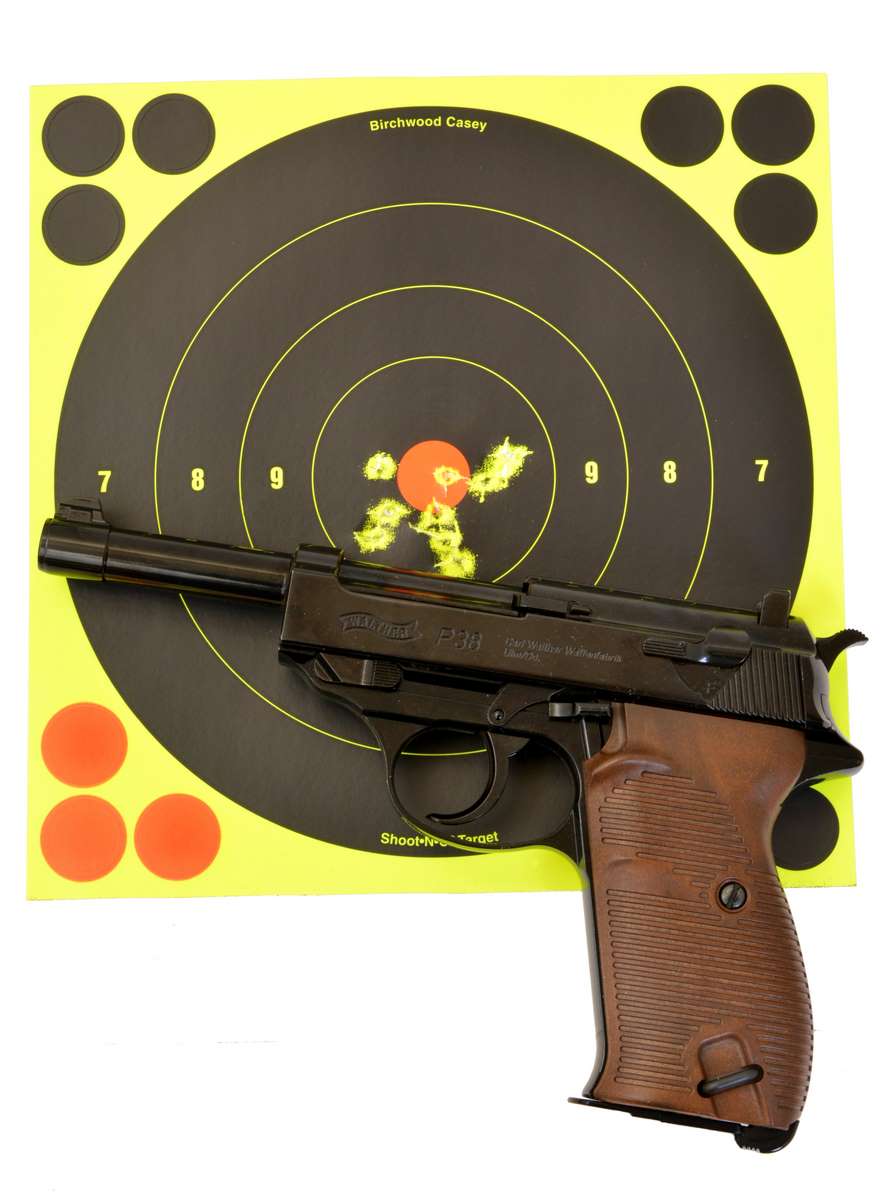 My best 10-shot group measured 1.25 inches with a best five at 0.93 inches, with all shots fired offhand using a two-handed hold (unlike my photo using a classic one-hand target shooting stance.) If I recall, my best 5-shot group ever with this P.38 was just a hair under 0.75 inches from 21 feet. It is not a target pistol but it is one that will put all your shots on the target, and a classic German handgun in your collection.