Revisiting Sig Sauer Part 1
Moving at the speed of air
By Dennis Adler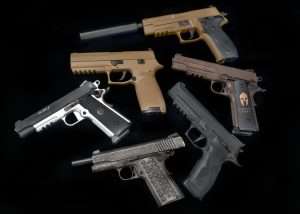 A little over two years ago international armsmaker Sig Sauer, manufacturer of military, law enforcement and civilian handguns and rifles, did something quite unexpected; they introduced a CO2 powered pellet pistol based on their P226 9mm semiautomatic handguns. The P226 was the same pistol being carried by U.S. Navy SEALs and other U.S. military units, and as federal, state and local law enforcement sidearms. The reaction to Sig Sauer's introduction of the P226 ASP was summed up in a January 2016 article by the editors of On Target magazine, who wrote: "What would you give for a CO2 powered, semi-automatic, .177 Cal. pellet pistol that looked just like, weighed about the same as, had all the same controls – including the trigger system – and fit in the same holster as your center-fire P226?  How about $110.99? For our money (and not much of that), this is the absolute best practice gun available for P226 shooters." A few weeks later I had the chance to do a T&E on the new P226 ASP in Combat Handguns magazine (this is before I began writing the Airgun Experience column for Pyramyd Air in May 2016) and in my review I noted that, "The Navy SEAL version ASP has an overall length of 7.75 inches including the threaded 5-inch barrel, a height of 5.5 inches and width 1.26 inches, including grips and safety/decocking lever. The P226 Combat 9mm specs out at 8.3 inches in overall length with a 5-inch threaded barrel, 5.5 inches in height and 1.5 inches in width; once again right in the ballpark for handling exercises right down to pulling the trigger." Dani Navickas, Sig Sauer's ASP Air Division product manager backed that up by noting, "We designed our initial offering of airguns to look and feel like Sig Sauer centerfire guns, with similar weight and trigger pull for training purposes."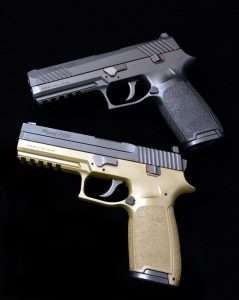 This was not the beginning of CO2 air pistols for handgun training, but outside of Umarex (Walther), it was the first time a major arms manufacturer had directly put its name on a CO2 powered, semi-auto pellet pistol designed for training. There is a fine distinction between a company licensing their name to an airgun manufacturer (like S&W and Colt do with Umarex), to being the airgun manufacturer. This is equivalent to Webley building their legendary MK VI revolver as a CO2 model. Sig Sauer had taken a significant step.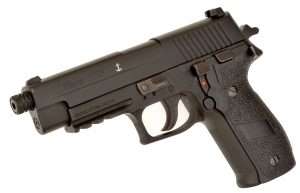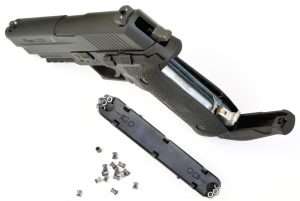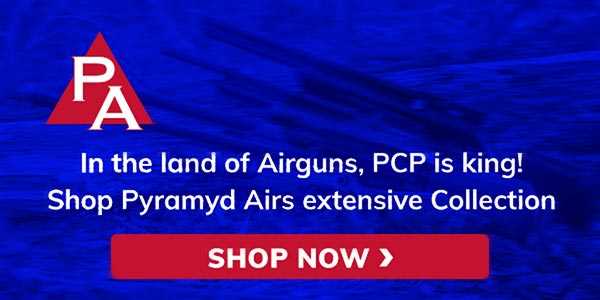 And then came the naysayers 
Almost immediately everyone complained that the P226 fell short of the mark because it used an old style reversible 8-shot rotary stick magazine, the slide couldn't lock back, and the gun had several inert (non-functioning) controls like the slide release, which Sig Sauer deemed unimportant because the internal operation of the gun precluded any means of the slide locking back, so why have a functioning slide release. Those who came forth with criticisms had "anticipated" a more groundbreaking design. But these same people failed to see what Sig had accomplished with the P226. It was a very practical, very affordable training gun for anyone who carries a P226 and aside from the general airgun consumer market that was the intent of Sig Sauer's first offering. They had hit a bullseye but not on the target airgun enthusiasts were looking for. This was in the spring of 2016. We are now in the summer of 2018 and look what has Sig Sauer done in that roughly 16 month stretch of time. Most airgun manufacturers have introduced a couple of new models.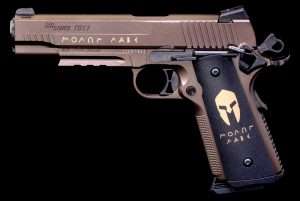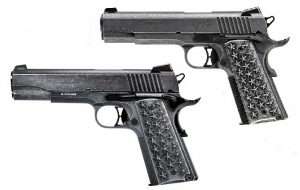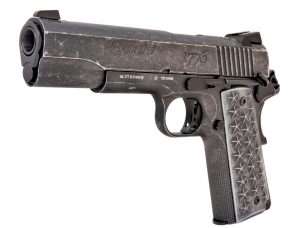 Sig Sauer has developed and introduced the companion P250 pellet model, Sig Sauer 1911 (centerfire pistol inspired) Spartan, Max Michel, and groundbreaking WE THE PEOPLE .177 caliber 1911 BB models, the pellet-firing P320, with an innovative rotary pellet magazine, and Sig Sauer X-Five ASP competition pistol, plus two rotary magazine fed semi-auto tactical rifles, the MCX and MPX. Now Sig Sauer is ready for the fall introduction of a new CO2 model based on the company's U.S. military contract M17 P320 pistol. And this new blowback action model will introduce yet another groundbreaking feature, a self-contained CO2 pellet magazine.
It has barely been two years since Sig Sauer introduced its first CO2 model. Anyone with an interest in collecting airgun history should have one of each Sig Sauer CO2 pistol, because each design is a stepping stone to the next, and in the case of Sig Sauer, they aren't stepping, they're sprinting!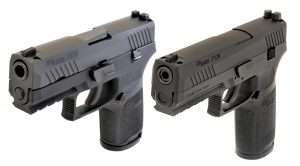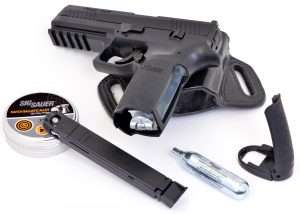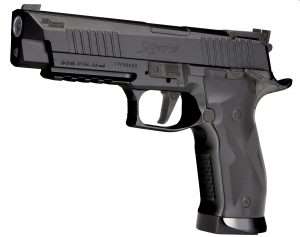 Rained Out
Late last month Sig Sauer had a press preview for its new ASP20 gas spring breakbarrel air rifle at their U.S. headquarters in Exeter, New Hampshire. Both Tom Gaylord and I were among those invited. As Tom has already mentioned in his latest Airgun Blog articles, weather prevented me from attending but Tom finally made it up to New Hampshire, and you can read all about this innovative new air rifle in his current review. As for me, I returned to a wet and rainy central Pennsylvania and began getting information directly from Sig Sauer thanks to their remarkable public relations department headed by Shannon Jackson, and Sig's Dani Navickas. While Tom is regaling you with what he has dubbed "the next FWB 124" in the Airgun Blog, I want to give you a first look at the CO2 pistol that will likely rewrite the book on blowback action pellet-firing airguns. What things may come, will be revealed Saturday with a look at the CO2 version of the M17.
To be continued….