Revisiting Sig Sauer Part 2 Part 1
First Look: The M17
By Dennis Adler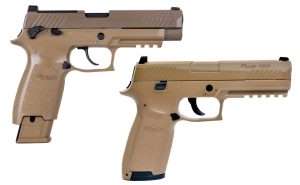 Here is something to ponder. If foreign companies move to America and begin manufacturing here, are they still foreign companies? Is a Chevrolet (I just picked Chevrolet at random) that comes off a Michigan assembly line combining parts made in Canada, the U.S., and Mexico an American car? Is a BMW built in the U.S. a German car? Better yet, is a German or Italian handgun built in the U.S. still a German or Italian handgun? By design, most often yes, but as an imported gun, no, because it's not. The Sig Sauer P320 variants for the U.S. Army, (the M17 and M18), are built in New Hampshire by Sig Sauer. It is a German design built in the U.S. for the U.S. military. There are also civilian versions of the M17 to compliment the Sig Sauer P320, upon which the M17 is based. Now, jump back to 1985 when Colt lost its "primary" manufacturing contract for the Model 1911A1 as the standard issue military sidearm to Beretta's Model 92F (M9). Beretta built a good percentage of those guns in its U.S. manufacturing facilities. In 2017, (after only 32 years compared to Colts 74 years) Beretta lost its contract to build the U.S. military's standard issue sidearm to Sig Sauer in the U.S. Army's Modular Handgun System (MHS) competition. That gun is being built in a special section of the company's New Hampshire manufacturing facility. All things being equal, the M17 is an American-made handgun. What's my point?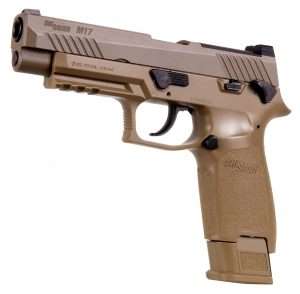 Sig Sauer is on the fast track, not only with the U.S. government, but with the U.S. civilian and law enforcement markets, and since late in 2015, with the U.S. airgun market as well. Almost as fast as the P320-based modular handgun design was adopted by the U.S. military and put into production, Sig Sauer's airgun division developed a companion blowback action CO2 model. And like its 9mm counterpart, it too, began as a P320.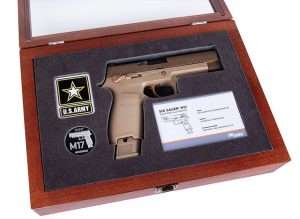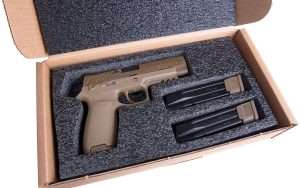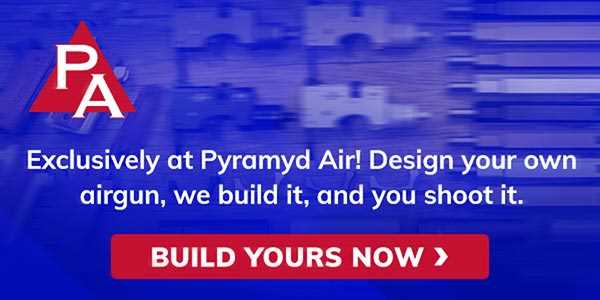 Making the M17 CO2 version 
The 9mm M17 is a groundbreaking design for the military, a modular handgun that uses a separate fire control housing that can be moved from one frame to another allowing the size of the frame, slide and barrel length, and even caliber, to be changed. The modular design also makes quick repairs in the field much faster. We won't be seeing a modular M17 CO2 model, but we will, in a very short time, have the next closest thing, a nearly identical looking air pistol that fires 4.5mm pellets from a uniquely designed self-contained CO2 pellet magazine. That last feature has been the single greatest demand from airgun enthusiasts who want the same capability in a blowback action pellet model as they have with blowback action BB models. This is it.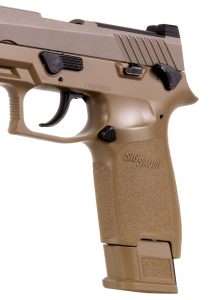 Is this a 100 percent understudy to the centerfire M17? Not entirely, even Sig Sauer, which appears to be able to design and manufacture new airguns at an impressive rate, can't change the physics of a pellet-loading semi-auto, even one with an integral 20-shot rotary magazine and CO2 loading system. The slide on the blowback action M17 still can't lock open after the last round is fired. And if you are left-handed, it won't be an ambidextrous pistol like the centerfire M17. But from that point on, the M17 is going to make shooting lead and alloy wadcutters from a rifled barrel semiautomatic air pistol a whole lot more interesting!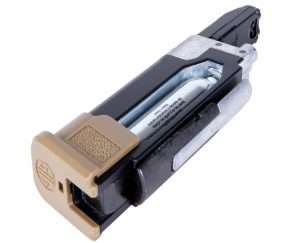 Sig Sauer has developed a dedicated magazine and firing system that allows interchangeability of the entire magazine (CO2 and pellets) for each reload, or simply switching out a loaded rotary pellet magazine in the main CO2 magazine housing. They are two separate components that fit together creating a single magazine for authentic reloading. The CO2 pellet magazines are also designed to look like the extended capacity 21-round 9mm military magazine. The visual is more impressive than the description.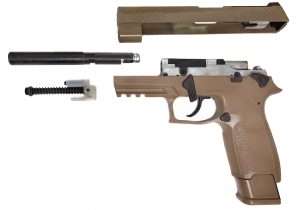 The authentic polymer frame has the same dustcover accessory rail design, triggerguard front serrations, trigger design (shape and feel), left-side thumb safety and magazine release as the 9mm model. The color of the frame and slide, a variation of the coyote tan P320, is also a match. Weight and balance are also nearly identical to the 9mm, as is the DAO trigger pull. Unlike the blowback action P320 ASP, however, the M17 ASP has a full slide ejection port, not a molded-in port, so the gun looks even more authentic when firing. And it can also be field stripped. It has just about everything consumers have asked for in a pellet-firing CO2 semi-auto.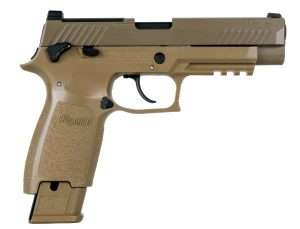 When can you hold this new CO2 model in your hands? According to Sig Sauer, the M17 ASP will be available sometime in November. I hope to have a full hands-on T&E before then.
To be continued…