Revisiting the Python Part 2
A snakey situation
By Dennis Adler
It seems that as hard as Umarex tried to make an authentic Python, the foundation was a little flawed in its dimensions in order to accommodate the CO2 firing mechanism, but for the time it was quite good. We have come a long way in a very few years with guns like the ASG Dan Wesson Model 715 and the almost flawless Webley & Scott MK VI, along with a few others like the Peacemaker and Schofield, but the Umarex Colt Python is still a very eye catching CO2 revolver, and with the use of Peacemaker pellet cartridges and alloy pellets can deliver impressive velocity. Currently, the Chrome model is selling for $129.99 (MSRP $149.99 and presently the original black finish CO2 model is not available).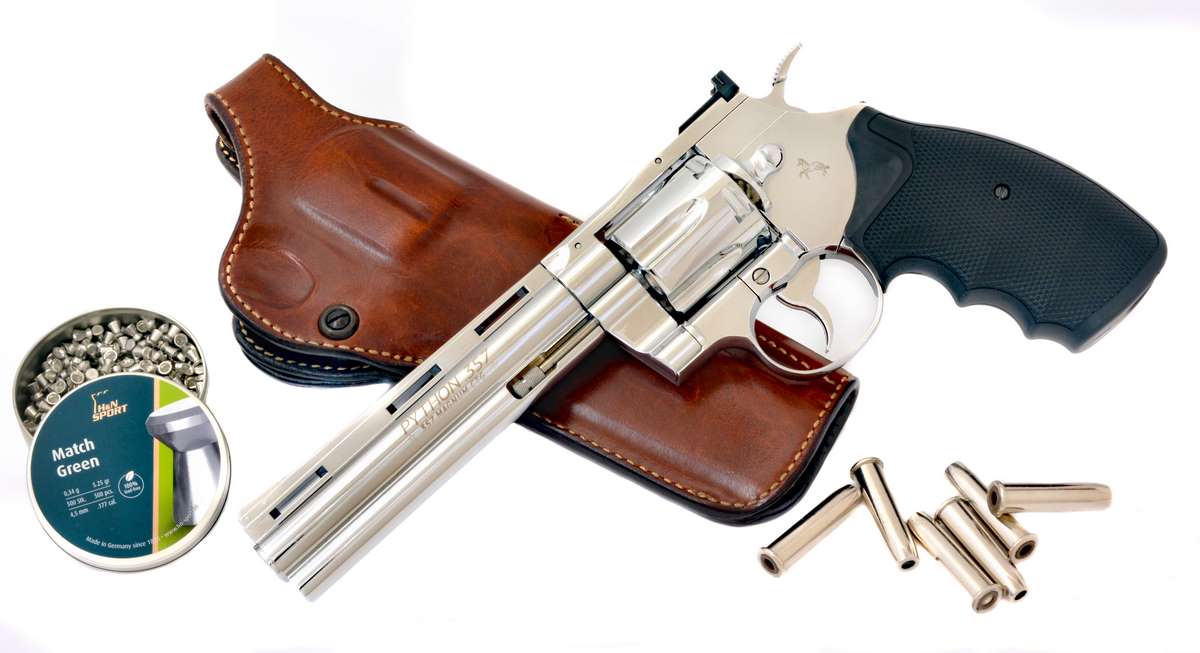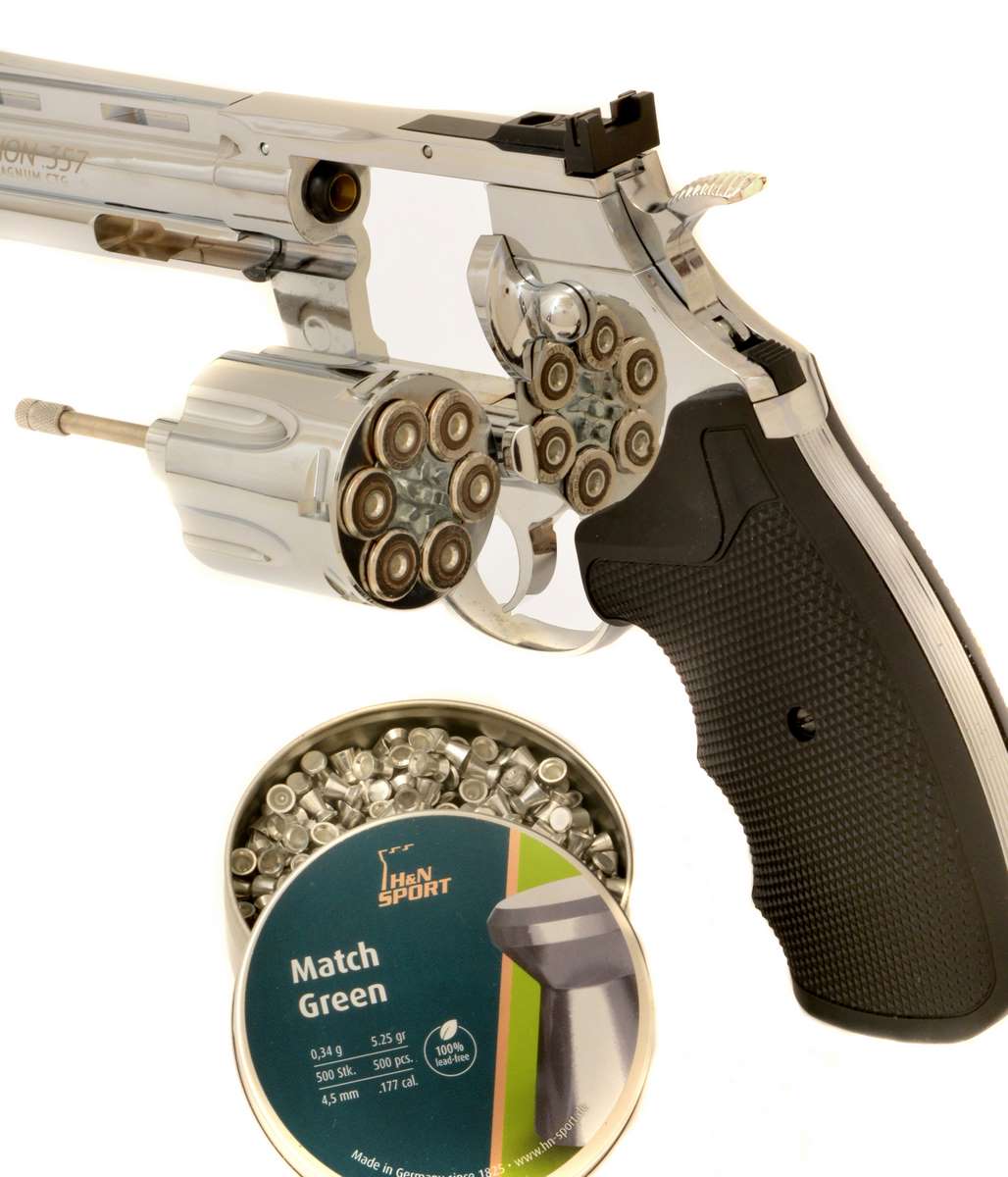 The real steel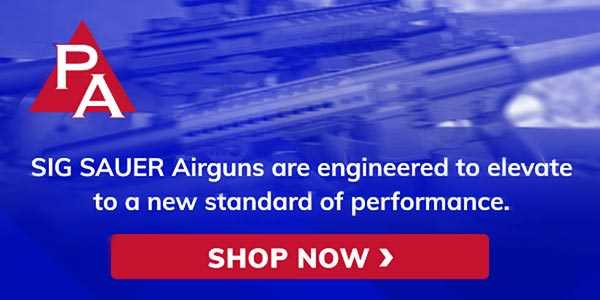 The .357 Magnum models had their heyday in the 1960s and 1970s, and were carried by the California Highway Patrol, Colorado and Georgia State Police, and Florida Highway Patrol, among others. The Python also remained popular with civilians and law enforcement in the years leading up to the transition to semi-autos in the 1980s, but by the 1990s high-capacity semi-autos sealed the fate of the .357 Magnum as a primary sidearm for the vast majority of law enforcement agencies.
Chrome purse
As the old Scottish saying goes, "Ye can ne make a Silk-Purse of a Sowe's Luggs" or as we know it today, a silk purse out of a sow's ear. But you can make a fairly decent CO2 powered Python out of the Umarex with a switch to the Peacemaker's pellet-loading shells and alloy pellets.
I originally set up a baseline for the Python in 2017 when I chronographed velocities with the gun's front loading BB cartridges and Umarex .177 caliber steel BBs. Average velocity was 364 fps with a high of 370 fps, and a low of 348 fps for six consecutive shots. Switching to the rear-loading Peacemaker pellet cartridges with Meisterkugeln Professional line 7.0 gr. lead wadcutters, average velocity from the Python's 6-inch (5.75 inch internal length) smoothbore barrel dropped to 315 fps with a high of 322 fps. Disappointing but not surprising given the increased grain weight of the lead wadcutters. I then shot with Sig Sauer Match Ballistic alloy pellets, which weigh 5.25 gr., just 0.15 grains more than a .177 caliber steel BB. The top velocity with the Sig Sauer alloy pellets was an impressive 395 fps with average speeds of 387 fps, 383 fps, to a low of 367 fps. This is a noteworthy increase, not only over the Meisterkugeln lead pellets but over steel BBs as well. To update this I am shooting today's test with H&N Sport Match Green 5.25 gr. alloy wadcutters.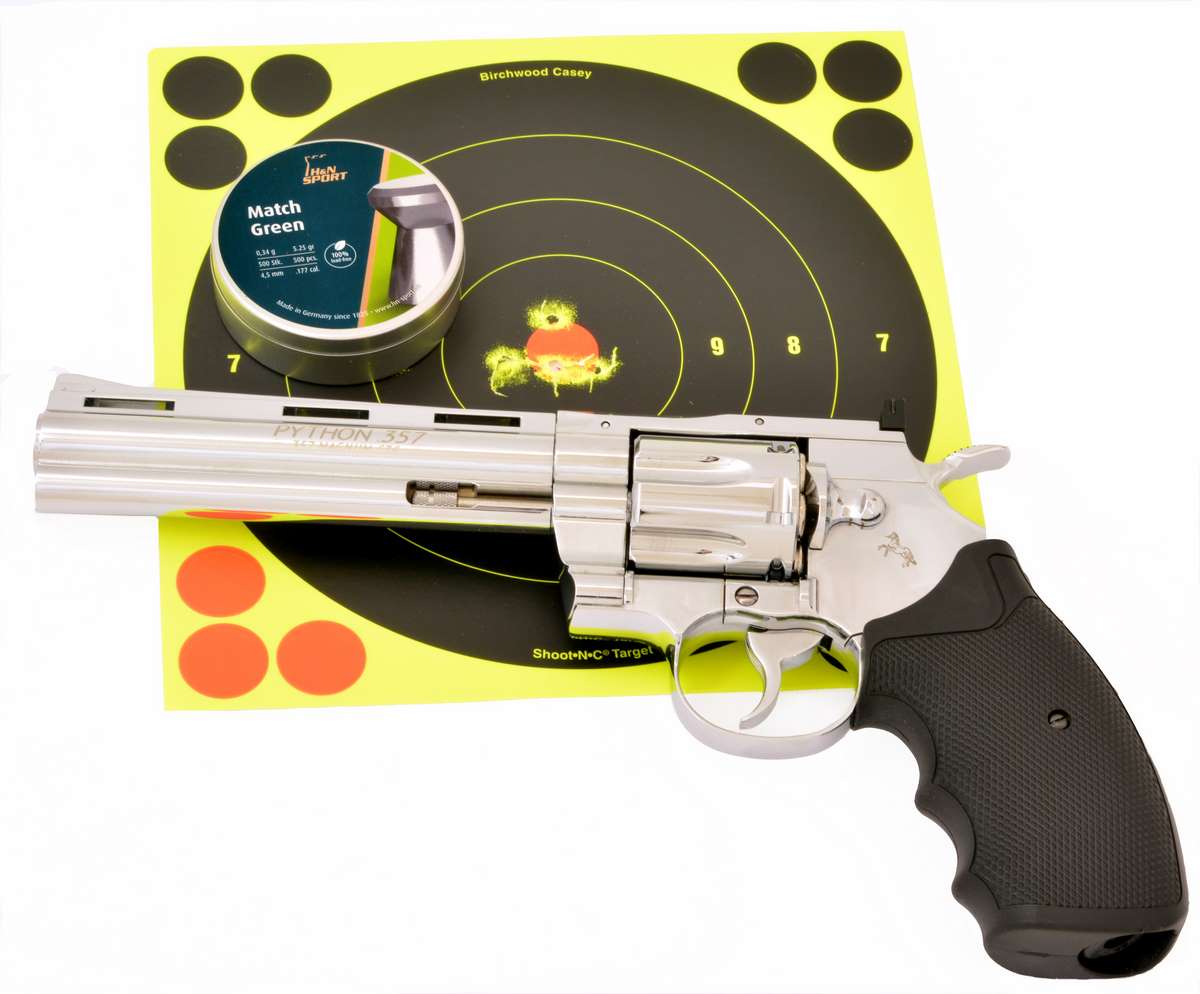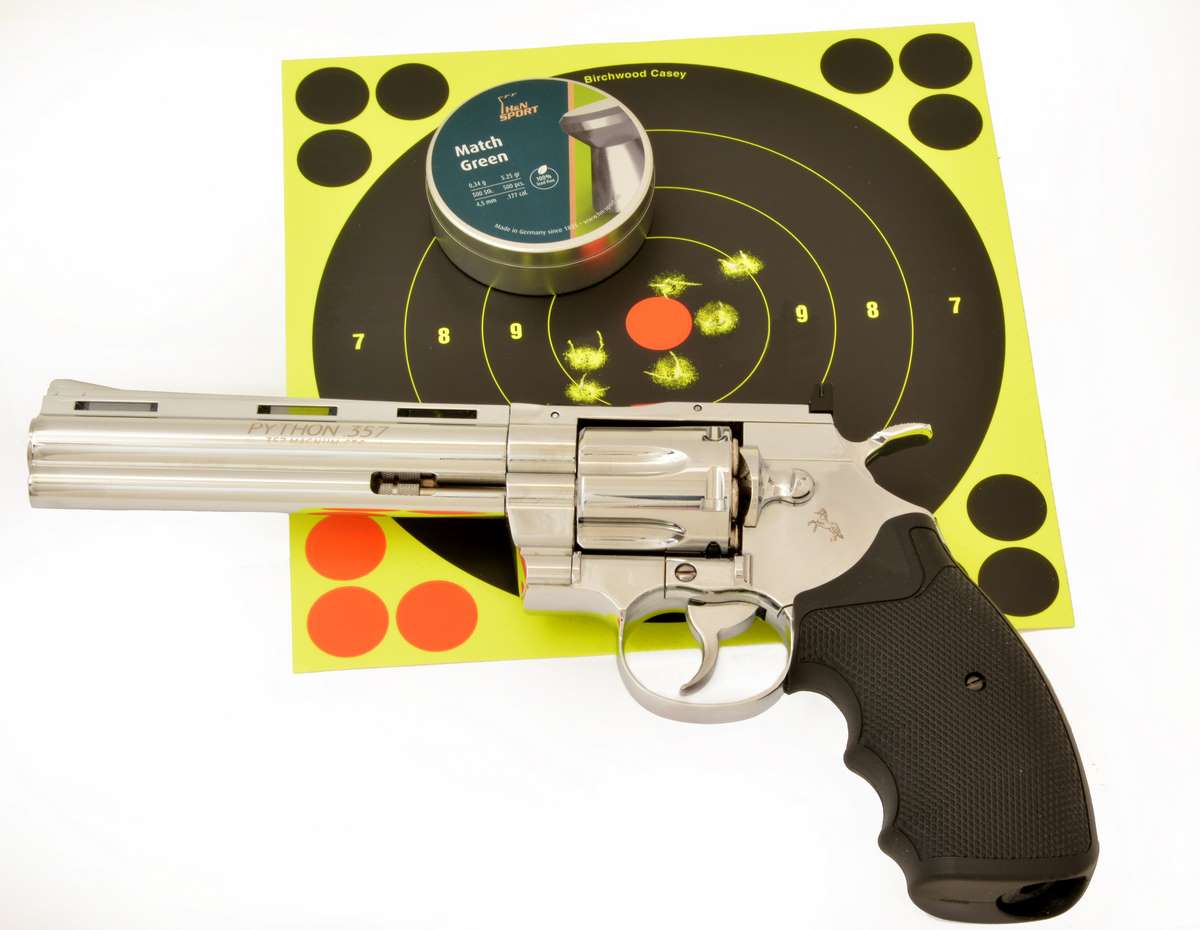 Average velocity for six shots with the lightweight alloy H&N was 409 fps with a high of 415 fps, and a low of 397 fps. The H&N are faster in the Python with the Peacemaker shells than the Sig Sauer alloy (which is no longer offered, so pretty much a moot point). With an average of over 400 fps, at 21 feet the Python should be a tack driver with the H&N and it holds its own at that distance. Six rounds fired at a Shoot-N-C (with POA just below the bullseye) gave me a group of 0.875 inches. At over 400 fps, 10 yards should be doable with a pellet revolver, but with a smoothbore barrel, the extra distance could make a difference, and it does. At 10 yards my best six shot group had a spread of 2.625 inches, not horrible, but compared to the ASG Dan Wesson Model 715 with 6-inch barrel or a Peacemaker with a 7-inch barrel, the Python is no match except for looks.