Ruger 10/22 Air Rifle Part 1
Yesterday's childhood re-imagined
By Dennis Adler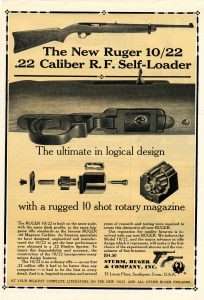 I have had a lot of "first" guns, first CO2 pistol, first semi-auto pistol, first revolver, but the Ruger 10/22 was the first rifle I ever owned, well, half owned. My friend Gene and I went in on it, and it was "our first rifle." That was during my first year of college, and the 10/22 got to be weekend escape recreation, plinking at cans and paper targets in the desert. This was the original Ruger 10/22, about three years after it was introduced in 1964, a lean, simple .22 LR semi-auto with a nice hardwood stock.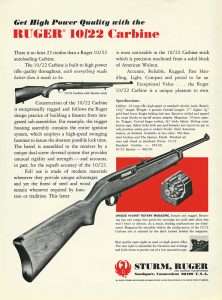 Today, you can choose from all manner of stocks, from black synthetic to multi-color laminate, Mossy Oak Camo, Mannlicher stock designs, target stocks, a modern tactical version with a 6-position folding stock, even a version that looks like an M1 Carbine (that's a beauty), or just a good old fashioned hardwood stock, like the one I had (half had) back in 1967. There are Sporter models, Carbine versions, (both with 18.5 inch barrels), Takedown models, and Compacts with shorter 16.12 inch barrels (like the .22 LR model pictured with the new Ruger 10/22 Air Rifle). But no matter how different the stock, they are all 10/22s underneath, with that great 10-round Ruger rotary magazine. The Ruger bolt action semi-auto design and rotary magazine combination are at the heart of every 10/22, even this 4.5mm version of the legendary .22 LR rifle powered by twin CO2 cartridges.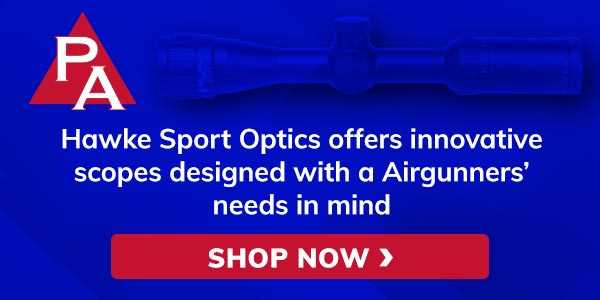 First rifle
To make a long story short, my parents decided to move, Gene kept the 10/22 and as things often go in life, we lost touch, but I never forgot how much fun that Ruger .22 was to shoot. How many did I have later in life? None. I went on to other interests, other schools, the military and then into magazine writing and editing. I also gravitated to competition pistols, Smith & Wesson revolvers, and an interest in vintage firearms. And that's the operative word, "vintage." I would guess that if I applied "old car" terminology to guns, anything over 50 years in age is vintage (or antique), and that old c.1967 Ruger 10/22 is now a vintage firearm!


Guess I should have bought out Gene's share, but as a handgun guy I haven't been a big fan of rifles over the years. That's not to say I don't know how to use one, I have a few and I've written about and tested a lot of them, but never a 10/22. I've never even picked one up since that first Ruger model back in '67, until now.

Both the synthetic stocked 10/22 Compact that Ruger shipped to compare with the new CO2 model, and the synthetic stocked 4.5mm 10/22 Air Rifle have a lot in common besides lightweight, black injection molded stocks. If Ruger had done the CO2 model with a wood finish stock (or a real hardwood stock), it would be like turning back the clock to 1967, but I'll settle for this modern comparison because the heart of the .22 and the CO2 still rely on that original 55-year old design created by William B. Ruger, Sr.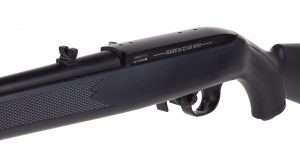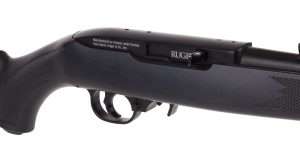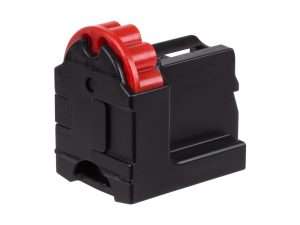 This is a hardy, well built gun like every Ruger I have ever tested. I have been to the Ruger factories in Connecticut and Arizona, and have watched Ruger rifles and handguns being built from start to finish, so I know how well they are made. But will the CO2 version, which is based on the 10/22 but built for Ruger (as a licensed product) by Umarex in Taiwan, be more than a visual? Will it be a shooter, will it be a Ruger? We'll start to find out in Part 2.

A word about safety
Blowback action airguns provide the look, feel and operation of their cartridge-firing counterparts and this is one reason why they have become so popular. Airguns in general all look like guns, blowback action models more so, and it is important to remember that the vast majority of people can't tell an airgun from a cartridge gun. Never brandish an airgun in public. Always, and I can never stress this enough, always treat an airgun as you would a cartridge gun. The same manual of operation and safety should always apply.