Ruger 10/22 Air Rifle Part 2
Measurements and velocity
By Dennis Adler

The Ruger 10/22 is an iconic design that has been copied by others and inspired similar designs, (even in CO2 by Crosman) but as executed by Umarex, it is almost a 1:1 version of the modern Carbine with black synthetic stock. And I have to thank Ruger and Umarex for bringing the 10/22 back into my life because it really is a touchstone to my past, as I am sure it is to many of you who may have had, or still own, a Ruger 10/22. As a CO2 model it sizes up as a very authentic gun and with the internal buttstock CO2 loading design, taken from the Umarex Legends Cowboy Lever Action, the 10/22's exterior lines are superbly duplicated. In fact, measuring the CO2 model against the current black synthetic stock Carbine model, the overall lengths are identical at 37 inches (the CO2 model is 37.1 inches), barrel lengths are 18.5 inches (external length), and weight with the synthetic stock is 5 pounds. The CO2 version tips the scale at 4.5 pounds, a difference you can feel when you pick up the air rifle and compare it to the .22 LR model. The Compact .22 caliber model Ruger sent is 2-inches shorter in overall length with the 16.12 inch barrel. There are a few other minor differences between the Compact and the Carbine including sights, but the standard Carbine in .22 LR has the same folding, windage adjustable rear and bead front sight as the 10/22 Air Rifle (in the comparison photo).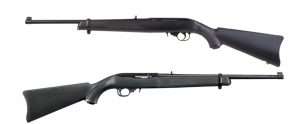 Airspeed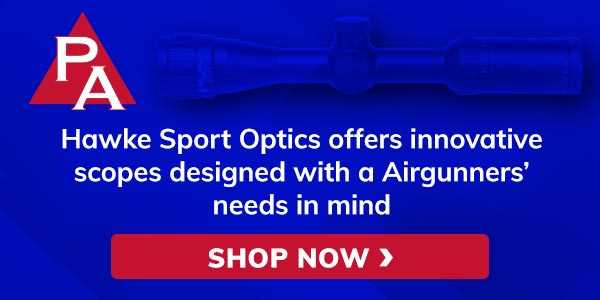 Loading CO2 into the 10/22 is identical to the Cowboy Lever Action model, which means you have two 12 gr. cartridges loading back-to-back into a sealed air chamber within the stock. Once you turn down the piercing screw the forward facing CO2 is pierced by a pin in the front of the chamber and the rear facing cartridge is pierced by the long seating screw that is turned down with the hex head tool built into the removable buttplate. With twin 12 gr. cartridges, the gun is rated at a factory spec velocity of up to 650 fps.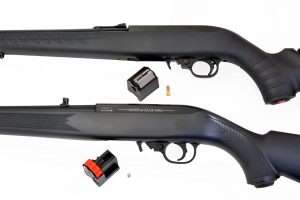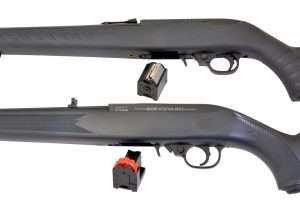 The .22 LR and 4.5mm 10-round magazines share similar shapes and fit into the respective receivers the same exact way, so when handling the CO2 model it is essentially a pellet-firing trainer for the .22 LR. Loading, sights, and the crossbolt safety in front of the triggerguard, are all identical, only the triggers are different in operation, SAO vs. DA/SA for the Air Rifle. From a youth shooting perspective, beginning with the 10/22 Air Rifle, and progressing to the rimfire model, is the most logical training system there is for beginning shooters, especially if they are interested in target shooting, but more about that in Part 3.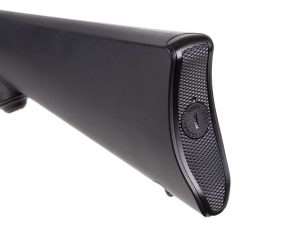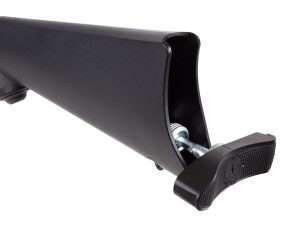 Umarex supplied their High Grade CO2 with the test gun as well as RWS Meisterkugeln 7.0 gr. Professional Line lead wadcutters. The Meisterkugeln clocked an average velocity for 10 rounds of 630 fps, with a high of 651 fps and a low of 618 fps. The majority of shots passed through the chronograph's screens between 629 fps and 633 fps (six out of 10). To find the high end of the 10/22's velocity, I switched to lightweight H&N Sport Match Green alloy wadcutters, which added another 50 plus fps to average velocity. Every shot was over 700 fps, with an average of 710 fps and a high of 718 fps.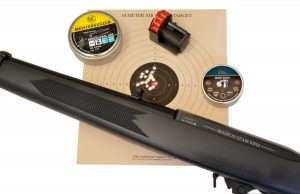 Since chronograph tests are shot at 21 feet, accuracy with a rifle shooting through the chronograph is going to be pretty tight and for 20 total shots (10 Meisterkugeln, 10 H&N Sport) the spread on a 10-meter pistol target measured 1.12 inches with multiple overlapping hits and a best group of at least 5-rounds measuring 0.437 inches. All remaining tests will be shot at 10 meters, plus a special test in Part 4 against the .22 LR model at 25 yards.
Editor's Note:
Due to the late Thursday evening publication of Part 2, Part 3 will be published on Sunday, instead of Saturday.
A word about safety
Blowback action airguns provide the look, feel and operation of their cartridge-firing counterparts and this is one reason why they have become so popular. Airguns in general all look like guns, blowback action models more so, and it is important to remember that the vast majority of people can't tell an airgun from a cartridge gun. Never brandish an airgun in public. Always, and I can never stress this enough, always treat an airgun as you would a cartridge gun. The same manual of operation and safety should always apply.