Ruger 10/22 Air Rifle Part 3
The 10-meter tests and an edge
By Dennis Adler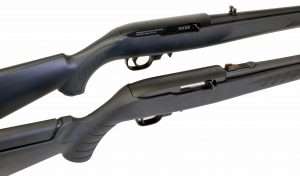 I know you're all wondering what the "edge" is. It is what makes the Ruger 10/22 Air Rifle a bit more authentic. The .22 LR model uses a lightweight alloy receiver, just like the CO2 model, and this is very good news because Umarex followed the exact same receiver design including the four drilled and threaded holes to mount a scope base. The 10/22 rimfire models have a Weaver-style scope adapter, and Ruger also sells them as an accessory item, which means you can purchase one and use it on the CO2 model.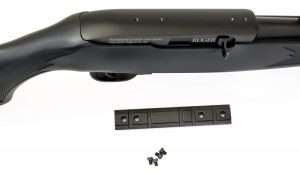 Pyramyd Air also offers a version of the 10/22 Air Rifle with an adapter and scope included, or a separate low profile UTG scope mount that fits the 10/22 receiver. Since I have both the rimfire and CO2 models for this series of articles I'm going to use the scope mount that comes with the .22 LR model.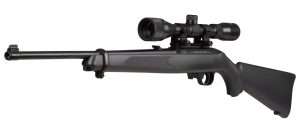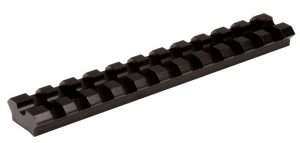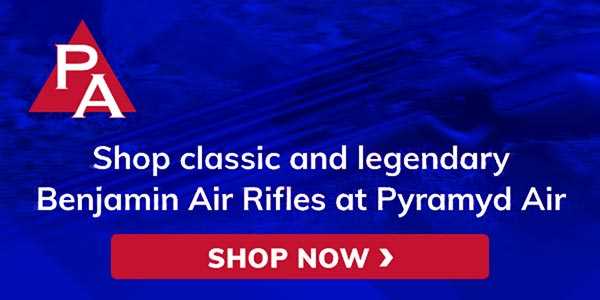 Minor details
The bolt on the CO2 model serves a singular purpose and that is to rotate the magazine and cock the internal striker for shooting single action. It does not cycle during the ejection of a spent shell (not a blowback action), nor can it be locked open like the bolt on the .22 LR models. There is no need for it to do so since there are no spent shells to eject; score one point for the Umarex Legends Cowboy Lever Action! But here you have a very modern, comparatively speaking 1964 vs. 1894 design that is very much a 1:1 version of a .22 semi-auto rifle that has remained in production by its original manufacturer for 55 years, and is offered today in so many versions that if the Umarex-built Ruger 10/22 becomes as successful as its rimfire counterpart, other variations (stock designs, sights, etc.) would be a logical progression for the 10/22 Air Rifle. I'm getting way ahead of myself because the first example still has to prove itself just as the original Ruger 10/22 had to do in the 20th century. Longevity is success.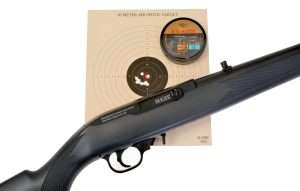 Open sight accuracy
First, I have to correct myself because the rear sight is elevation adjustable, not windage adjustable, so the gun's tendency to hit just left of POA is going to require an aiming adjustment. Not a big deal if you live with fixed sights on most of your guns. As to elevation, I found the gun was shooting a little high during the rudimentary target shooting test that was done in concert with the initial velocity tests.
For this test I am going to confine the 10/22 to three different types of 4.5mm pellets, the previous Meisterkugeln 7.0 gr. lead wadcutters, the H&N Sport Match Green 5.25 gr. alloy wadcutters, and I'm adding competition grade RWS R 10 Match 7.0 grain Premium Line lead wadcutters. Since this is strictly for accuracy at 10 meters, I'm also shooting from a benchrest and firing single action. In Part 4, when I put the CO2 model up against the .22 LR, I'll be shooting from the shoulder at both 10 meters and 25 yards at an IPSC competition silhouette target, and firing the Ruger 10/22 Air Rifle double action in order to keep pace with the semi-auto .22 LR.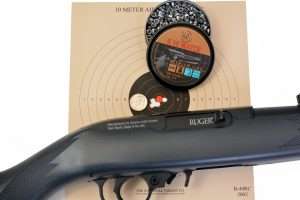 I took 10 shots to chronograph the RWS R 10 Match which delivered an average velocity of 632 fps. At this point I have fired 35 shots from the original CO2 cartridges and velocity is still right on point (with the Meisterkugeln 7.0 gr. lead wadcutters). The 21 foot chronograph test target registered 10 shots with a spread of 0.75 inches and a best 5-shot group, all overlapping, at 0.437 inches, equal to the best groups fired with Meisterkugeln and H&N Sport.
Stepping back to 10 meters and shooting from the benchrest, tests were shot in 5-round strings and the RWS R 10 Match put all five into 0.53 inches in the 9, 10 and X rings with four of five overlapping.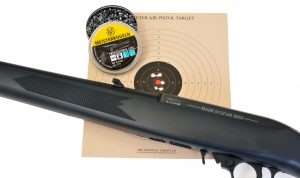 A day passed between shooting tests and the original CO2 has been sitting in the gun overnight. Before I shot the Meisterkugeln lead wadcutters, I ran a quick chronograph check to see how well the CO2 level had been maintained. Velocity with the 7.0 gr. lead wadcutters dropped to 520 fps, still good, but down more than 100 fps from the previous day. I decided to shoot the 10 meter test with the Meisterkugeln at 500 fps and see if this changed accuracy. The first five rounds were not as tight as I had hoped and after that, velocity audibly began to drop. A quick chronograph test showed velocity dipping into the high 400 fps range and I decided to call the count at 50 rounds (including trigger pull tests, which averaged 3 pounds 6.0 ounces single action, and 9 pounds, 10 ounces double action). I did manage to drop five Meisterkugeln into the 9, 10 and bullseye with a spread of 0.81 inches. To determine if the lower velocity had an affect on accuracy, after loading new CO2 (and it was definitely exhausted with only a slight hiss when I removed the seating screw), I ran the Meisterkugeln again with velocity around 630 fps. My best 5-shot group from 10 meters measured 0.437 inches in the 9, 10 and X rings; so the answer there is a definite yes. Expect 50 to 60 accurate shots at optimum velocity from the paired CO2 cartridges.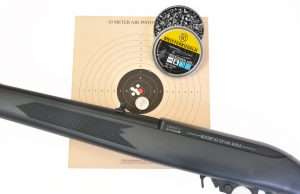 To wrap up today's 10-meter accuracy tests I shot the H&N Sport Match Green 5.25 gr. alloy wadcutters, which were traveling downrange at 700 plus fps. Even correcting for windage, as I had done with the lead wadcutters, the higher velocity H&N hit left of center but elevation was close to POA, and my best 5-rounds clustered into 0.56 inches, all overlapping from edge-to-edge just left in the 7, 8 and 9 rings.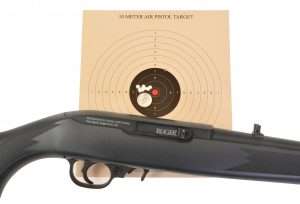 The Ruger definitely has what it takes to put shots on the target from a bench rest at 10 meters, but the gun is capable of much greater distances with the velocity generated by the dual CO2 cartridges. We will wrap up next week with 10 meter and 25 yard comparison tests with the .22 LR model, as well as adding optics to dial in the 10/22 Air Rifle for even tighter groups.
A word about safety
Blowback action airguns provide the look, feel and operation of their cartridge-firing counterparts and this is one reason why they have become so popular. Airguns in general all look like guns, blowback action models more so, and it is important to remember that the vast majority of people can't tell an airgun from a cartridge gun. Never brandish an airgun in public. Always, and I can never stress this enough, always treat an airgun as you would a cartridge gun. The same manual of operation and safety should always apply.