Sawed-Off Rifles – Mosin-Nagant Part 3
From the Old West, to Prohibition, to the battlefield
By Dennis Adler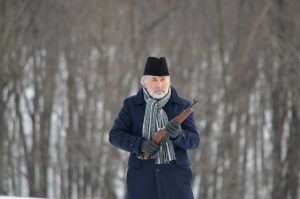 In the realm of military arms the Mosin-Nagant is a classic rifle, the Obrez on the other hand, is almost more of an historical curiosity because they were not made at any arsenal but simply modified individually in the field, much like cut down weapons used during the American Civil War. So, there was no absolute consistency from one to another, unless a revolutionary group with a decent gunsmith among them built a small quantity at one time, otherwise it was a pattern copied by individuals with surplus Model 1891 Mosin-Nagant rifles. In the Russian Revolution they served as a kind of rebel pistol in a rifle caliber. Some Obrez Mosin-Nagant pistols appeared during the Spanish Civil War and others were either resurrected or made new by resistance fighters during WWII, but still they were a rare gun to find in any numbers. This fact led Gletcher to the Obrez while looking at famous Russian military guns when they started their Russian Legends series of CO2 models some years ago. And while the rifle made most sense, the Obrez was almost irresistible as a unique CO2 model. And I don't think anyone will disagree with that, even after Gletcher introduced the M1944 Mosin-Nagant WWII era rifle. The little sawed off M1891 had a look that any military weapons collector or arms enthusiast couldn't shy away from. Many existing Obrez remain only because of the attachment their original owners had for them during the revolution. Those who survived, some maybe even as a result of using the gun, held on to them as wartime momentos. Other rifles throughout world wars and conflicts have been cut down in similar fashion; Obrez roughly translates to cut down, so it is not necessarily exclusive to the Mosin-Nagant. But it is to the Gletcher model.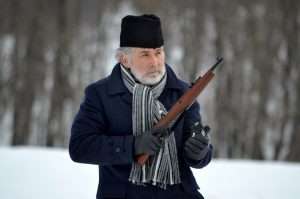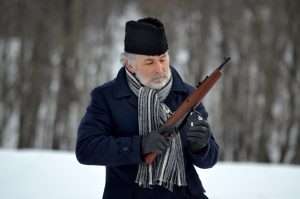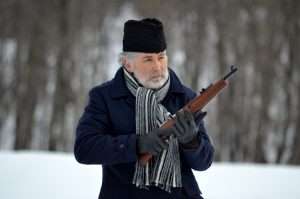 What can a 5.6 pound CO2 pistol with a 6-inch barrel do?
Impractical to shoot one-handed, the Gletcher Obrez is the ultimate two-handed hold pistol, but for quick operation you need to perfect a rhythm of slightly rotating the gun left while the shooting hand slaps the bolt up and open, and then rotating back as you drive the bolt closed. You can also work the action as close to straight up in the support hand as possible, as if it were a bolt action rifle without a shoulder stock, though it is hard to totally stabilize it. Either way it is not as quick to reload and fire as a carbine, and there is no graceful way to shoot this gun because it is neither pistol nor rifle. If you want accuracy with it as a BB gun though, you have to aim carefully and shoot slowly.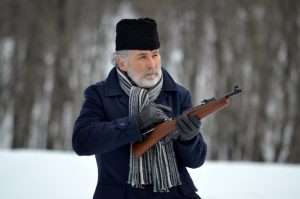 I did all of the photography outdoors in the snow, pretty much what a winter might have looked like in a Russian forest and open, snow covered field when the real Obrez Mosin-Nagant pistols were being used in battle. But unlike those 7.62mm guns, the CO2 in the Gletcher didn't quite hold up to the task and the shooting tests were completed on the indoor range.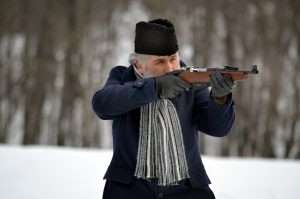 21 feet and counting
First up was a trigger pull test to see how lightly the trigger press is to get off a clean aimed shot. Average pull was 3 pounds, 4.5 ounces with light stacking and crisp break shot after shot. You quickly get a feel for this trigger and that, along with the weight and balance of this hefty pistol keep you locked on target.
Looking over my velocity tests I decided to use Hornady Black Diamond black anodized steel BBs for test one at 21 feet, and then shoot it over with Dust Devils. For test 2 I backed up to 10 meters with Dust Devils. Remember, this is only a 6-inch smoothbore barrel, despite the looks of a longer barrel on the outside. Pushing Dust Devils to 10 meters at 380 fps seemed within the gun's capabilities for maintaining accuracy. All tests were shot off hand with a two handed hold as shown in the pictures.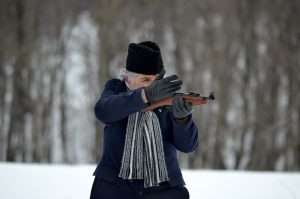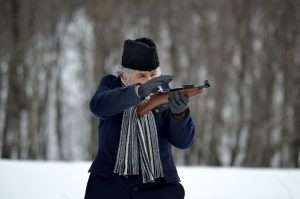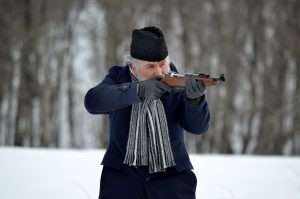 The gun tends to hit left of POA but I had no problem with elevation. The Hornady Black Diamond clocking an average of 378 fps put nine out of 10 shots into 0.93 inches one flyer, if you will, in the bullseye, opening my total group up to 1.125 inches. Of the 0.93 inch group 8 shots were overlapping at 0.44 inches. So, at 21 feet with slow, careful aim the hefty Gletcher Mosin-Nagant pistol can pack them in tight.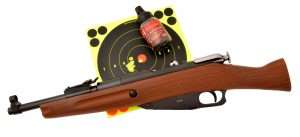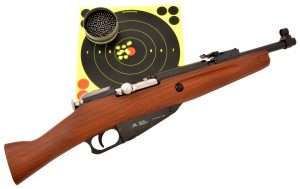 I shot 10 rounds of Air Venturi Dust Devils at 21 feet, which clustered into 1.25 inches, so not quite as accurate as the Hornady steel. Stepping back to 10 meters I shot a 10-meter air pistol target. I had to adjust the rear sight down to the lowest position, which kept elevation decent but everything began hitting further left. I corrected POA to the right of the bullseye but shots still went a little left and only two rounds hit the black, the rest grouped left of center for a 10-shot spread of 1.25 inches.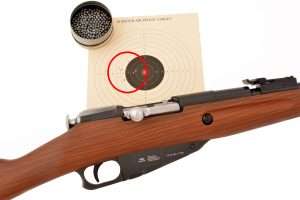 Not a bad total group for Dust Devils at 10 meters from a 6-inch barrel, but for scoring at 10 meters, pretty bad. Still, the gun's accuracy at that distance is good enough to work with reactive metal targets where accuracy requires that you hit the target not center punch it. At either distance with steel or frangible BBs, this heavy gun will give your arms a workout and you will get a sense of what the real Obrez Mosin-Nagant pistols felt like minus the, so I have read, very heavy recoil.
File this airgun under eclectic.