Schofield and 1875 Remington Part 1
The 4.5mm pellet-firing cartridges will determine the top smoothbore six-shooter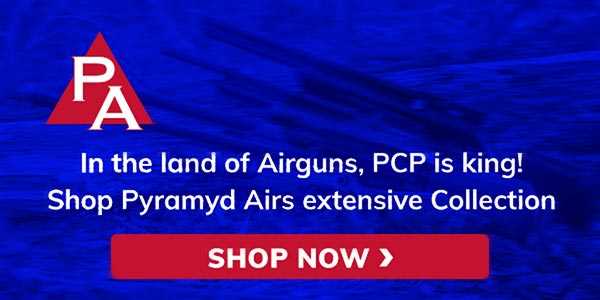 By Dennis Adler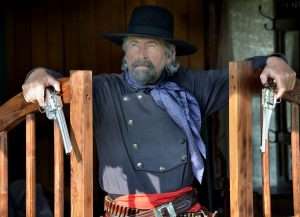 This is like a western where all the anticipation has been building for the big shootout at the end only there are no good guys vs. bad guys here, just two very well made CO2 powered six-shooters facing each other down to see which smoothbore single action is the most accurate when loaded with pellet-firing rounds; the Schofield or the 1875 Remington in the ultimate test, the John Wesley Hardin faro card shoot.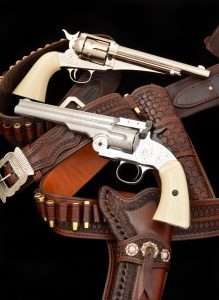 The John Wesley what?
Outlaw turned lawyer John Wesley Hardin had what could easily be described as a "colorful" life, which like most gunfighters ended with his murder, not in a shootout, which in all probability he would have won, but rather being shot from behind, the same fate as another colorful western character, Wild Bill Hickok. Wanted for a murder, one among some 27 he personally admitted to, and all justified according to Hardin in his memoirs, he was captured by Texas Rangers in the summer of 1877 and sent to trial for the May 26, 1874 fatal shootout with Brown County Texas, Deputy Sheriff Charles Webb. After a year long appeal on the grounds that Webb drew first, a jury found that Hardin had provoked the fight and he was convicted on the lesser charge of second degree murder and sentenced to 25 years in the State Penitentiary at Huntsville. While there he became a model prisoner and studied the law. His parole finally came at the urging of not only Hardin and his attorney W. S. Fly, but from petitions to the Governor for his release received from almost every county in East Texas. Signatures included those of more than 27 respected lawmen, several judges, prominent businessmen and politicians, all who had befriended Hardin in his early years and had known him to be a good man at heart, albeit one with a temper, a weakness for liquor and a fast gun. A description that could have fit any number of Southern Gentlemen at the time, but John Wesley Hardin, the son of a Methodist preacher, had reformed, and was ready to resume a normal life if given the chance. By the early 1890s it seemed as if the whole of Texas wanted him set free, including outgoing Texas Governor James S. Hogg, and thus Hardin walked out of Huntsville on February 17, 1894 after spending almost 16 years behind bars.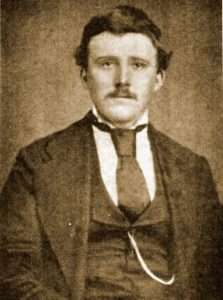 Five months later on July 21st the District Court of Gonzales County, Texas, and a committee of attorneys examined and found Hardin acceptable and capable in his knowledge of the law, and he was licensed to practice in any of the state's district and lower courts. For a man once wanted for multiple murders, cattle rustling, and robbery, it was as complete a turnaround as possible. He moved to El Paso, Texas, where he set up a small legal practice.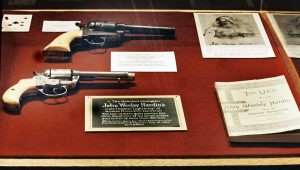 Hardin owned several Colt SAA revolvers, 1877 double actions, and S&W revolvers. On the 4th of July 1895 used one of those guns for a demonstration of his shooting skills. Hardin put faro cards on a tree, stepped back five paces and emptied his pistol. After the exhibition, he sold the signed and dated cards. In very small print at the bottom of the card pictured, it read, "5 paces". This is the test I have chosen for the final shootout between the Bear River Schofield and the Remington Model 1875 CO2 revolvers with their respective rear-loading 4.5mm pellet cartridges.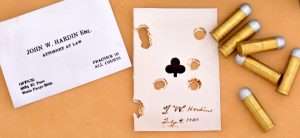 Crosman introduced its 1875 Remington model this year with both rear-loading BB and pellet cartridges. Having a smoothbore barrel, some customers were a little disappointed that the gun did not come with a rifled barrel since it was intended from the start to shoot 4.5mm lead pellets. The rationale on rifled barrels and steel BBs, as passed on to me from Umarex, is that shooting steel BBs through a rifled barrel will, over time, erode the rifling. Remington and Crosman opted to let the pellets in the 1875 ride down a smoothbore barrel since it shoots both BBs and pellets. Underscoring that point, it's worth mentioning that some manufacturers have introduced semi-auto models with rifled barrels that shoot either lead pellets or steel BBs, including Umarex, but, when it comes to their Colt Peacemakers, Umarex sells two separate models and does not recommend shooting steel BBs from the pellet versions. Interestingly, accuracy with the Remington Model 1875, fired from 21 feet to 10 meters with 4.5mm lead pellets, has not suffered greatly from the revolver's 6-3/4 inch (internal length) smoothbore barrel. Now the question remains, how will the Bear River Schofield stand up to the test with its newly introduced 4.5mm rear-loading pellet cartridges?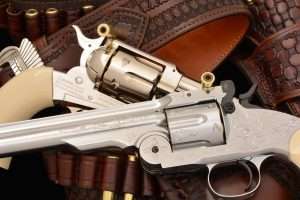 In the BB test between these two models, (Airgun Experience No. 115) the 1875 Remington just edged out the Schofield for accuracy delivering two decisive shots in the X-ring for a tighter 6-shot 1.25 inch total spread.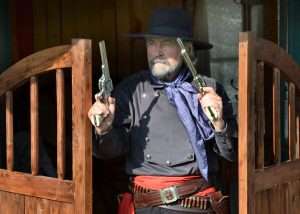 In Part 2 I'll step off 5 paces and firing one-handed give the two six-guns a whirl at John Wesley Hardin's faro card test. I'll also do a straight up 21 foot test for a final comparison to find out whether the Schofield with its new rear-loading pellet rounds can outshoot the Remington Model 1875.