Sig Sauer ASP Pistols Part 1
Pellet Power Showdown
By Dennis Adler
For the present, Sig Sauer holds the top position for CO2 and entry level single stroke pneumatic pellet pistols with a trio of airguns all based on centerfire Sig Sauer semiautomatic models; the U.S. military M17, the competition X-Five Series, and the classic Sig P210. That gives us the three air pistols shown above, the M17 P320 ASP, X-Five ASP and ASP Super Target (the lone single shot pneumatic model in the Sig Air line). In terms of technology, i.e. manufacturing, magazine design, and firing system designs, the M17 P320 ASP and X-Five ASP (and to a lesser extent the earlier Sig Sauer P320) employ technology not found on other blowback action, pellet firing CO2 models. This fact should have changed by now, but due to the global pandemic the airgun industry, like every other industry has been affected and new models are scarce, even some established airguns are now on back order including a couple of the Sig Sauer pistols. What's happening?
The Pandemic Complication
It is late June and I should have already written about several new CO2 air pistols, serious competitors to the Sig Sauer ASP models, some long anticipated new models among Western guns and a series of Single Actions that will redefine air pistol manufacturing for the consumer marketplace, but that is not happening as planned (it will happen, just latter in the year).
With the majority of airguns being manufactured in Taiwan, production, shipping, importation and distribution have been hit hard, the same as every other business in the global and U.S. economy. What was planned for May and June is now more like July and August, others not until fall or possibly not until 2021.
In the overall scheme of things, when looking at situations across the world today, airguns are pretty far down the line, a line that begins with a daily tally of lives lost, businesses not reopening, jobs lost, either temporarily or for extended periods, and mass social unrest. That makes it is hard to speak about a slowdown in the manufacturing of air pistols in the same breath. Still, this is an industry that comprises a major global hobby, contributes to handgun and rifle training, shooting sports (handgun and rifle) competitions that extend from back yards, to local events and all the way to the Olympics, and, is even an extension of firearms collecting, particularly military and western guns. Airguns cover many areas of interest and are second only to actual centerfire and rimfire handguns and rifles in popularity. For a great many enthusiasts, airguns are on the long, long list of collateral damage from the pandemic that is reframing our view of the world and the very nature of how we address the changes in that world, politically, emotionally, and financially.
In such times, my 70 plus years of experience has shown people often turn to their hobbies because they tend to ground us, bring a sense of normalcy into the chaotic environment around us, be it cooking, gardening, creative arts and crafts, or target shooting with airguns, all things we can do in the privacy of our own homes and backyards. This doesn't work everywhere and in every situation, but the pursuit of our hobbies often helps, especially those that can be pursued within the home environment. That is where airguns have a role relevant to the current situation. We have all been anticipating new models this year, some teased before the pandemic took a foothold on our shores. Re-supply is coming within weeks for several major back order (pre-order) items, and with any luck by this time next month readers will be reveling over some new CO2 models that have been holding in the wings for months now. But for now, these three Sig Sauer ASP models, the M17, X-Five and Super Target address three different disciplines: training, accuracy, and precision shooting, with each airgun fulfilling the needs of that specific requirement. So let's begin with one eye on the (hopefully not too distant) future and the other on the present. All three of these Sig Sauer models are worth owning and each for a different reason.
Three guns that deliver
The practical airgun, the one for everyday shooting, basic handgun training, and decent accuracy at optimal target distances is the M17 P320 ASP, the FDE blowback action gem that broke new ground by being the first to have a self-contained CO2 pellet magazine.
Sig Sauer's design for the M17 P320 ASP is almost as unique as its approach to the centerfire P320 based M17 military model. While the 9mm pistols are a modular design that allow moving the fire control housing (firing mechanism and trigger) from one frame to another to change allowing the gun's size to be adjusted from a full size duty pistol to a compact and down to a sub compact, change magazine capacities, and even change calibers; a design that adjusts for varying military operations without having to familiarize with multiple weapons but rather simply change the one you have to compliment a specific mission requirement, the M17 CO2 model is a lot less multifaceted. It is based solely on the full-size duty version and equal in dimensions to the standard issue M17 military pistol with extended capacity magazine; essentially the version in most military holsters. The 9mm extended magazine holds 21 rounds, the standard capacity magazine 17 rounds. For the CO2 model, the extended capacity magazine holds 20 pellets. The airgun's dimensions are almost 100 percent matching to centerfire pistol. A comparison of the 9mm M17 with the CO2 model shows an overall length of 8.0 inches, barrel length of 4.7 inches, and carry weight (with empty extended capacity magazine), of 29.6 ounces (1.85 pounds) for the centerfire pistol. The M17 ASP has an overall length of 8.0 inches, internal rifled barrel length of 4.68 inches, and a carry weight (with empty magazine) of 34.0 ounces (2.1 pounds). The heavier CO2 magazine adds most of the extra 4.4 ounces in weight. The centerfire and CO2 models have the same approximate height (with extended capacity magazine) and exact width, so the airgun can be used with any type of civilian or military holster or carry method. This is a significant training plus. Given the excellent blowback action on the CO2 model, which delivers a palpable sense of recoil, and a sound level, which I rate at medium loud, the single 12 gram CO2 cartridge is giving everything it's got to run this gun and get the shots downrange. That means you will only get about two reloads (40 rounds) out of a CO2 to achieve the best possible performance. The gun will shoot more BBs but you will not have the accuracy or velocity for that third magazine load.
The M17's construction allows a lot of looking into openings to see how things fit together and function in unison. It can be partially field stripped, a first for a blowback action pellet model, but serves no practical purpose (unless Sig comes up with some interchangeable features, like a threaded barrel for a faux suppressor). Where Sig Sauer has also excelled with the M17 ASP is by having a blowback action pellet pistol with an actual slide and barrel lug interface (not the first but a first for Sig Sauer), and fully functional ambidextrous thumb safeties. Sig has not come up with a way to lock the slide back on an empty magazine nor to follow through on a functional slide release, which still remains unnecessary for the design, but they have instead achieved the highest goal for a pellet-firing blowback action pistol; a self-contained CO2 pellet magazine with 20-round, belt-fed clip that can be quickly swapped out if you don't have a spare loaded magazine. That's the beauty of this design; you can have it both ways.
Loading the CO2 into the main section of the magazine uses a long lever that folds down away from the back of the housing similar to the loading system Sig Sauer developed for the P226 ASP (which has a folding backstrap panel to accomplish the loading and seating of the CO2 cartridge). With the M17 magazine, once the lever is lowered the CO2 is inserted, raise the lever and squeeze it closed against the back of the magazine. In one move the CO2 is locked, raised into place, pierced and sealed with the magazine housing. The pellets load into a compact rotary clip that drops into a channel at the front of the magazine and locks into place. Once together the CO2 and pellet clip are one and ready to load into the M17. Forget that the slide doesn't lock back, you can change magazines after 20 rounds like an actual M17, you can practice tactical reloads, you can do just about everything with the CO2 model you can do with the centerfire pistol for training and shooting at distances out to 45 feet, well beyond the 10-meter range for most pellet pistols and into the world of practical close quarter combat and defensive shooting practice. Accuracy at the longer ranges is not as precise, but at 15 yards (45 feet) you can land all 20 shots inside the center (5 point shot) section of a B-27 target. At 10 meters, it is not a competition level gun but again one that will reward you with good tactical training scores.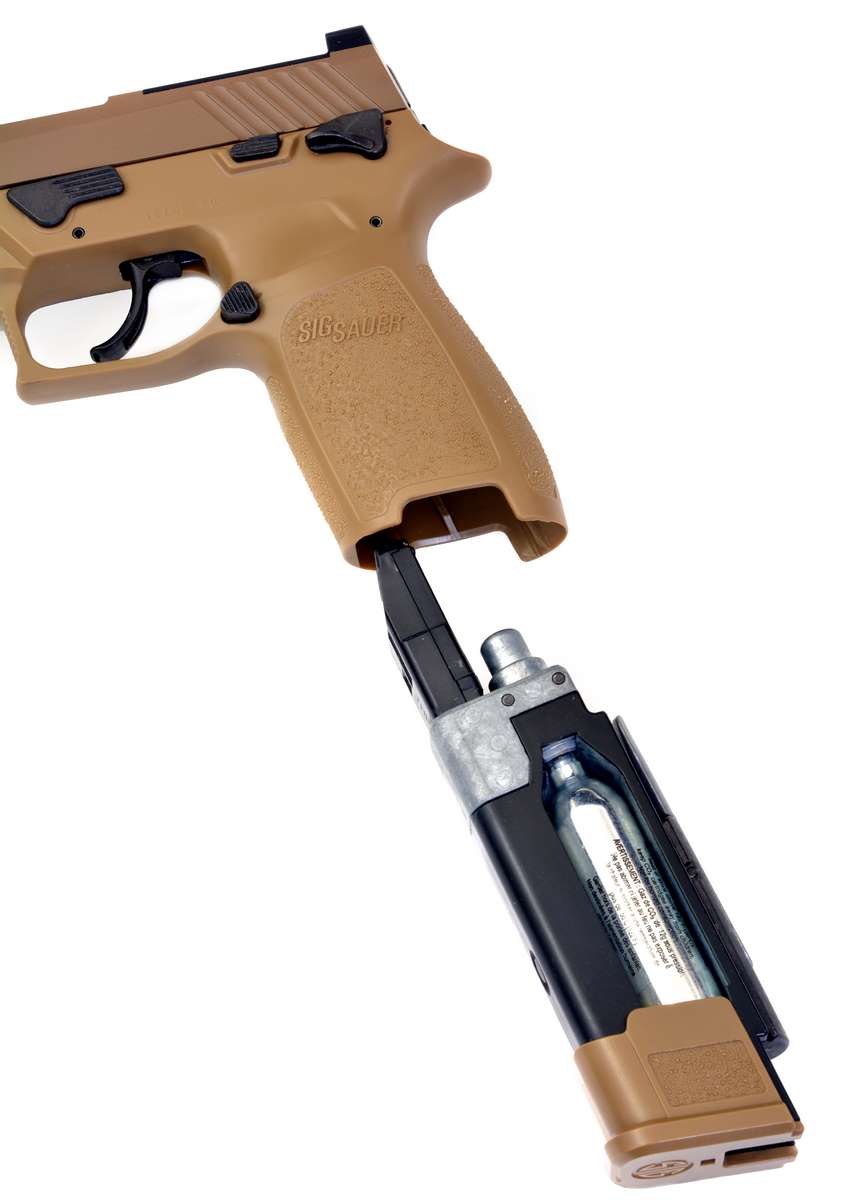 Reality checks
The looks and feel are deceiving, the airgun looks like the 9mm model, it basically handles like it as well, only without 9mm recoil and the sound of a cartridge pistol being discharged, but it is not going to give you quite the same feel as the 9mm in other ways. One notable internal difference with the CO2 model is that it is not a true striker-fired design like 9mm M17, the air pistol uses an internal hammer and thus the trigger does not feel the same and is a heavy DAO. Trigger pull on the blowback action air pistol averages 6 pounds, 6 ounces with 1.0 inches of take up and it needs a full release of the trigger for each shot. The centerfire gun has a different pull and shorter reset. It is just a different feel with an internal hammer (still a hammer) versus a striker-fired design.
Performance
The M17 does best with alloy pellets to achieve higher velocity and increased accuracy at extended ranges. Average velocity with H&N Sport Match Green 5.25 gr. alloy wadcutters clocked 358 fps with a high of 372 fps, and a low of 352 fps for 20 consecutive shots.
The final evaluation of the M17 led me to two conclusions, one that you have to master the trigger on this gun for accuracy, it is a DAO and you need to have the full weight of the first joint of the trigger finger against the trigger (as when firing a double action pistol vs. a single action where one often uses the pad of the trigger finger) to keep shots consistent and even then, it is going to take time to keep shot groups tight. The M17 is not a target pistol, it is a combat handgun. But it is does have commensurate accuracy with the centerfire M17 military pistol in previous 1:1 field tests. For this evaluation my best 10-shot group at 10 meters with the M17 ASP had a total spread of 0.875 inches with the best 5-rounds clustered  into 0.56 inches. Nicely in the ballpark for 10 meter target with a non target pistol and a gun that checks the majority of boxes for the first protocol; training gun.
A Word about Safety
Blowback action airguns provide the look, feel and operation of their cartridge-firing counterparts and this is one reason why they have become so popular. Airguns in general all look like guns, blowback action models more so, and it is important to remember that the vast majority of people can't tell an airgun from a cartridge gun. Never brandish an airgun in public. Always, and I can never stress this enough, always treat an airgun as you would a cartridge gun. The same manual of operation and safety should always apply.