Sig Sauer MCX Part 3
Tactical Air Rifles and Optics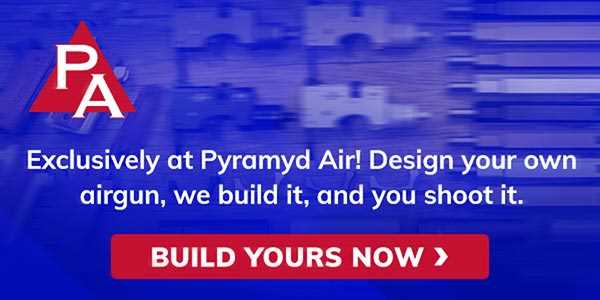 By Dennis Adler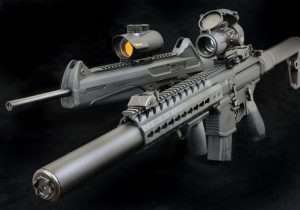 As I have noted in Parts 1 and 2 the most important features of the Sig Sauer MCX are its authenticity of design and ability to work in combination with all types of optics from the very expensive Sig Sauer Bravo4 battle sight used on the actual 5.56mm military rifles to affordable air rifle optics like the UTG CQB red/green dot. This is a large 4.25 inch overall length optic with a quick mount release and locking windage and elevation adjustments screws on each click adjustable turret. The second airgun sight tested with the Sig Sauer is a personal favorite, the BSA RD42 which is suitable for pellet rifles and CO2 pistols as well as .22 caliber firearms. This is a durable and proven design that has been around in one form or another for many years. I have an RD42 that is about 10 years old and still works as good as the day it was purchased. It has been on everything from CO2 target revolvers to .22 caliber rifles and worked without fail.
For the purposes of showing the ease of mounting, I have also attached these same sights to the fine Beretta CX4 tactical air rifle (first reviewed in Airgun Experience articles No. 34, No. 35 and No. 36) and equipped for that review with an Aimpoint Micro H-1, another high end (over $600) optic used on .223 and larger caliber rifles and pistols.
The 10 Meter Test
The MCX has an overall length of 34.7 inches with its faux suppressor shrouded 17.7 inch internal barrel. Weight is a substantial 6 pounds, 12.5 ounces empty. A 5.56 caliber MCX has a 16-inch barrel and weighs 5.6 pounds.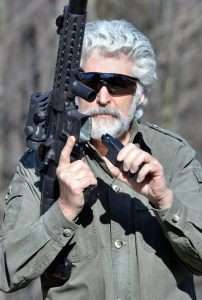 For the test I used RWS Meisterkugeln Professional Line 8.2 grain lead wadcutter rifle pellets. Most airgun tests with blowback action pellet guns and rifles are done at 10 meters (33 feet) which is the competition distance for air rifles, and this is where I decided to do the initial test of the Sig Sauer MCX. The gun is easily capable of 50 foot accuracy and more, but due to high winds outdoors, I was confined to the indoor range. Trigger pull on the test gun averaged 6 pounds, 10 ounces. Take up is 0.5 inches with moderate stacking.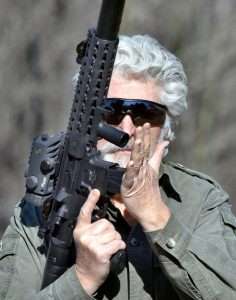 After 8 rounds to make sight adjustments with the Bravo4 optical battle sight, I reloaded and hefted the 9 pound, 3 ounce rifle (as equipped and fully loaded), and began continuous firing at 1 second intervals from a standing position. All 30 shots grouped inside the center ring and red bullseye of a Birchwood Casey Shoot-N-C silhouette. Maximum spread was 1.99 inches with 10-shot clusters and multiple overlapping hits averaging 0.75 to 0.875 inches. The belt fed Sig pellet magazines functioned perfectly and with extra pellet belts loaded, switching out and reloading magazines was very quick.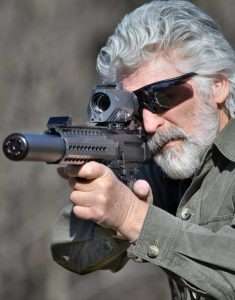 I swapped out the Bravo4 for the BSA RD42, sighted it in and repeated the test from 10 meters. Again firing at 1 second intervals I had a total spread for 30 rounds of 2.65 inches, but the spread would have been 2.50 inches were it not for a flyer in the 10 ring. Even deducting that one the group would have been a full 0.51 inches wider than with the Bravo4. However, within the 30 shot group, two-thirds were just a hair under 2.0 inches with a best 10-shot cluster at 0.65 inches, all in one ragged hole that totally blew out the paper target.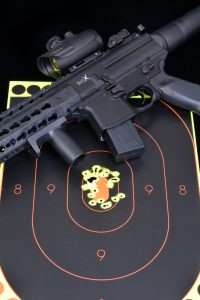 Next up I went green with the UTG CQB optical sight. The UTG is a gem when it comes to mounting on the top rail, just as fast (though not quite as solidly) as the Sig Sauer Bravo4. Of course, the UTG Tactical Dot Sight comes in at $1,250 less, so you need to be a little flexible! What it offers for just fifty bucks is a quick detach mount, flip- up lens caps, a choice of red or green dot reticles but a smaller 38mm tube diameter. At 10 meters, it remains a darn good air rifle sight for the money. But does it make the Sig Sauer MCX any more accurate?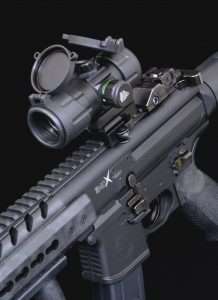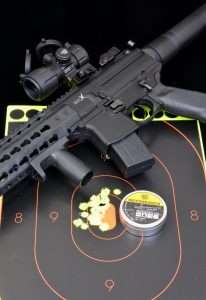 With the UTG set on the green dot, total spread for 30 shots was just under 3.0 inches, the widest spread, but 10-round groups came in at an impressive average of 1.0 inches, again with multiple overlapping hits. Bottom line, a $50 optical sight on an air rifle at 10 meters can just about hold its own against a high end optic made for a 5.56mm semi-auto. The underlying accuracy of the Sig Sauer MCX with any kind of optics at 10 meters is that it can consistently put rounds on target at under an inch. For the final proof I did the test one more time with the flip-up BUIS and ended up with a best 10-round group measuring 2.25 inches. Not bad, but not as good as with optics. Overall, it is hard to fault the Sig Sauer MCX CO2 model for anything but its non-functioning features, but certainly not for those that do.
A word about safety
Tactical air rifles provide the look, feel and operation of their cartridge-firing counterparts and this is one reason why they have become so popular. Air rifles in general all look like cartridge-firing rifles, models like the Sig Sauer MCX even more so, and it is important to remember that the vast majority of people can't tell an air rifle from a cartridge model. Never brandish an air rifle in public. Always, and I can never stress this enough, always treat them as you would a cartridge gun. The same manual of operation and safety should always apply.