Big Optics for Competition Practice
Train like a pro with the Sig Sauer P226 X-Five Open and BSA RD 42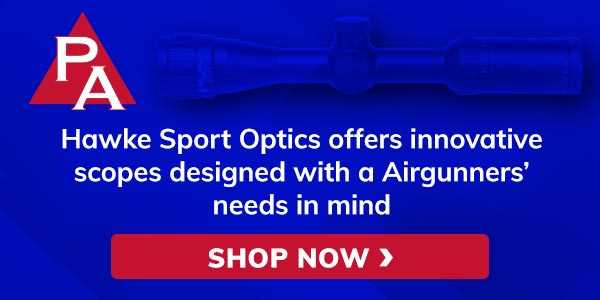 By Dennis Adler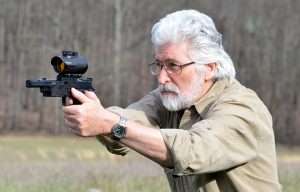 Most competitive shooters in Bianchi Cup, IPSC, USPSA, IDPA, and ISSF, (which includes 10 meter air pistol competition), will use optics on revolvers and semi-autos (depending upon the Division). The choices of optics vary from Mini Reflex sights, (which are mounted to the top of the slide on a recessed mount, or on an optics bridge), to larger red dot scopes. Mini Reflex sights have become the most popular, but many competitors still like the larger objective lens of a round red dot scope. Outside of competition shooting, Mini Reflex sights have also found their place in law enforcement, military and even civilian CCW use because of their small unobtrusive size. A growing number of semi-autos are also coming from manufacturers with modular optics systems (MOS) built in. The MOS design uses an interchangeable mounting platform that fits into a section of the slide that has been machined out. Competition gun builders call this a "melt." It is intended to keep the optics mounting plate flush with the top of the slide, and thus lower the optics height to be more in line with the bore. While this is now the most often seen pistol design in Open Class Division shooting, many competitors, including some world champions, still defer to larger red dot scopes. In the last test of the Sig Sauer P226 X-Five Open, the gun was equipped with the Walther MRS, which is a reflex sight, though not as small as the C-More Systems STS used on the Tanfoglio Gold Custom in Airgun Experience No. 77. This time the combination will be the Sig Sauer P226 X-Five Open and BSA RD 42 red dot scope.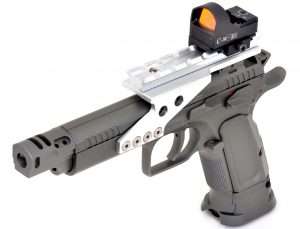 The C-More Mini Reflex can be mounted on an optics bridge as it was on the Gold Custom, or to a modular mount on semi-autos so equipped (none of which are yet in the stable of current blowback action air pistol designs). You can mount a red dot scope on an optics bridge (and here again red dot scopes run the gamut from affordable models like the well established BSA RD 42, priced at less than $50, to high-priced tactical and competition models costing upwards of $500).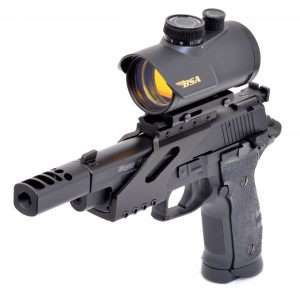 To run the Sig Sauer P226 X-Five Open through one more evaluation of its potential, I have mounted the latest BSA RD 42 red dot on the Sig's optics bridge. As I have noted in previous reviews, the BSA is suitable for both CO2 pistols (revolvers and semi-autos) as well as rifles and it is even used on .22LR pistols and rifles. It is one of the best and most affordable all-around red dot scopes for CO2 and small caliber use.
BSA RD 42 features
The latest version of the BSA RD 42 is a bit more stylish than the original and has a hooded front lens (the older version was flush at both ends), and while large for a red dot scope, it is not bulky, weighing just 7 ounces and measuring 3.80 inches in length. The RD 42 is waterproof, shockproof, and fog proof, offers an impressive 42mm objective lens, 11 brightness settings, an integral, adjustable rail mount that locks down with two large knurled slotted screws, a big on/off and brightness setting dial on top that runs from 0 to 11, and windage and elevation screws with slotted dials. Mounted on top of the Sig Sauer's optics bridge, it looks pretty big compared to the Walther MRS reflex sight, but the BSA's 42mm ocular rear lens is fast to get on target, and that 5 MOA red dot glowing dead center is hard to miss.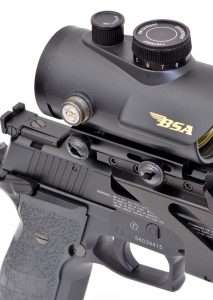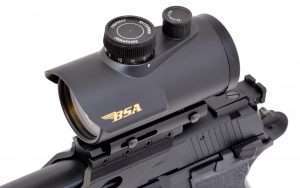 Better downrange?
The Sig Sauer P226 X-Five Open hasn't done as well as I had expected in the past two tests, so now it is a standalone test against itself with the addition of the BSA RD 42 optics. My estimation is that it will be more accurate with this sight. Why? The slide on the Sig Sauer P226 X-Five Open has a lot more recoil than many blowback action CO2 models (which is a very good thing for authenticity, plus cartridge guns have a lot more recoil so this is a good learning experience), but it is easier to reacquire a larger rear objective lens than a small reflex sight. Now I have done well with reflex sights, but I learned on red dot scopes long before reflex sights were even dreamed of, and sometimes it is hard to teach an old dog new tricks, even when the proof of their value is staring him right in the face! So, to satisfy my own curiosity, and I hope some of yours, the Sig gets this last Hail Mary downrange.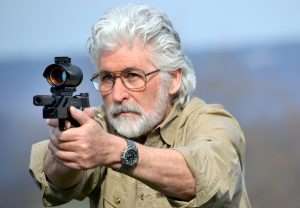 This test is the same as the previous one; a distance of 21 feet, fired offhand at an IPSC target, total of 10 rounds and best group of five using Hornady Black Diamond black anodized steel BBs. After a quick sighting in of the BSA RD 42, I fired 10 successive shots at 1 second intervals hitting the IPSC target in the A-Zone with a total spread of 1.5 inches (would have been tighter except for one flyer) with a best 5 shots grouped at 0.5 inches. That is 0.25 inches better than the previous test with the Walther MRS.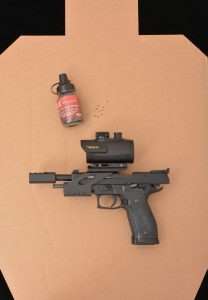 Bottom line here is that the BSA red dot scope vs. the smaller, lighter red dot reflex sight seems to push the Sig a little harder and make it a little better gun to shoot. It's not a bad looking combination, either.
A Word About Safety
Blowback action models like the Sig Sauer P226 X-Five Open provide the look, feel and operation of their cartridge-firing counterparts. All arguns, in general, look like guns, but those based on real cartridge-firing models even more so. It is important to remember that the vast majority of people can't tell an airgun from a cartridge gun. Never brandish an airgun in public. Always, and I can never stress this enough, always treat an airgun as you would a cartridge gun. The same manual of operation and safety should always apply.