Sig Sauer P226 X-Five Open Part 2 Part 1 Part 3
Going head-to-head with Tanfoglio's Limited Custom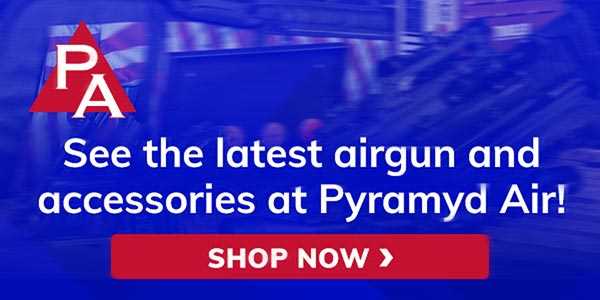 The DA/SA vs. the SAO target pistol
By Dennis Adler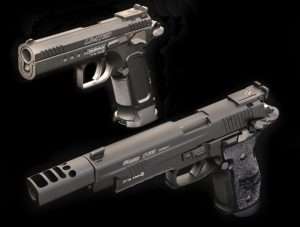 When you are faced with two excellent guns the only way to make a choice is to shoot them both and see which one is best for you. After a lot of testing over the past few years I narrowed down my "Best Guns" list for blowback action semi-autos to about five, and of those, two proved best for target shooting, the Tanfoglio Limited Custom with open sights and Tanfoglio Gold Custom for use with optics. But there is also the Sig Sauer P226 X-Five, which even in its standard configuration can give the best semi-auto CO2 models a run for their money when it comes to features, handling and accuracy. The Sig's Open model actually rivals either Tanfoglio and it is only one gun vs. two! So, here we go with the first runoff between the P226 X-Five Open and Tanfoglio Custom Limited.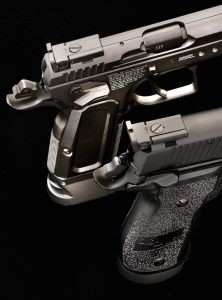 How they stack up
Both the Tanfoglio and Sig X-Five Open use an adjustable Bomar-type rear sight, and a single blade front, neither having a white dot, although the Sig's front sight (which has a white dot on the standard model) is almost twice the size of the Tanfoglio's. Both airguns have flared magazine wells for quick reloading, though of totally different design, as well as self-contained CO2 BB magazines with extended base pads, again with differing designs. They are both big full-sized handguns, the Sig weighing 47 ounces, the Tanfoglio 43.1 ounces. Both also have excellent balance in the hand, but the Sig is a little nose heavy compared to the Tanfoglio Limited Custom. You can credit that to the X-Five Open's 2-inch long metal ported compensator. The Sig also has a longer slide, 7.75 inches in length vs. 7.25 inches for the Tanfoglio. A little more weight comes from the Sig having a dustcover rail for mounting a tactical light or light laser combination and a more robust frame, compared to the svelte lines of the CZ-75 influenced Tanfoglio.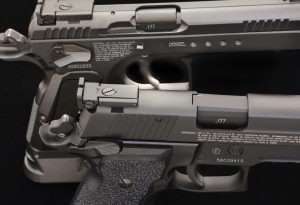 The Edge
The first of two advantages for the Sig is a much longer sight radius, 7.25 inches vs. 6.06 inches. Commensurately the Sig's barrel measures 5.32 inches (internally) vs. 4.0 inches (internally) for the Tanfoglio, so the X-Five Open has a little longer reach. The second big difference between these two target pistols is trigger design; the Tanfoglio is an SAO, the Sig a DA/SA.
There are very few blowback action airguns with a finer trigger than the Tanfoglio Limited Custom and Gold Custom. The Limited Custom's pivoting trigger has an average pull of 3 pounds, 8.7 ounces. Take up is a mere 0.438 inches with almost no discernable stacking, a clean break, but almost a full release to reset. Even so, it is still about as fast a CO2 semi-auto pistol as possible, making it ideal for practicing competition shooting skills.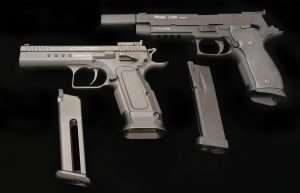 The P226 X-Five Open can be fired either double action for the first shot (if the gun has been de-cocked) or single action by cocking the hammer; as with any DA/SA design, after the first shot the pistol fires single action. Trigger pull in single action averages 3 pounds, 10 ounces, with 0.438 inches of take up, slight stacking during the second stage of the pull, but a very short 0.25 inch release to reset. It's not as light a trigger as the Tanfoglio's but it is a hair faster.
The Sig P226 X-Five Open magazines hold 18 steel BBs and are specific to this model, so the flat base P226 X-Five magazines will not work. The 20-shot magazines for both Tanfoglio models are interchangeable and just for the record, the Tanfoglio magazines are easier to load with a follower that locks down and an easy loading port just above it. The Sig magazines have a follower that locks down but you have to hold it back to load BBs. If you use an Umarex speed loader, it is less of an issue.
For the test, I chose Umarex steel BBs. The targets were Birchwood-Casey Shoot-N-C at a distance of 21 feet. Both guns have factory rated velocities of 300 fps and the tests were shot offhand using a Weaver stance and two-handed hold.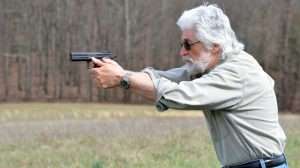 And the winner is…
First up, the Tanfoglio which placed 10 shots inside the 10 and X rings at 1.44 inches, with a best 5-shot group measuring 0.74 inches, which is not quite as good as the last test I shot with the Limited Custom, which landed a best five shots at 0.562 inches.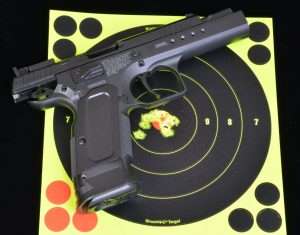 The Sig P226 X-Five Open delivered its best 10 round group at 1.02 inches with a best five shots at 0.50 inches. In the end, the Sig just edges out the Tanfoglio for best overall accuracy, but only by a fraction of an inch. I would be happy to own either gun, but for the absolute best balance, accuracy, and ease of loading and handling, my choice would still be the Tanfoglio Limited Custom. For a dedicated target model with open sights, it is still the gun to beat.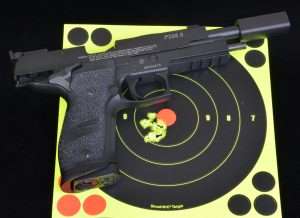 In Part 3 we add the optics bridge to the Sig Open and face off with the Tanfoglio Gold Custom, both equipped with Walther MRS optics.
A Word About Safety
Blowback action models like the Sig Sauer P226 X-Five Open and Tanfoglio Limited Custom provide the look, feel and operation of their cartridge-firing counterparts. All arguns, in general, look like guns, but those based on real cartridge-firing models even more so. It is important to remember that the vast majority of people can't tell an airgun from a cartridge gun. Never brandish an airgun in public. Always, and I can never stress this enough, always treat an airgun as you would a cartridge gun. The same manual of operation and safety should always apply.