Sig Sauer P365 Part 1
Small Wonders
By Dennis Adler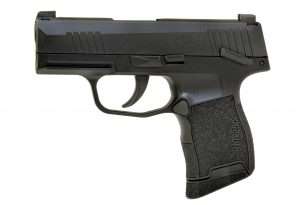 Sig Sauer has eclipsed all other American armsmakers, and yes Sig Sauer is an American armsmaker, (despite its European roots), building the majority of U.S. sold handguns and longarms in the United States, and supplying them to the U.S. military, federal agencies, and state and local law enforcement. They have also taken a significant share of the civilian arms market as well, and now with the P365, captured the attention of individuals with concealed carry permits, by building a micro-compact 9mm pistol with a 10+1 round capacity. Yes, there's lots of small 9mm pocket models out there already, but not this small and not with a 10 +1 round capacity. It simply has not been done in a 9mm pistol this size. The P365 has won multiple awards including Guns &Ammo's 2018 Handgun of the Year, and Shooting Illustrated Magazine's 2019 Golden Bullseye winner for Handgun of the Year.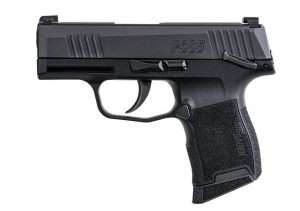 What is even more important to readers of Airgun Experience is that Sig Sauer's SIG AIR Division has once again developed and released a matching CO2 model for training and sport shooting in .177 caliber at almost the exact same time. Sig Sauer did this twice last year with the WE THE PEOPLE 1911 and P320/M17. No other airgun manufacturer has ever reacted to the market like Sig Sauer, and with groundbreaking new technology at the same time.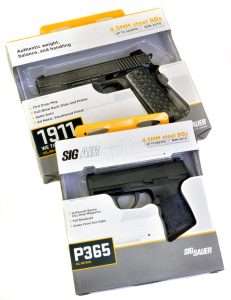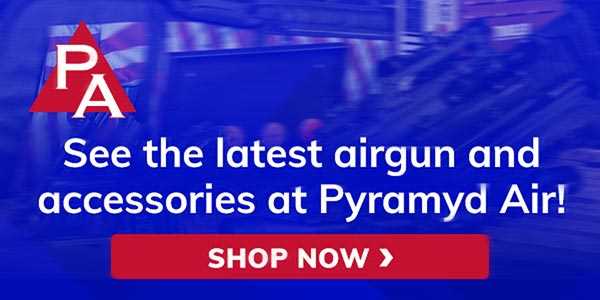 Un-boxing the P365
Price point all too often dictates packaging, and even with $100 plus CO2 pistols, manufacturers have resorted to blister packs better suited to mass marketing through big box chains, despite the preferences of airgun enthusiasts and collectors for reusable packaging. Sig Sauer has maintained its ability to accomplish both with its distinctive (albeit somewhat slow to open) packaging that serves the needs of retail display as well as consumers who want a solid, reusable package for storing the gun. The P365 has a surprising MSRP of only $99.99 which means it will sell discounted for as little as $79.95. That's right smack in the middle of blister pack world. Since this is the smallest CO2 model (and 9mm model) that Sig Sauer has ever made, they have scaled down the packaging for the P365 blowback action pistol to fit the size of the gun, but still provide the host packaging as a suitable storage box for the P365 and accessories.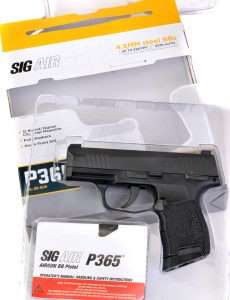 Sizing up the CO2 P365
We are going to begin, not by measuring the P365 against its 9mm counterpart, and believe me it measures up exactly, but rather against other current subcompact, blowback action CO2 models. And this is where the "Small Wonders" part of this story begins.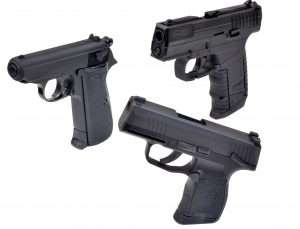 If we compare two of the smallest blowback action CO2 pistols available, the Umarex Walther PPK/S and Walther PPS, whose centerfire counterparts are well recognized as subcompact pocket pistols suitable for concealed carry use, they measure up as larger guns than the new Sig Sauer P365. The PPK/S CO2 model is 6.06 inches long, 1.125 inches wide (at its widest point) and 5.0 inches tall. The PPS measures 6.25 x 0.95 x 5.0 inches.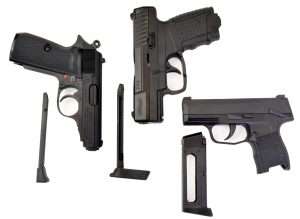 The P365 is only 5.75 inches in overall length, 1.0 inches wide (at its widest point) and 4.5 inches tall with the finger extension magazine used for the 9mm model. Even with the finger extension, the P365 beats the PPK/S and PPS CO2 models by half an inch. And the Sig uses a self-contained, 12-shot CO2 BB magazine, while the larger guns rely on a separate CO2 cartridge in the grip frame and stick magazines! Yes, it can be done. A pocket pistol can be that small in its centerfire configuration and also as a CO2 model. Sig figured it out.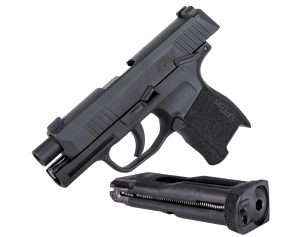 In Part 2 we will explore how Sig Sauer has managed to do what no other manufacturer has done (and that goes for 9mm subcompacts, too, by the way) with the P365.
A word about safety
Blowback action airguns provide the look, feel and operation of their cartridge-firing counterparts and this is one reason why they have become so popular. Airguns in general all look like guns, blowback action models more so, and it is important to remember that the vast majority of people can't tell an airgun from a cartridge gun. Never brandish an airgun in public. Always, and I can never stress this enough, always treat an airgun as you would a cartridge gun. The same manual of operation and safety should always apply.