Sig Sauer P365 Part 4
Tale of the Tape
By Dennis Adler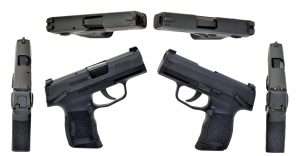 Sig Sauer wanted the P365 to be as authentic in handling as possible for a blowback action CO2 pistol, and in order for the airgun to achieve that goal they had to make one noteworthy compromise with the compact CO2 system to fit within the framework of the 9mm pistol; the gun cannot be field stripped like the centerfire model. It can be disassembled for maintenance but Sig Sauer does not want consumers taking the gun apart, so it is not covered in the instruction manual. On the other hand, and the pictures clearly show this, Sig met its goal of duplicating the size and handling of the P365. The CO2 BB magazine takes up the same amount of space as the 9mm's (though with different proportional use of the space). One of the more interesting aspects of that, aside from this being the smallest self-contained 12 gr. CO2 BB magazine ever devised for a blowback action air pistol, is that it loads very similarly to the 9mm. The Sig has what I would call a "zero aggravation" loading system for the 12 rounds of .177 caliber steel BBs.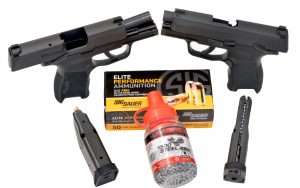 It has a very easily to set locking follower but no loading port above it. Instead of having to pour BBs into the channel, you use your index finger to press the BB stop down (as the breech end of the barrel does when the magazine is inserted into the gun), and then load each BB into the channel one at a time. When all 12 rounds are loaded, you release the locking follower and the magazine is ready to load into the gun.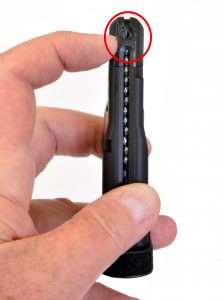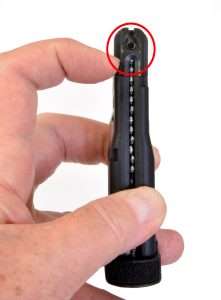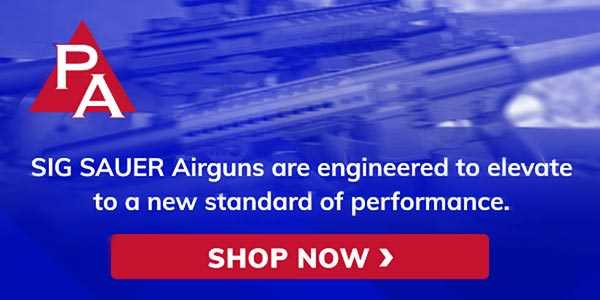 Installing the CO2 into the base of the magazine is no less difficult than other magazines with a removable piercing cap. The Sig's is a little shallower than others and has fewer threads, but once you get it started it screws down tight with the included hex head wrench until you hear the CO2 cartridge being pierced.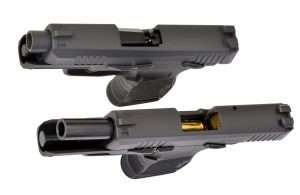 Today's evaluation, aside from physical comparisons, is initial velocity with a full CO2 cartridge and Umarex Precision .177 steel BBs. Since this blowback action model sends the slide all the way to the rear for each shot, to impart as close to an authentic feeling of light recoil as possible, the factory velocity rating for the P365 is only 295 fps. A sub-300 fps velocity rating falls into the lap of the old Umarex Walther PPK/S, always considered a nice gun but very anemic for performance and not too great on accuracy beyond 15 feet. Today we will see how close to 300 fps the Sig can come and shoot a 21 foot target through the chronograph to get an initial feel for the pistol's capability as a self defense understudy to the 9mm model.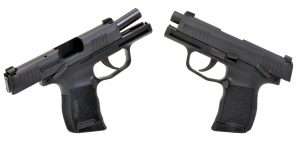 The P365 is an interesting mixed bag of shooting surprises. Trigger pull on the air pistol is a short but firm 5 pounds, 6 ounces, with 0.3125 inches of total take up to a crisp break. The trigger moves back 0.25 inches with almost zero resistance, then there is a firm 0.125 inches to discharge, with no over travel and a quick reset. This compares favorably with the centerfire pistol's 6 pound average trigger pull, which also moves back 0.25 inches with almost zero resistance before firming up. The trigger breaks the shot after another 0.25 inches of pull. Again, zero over travel and a quick reset.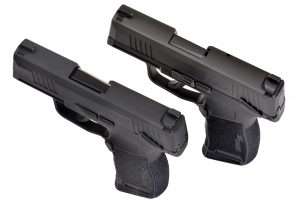 For today's initial velocity test I went through two CO2 cartridges and both times I was a little slow on getting the seating screw tightened down and lost a second or two of air before I was done. I'm going to have to learn how to turn this seating screw, with its shallow wrench depth, a little more efficiently, and I think this may have contributed to a lower than expected average velocity of  262 fps for 12 rounds. But that is only half the story. This little pistol is loud, the BBs slap into the target with more force than the velocity would hint at, and the slide comes back with the force of a small .22 pistol. You know this gun is working hard to deliver as much tactile feedback as any CO2 pistol, regardless of velocity.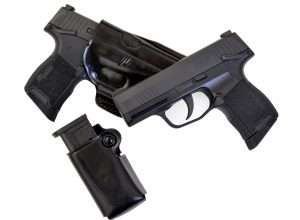 For accuracy, shooting at a small bullseye Birchwood Casey Shoot-N-C target, using a two-handed hold, all 12 shots had a spread of 1.75 inches from 21 feet, with a best 5-shot group measuring 0.68 inches.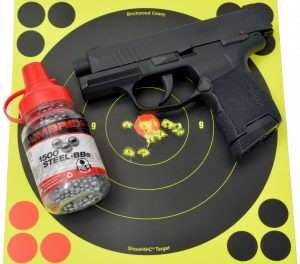 In part 5, I will run tests with different brands of steel BBs as well as the lightweight Air Venturi frangible Dust Devils, before finishing out the P365 series with a head-to-head shooting comparison at 21 feet against the 9mm Sig model.
A word about safety
Blowback action airguns provide the look, feel and operation of their cartridge-firing counterparts and this is one reason why they have become so popular. Airguns in general all look like guns, blowback action models more so, and it is important to remember that the vast majority of people can't tell an airgun from a cartridge gun. Never brandish an airgun in public. Always, and I can never stress this enough, always treat an airgun as you would a cartridge gun. The same manual of operation and safety should always apply.