Sig Sauer P365 Part 6
The bottom line
By Dennis Adler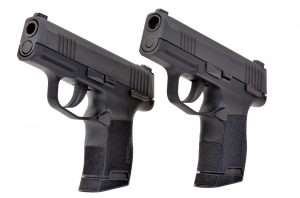 With 1:1 gun tests there is the overwhelming factor of gun powder vs. CO2 as the propellant, and that's one thing a blowback action CO2 pistol can never duplicate, the actual felt recoil and sound of a handgun firing. Training with air is absolutely good for fundamental skills that lead up to the moment you pull the trigger. After that point, the two guns go their separate ways. The importance of a good training gun, or understudy as they are often referred to, is that everything up to the moment you pull the trigger is 1:1. It has to feel the same as pulling the trigger on the centerfire model, and obviously the trigger is one very important part of that equation. Only a handful of CO2 models have a trigger pull as close to actual as possible. The question here is, is the Sig Sauer P365 CO2 model one of them?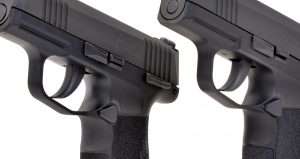 Reviewing trigger pull comparisons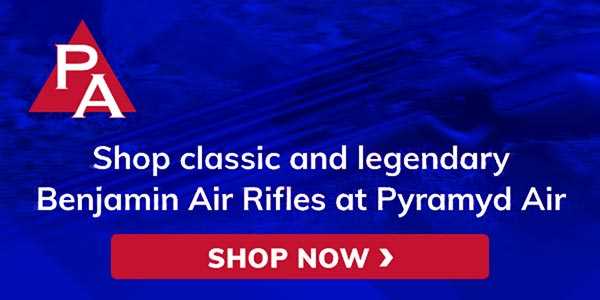 Testing trigger pull during this series of articles revealed an average trigger pull on the air pistol of 5 pounds, 6 ounces, with only 0.3125 inches of total take up to a crisp break. The trigger moves back 0.25 inches with almost zero resistance, and then there is a firm 0.125 inches until the trigger pull breaks the shot. There is no creeping with the CO2 model's trigger, just a steady increase in resistance (stacking) common with a double action (or DAO) trigger. The pistol exhibits no over travel and the trigger has a quick reset. This compares favorably with the centerfire pistol's 6 pound average trigger pull, which also moves back 0.25 inches with almost zero resistance before effort increases as you pull through another 0.25 inches to releases the striker. The important part of this comparison is how the trigger feels. There is the same short take up and same resistance until the shot breaks. It is heavy, 5 pounds, 6 ounces all in 0.125 inches, but the pull through remains consistent from shot to shot. Now, with the 9mm model the take up is slightly more pronounced, but the pull though and break are almost identical, enough so that you can learn the P365 trigger from practicing with the CO2 model.

Downrange in .177 and 9mm   
In daylight, sighting with either gun is the same with the Sig 3 dot XRAY3 Day/Night Sights appearing bright with the green front dot and the CO2 model with the white dot rear and green front dot. The comparison test is a regulation Law Enforcement Targets cardboard B-27 silhouette target and the shooting distance starts at 7 yards (21 feet). Both guns will be loaded with 11 rounds (10+1 in the 9mm) and 11 Umarex Precision steel BBs in the P365 CO2 model. The drill is draw and fire two rounds. Change position right of center, draw and fire two rounds. Move left of center and repeat. Step back to 15 yards (45 feet), draw and shoot to empty. This will be more telling with the CO2 model, but it should still be hitting center mass at that distance with a fresh CO2 cartridge.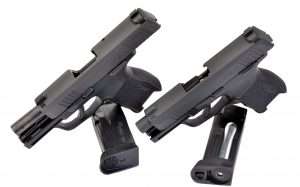 I used the same Galco holster for both guns and drawing and firing technique, Weaver stance, two-handed hold, timed fire at 1-second intervals. The 9mm at 21 feet and 45 feet did what a good personal defense gun should do; it put all 11 rounds into the center mass of the target from all angles and both distances. The 11-shot spread was all inside the 10 and X except for one flyer that hit in the 9-ring at 4 o'clock from 45 feet. All hits counted as 5 points each. Ironically, I pulled one of the shots from the CO2 Sig and hit in almost the exact same spot from 45 feet. What I did discover was that the P365 shooting .177 caliber steel BBs at 45 feet was still delivering pretty tight groups. I can't say at what velocity they were hitting, but there was a solid slap on the cardboard target for every one of the 11 rounds fired.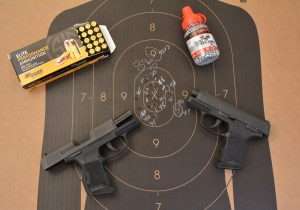 Sig Sauer's P365 CO2 model gets a solid pass in this test as a training gun. As a .177 caliber semi-auto BB gun that can hit accurately at 21 feet, 30 feet and 45 feet, it sets a standard that no other air pistol this small can match. The competition just got tougher.
The Airgun Experience will return on July 22 with a series that is sure to bring back memories of your first .22 rifle, the Ruger 10/22. If you didn't have one, you missed out on one of the great American rights of passage, but it's not too late!
A word about safety
Blowback action airguns provide the look, feel and operation of their cartridge-firing counterparts and this is one reason why they have become so popular. Airguns in general all look like guns, blowback action models more so, and it is important to remember that the vast majority of people can't tell an airgun from a cartridge gun. Never brandish an airgun in public. Always, and I can never stress this enough, always treat an airgun as you would a cartridge gun. The same manual of operation and safety should always apply.