Sig Sauer Spartan 1911 Part 2 Part 1
Testing Sig's latest CO2 Semi-Auto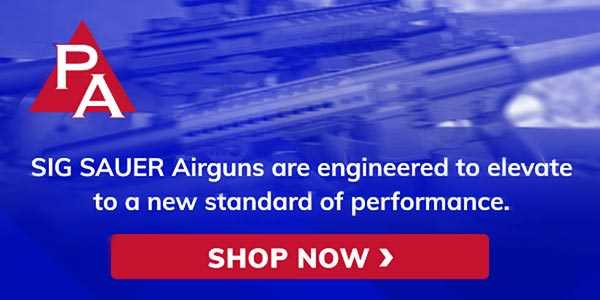 By Dennis Adler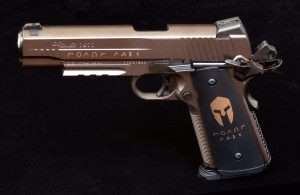 Sig Sauer has jumped into the blowback action CO2 airgun market with both barrels blazing and the introduction of two more models based on Sig Sauer 1911 production guns, the Sig Sauer Max Michel competition pistol and the Spartan combat model, the company's two most unusual 1911 variations.
Today there are dozens of manufactures the world over building versions of the Model 1911 (the patents expired generations ago), but this was not always so. Up until the WWI, only Colt's was building the Model 1911. Fast forward to the 21st century and both Remington and Ithaca produce 1911 models today (as they did during WWII), but you also have 1911s being manufactured in the U.S. by Springfield Armory, Sturm, Ruger & Co., Kimber, Wilson Combat, Auto Ordnance (the Thompson submachine gun company), Dan Wesson, Smith & Wesson, and Sig Sauer through its U.S. manufacturing division. In fact, today there are more 1911 variations produced in the U.S. and abroad than John M. Browning could have ever imagined.

Sigs on air
Sig Sauer's blowback action CO2 1911 airguns are all based on their current production models. The Spartan differs slightly in design from the .45 ACP versions by using a fame similar to the Sig Sauer 1911 CO2 Tactical pistol with a MIL-STD-1913 Picatinny rail; an added plus for the Spartan airgun. It also has SigLite-style combat sights, but they are not adjustable, nor do they have tritium dots (night sights), the skeletonized trigger is not adjustable, and unfortunately for left-handed shooters, the right side thumb safety is non-functional (because the left side safety has a secondary release button that has to be depressed to lower the safety). The last big differences, other than being an air pistol, is that the new Sig Sauer Spartan CO2 model uses a 16-round stick magazine, a separate CO2 loading chamber in the grip frame, and does not disassemble. These latter three facts will no doubt disappoint a few 1911 airgun fans who have come to expect self-contained CO2 BB magazines in 1911 models. Sig has opted to go back to separate mags and a CO2 chamber in the grip frame for both the Spartan and Max Michel 1911s.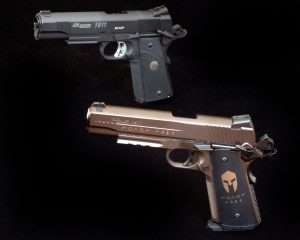 Sizing up the Spartan
The Sig Sauer branded line sold by Sig Sauer is different than other models bearing the Sig Sauer licensed name, in other words, what Sig builds under their own name is different than the way other Sig licensed models like the P226 X-Five and 1911 Tactical are manufactured, and thus the reason Sig's Spartan does not follow the lines and construction of the other Sig Sauer 1911 CO2 models, nor their self-contained CO2 BB magazines and fully functioning ambidextrous thumb safeties. From a purely aesthetic perspective, the 1911 Tactical is a more accurate representation for overall design and operation, while the Spartan is a more visually striking pistol with its Greek markings, grips, and unique frame and slide color. The 1911 Tactical, however, is a far more realistic gun in its overall handling and operation with a full length barrel and slide operating system, full 1911-style disassembly, and correctly-sized self-contained magazine. What it is not, is a real Sig Sauer branded product, something you cannot say about the Spartan. As it says on the box (not a blister pack but a real box) "Shoots like a Sig because it is one."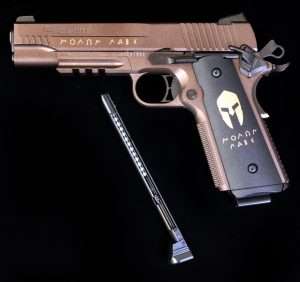 In overall size the CO2 model measures 8.75 inches, which is 0.5 inches longer than the .45 ACP Spartan. Barrel length (internal) for the airgun is 5.0 inches and equal to the centerfire model's barrel length. Height and width measure 5.75 inches (bottom of magazine well to top of rear sight) and 1.25 inches at it widest point. This compares to the .45 ACP Spartan which has a height and width of 5.5 inches and 1.4 inches, respectively. The centerfire model weighs in at 41.6 ounces and the CO2 Spartan at 34.5 ounces (empty). The gun also fits perfectly into holsters designed for Model 1911 Rail Guns like the Galco Fletch High Ride thumb break safety belt holster shown.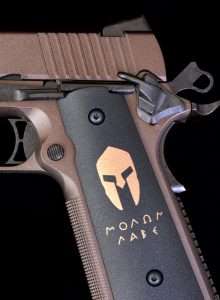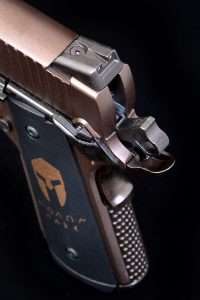 Overall, the Spartan proved to be a well-balanced 1911-style CO2 model, with some interesting advantages and a few disadvantages. Ease of loading is one of this airgun's best features. The stick magazines has a locking follower and a large round loading port that allows a speed loader to punch 16 rounds into the magazine as quick as you can push the plunger. The CO2 loading design is also different. After removing the left grip panel, the mainspring housing is lowered and rotated down to ready the chamber for inserting a 12 gr. CO2 cartridge. Once loaded, the mainspring housing is pushed upward and back into place with the palm of the hand, automatically raising, seating and piercing the CO2 cartridge in one motion. It is a very well thought out design.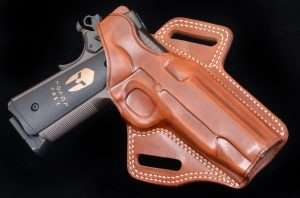 Steel shots downrange
For the Spartan's evaluation I used Umarex .177 caliber steel BBs and Sig's branded 12 gr. CO2 cartridges. The Spartan is factory rated at a maximum of 410 fps. Through the ProChrono traps the gun delivered a high velocity of 401 fps, an average of 390 fps and a standard deviation of 12 fps. Trigger pull averaged 8.0 pounds, a bit heavy compared to other CO2 model 1911s, with 0.25 inches of take up and heavy stacking to a clean break. The Sig also has hefty recoil for a blowback action, which is actually a plus for handling experience.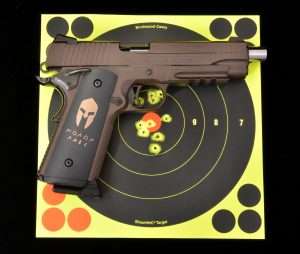 The test distance for the blowback action semi-auto was 21 feet fired offhand using a Weaver stance and two-handed hold. The gun's white dot sights are easy to acquire and very close to POA. On average I found myself having to hold under by about 1 inch. The best 10-round group measured 2.0 inches, with a best 5 shots at 0.94 inches in the 10 and X. The Sig is accurate enough, but no match for the Umarex Colt Commander. It is a great pistol to shoot nonetheless, and for looks it has a great deal going for it. At the price point Sig is aiming for with the Spartan, the company once again seems to be right on target.
A Word About Safety
Blowback action models like the Sig Sauer Spartan provide the look, feel and operation of their cartridge-firing counterparts. All airguns, in general, look like guns, but those based on real cartridge-firing models even more so. It is important to remember that the vast majority of people can't tell an airgun from a cartridge gun. Never brandish an airgun in public. Always, and I can never stress this enough, always treat an airgun as you would a cartridge gun. The same manual of operation and safety should always apply.