Sig Sauer Super Target Part 7
Perseverance and the pellet
By Dennis Adler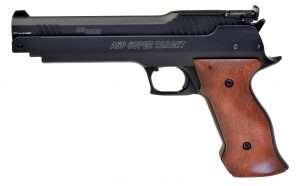 Rarely do I find myself doing follow-up tests with air pistols that have not presented a problem. The Sig Sauer ASP Super Target is working great, me, not so much. I settled into this gun with alloy pellets, and had it dialed in almost where I wanted it before moving on to the new Sig Pb lead wadcutters. Remember, I only have so much time to write a review, and usually the transition from one pellet to another doesn't present such a vast difference in accuracy. Maybe I'm taking this too seriously, but if the gun can shoot 0.5 inch groups with one type of pellet, it should come close to duplicating that accuracy with another (with appropriate sight adjustment). That is where I took a little shortcut to get Saturday's article finished. I usually don't do that but I had a lot of confidence in the Super Target, or perhaps too much confidence in myself. Suffice to say I ran out of time and now I need to see if I can master this new combination.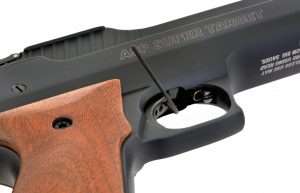 Trigger Adjustments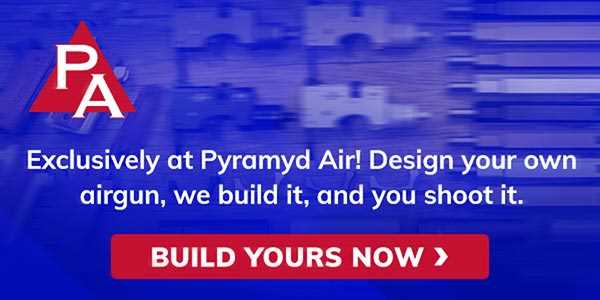 I also promised a section on adjusting the trigger. Tom Gaylord has already done this in his column and ran into some interesting pitfalls when working the full combination of adjustments. I am going to take a slightly different approach and make two adjustments to fine tune the factory settings, which, as I said early on, are pretty darn nice as is. First, I moved the trigger from its rearmost position as it came from Sig Sauer, out about 3/8th of an inch, so I have a bit more relief going into the first stage. This requires a 1/8th inch Allen wrench and an adjustment to screw number 2, topmost in the trigger. Turning clockwise lengthens the stroke and I made enough of an adjustment to move the trigger far enough that it completely clears the back of the triggerguard.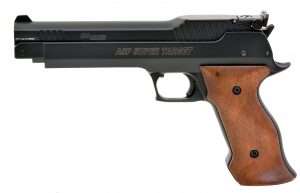 This does not change the trigger pull resistance, which is screw number 1 at the top front of the triggerguard. I did, however, retest the trigger pull with the Lyman gauge and it averaged 2 pounds, 7.9 ounces. What this did change, was to impart a very slight bit of over travel and make the first stage of the trigger pull longer, now 0.187 inches, with a very short, crisp, second stage release. I decided to shorten the first stage by turning screw number 3, the center screw in the trigger, counterclockwise just slightly.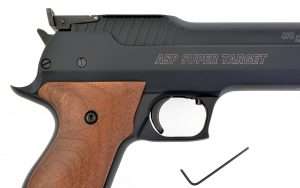 This smoothed out the first stage to an almost glass like feeling between the first and second stage, with the same crisp release to break the shot. This was a minor but tangible difference in trigger pull that is now exactly to my liking and basically feels like the trigger on several of my other target pistols. The second stage adjustment from Sig Sauer was perfect just as is.
Re-sighting for the Sig Sauer Match Pb
This is going to be more trial and error shooting from the benchrest to dial in the elevation and windage for the heavier 7.71 gr. lead wadcutters. It took three targets to adjust elevation and windage, and on my fourth, with shots still hitting just left of the bullseye, I put five rounds into 0.75 inches, but still no bullseye.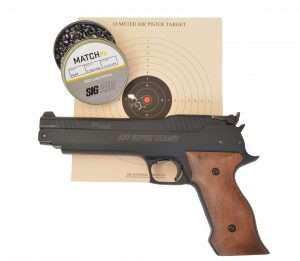 One minor adjustment to the right and another down (one click each) sent five rounds inside of the 9, 10 and just nicked the bullseye for another 0.75 inch group. Overall, I shot about a dozen targets today with the Match Pb wadcutters.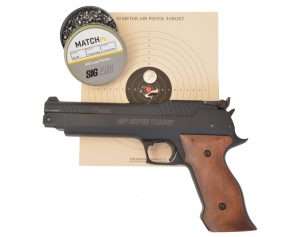 The last sight adjustments sealed the deal with a bullseye group measuring 0.62 inches with the one flyer breaking out into the 8 ring at 4 o'clock. I did have 4 of the five at 0.5 inches, so I think the Match Pb and Sig Sauer ASP Super Target are nearly vindicated.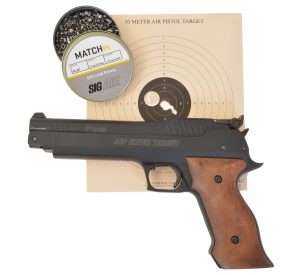 With Thursday being Thanksgiving, the Airgun Experience will be back on the 29th with articles publishing on Friday and Sunday.
Have a great Thanksgiving!