The P320 in military dress
By Dennis Adler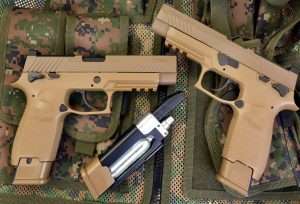 This is where Sig Sauer's purpose of designing and manufacturing CO2 training guns based on their centerfire models comes to realization; or, as they used to say in the auto industry, this is "where the rubber meets the road." Everything Sig Sauer has done from the P226 ASP, introduced in 2016, through the P320 ASP introduced last year, to the new P320 M17 ASP, has been a deliberate investment in design improvements and innovations executed with Sig Sauer precision. Consider that the P226 ASP used an established (as in not invented here) 8+8 rotary stick magazine; a year later the P320 introduced an innovative rotary pellet magazine with a 20 round capacity, and in 2018 Sig unveils the first self-contained CO2 pellet pistol magazine combined with a blowback action version of its new U.S. Army P320 M17 semiautomatic. The timeline for this is impressive, but the end result, the M17, speaks volumes about what Sig Sauer has accomplished in two different fields of handgun design and manufacturing in a relatively short span of time.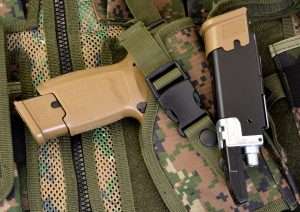 Sending pellets downrange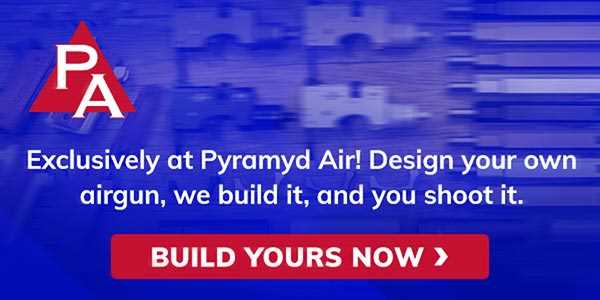 Initial tests returned an average velocity with Sig Sauer Match Ballistic Alloy wadcutters, tested in two different guns and three different magazines, of 358 fps for 20 shots with the 5.25 gr. alloy Sig pellets. The ProChrono clocked a low of 335 fps and a high of 385 fps. I ran secondary tests with the Sig alloy pellets and it appears the M17 will consistently deliver 350 plus fps shots with the 5.25 gr. Match Ballistic alloy wadcutters.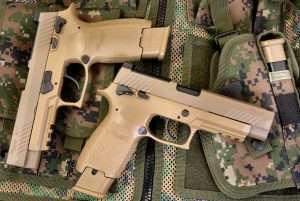 Changing to H&N Sport 5.25 gr. alloy wadcutters, the M17 delivered a high of 372 fps, a low of 352 fps, and average velocity of 358 fps for 20 consecutive shots (one full clip) fired at 15 second intervals. The H&N Sport delivered identical average velocity to the Sig Sauer alloy pellets, but slightly better low velocity averages.
A third velocity test was shot with RWS Meisterkugeln lead wadcutters, which were a surprise, to say the least. I had expected the 7.0 gr. lead pellets to clear the ProChrono screens a lot slower than the lighter weight alloy wadcutters, but the precision lead hole-punchers delivered a high of 369 fps, a low 329 fps, an average velocity of 345 fps, only 13 fps slower than alloy wadcutters.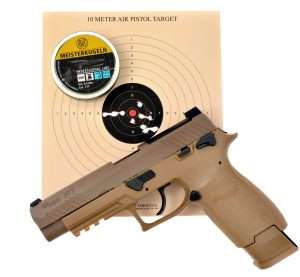 I continued to run tests with Meisterkugeln until velocity began to drop off. This was shots 51 to 60, and though the velocity may have been falling, it was still a respectable total from a single CO2 cartridge considering the amount of gas needed to give this pistol a solid .22 short caliber pistol-like kick, shot after shot. And even as velocity fell into the 295 fps range you could still hear the pellets slapping into the cardboard backer and the baffle box with authority.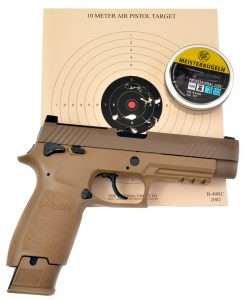 Accuracy at 10 meters
I am going to do several accuracy tests with the M17 but to wrap up today's article, it is going to be RWS Meisterkugeln 7.0 gr. lead wadcutters fired in 10 shot sets at a National 10 Meter Pistol Target. My best 10-round group fired from a Weaver stance with a two-handed hold at 1-second intervals measured 1.875 inches with a best 5-shot group at 0.68 inches. Target two, also fired the same way but with a fresh CO2 cartridge loaded, punched 10 into a 1.75 inch spread, with a best five shot group measuring 1.2 inches. (Note to self: Quit while you're ahead). One last run at 10 meters for the day was shot with H&N Sport alloy wadcutters using the same stance and POA, which is dead center on the bullseye. My 10 shot spread measured 1.43 inches with a best five rounds at 1.0 inches. As a bullseye shooter, the M17 hasn't yet delivered, but for punching inch-sized groups from 10 meters with wadcutters, it is getting the job done.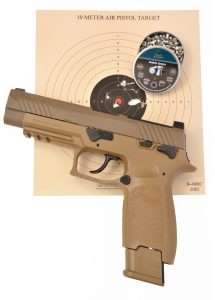 With a rifled barrel you may have been expecting more, (especially if you are proficient with a 7-1/2 inch Colt CO2 Peacemaker capable of 0.5 inch groups at 10 meters), but there is another factor in play. The M17 is a U.S. Army standard issue sidearm, and like the original Model 1911, the operative word here is standard. As a DAO pistol, the M17's trigger has a big job. Unlike the striker-fired centerfire model, the CO2 version uses an internal hammer, and trigger pull on the blowback action pistol averages 6 pounds, 6 ounces with 1.0 inches of take up (the centerfire P320/M17 is factory rated at 5.5 pounds). That's a long pull and trigger control is essential for accuracy with the CO2 model. That's one big reason why this is a very good understudy for the Army and civilian M17 Sig. Learning how to get the best out of the CO2 model will help get the best out of the centerfire gun.
For Thursday's Part 5, the shooting test moves to the outdoor range with holsters, tactical gear, and silhouette training targets from 10 meters to 45 feet.