The P320 in military dress
By Dennis Adler
Sig Sauer pistols and rifles are among those used in the U.S. by local and state law enforcement, the military and federal agencies. The P320 is carried by the second largest police department in the U.S., the Chicago PD, also the Dallas PD carries the Sig P226, and the Texas Department of Public Safety (Highway Patrol, Texas Rangers, CID and Executive Protection Bureau), has adopted the P320. Sig Sauer pistols ranging from the P226, P228 and P229, are used by more than 20 U.S. state and local law enforcement agencies, as well as the U.S. Secret Service, Department of Homeland Security, U.S. military investigative services (NCIS, Army CID, Air Force OSI,) Air Marshals, and of course, the new U.S. Military standard issue sidearm is the P320 M17.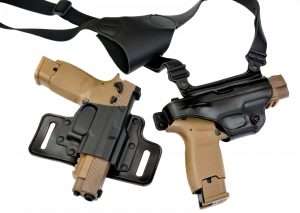 The need for training guns, in Sig Sauer's opinion, has become paramount as an affordable alternative to centerfire models for basic handling skills. The M17 takes that philosophy to the next level, one that had previously only been achievable with either CO2 BB guns for handing and basic training exercises (using self contained CO2 BB magazines), or with Airsoft pistols and marking ammo for force on force training. The M17 ASP adds another alternative to practical, affordable training (not for force on force training); live fire with accuracy at actual defensive pistol distances.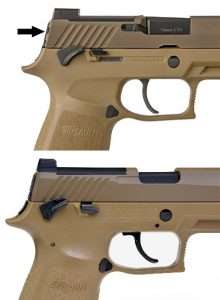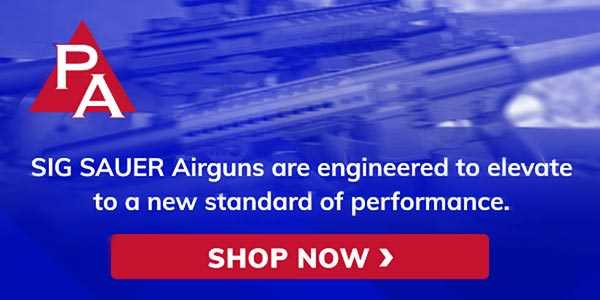 A comparison of the 9mm M17 with the CO2 model shows an overall length of 8.0 inches, barrel length of 4.7 inches, and carry weight (with empty extended capacity magazine empty), of 29.6 ounces (1.85 pounds) for the centerfire pistol. The M17 ASP has an overall length of 8.0 inches, internal rifled barrel length of 4.68 inches, and a carry weight (with empty magazine) of 34.0 ounces (2.1 pounds). The heavier CO2 magazine adds most of the extra 4.4 ounces in carry weight. The centerfire and CO2 models have the same approximate height (with extended capacity magazine) and exact width. Given the excellent blowback action on the CO2 model, which delivers a palpable sense of recoil, and a sound level, which I rate at medium loud, the CO2 is giving everything it's got to run this gun and get the shots downrange.
Where the air pistol parts ways with centerfire models   
For those of you who just want a well made, authentic looking copy of the M17, the ASP is your gun (maybe the gun for modern CO2 military arms enthusiasts) but in practical training you want more than a fancy looking pellet pistol. The M17 ASP's CO2 pellet magazine is a minor stumbling block since it will not fit a traditional P320 mag pouch. But that is a minor issue and there will be workarounds in short order. The gun itself must fit established holsters for training, and the M17 ASP is right on the money.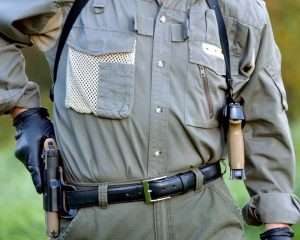 I have selected two basic carry methods for this article, an S3H Galco shoulder holster made for the P320, and a Galco TAC Slide belt holster, which is a leather belt slide fitted with an injection molded Kydex-type outer holster that is secured to the leather belt slide. The fit is perfect and training with these two concealment carry rigs will make the P320 M17 ASP an excellent understudy for perfecting drawing, firing, and re-holstering skills on the practice range. And as I illustrated in Part 4, the M17 ASP and magazine fit tactical vest-mounted holsters and mag pouches like the UTG tactical models.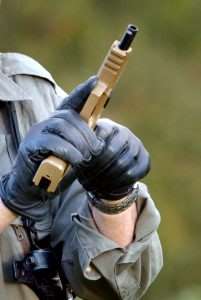 For this evaluation I did drawing and re-holstering practice with the Galco rigs and tested two other brands of pellets in the M17 ASP at 10 meters. I'll wrap up this series on Saturday with the UTG tactical vest and shooting the M17 at 15 yards (45 feet).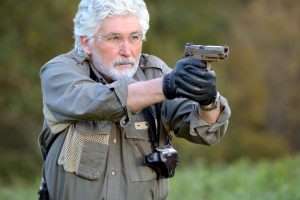 The pellets selected for this test were the pricey but higher quality RWS R10 Match 7.0 gr. lead wadcutters, and much more affordable Gamo Match Classic Training, which are a heavier 7.56 gr. wadcutter. My hope here is accuracy versus velocity. The R10 is a match grade competition pellet with a thicker skirt than the RWS Meisterkugeln Professional Line 7.0 gr. wadcutters. The Gamo Match is actually a training level wadcutter with a thinner, fluted (grooved) skirt. While there is good consistency among the R 10 Match pellets, which all fit perfectly into the Sig's rotary magazine chambers, the Gamo varied from pellets that fit well, to those that went in a little loose to some oversized that would not fit into the plastic rotary mag chambers at all.
The R 10 Match clocked an average velocity for 20 rounds of 323 fps vs. 345 fps with the RWS Meisterkugeln lead wadcutters. The heavier Gamo lead wadcutters cleared the chronograph at an average velocity of 302 fps.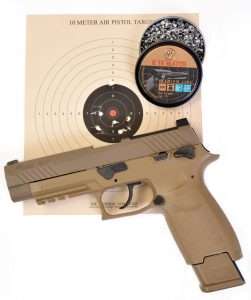 At 10 meters the RWS R10 were hitting low and slightly right. Correcting POA, again the front sight at 10 meters covers the bullseye, so I was aiming at the top of the bull and a little left. My best 10-shot group measured 2.2 inches because of one horrible flyer at the top of the black; otherwise it would have been 1.43 inches with a best 5-round spread of 1.43 inches. The Gamo, which were flying downrange at around 300 fps were hitting the target about center and then a little high for a best 10-shot group measuring 1.42 inches with a good 5-round spread of 1.25 inches. Better pellets don't always make a gun shoot better, at least not this one. But again, the M17 is not a target pistol with these fixed white dot sights. But Sig Sauer isn't done with the M17 ASP just yet!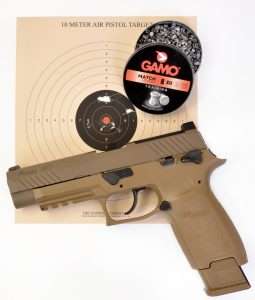 While not the best 10 meter CO2 semi-auto pellet pistol I have ever shot, the Sig Sauer P320 M17 ASP has been very consistent overall with anything you feed it and shoot out to 10 meters. Proving its net worth as a combat training pistol, Saturday's conclusion to the M17 series will all be shot at 45 feet on a full-size B-27 silhouette target both with timed and rapid fire comparisons from multiple shooting positions. This is really what the pistol is built for.