Part 2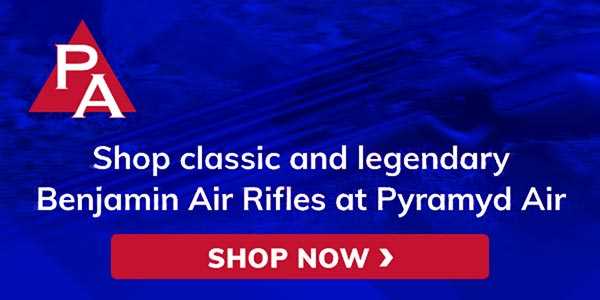 The P226 ASP  – Sig's new 4.5mm pellet versions
In the contest of BBs vs. pellets, pellets win for velocity and accuracy almost every time and for training purposes Sig Sauer has recently added both a P226 and P250 pellet airguns. Dani Navickas, Sig's ASP Air Division product manager explained that Sig Sauer "…designed our initial offering of airguns to look and feel like Sig Sauer centerfire guns with similar weight and trigger pull for training purposes." Sig's Advanced Sport Pellet (ASP) blowback action airguns are designed and engineered to the same exacting standards as the company's premium pistols and rifles and each airgun goes through rigorous testing and the design has been "life-tested" with 15,000 shots to ensure that professionals who train with these airguns experience exceptional performance and true hands on operation.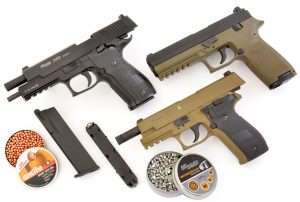 The P226 ASP is offered in black or two tone FDE, and the 4.5mm pellet guns use a reversible dual 8-round magazine (for a total of 16 shots in one magazine) with a separate CO2 chamber accessed by lifting the backstrap panel. In terms of weight, balance, trigger design, sights, and operation, the only thing missing is a few minor operating features found on the 9mm model. The ASP pellet guns are a little different in comparison to the Navy version P226 carried by SEAL units, but again are designed to perform as training guns and being a pellet gun with a rifled steel barrel, achieve higher velocities and greater accuracy. Visually the new ASP line is built to provide hands on experience with a comparably styled and operating gun, but more so in terms of trigger use, sighting, operating the safety/decocker, and the magazine release. By weight the P226 models used by the Navy average 35.5 ounces, the ASP pellet gun weighs in slightly heavier at 38.0 ounces. DA/SA trigger pull on the 9mm averages 10 pounds and 4.4 pounds, the ASP averaged 9.5 pounds and 4.47 pounds, so again a very good training weapon. In operating procedures, the ASP can be cycled to set the first round, it can be fired double action, single action, and de-cocked with the safety decocker, all matching the working features of the 9mm models. The ASP also bears the Navy anchor marking on the slide and has a threaded barrel like the P226 Combat version.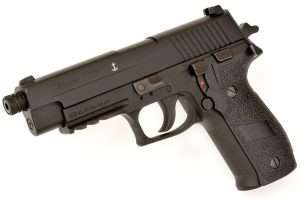 What separates the pellet-firing ASP models is the loading method and location of the CO2 capsule. The ASP has two separate systems, first a reversible 8+8 rotary pellet magazine and thus internally, the pellet gun functions more like a revolver with the magazine rotating around the chamber, but it still has a blowback action slide for semi-auto realism, although the slide on the ASP does not lock back after the last round has been fired. It can, however, be locked open with the functioning slide release lever. The magazine release operates the same and drops the rotary magazine out of the grip. The backstrap has a latch release and swings down on a bottom hinge allowing the CO2 capsule to be inserted into the grip. Closing the backstrap panel automatically activates Sig's patented cam-operated CO2 piercing system (arrow) and the gun is ready to fire.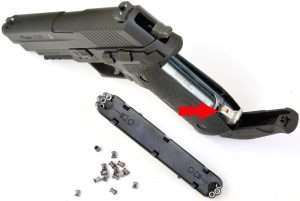 The Navy SEAL version ASP has an overall length of 7.75 inches including the threaded 5-inch barrel, a height of 5.5 inches and width 1.26 inches, including grips and safety/decocking lever. The P226 Combat 9mm specs out at 8.3 inches in overall length with a 5-inch threaded barrel, 5.5 inches in height and 1.5 inches in width; once again right in the ballpark for handling exercises right down to pulling the trigger. All P226 ASP models have standard length Picatinny accessory rails so they can be used with actual tactical lights and lasers for targeting practice.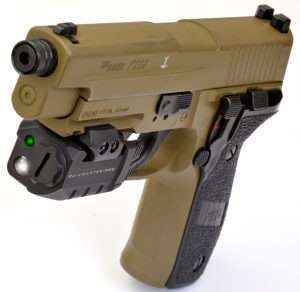 Sig Sauer brought its ASP series to market full born with a complete line of accessories including their own 12 gram Elite Performance CO2 cylinders, Sig .177 caliber Match Ballistic 5.25 gr. alloy pellets, and a complete series of Sig Sauer targets including a re-settable quad shooting gallery pellet trap, and three reactive spinner targets.
To test the P226 ASP the guns were powered by Sig Sauer CO2 cylinders, with Sig Match Ballistic Alloy lightweight pellets. Targets were the Sig quad shooting gallery and cardboard backers at 10 meters. Due to cold outdoor temperatures average velocity was down to 450 fps average for the ASP which has an optimum velocity of 510 fps. The P226 ASP dropped eight 4.5mm alloy pellets at 1.75 inches and was a lot of fun on the SIG shooting gallery rocking the 2.5 inch tall metal silhouettes.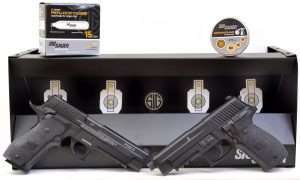 Overall, Sig Sauer airguns, the P226 and P250, are excellent for plinking, target practice and certainly for remedial or beginning training with these accurate copies of their 9mm counterparts. For a $100 investment, one would be hard pressed to pick a better or more famous semi-auto than the Sig P226 for practice or just plain air pistol shooting.