Springfield Armory 1911 A-1 MIL-SPEC Part 4
Handling and Accuracy
By Dennis Adler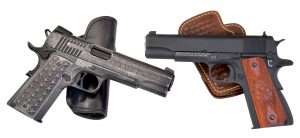 Getting it right the first time has been the way Springfield Armory and Air Venturi have been working this year with the launch of their new CO2 models. The 1911 MIL-SPEC is the first new one that has resorted to the white lettering, which they had managed to eliminate with the XDM 4.5 and 3.8 models, and the excellent M1 Carbine (plus adding an optional wood stock to make the M1 even more appealing). The white S F arrow on the otherwise correctly-designed thumb safety for the 1911 MIL-SPEC is not uncommon on other CO2 models, and it is not anywhere as bad as other 1911's out there awash in overstated white graphics and legalese. In fact, the Springfield is as clean as the Sig Sauer WTP in comparison, and the majority of air gunners looking for a new, classically-styled Model 1911 A-1 will agree that we have found a respectably authentic challenger to the Sig Sauer 1911. The WTP has itself played to mixed reviews, not for its capability, but its perfect match to the equally patriotically graphic .45 ACP model. Now, for the record, I like the hard look of the WTP in .45 ACP so much that I came close to purchasing the centerfire model to go with the air pistol. Of course, it is supposed to be the other way around, you buy the air pistol to go with the centerfire gun, and this may well be the case with the Springfield, because the .45 ACP MIL-SPEC model, at a retail of $764, is almost an entry-level gun in price compared with other more feature laden 1911 Springfield Armory models that can run as high as $1,500 to $3,000. With the CO2 version being a 1:1 for the .45 ACP Springfield MIL-SPEC, it is exactly what the Sig Sauer WTP CO2 is to Sig's .45 Auto. You can't really say that about many other 1911-style CO2 pistols, so this has obviously become a two man race.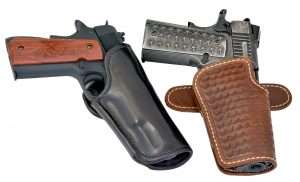 Triggers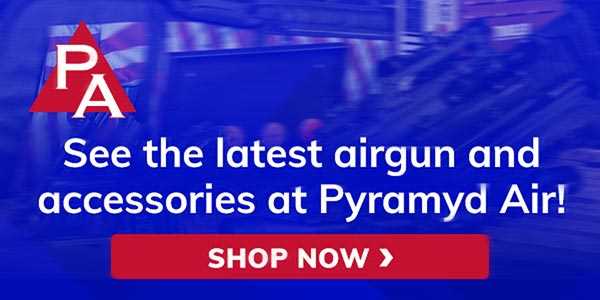 For most 1911 enthusiasts it comes down to the authenticity of the pistol plus how well its handles; ease of operation, loading, sights, and the trigger design and quality. This varies from the traditional 1911 A-1 short military trigger (originated with the 1924 redesign), to the skeletonized triggers used on other models today like the WTP. These are all based on actual combat and competition triggers that are used on the centerfire 1911 models.
The military trigger for the 1911 A-1 was designed for the average soldier in the field, thus not light nor apt to be pulled by accident but requiring a deliberate trigger press. It was not a great trigger and often described as mediocre with an average resistance on military issue 1911 A-1s of 6 pounds, 8 ounces. The only military style 1911 I own has an average trigger pull of 5 pounds, 7 ounces. I have a modern 1911 with a skeletonized combat trigger, and that .45 Auto has an average trigger pull of 5 pounds, 8.0 ounces.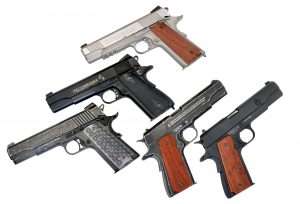 I would expect all five of the top 1911 air pistols to come in well under that number, especially the Umarex Colt Commander, which generally has a trigger pull of less than 3 pounds. The test gun averaged 2 pounds, 8.4 ounces with 0.187 inches of take up, zero stacking and a break that is almost too light (certainly would be for a centerfire 1911, unless the gun was built for competition shooting).
Going old school with the John Wayne, which duplicates the 1911 A-1-short trigger design, the average for this gun is 4 pounds, 6.1 ounces with 0.125 inches of trigger take up and moderate stacking throughout the pull. The only Rail Gun in the group, the Swiss Arms TRS, has a trigger that is identical in design to the Umarex Colt Commander, but average trigger pull on the TRS is 4 pounds, 12.7 ounces, the heaviest thus far. Clearly, there is something different in the trigger's internal setup between the Umarex and the Swiss Arms models. There is also mild stacking as the Swiss Arms trigger comes back to about as smooth of a break as you can ask for. Overall, it is heavier but smother, and a little more balanced than the almost hairpin trigger of the Commander. The Sig has a trigger pull that averages 5 pounds, 2.5 ounces with 0.125 inches of take up, light stacking and a seamless break (about equal to the Swiss Arms TRS). The new Springfield's 1911 A-1 military-style short trigger has an average pull of 5 pounds, 9 ounces, which is in the ballpark for a centerfire 1911 A-1 and in keeping with Springfield's claimed trigger resistance for the centerfire MIL-SPEC of 5 to 6 pounds. Trigger take up on the CO2 model is 0.187 inches with moderate stacking all the way through to a clean break. It is not nearly as smooth as the skeletonized and lighter weight Sig Sauer WTP trigger, but it is a fine example of a 1911 A-1 military-style.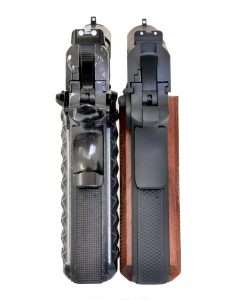 Sight comparisons
The otherwise very traditionally-styled Springfield MIL-SPEC totally surpasses the fixed, low profile military sights on other 1911 A-1 CO2 models, and clearly challenges all others with white dot sights like the Sig, TRS, and Colt Commander. The difference is that the style of white dot sights on the Springfield is not a modern combat sight (most of those based on the Novak style combat sight) but rather an older, more accurate upright U-notch rear with white dots facing a white dot blade front sight. This design is found on the original Colt Series 70 Government models (1970s-1980s), so Springfield has not deviated from Colt design with the MIL-SPEC.
Downrange accuracy
The tests are being done with Birchwood-Casey Shoot-N-C targets and Umarex Precision steel BBs. As usual I will use a Weaver stance and two-handed hold to evaluate the accuracy fired off hand from 21 feet.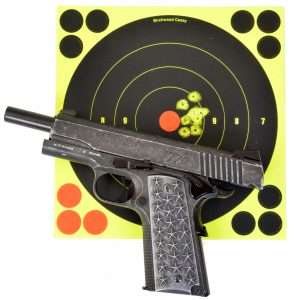 At 21 feet, the Sig Sauer has traditionally grouped a best five shots at an average of 0.5 inches and 10 rounds spread at just over an inch to an inch and a quarter. My best result ever with the WTP was five rounds at 0.437 inches, and my averages have been 0.51 inches to 0.68 inches in comparison tests over the past year. Today, the Sig gave me a best 10-shot group at 1.24 inches with a best 5-shots grouping into 0.69 inches.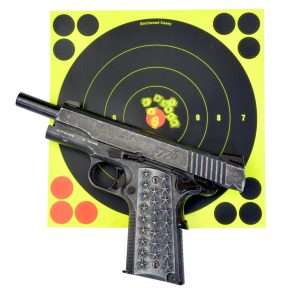 With a fresh CO2 and the Umarex steel, my 10-shot group with the Springfield MIL-SPEC measured 1.5 inches, with a best 5-shot group at 0.687 inches. On a fresh CO2 the Springfield shoots very high (about 3 inches over POA) and then settles down after around the first 10 to 15 shots to shooting about 2-1/2 inches high, so you need to hold under the bullseye on the 7 ring (using the Shoot-N-C). That sounds a little extreme but the gun will hit just about dead center from there.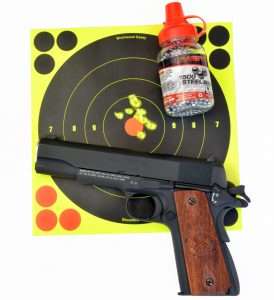 Since this is a sample gun, I can't say that this is going to be the case when the MIL-SPEC goes on sale, but even if it is, it can group tight once you get POA corrections figured out. My final target for this test put 10 rounds into 1.41 inches with a best 5-shot group at 0.68 inches, including three overlapping in the bullseye and the rest of the group a little high and right. It comes in as just about equal for accuracy (accounting for POA corrections) with the Sig WTP. I find the Sig a little easier to shoot consistently but it has the best possible modern features vs. a military-style Series 70 pistol with white dot sights. It isn't apples and oranges, but definitely two different kinds of apples!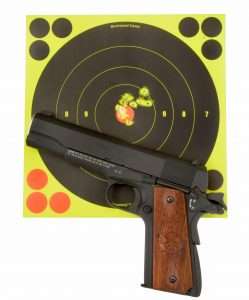 Saturday, I am going to eliminate the human element as much as possible from the accuracy equation and run one last test shooting both guns from a benchrest. This should pretty much determine which CO2 pistol between the Sig and Springfield can deliver the most consistent groups.  
A word about safety
Blowback action airguns provide the look, feel and operation of their cartridge-firing counterparts and this is one reason why they have become so popular. Airguns in general all look like guns, blowback action models more so, and it is important to remember that the vast majority of people can't tell an airgun from a cartridge gun. Never brandish an airgun in public. Always, and I can never stress this enough, always treat an airgun as you would a cartridge gun. The same manual of operation and safety should always apply.