Stick magazines vs. CO2 BB magazines in Blowback Action Pistols
By Dennis Adler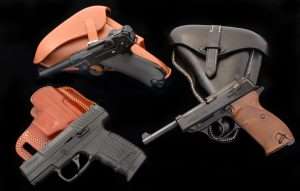 During my recent comparison between CO2 and Nitrogen for cold weather shooting I ended up using one blowback action pistol with a stick magazine and another with a self-contained CO2 BB magazine, and there proved to be a definite difference in overall performance. Was this a coincidence in my choice of guns? Perhaps, but this question led me to look at the motivations behind building otherwise new CO2 pistols that use older-style stick magazines as possibly being more than a manufacturing convenience, or an effort to build a lower price-point blowback action pistol. Maybe there is a more sporting notion behind it, too.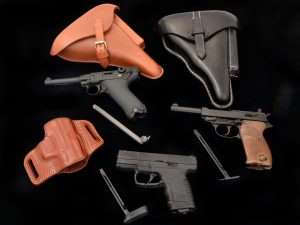 Three excellent blowback models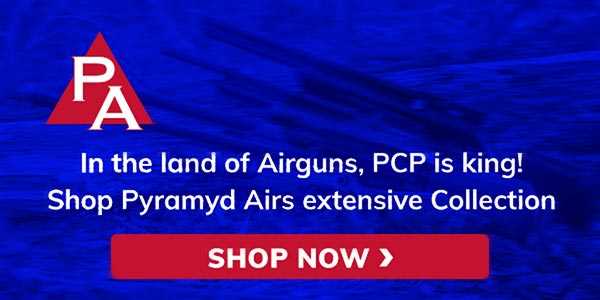 There are many blowback action models that use stick magazines and separate CO2 loading channels in the grip frame, including some of the latest models like the Umarex Beretta APX (Airgun Experience No. 137 and No. 138), but there are three very significant models that, despite using stick magazines, are well worth owning, and only one of which has a self-contained CO2 BB counterpart. The three examples I have selected to examine are the well established Umarex Walther P.38, Walther PPS, and Luger P.08, which is also offered in a self-contained CO2 BB magazine version that is slightly superior in detail and functioning.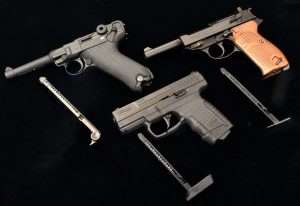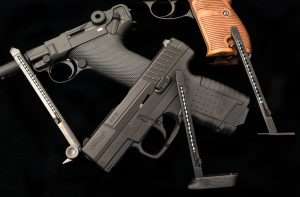 Aside from lower MSRPs than most self-contained CO2 BB magazine models (the P.38 retails for $120, The Luger P.08 for $99.95 and the Walther PPS for $89.95), these three have a couple of handling advantages, one of which is ease of loading, since each has a securely locking follower and load through the same port that the BB is fired from. All you need to do is hold your finger behind the opening in the back of the port (so the BBs don't fall straight through) and then using a speed loader, drop each round into the port with the magazine angled so the BBs fall down into the channel. And in a few seconds you're done.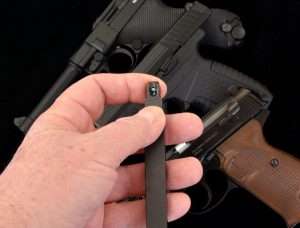 The second feature, aside from having fairly brisk blowback actions, is that the P.38 and PPS have slides that lock back on an empty magazine. The P.08's toggle doesn't lock open with the stick magazine but does lock open on the self contained CO2 BB magazine version, which is priced slightly higher.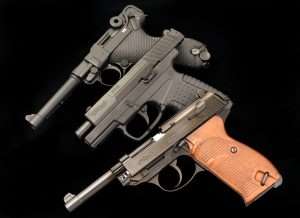 The one feature that all three lack is that very desirable self-contained CO2 BB magazine, but in place of that you have two guns, the P.38 and PPS that are otherwise extraordinarily accurate in design and are not available in any other CO2 version. This makes them desirable for airgun collectors who like authentic features such as operating slide releases, correct manual safeties (excluding the Walther PPS, which in its centerfire version does not have one) and slides that lock back. Correct sights are another plus, albeit military sights on the P.38 and P.08. There is one other aspect to most blowback action models using stick magazines that gives them a slight edge in performance and accuracy, higher velocities than blowback action models with self-contained CO2 BB magazines. How much of an edge, is what we will determine in Part 2.