S&W M&P40 vs. G17 Gen4 Part 2
Authenticity, Velocity and Accuracy
By Dennis Adler
Over the past several years there have been small gains in velocity with blowback action models, and with the M&P40 and Glock 17 Gen4 we have examples of earlier and current CO2 designs. We should expect some differences in velocity, and accuracy as well. Despite the same basic internal designs, the evolution of the designs over several years should result in improved manufacturing combined with the different internal designs between the M&P and Glock Gen4. This is particularly true of the guide rod and recoil spring differences between the S&W and Glock, the latter copied as exactly as possible for an air pistol. This could give the G17 an advantage over the M&P40, at least that is the theory at work for this comparison. Let's begin with how well the two guns fit holsters and their magazines in pouches made for the centerfire guns.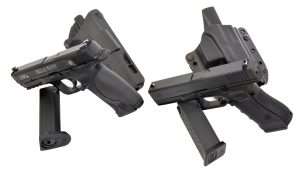 If you have read any of the original tests I wrote on these guns you know that both fit holsters made for centerfire models, particularly the S&W M&P40 which I have watched be switched out with law enforcement holsters and mag pouches for training. It is a perfect fit for any holster, leather, or injection molded that is made for the centerfire models. The G17 Gen4 is more holster specific because a Gen4 will not fit molded holsters made for Third Gen and earlier models, only Gen4 and Gen5 holsters. The magazines, however, are not changed and the CO2 BB mags will slip into any G17 mag pouch, and work extremely well with injection molded pouches, like the example shown.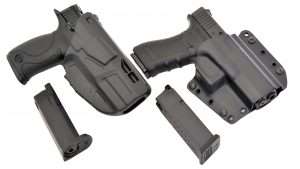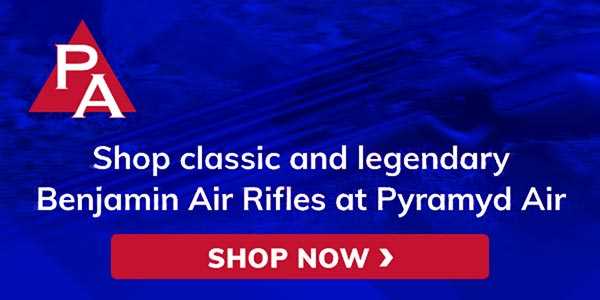 Size, balance, and weight (approximate for the centerfire guns) is so close that any training done with these two CO2 models is the same as working with the centerfire guns. Obviously once you pull the trigger (which is a little light on the M&P40 CO2 pistol) everything changes because it is significantly quieter and there is no comparable recoil, two things you can only experience with a centerfire gun. But the M&P40 was designed by Umarex to deliver fairly robust slide recoil, enough that you have to reacquire the sights after firing. That was one of the air pistol's exemplary features, and this is also true of the newer G17 Gen4, which has even more felt recoil.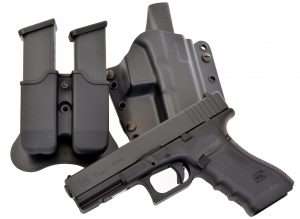 In overall length, height, and width, the .177 caliber M&P40 specs out at 7.5 inches, 5.25 inches, and 1.2 inches; an M&P40 measures 7.63 inches, 5.25 inches, and 1.2 inches. The centerfire M&P40 has a 4.25 inch barrel, the smoothbore barrel for the Umarex M&P40 comes up a little shorter at just under 4.0 inches. Trigger pull on a factory set M&P40 trigger averages 6 pounds 8 ounces, while the Umarex trigger, which is identical in design, is a lighter 4 pounds, 8.7 ounces average. The white dot sights on the Umarex are similar in appearance to the Novak sights used on the M&P series, and are easy to acquire, making the airgun equal under normal lighting conditions to sighting with an S&W M&P model.
The Gen4 CO2 pistol, with its heavier magazine, weighs 28 ounces (but feels better in the hand in terms of balance) while the 9x19mm Gen4 weighs 24.87 ounces. Overall length for the 9x19mm is 8.03 inches, width 1.18 inches and height 5.43 inches. Barrel length is 4.48 inches. The CO2 models stacks up at 7.75 inches in overall length (0.28 inches shorter), width of 1.18 inches, and height of 5.43 inches. Internal smoothbore barrel length is 3.875 inches. Trigger pull is 5.5 pounds average, the same as the 9mm. The white outline rear sight and white dot front duplicate the centerfire pistol's sights.
One note of interest, the G17 Gen4 mag has a Glock logo base pad that covers the seating screw. I originally reported that you need a stylus to push in the release button on the base pad to slide if it off the magazine and access the seating screw. On the test gun and spare mags I have, there is a release at the bottom of the BB loading channel that you pull down; this retracts the locking button allowing the base pad to slip off for loading CO2. It automatically relocks when the base pad is replaced.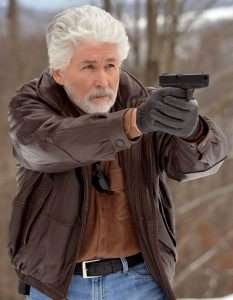 Velocity 2016 vs. 2019
One of my minor disappointments with the M&P40 when I did my initial tests three years ago was velocity. Today, I am going to run a new test using Umarex Precision steel BBs and see what the M&P40 can deliver against the newer G17 Gen4 and its dual guide rod and recoil spring system. This requires the CO2 to deliver more power per shot to run the slide and send the .177 caliber steel BB downrange. Ten rounds through the ProChrono chronograph and the M&P40's average is 300 fps (pretty much what blowback action pistols were averaging back in 2016) compared to the G17 Gen4's 315 fps. (In previous tests with a different magazine average velocity was 317 fps). The newer guns has a higher average velocity of from 15 to 19 fps, it also has heavier slide recoil; all pluses for the Gen4 over the older M&P40. It is not a sweeping difference (for that you need to shoot the G19X CO2 model), but it is an improvement.
Accuracy at 21 feet – The combat test        
Air pistols can be fun to shoot, to plink at paper targets and tin cans, or they can be taken quite seriously as a training aid. The M&P40 and G17 Gen4 are designed for the latter (but are great for fun shooting as well), and each instructs on the specific handling of the model. For example, the S&W has ambidextrous manual thumb safeties (optional on the centerfire guns which also cover the mandatory safety for an air pistol), while the Gen4 uses a fully functioning Glock-style Safe Action trigger, (a manual safety necessary for air pistols is hidden under the dustcover, but not part of the original Glock design), so you learn a different skill set for operating a Glock vs. an M&P with manual safeties. (The standard M&P centerfire pistols do not have a manual safety).
First up is the M&P40 firing 10 rounds from 21 feet at a Law Enforcement Targets B27 silhouette. My total points for 10 rounds was 50 with 10 in the X. Total spread measured 1.5 inches with a best five shots grouped into 0.5 inches. At an average velocity hovering around 300 fps, at the 7-yard training distance, this gun allows a fairly accurate interpretation of firing 9mm rounds at 1-second intervals. As a CO2 pistol, the M&P40 still delivers a hand's-on training experience and realistic accuracy at combat distance. The sights on this air pistol are among the best with POA and POI inside half an inch and requiring no aiming corrections at 21 feet.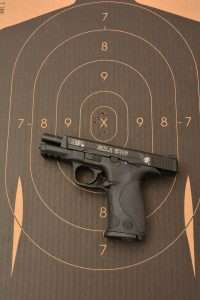 Can the newer G17 Gen4 follow up with an equally accurate group pushing rounds downrange at about 15 fps faster and with traditional Glock 17 sights? More importantly, at 21 feet is the Glock's POA and POI equal to the older S&W model?
As to POA and POI, the Glock shot close to POA (past tests with a Gen4 have been almost the same) and my 10 rounds hit in the X for a total of 50 points and a spread of 1.18 inches with one hit a little low, and a best five at 0.5 inches.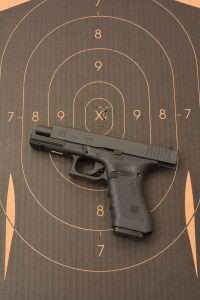 This is the first time I have compared the S&W M&P40 and G17 Gen4 CO2 models and I have to admit to having become comfortable with the Glock models I have been testing this year. I forgot how nice the M&P40 is to shoot, too (it's been awhile), and it was both refreshing and surprising to find the S&W could keep pace with the Glock. Just like in the real world.
A word about safety
Blowback action airguns provide the look, feel and operation of their cartridge-firing counterparts and this is one reason why they have become so popular. Airguns in general all look like guns, blowback action models more so, and it is important to remember that the vast majority of people can't tell an airgun from a cartridge gun. Never brandish an airgun in public. Always, and I can never stress this enough, always treat an airgun as you would a cartridge gun. The same manual of operation and safety should always apply.