Sweet Inspirations
Borrowing from the past
By Dennis Adler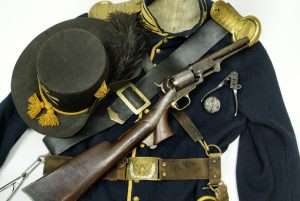 At the end of the article on the Crosman Backpacker Model 2289G I put in a picture of several Frank Wesson single shot .32 rimfire pistols from the 1870s which were fitted with shoulder stocks to make them into carbines. This shows that the concept for the Crosman was rooted in our past, but it is far more interesting than that. For so many of the very popular airguns we have today, the past is the source of their inspiration, like the early Gletcher Russian Legends, and Umarex Legends models such as the MP40 sub machinegun and M712 Broomhandle, among others. But this particular subject of making carbines out of pistols has its roots far more deeply planted in the past. Frank Wesson built his guns as simple, affordable single shot pistols, some with longer barrels that could be used to hunt small game and affixed with a metal skeleton shoulder stock to make the pistol more accurate, like a rifle, but removable for easier transport. In an airgun context the 2289G, Diana Chaser, shoulder stocks for any of the Crosman 1399 series models as well as other Crosman pneumatic pistols, even the shoulder stock for the Umarex S&W 586 (perhaps the closest relation to the Frank Wesson pistols) fall into this same category.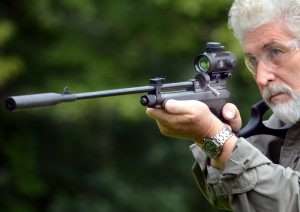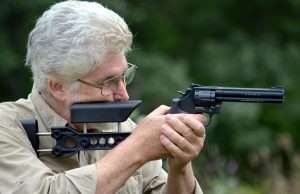 Of course, Frank Wesson had adopted the idea from Samuel Colt who had started mounting shoulder stocks on his large frame .44 caliber Dragoons back in the 1850s, and thus converting them into revolving carbines for the U.S. Cavalry. Troops were issued a pair of the revolvers and a single shoulder stock to carry on horseback.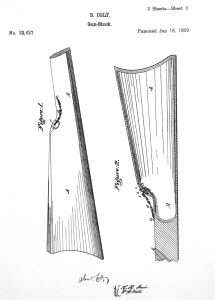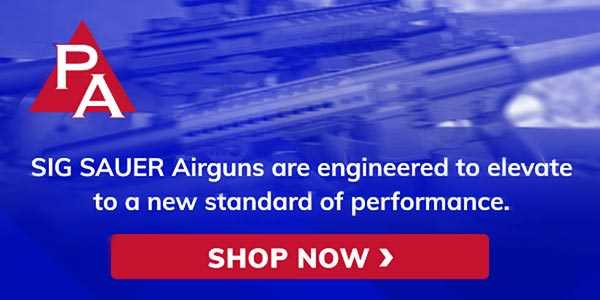 The U.S. Secretary of War, Jefferson Davis, (yes, that Jefferson Davis who was a U.S. Senator and then Secretary of Defense from 1853 to 1857 in Franklin Pierce's administration) had the idea of adding the same stock to the military's standard issue pistol, the Colt 1851 Navy, and further, making it out of metal as a hollow shell that could be filled with water and used as a canteen for mounted troops. Colt developed Davis' design and patented it in 1859. Wooden stocks were also made for the 1851 Navy by Colt, as they had been for the 1st, 2nd and 3rd Model Dragoons, and the procedure was continued in 1860 for the new lighter weight .44 caliber Army model. They were originally issued to the U.S. Cavalry during the Civil War in a set of two revolvers with a single shoulder stock, just as had been done with the Dragoons.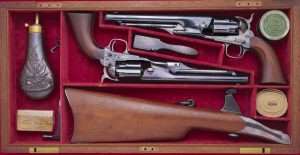 Even Samuel Colt had borrowed the idea for a shoulder-stocked pistol from various European percussion and flintlock pistols built in the late 17th and early 18th centuries like the German Kuchenreuter, built by Johann Adam Kuchenreuter, one of the most famous European gunmakers of his time. The carbine pistol was even copied by Springfield Armory in 1855 as a large caliber, single shot, horse pistol for the U.S. Cavalry.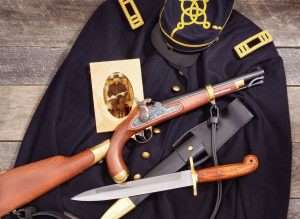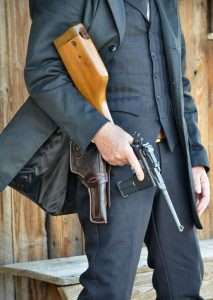 The carbine pistol is a very old idea that has inspired gunmakers for centuries. That this has become a part of airgun manufacturing is no surprise. I am actually more surprised that it is not more prevalent, since air pistols do not fall under the same regulations as cartridge-firing handguns. Even with western guns, imagine a c.1876 skeleton shoulder stock for the Umarex Colt Peacemaker 7-1/2 inch model (Colt made them in the 1870s for the 7-1/2 inch as well as Buntline models), or a more affordable copy of the Mauser M712 wooden shoulder stock for the CO2 models (you can buy reproduction stocks of varying quality for around $150, which may fit but not always, while very pricey original stocks will fit).
If you want to take a real flight of fancy, imagine Umarex taking the P.38 model it has been making for years and redoing it as a full Man From U.N.C.L.E. P.38 model, which had a detachable metal shoulder stock (the Ideal Toy Co. made one back in the 1960s and there is a small custom gunmaker who has actually built 9mm copies of the television series guns from real P.38s!)

A lot of this is wishful thinking for old men, (myself included), who spent their childhood in the 1960s, but what was appealing and practical back in the 18th and 19th centuries actually inspired the carbine pistol designs of the early 20th century, and they continue to do so to this day. Even with airguns.