Swiss Arms 1911 Tactical
The totally tricked out rail gun Part 1 Part 2
By Dennis Adler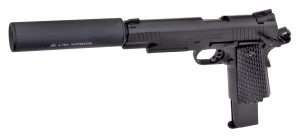 When it comes to accessorizing a blowback action Model 1911 CO2 pistol, the Swiss Arms TRS (Tactical Rail System) pistol has the two most desirable add-on features, a JBU threaded faux suppressor and a 27-round extended capacity long magazine. In the "looks" department, a 1911 just doesn't get any better, and there are actual .45 ACP, 9x19mm, .38 Super and 10mm models in existence that have been similarly equipped, so this CO2 model is not an exaggeration.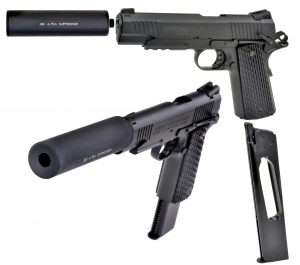 The Swiss Arms difference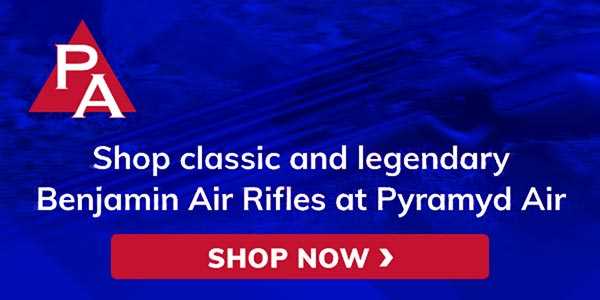 The success of dustcover rail-equipped 1911s has become almost standardized as a model variation for U.S. and foreign manufacturers of the Colt M1911 and M1911A1 platform. The Colt 1911A1 Rail Gun, a 21st century tactical version of the most successful semi-auto pistol in history, was first built by Colt for the Marine Corps in 2013, which led to other manufactures (the Colt patent is long expired) to produce similar rail gun designs. Today both full size Government Models and Compact 1911s are available with accessory rails. In 2016, Colt's introduced the Combat Unit Rail Gun with a blackened stainless steel receiver and frame. The Swiss Arms 1911 TRS is very similar to this model using anodized black all-metal (alloy) construction. The blowback action pistol has the Colt Combat Unit Rail Gun-style integral dustcover rail and uses correctly sized, self-contained CO2 BB magazines. The extended capacity magazine shown is actually made by Tanfoglio for their 1911 CO2 models, but is completely interchangeable with the Swiss Arms semi-autos.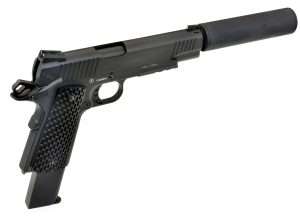 The 1911 TRS provides the basic platform for adding the JBU faux suppressor and Tanfoglio extended capacity 27-round magazines. Swiss Arms supplies the rest with Novak-style white dot combat sights, a skeletonized target trigger and Delta-style hammer, flat, finely checkered mainspring housing, extended palm swell and beavertail grip safety, fully functioning ambidextrous thumb safeties, black G10-style grips, the black tactical finish and that all-important threaded barrel. It is a total combination of features you will not find on most blowback action 1911 CO2 models.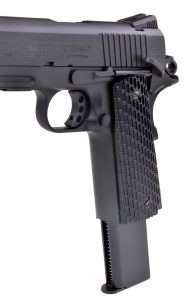 Silence of the slams
There is no such thing as a totally silenced semiautomatic pistol; quiet, yes, nearly inaudible, sometimes, but totally silent, never. The degree of reduced noise, best described as the decibel (dB) rating of the discharge, varies by the design of the sound suppressor, the type of ammunition being used (subsonic for example), and the caliber of the pistol being "silenced." That is what can be reduced. Neither the sound of a slide cycling and slamming closed, nor the possibility of ejected brass making noise as it hits the ground can be silenced. I know this because I have fired suppressor-equipped .45 ACP tactical pistols and the sound is reduced to something akin to the spring tension being released when firing a small air rifle. It's actually close to the dB level of the Swiss Arms CO2 model being discharged.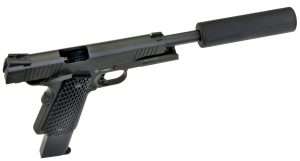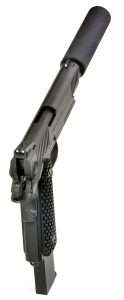 There are, of course, quite a few airguns with functioning sound suppressors like the Gamo Whisper Fusion PRO spring piston air rifle, Talon SS PCP models, the superb Air Arms S510 TXTRA Ultimate Sporter FAC PCP air rifle, and the spring piston-powered Remington Express XP, to name a few, all of which use suppressors to significantly reduce dB levels. Unlike the Swiss Arms pistol, suppressor equipped air rifles do not have a hollow tube hanging off the end of the barrel. There are no suppressors for .177 caliber and 4.5mm semi-auto CO2 air pistols. Even the Hatsan Riptor with its QE (Quiet Energy) internal suppressor is far from silent, and in the realm of CO2 semi-autos, nothing with a purposeful, removable threaded suppressor is even allowed by law (because it could be adapted to an actual cartridge pistol, theoretically).

However, for something that looks as realistic as possible, the Swiss Arms Tactical kit, with it's very close to actual suppressor dimensions is almost in a class by itself. When I say "close to actual," I am referring to the circumference of the faux suppressor. The JBU is pretty near to the dimensions of an actual short pistol suppressor in overall size.
Now that we know what it looks like and all of the basic features offered with the Swiss Arms Tactical Blowback kit and extended capacity magazine, we are ready to put it to the test in Part 2.
A Word About Safety
Given the attention to detail that goes into blowback action 1911 air pistols they should be treated with the same respect as any cartridge firing 1911 handgun with concerns to their carry, use, and public display. Even from a modest distance, these adult airguns are difficult to distinguish from their cartridge-firing counterparts.