Swiss Arms 1911A1 Part 3 Part 2 Part 1
From John Moses Browning's first design to the original
Model 1911 the future was already written
By Dennis Adler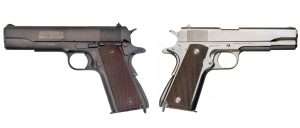 Authenticity is something that so many airgun enthusiasts demand, that I am often amazed by how few manufacturers acknowledge this segment of the airgun marketplace. Granted most CO2 air pistols are in the $100 to $200 price range, with some very nice examples hovering at around $80 (retail or discounted), so it is understandable from a marketing perspective that some corners are going to be cut. Just when you begin to accept that reality, someone comes along and proves that "it just ain't so" with a model like the nickel plated Umarex Colt Peacemakers. Why nickel? Because an authentically blued model just isn't a practical option, you can't really blue an alloy pistol to look the same as bluing on steel. You can come close but not perfect. This gives us antiqued finishes (weathered) as an option and that has worked well on many pistols, Peacemakers, the Broomhandle Mauser, and others, some as special limited editions, but the obvious option manufacturers could pursue with many blowback action CO2 models that just don't look right with a modern matte finish, like the Swiss Arms 1911A1, is to forego modern finishes on CO2 versions of guns that were originally built in the late 19th and early 20th centuries and simply put them out with nickel finishes. Even Colt's offered nickel finishes on semi-autos as far back as the early 1900s (1908 for hammerless .25 ACP, .32 and .380 ACP models and 1935 for the Model 1911A1). So this begs the question, why can't Swiss Arms and Tanfoglio 1911A1 models (pretty much the same guns with different brand name licensing) turn out a nickel plated version that would look like a proper period pistol, even if they still had their brand names and Warning information on the slide? It is understandable that only Umarex can use the Colt name, but let us not forget that during WWI and WWII the 1911/1911A1 was also manufactured by other companies like Remington-UMC, Ithaca, Remington Rand, US&S Co., Springfield Armory and even the Singer Sewing Machine Co. It is the design and finish that matter not the name on the slide. Swiss Arms and Tanfoglio could and should offer the 1911A1 style CO2 model with a nickel finish.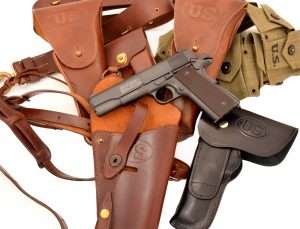 Meanwhile back at the ranch…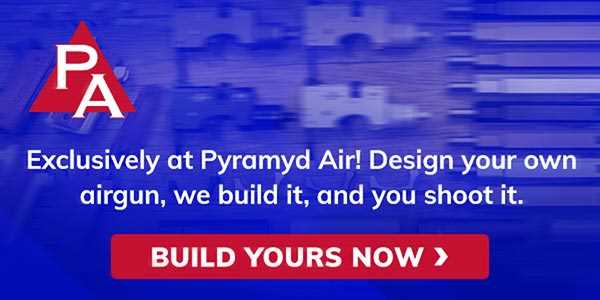 Now that I have that off my chest and have probably assuaged the angst some of you share with me, let's put the Swiss Arms 1911A1 through its paces and see what this model, finish notwithstanding has to offer.
As a blowback action CO2 pistol with a self-contained CO2 BB magazine, the Swiss Arms hits all the high points. The size, features, and handling are spot on for the early 1911A1 pistol. This is a CO2 model with great potential for use as a basic 1911 training pistol that fits the mold of the vast majority of actual 1911s built over the past 107 years. For the later Series 70 and Series 80, Rail Gun and 1911 competition model designs there are several fine examples including the Swiss Arms TRS and MRP models, but for a gun that falls into the classic mid 20th century military arms category, this one (and the Tanfoglio counterpart) are high on the list.
Holster options  
Building an "authentic" reproduction of an actual handgun means that it should (absolutely) fit all existing holsters for its centerfire counterpart at any point in the gun's production history, and for the 1911A1 that's a span of 94 years!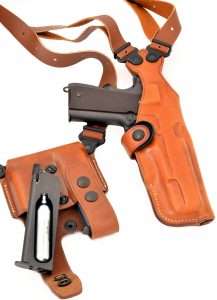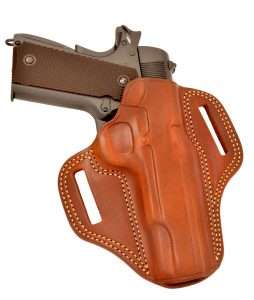 The obvious choices are original and reproduction U.S. military holsters that were used during the service life of the gun. This includes U.S. military holsters dating from 1917 (or the Pershing era) all the way up to the Vietnam War era. The 1911 also had a major resurgence in popularity with civilians from the late 1960s on, and the variety of contemporary holsters for this pistol number in the hundreds, including belt holsters like the famous John Bianchi Speed Scabbard, the classic Galco 1911 shoulder holster, Yaqui belt slide holster, and numerous thumb break belt holsters, and paddle holsters, as well as IWB (inside the waistband) holsters, and SOB (small of the back) belt holsters. The Swiss Arms CO2 model fits them all!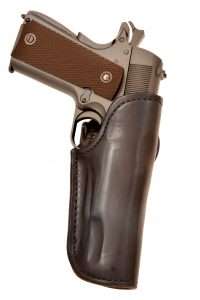 Aiming and accuracy at 21 feet
I can recall the first time I fired a .45 ACP Model 1911 (that was 50 years ago…some things you never forget). I was 25 yards from the target, which was a regulation military size target, and I missed it, not the bullseye, I missed the entire target. I had shot a few pistols prior to my first time with a 1911, and I had never missed the target entirely but I was used to sights I could actually see (target pistols) and smaller calibers. The 1911A1 was a learning experience that took time and a lot of ammunition. The sights on the Swiss Arms 1911A1 are just a fraction larger than those on a standard 1911A1 Government Model, and you can experience the same level of difficulty. The upshot is there is almost no perceptible recoil just the slide slamming back to re-cock the hammer and then closing. There is just enough "sensation" to know you have shot a pistol that comes close to a .22 rimfire in feel and operation. It is a very good training aid and the Swiss Arms model is an all purpose understudy for learning your way around loading, handling, aiming and firing a Government Model 1911A1.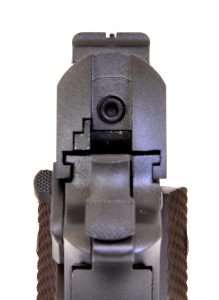 Swiss Arms claims a maximum velocity with .177 caliber steel BBs of 320 fps. Using Umarex steel BBs the Swiss Arms 1911A1 model clocked an average of 302 fps. If you recall earlier tests of the Swiss Arms 1911 Rail Guns, you know that Swiss Arms models are more accurate than most blowback action CO2 models. With the TRS Rail Gun I had a best 10 rounds measuring 1.48 inches in the 10 ring with a best five shots at 0.25 inches. That sets a pretty high mark for the 1911A1 to equal with its stingy Government Model sights up against modern Novak-style white dot combat sights on the Rail Guns.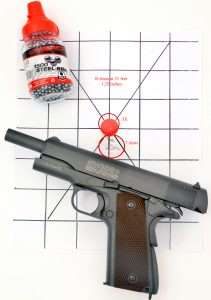 Starting with a sighting target POA was a traditional 6 o'clock hold under the red bullseye. Using a two-handed hold from 21 feet, my best 10-shot group had a spread of 1.25 inches with three X bulls and a best 5-rounds grouped at 0.625 inches. Switching to a Birchwood Casey Shoot-N-C target, which with the small, shallow sights on the Swiss Arms 1911A1 becomes a Hard-2-C target, I managed a best 10-shot spread of 1.56 inches with seven inside the 10 ring and three dropping low and right in the 9 ring. The best 5-shot group measured 0.875 inches.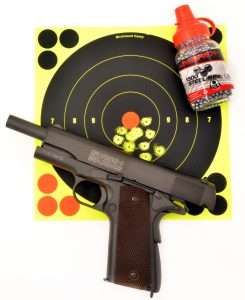 Conclusions
Swiss Arms makes a top notch 1911 line including the back to basics 1911 which, even with Government Model style sights, can still pack the shots in tight. There were no failures to function, no feeding problems, and the gun handles with the balance of a centerfire 1911. If you want an early style 1911A1 the Swiss Arms delivers the handling and accuracy you expect from a quality blowback action CO2 pistol. This one is another Swiss Arms keeper.