Tales of Wells Fargo Part 2
Barra recreates the 5-inch Schofield model
By Dennis Adler
The first guns used by Wells, Fargo & Co. field agents (investigators) were Colt's 1848 Baby Dragoon and improved 1849 model.Both guns were essentially scaled down versions of Colt's new First Model Dragoon and featured a full octagonal barrel in 3-inch, 4-inch, 5-inch, and 6-inch lengths without loading lever. The new lightweight Colt pocket pistol could dispense five .31 caliber balls with deadly accuracy at close range. The 1849 Model Colts requested by Wells Fargo without loading levers came to be known as the Wells Fargo Model. That title was not attached to any other gun until the Schofield was taken up by Wells Fargo agents in the 1870's.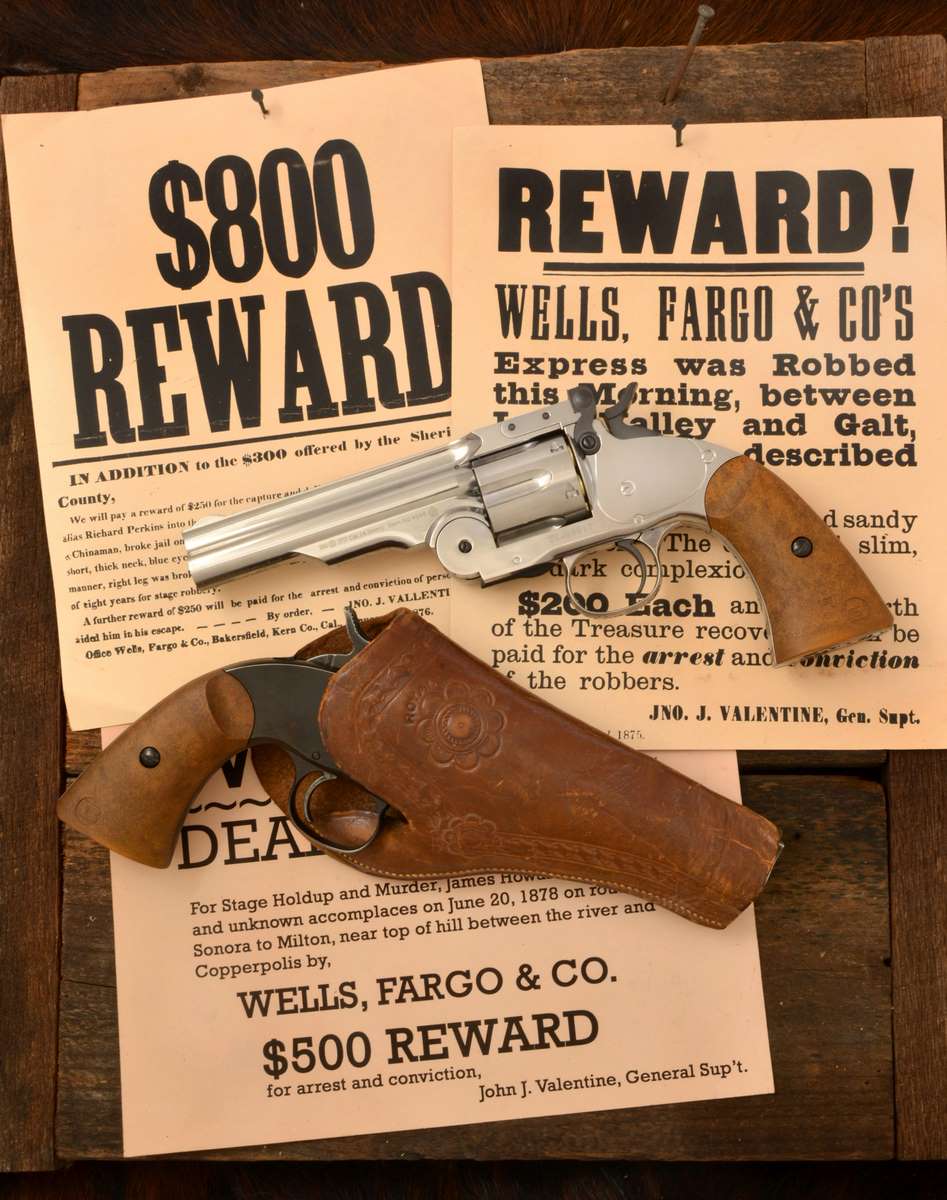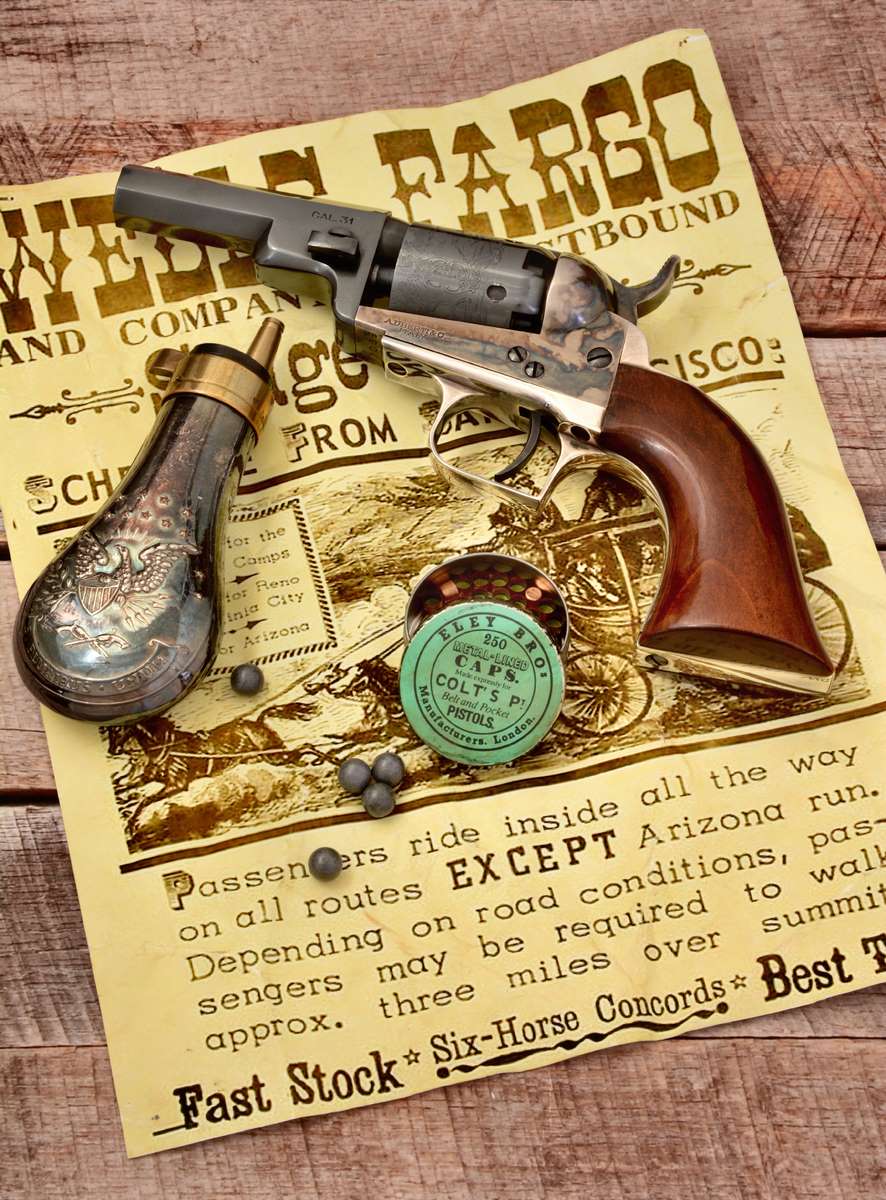 Wells, Fargo & Co. had been established in 1852 by Henry Wells and William Fargo to offer banking (buying gold and selling paper bank drafts as good as gold) and express (rapid delivery of the gold and anything else valuable). They opened their first office in the gold rush port of San Francisco and soon Wells Fargo was expanding to branch offices in cities across the West. In the boom and bust Gold Rush era Wells Fargo earned a reputation of "trust by dealing rapidly and responsibly with people's money." During the Civil War and postwar years that reputation continued to grow with the Western Expansion demanding more from Wells Fargo than ever before. The company took on the mail and delivered it by the fastest means possible whether by stagecoach, steamship, or railroad. In the first years after the Civil War Wells Fargo combined all the major western stage lines and stagecoaches bearing the name Wells, Fargo & Co. rolled over 3,000 miles of territory, from California to Nebraska, and from Colorado into the mining regions of Montana and Idaho. After the completion of the Transcontinental Railroad in 1869 Wells, Fargo & Co. began using the railroads as the fastest means to deliver mail, gold, currency, and valuables across the nation. These shipments also became the target of outlaws and highwaymen, but a Wells Fargo shipment was not easy pickings!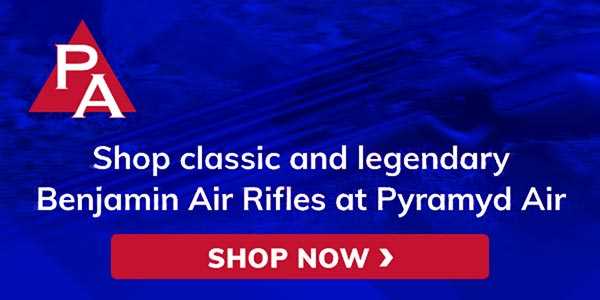 To quote the company's written history, "Gold dust, gold bars, gold coins, legal papers, checks, and drafts traveled in the famous green treasure boxes, stored under the stagecoach driver's seat. Loaded with bullion, they could weigh from 100 to 150 lbs. 'About as much as one likes to shoulder to and from the stages,' wrote John Q. Jackson, Wells Fargo agent, in an 1854 letter to his father. Because they carried the most valuable assets of the West, these sturdy boxes of Ponderosa pine, oak, and iron were more prized by highway bandits than anything else. But the real security of the treasure boxes came from who was guarding them — the Wells Fargo shotgun messengers. They were 'the kind of men you can depend on if you get into a fix,' according to Wells Fargo detective Jim Hume. If thieves were foolhardy enough to try and steal a treasure box in transit, they would find themselves staring down the barrel of a sawed-off shotgun, loaded with 00 buckshot.'" Even so, criminals often found Wells Fargo's treasure boxes and railroad cars too tempting to resist.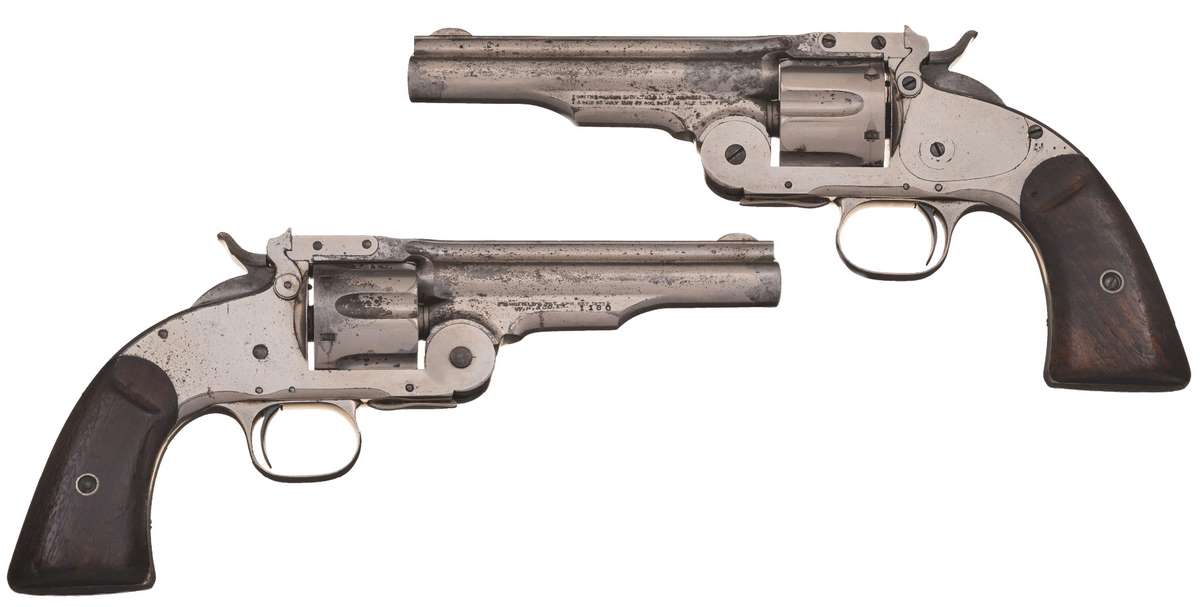 In addition to the famed Wells Fargo messengers, who rode shotgun on stage coaches, and inside locked rail cars, hold ups and train heists occurred, and to pursue criminals after a robbery, the company hired a small force of special agent investigators. These agents helped build Wells Fargo's reputation. And the company backed them up by offering substantial rewards for the capture of anyone robbing a Wells Fargo shipment. When there was a successful robbery, the Wells Fargo agent in the town nearest the scene reported the robbery to company management, organized law enforcement pursuit, and printed reward posters enlisting the aid of local citizens. A typical reward for the arrest and conviction of a robber was $250, plus one-quarter of any treasure recovered. Wells Fargo special agents like James B. Hume (pictured below) and John N. Thacker pursued robbers themselves and often assisted local sheriffs and law enforcement officers. Although they held no arrest powers, Wells Fargo agents were armed and had a keen eye for evidence, sharp investigative techniques, and a reputation for dogged pursuit.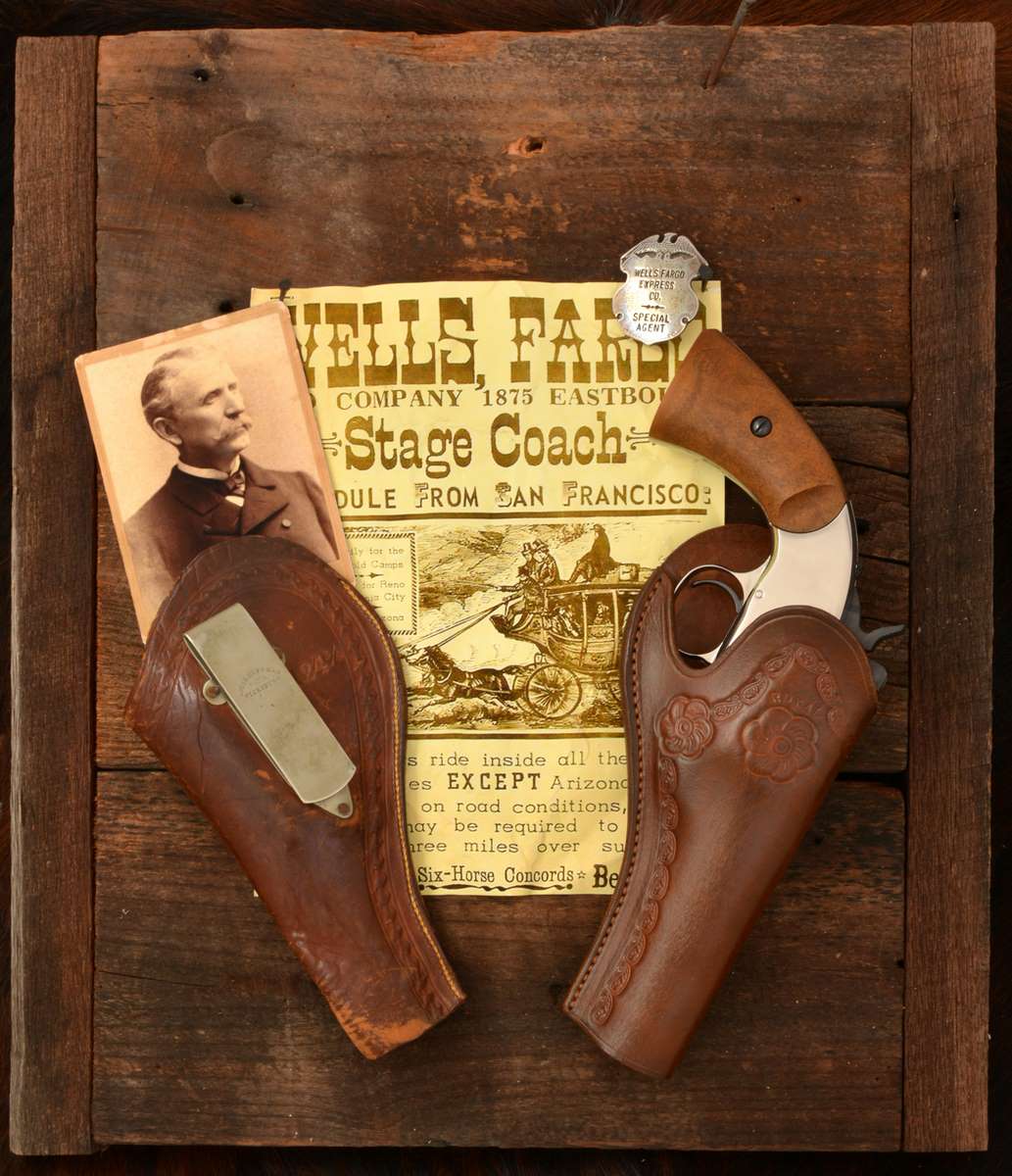 By the 1870's Wells Fargo agents began carrying larger caliber, cartridge-loading handguns, and the refurbished Schofields with their 5 and 5-1/2 inch barrels were ideal for either open or concealed carry, more so the latter for investigators armed with the .45 S&W Schofield caliber revolvers.
As unlikely as this sounds, concealed carry over the waistband holsters had been in use since the 1860s and among the most famous makers was Vicksburg, Mississippi, merchant and arms dealer Louis Hoffman who began selling a variety of holsters designed for short-barreled SA revolvers that attached to the pants waist with a metal clip, thereby eliminating the presence of a gunbelt and lending to the appearance that a man was unarmed. One of the finest Hoffman rigs from the 1870s-era was marketed as the Royal, an original of which is pictured with one of the new Barra Wells Fargo design 5-inch Schofields. The Royal was produced for a variety of guns and barrel lengths, this model suitable for a Schofield with a 5-inch barrel marked model 124¾ and featured handsome border stamping, a deeply recurved pouch and a distinctive rosette stamping below the word ROYAL. Once attached over a pants waist two metal prongs on the inside of the plated metal clip grabbed the fabric. It was actually much more of a chore to remove the Hoffman holster than put it on, and one did not want to bend the metal clip riveted to the back of the fully lined holster. Alan Soellner of Chisholm's Trail used the original in this article to make a new reproduction based upon the Hoffman design which fits the Barra 5-inch Schofield.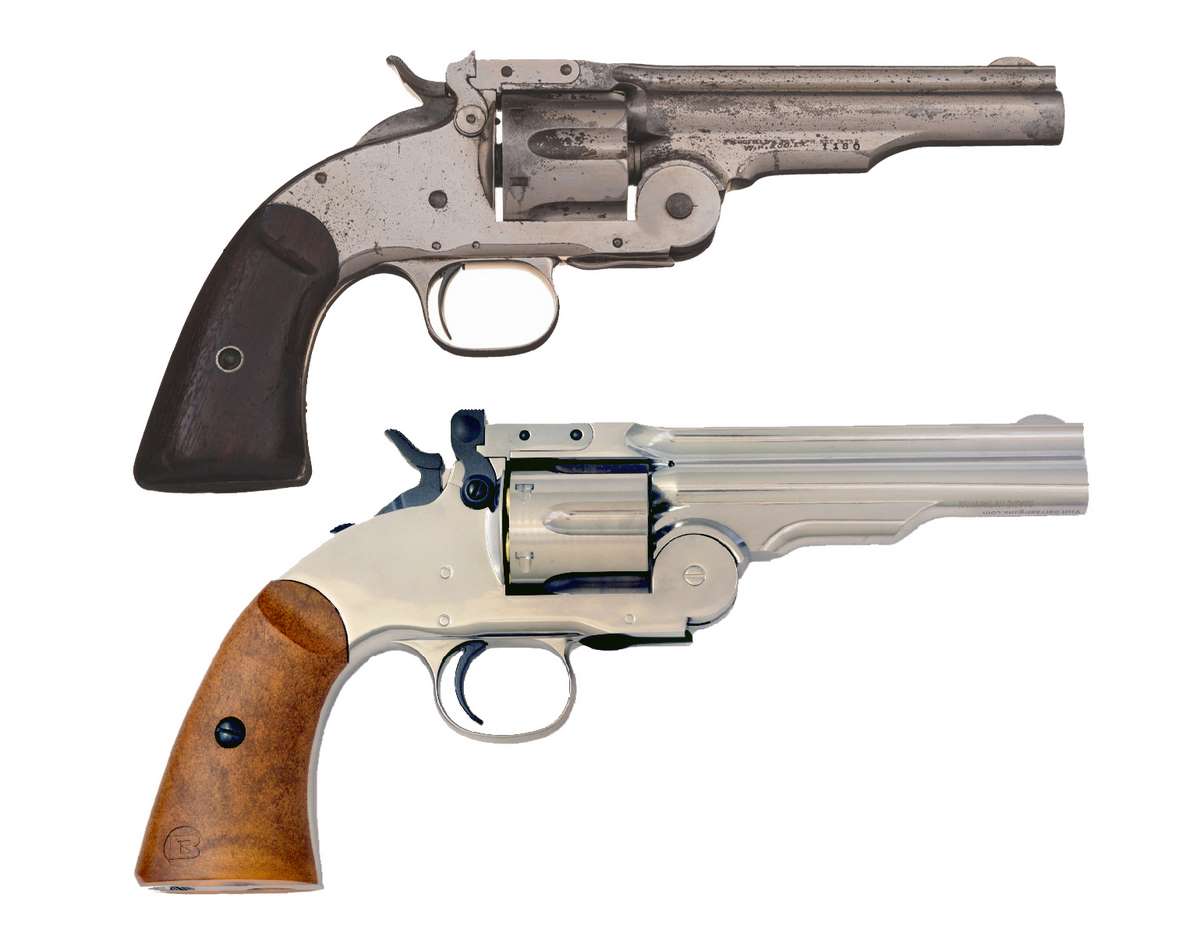 Proofing a new gun
We will conclude today's article with velocity tests for the new Schofield Wells Fargo model. It comes with six BB loading cartridges (extra cartridges are available) and even though this is still a smoothbore model it also shoots quite accurately with Webley MKVI pellet cartridges. (The 7-inch guns are sold by Pyramyd Air in a dual cartridge package with six of each). Unfortunately, just like the actual Schofield models from the 1870s, the CO2 version can't chamber the same shells as the CO2 Peacemakers. History repeats itself in odd ways.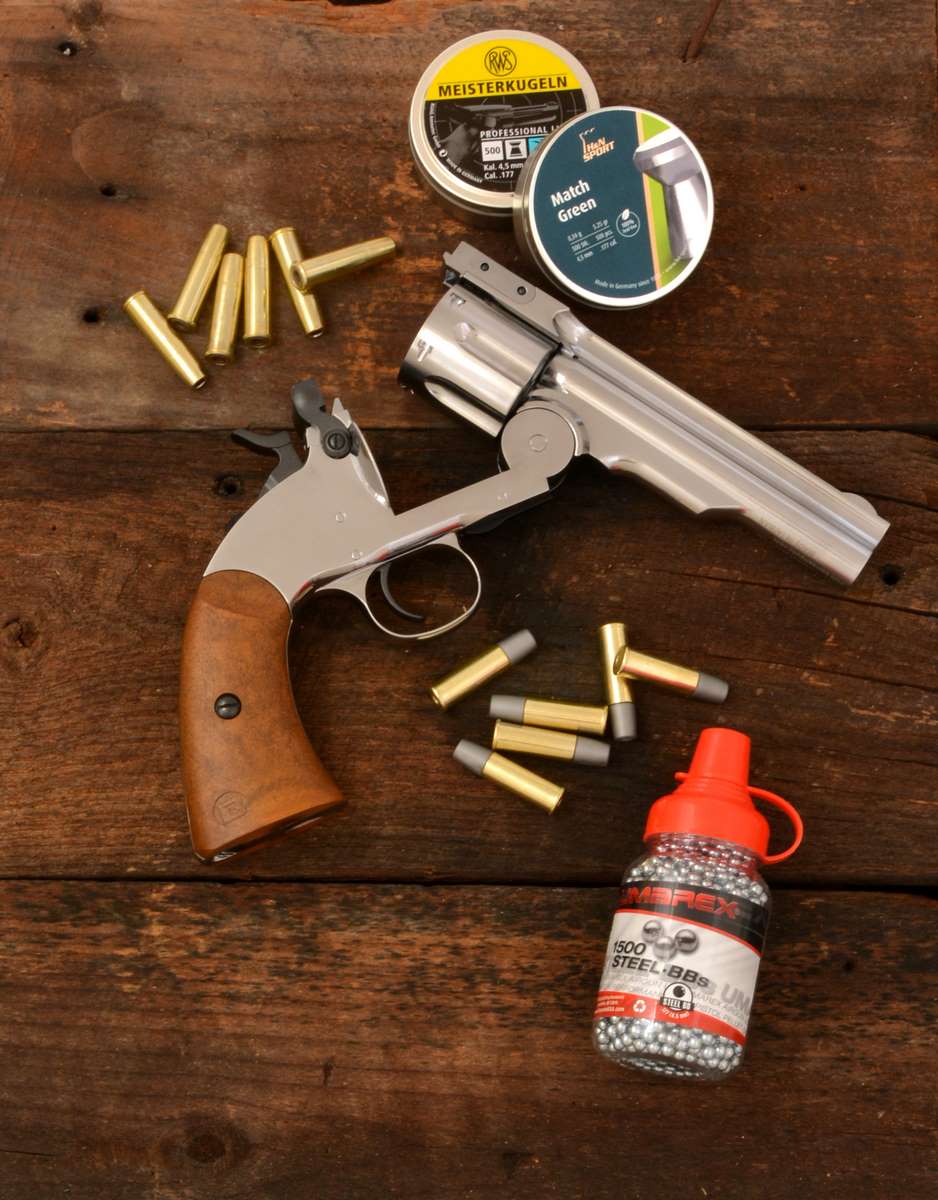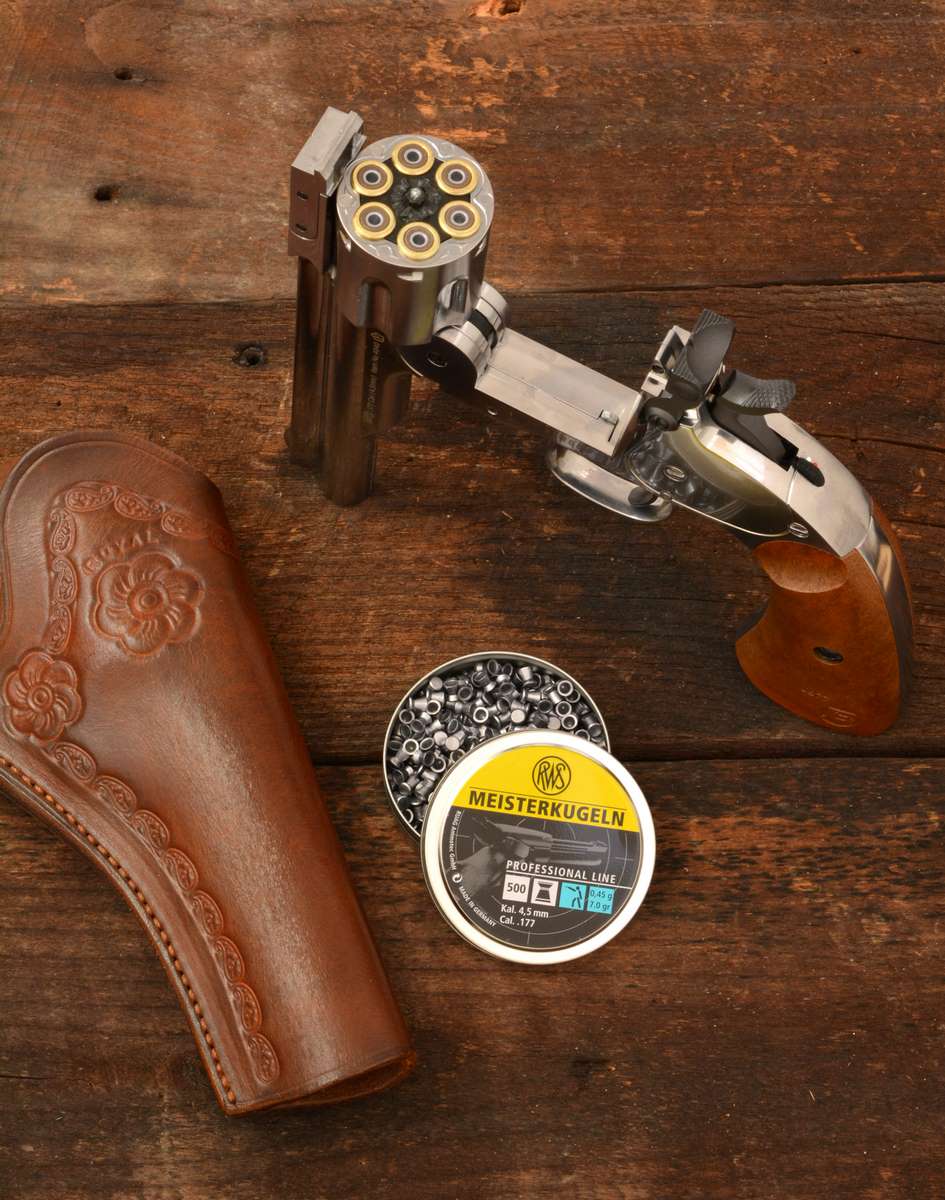 I have shot the 7-inch guns (which are currently in stock in nickel or aged finish) with the BB cartridges but find the accuracy better with pellet shells and lead wadcutters. Going back to the 7-inch model's velocity tests with Meisterkugeln pellets, average speed through the chronograph was 387 fps to 402 fps, and accuracy from 21 feet for 12 shots measured 2.28 inches center to center with a best six covering 0.875 inches. I do not expect the 5-inch barrel model to be any less accurate and likely with not much variance in average velocity.
My velocity with the new 5-inch Nickel gun averaged 406 fps with the 7.0 gr. lead wadcutters. I had an impressive high velocity of 438 fps and a low of 396 fps, so right in the ballpark with the 7-inch model using pellet shells and Meisterkugeln. I then ran a second test with lightweight H&N Sport Match Green 5.25 gr. alloy wadcutters and velocity jumped to a whopping 482 fps average with a high of 501 fps. (Now I have to go back and shoot the 7-inch with H&N).
The first accuracy tests (all shot through the chronograph) put six Meisterkugeln lead wadcutters into an even 1.0 inches, but with most a little low and slightly left of the bullseye. Six of the smoken' hot H&N alloy wadcutters slammed into 0.843 inches. No bullseyes here, either, but pretty tight. A little more practice and the 5-inch Barra Schofield with pellets will be a Single Action tack driver.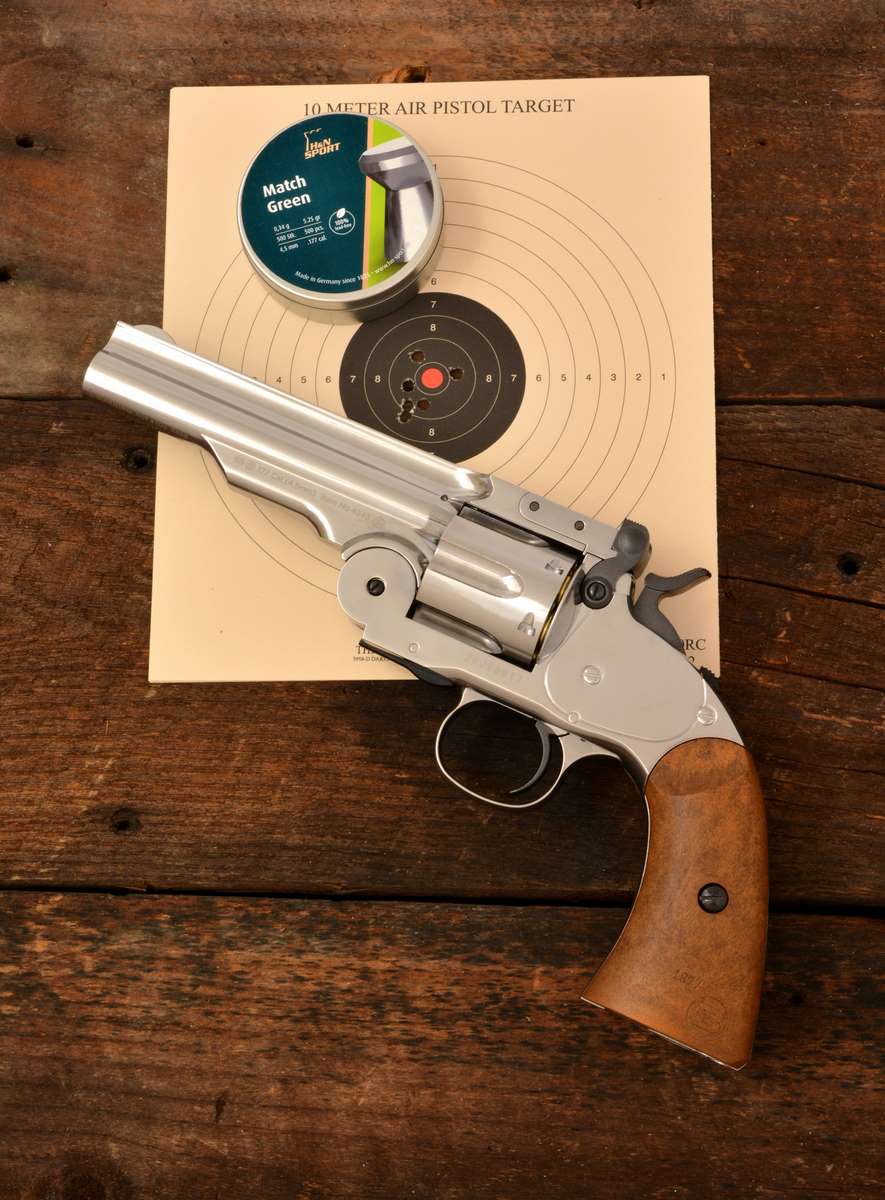 When we conclude the advance tests of the new Barra Schofield 5-inch next week, we head to the outdoor range and find out what the Wells Fargo can do in some Old West shooting scenarios.