Tanfoglio Limited Custom .177 caliber semi-auto
What it takes to make a winner Part 2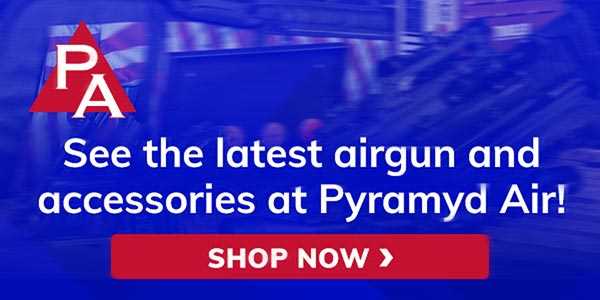 By Dennis Adler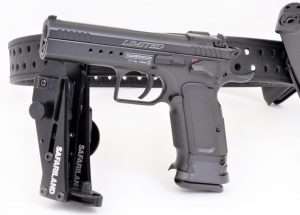 The Tanfoglio Limited Custom is by far one of the best blowback action CO2 models I have ever tested, and as a competition practice gun, it is second only to the Tanfoglio Gold Custom. However, if your shooting preference is open sights, then the Limited Custom exceeds just about every other blowback action CO2 model you can own. High praise, but having tested all of the major blowback action airguns produced in the last 16 years, if I had to pick one for target shooting it would be the Tanfoglio models. Since I have not yet tested the Sig Sauer P226 X-Five with Bomar-style competition sights, I will reserve that one as a possible equal to the Tanfoglio. But we'll get back to the Sig vs. the Tanfoglio next month.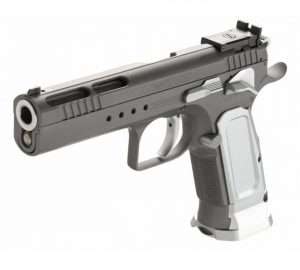 What has impressed me about the Tanfoglio models over the last couple of years has been the quality of their build, their weight, balance, accuracy, and superb competition triggers. The 20-round Tanfoglio drop free magazines are another outstanding feature, they are easy to load, have an excellent locking follower and a large loading port. They are also durable enough to drop (onto a soft surface) for quick reloading during practice. Although this is not recommended for the magazine's longevity, a competition reload demands letting the empty go and reloading as fast as possible. The Tanfoglio magazines are heavy duty (weighing 11 ounces empty) and are built tough with a large beveled floorplate and recessed seating screw. On the receiving end, the broad flared magazine well facilitates a quick reload by limiting the possibility of catching the magazine on the mag well. This is the same design used on the 9mm models.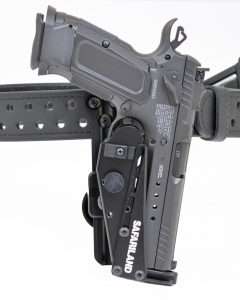 The trigger on the test gun averaged 3 pounds, 8.7 ounces, take up was just 0.438 inches with almost no discernable stacking, a clean break and almost instantaneous reset. It is about as fast a CO2 semi-auto pistol as possible, making it ideal for practicing competition shooting skills.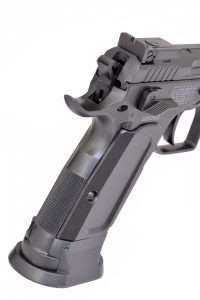 With a loaded weight of 2 pounds, 12 ounces, it has the heft of a real 9mm Tanfoglio competition model to go with its competition trigger, sights, and grip profile. To put all of this finery to the final test, I used two different loads, Umarex 1500 steel BBs and Hornady Black Diamond black anodized steel BBs. The test was a competition setup drawing from the Safariland 014 alloy pistol platform and firing 10 shots in rapid succession from 21 feet at a B-27 silhouette target. Although the magazines will hold 20 steel BBs, I only loaded each with 10 rounds. This was done in two back-to-back sets, one magazine with the Umarex and the other with Hornady Black Diamond.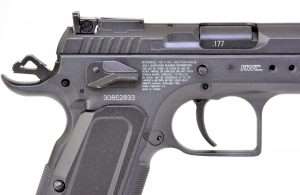 Ambient temperature for the test was an uncommonly warm 70 degrees (uncommon for February in Pennsylvania), with a light breeze and full sun. The Tanfoglio performed flawlessly with no loading or firing issues. Average number of shots from one 12 gr. CO2 cartridge was 50.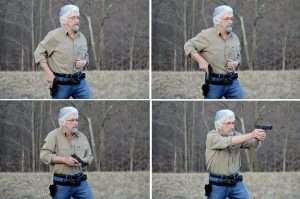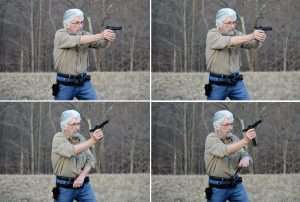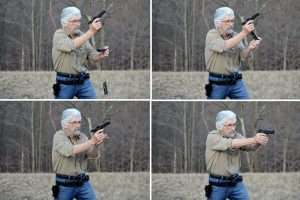 The average velocity chronographed at 312 fps, and with the sights dialed in from a previous test, the best target returned a total of 20 hits all in the X ring (on a full size B-27 silhouette target the X ring has a measurement of 2 inches by 3-1/8 inches). The best total spread for 20 shots was 2.24 inches with 10 shots measuring 1.25 inches, and a best 5-round group at 0.75 inches.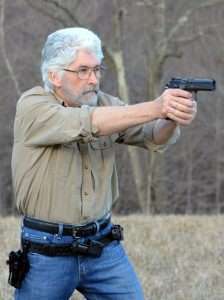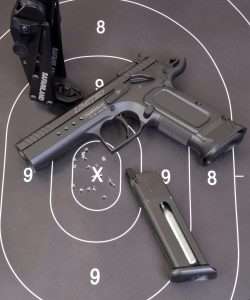 This Tanfoglio is an amazing value as a training gun, and one I consider worth owning, even if you never compete outside of your own backyard.
The Airgun Experience will return next Saturday March 4th with a new series on tactical air rifles and optics.
A word about safety
Blowback action airguns provide the look, feel and operation of their cartridge-firing counterparts and this is one reason why they have become so popular. Airguns in general all look like guns, blowback action models more so, and it is important to remember that the vast majority of people can't tell an airgun from a cartridge gun. Never brandish an airgun in public. Always, and I can never stress this enough, always treat an airgun as you would a cartridge gun. The same manual of operation and safety should always apply.