Competitive shooting practice with airguns
Tanfoglio's spitting image .177 caliber Gold Custom Semi-Auto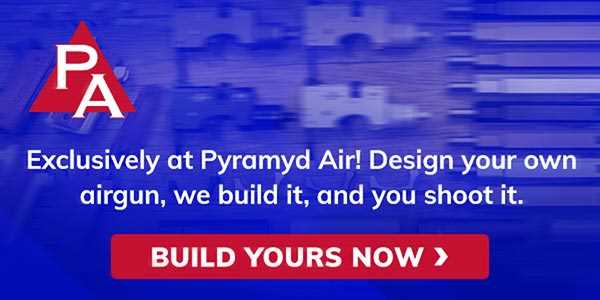 Part 1
Putting your gun and gear together
By Dennis Adler 

Pistol shooting, solely for the sport of shooting, although not uniquely American in origin has  roots firmly entrenched on U.S. soil. However, outside of the historic Camp Perry shooting competitions that have been held since 1907, there were not many formalized national shooting organizations in this country until 1976, the year when the IPSC (International Practical Shooting Confederation) was formed. In 1984, the USPSA (United States Practical Shooting Association) was organized as the U.S. Region of IPSC. This was followed by the IDPA (International Defensive Pistol Association), with competition specifically for production guns, being established in 1996. However, there was another shooting competition rapidly growing in popularity across the U.S. that had begun five years before the USPSA was created. It was founded by renowned holster maker John Bianchi.
Back in the late 1970s John Bianchi had a vision for a formalized pistol competition of his own, which has since become the crown jewel of all American shooting events, the Bianchi Cup. First held in 1979, it was renamed the NRA Bianchi Cup in 1984 and has been going strong ever since.
"The Bianchi Cup was directly responsible for the creation of factory-sponsored shooting teams," explains Bianchi. "When the Bianchi Cup was first organized the event took place at Ray Chapman's Green Valley Rifle and Pistol Club shooting range in Columbia, Missouri." This was the same city where the IPSC was formed and Chapman, a shooting buddy of Bianchi's, was the 1975 IPSC World Champion.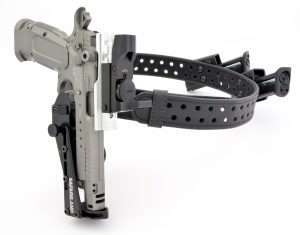 Over the past four decades shooting sports in America have grown to unprecedented levels and over that same time, the guns used for competitions have evolved from production models to some very exotic configurations. "My original concept was to focus on personal defense combat shooting with conventional guns and holsters," says Bianchi, "but as the years have passed it has become more and more sophisticated with specially built competition guns and holsters that are elaorate platforms to rest the gun in (like the Safariland Model 014 Bianchi Cup holster pictured)."
As for the guns that are made to "rest" in the 014, most are strictly for competition and one of the most impressive is the Italian-built Tanfoglio Witness Elite Gold Team. Tanfoglio's purpose-built competition models have won almost every major competition pistol match in the world at one time or another and at the top of the list is the latest Tanfoglio Gold Team Xtreme, a 9mm or .38 Super single action semiautomatic race gun made for the IPSC Open Division competitions. It is also the gun used by five-time world champion Eric Grauffel. This version is supplied with a special silver finish, a ported barrel with polygonal rifling, a lighter ported slide, a compensator, Xtreme aluminum grips, Xtreme Hammer, Xtreme Trigger, Xtreme Guide Rod, Xtreme Firing Pin, magazine well, scope mount with blast shield, optics, slide racker and thumb rest. It is one of the most purpose-built semi-autos in the world of competition shooting and also among the most expensive, with a price tag of $5,884. Now, imagine being able to practice with this same Eric Grauffel version Tanfoglio semi-auto for less than $200!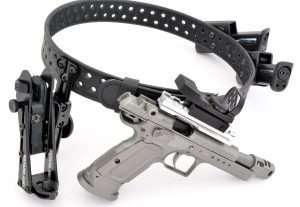 Tanfoglio's Gold Custom Eric Grauffel .177 caliber air pistol
Looking at the .177 caliber air pistol version and the 9mm Tanfoglio it is based upon, they are nearly identical. The air pistol shares the same design features and is a full blowback action semi-auto chambered for .177 caliber steel BBs. While internally it is the same blowback type action used in a variety of 1911-based blowback action air pistols, the Tanfoglio has a completely different trigger and triggerguard design, no grip safety, a slightly different grip configuration than a standard 1911, and uses a unique Tanfoglio-design magazine that is contoured like a double stack. Based on the competition magazines made for the Gold Team Xtreme 9mm and .38 Super race guns, a standard production Colt 1911 air pistol magazine will not fit in the Tanfoglio's flared, beveled grip well.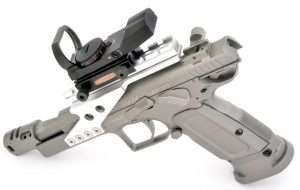 Like the Tanfoglio 9mm and .38 Super competition models, the air pistol has a special silver finish (dark silver for the air pistol), an over-sized triggerguard, fine checkered flat mainspring housing, checkered front grip strap, ported slide and compensator, and the same Xtreme aluminum grips, Xtreme Hammer, Xtreme style trigger, flared and beveled magazine well, over-sized checkered magazine release, slide racker and thumb rest safeties. However, unlike the 9mm and .38 Super cartridge guns, which need to have a top rail mounted for using optics, the air pistol comes standard with a permanently affixed scope mount. The air pistol has a smooth bore, 5-inch barrel, and including the ported compensator, an overall length of 9.84 inches. Height, without rail or optics, from the base of the magazine well to the top of the slide is 5.25 inches.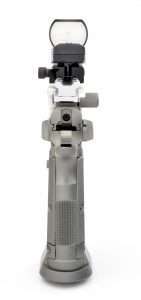 The rules are no rules
For IPSC competition "Open Division" the rules are, well, wide open: Optic/electronic sights are permitted, ports/compensators are permitted, there are no minimum trigger pull restrictions, no maximum size of firearm and no restrictions on holster position. The Gold Custom air pistol is built to match those same standards as applied to the Tanfoglio Gold Team Xtreme race guns. It is also all metal construction for an accurate approximate weight (less optics) of 2.96 pounds. The Tanfoglio uses self-contained magazines that hold both the CO2 capsule and 20 steel BBs. The slide locks back after the last round is fired and multiple magazines can be carried for practicing quick reloads. (Extra magazines are $39.95). The large checkered magazine release drops the empty with ease and reloading with the wide, beveled magazine well is seamless. It's as close to the real thing as it gets.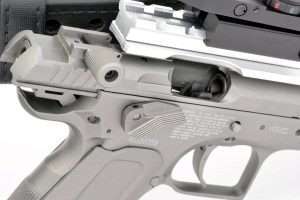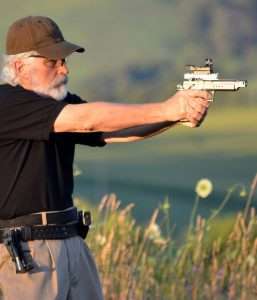 In Part 2 the Tanfoglio Gold Custom air pistol gets aired out at the test range.