Target Pistols and Target Shooters Part 3 Part 2 Part 1
Shooting the Air Venturi V10
By Dennis Adler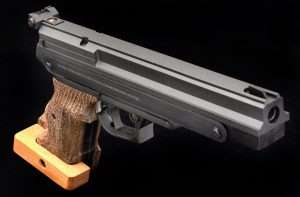 You can spend a lot of money for a 10-Meter pre-charged pneumatic (PCP) competition pistol like a Morini MOR-162MI (one of the most expensive with an MSRP of $1,900), a Hammerli AP20 PRO (one of the more affordable at just under $1,000) or a Walther LP400 (around $1,700), and they won't feel much different in your hand than the Air Venturi V10 single shot pneumatic. A 10-Meter air pistol is built to a competition standard with mandatory grip designs and a generally similar configuration. Most PCP models look very much the same, as do modern single stroke pneumatics like the Air Venturi V10. The differences are speed and accuracy. A PCP pistol is faster to shoot, a single shot pneumatic slower, but the V10 is definitely competitive at the entry level, and at under $300 you can afford to get into training, even if you never intend to get into competitive shooting. (This also opens the door to Match Pistols, which I will begin covering in Part 4).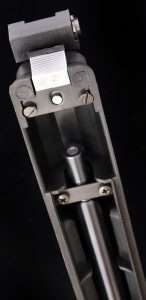 Over the years I have had occasion to shoot the Walther LP400 (at a factory sponsored demo) but never on a 10-Meter competition range, and I was always impressed with the weight, balance and handling of the Walther. The Air Venturi V10 is, in fact, the next best practical and affordable way to test the 10-Meter waters with a correctly configured 4.5mm pistol (as opposed to my foray into the 10-Meter shooting discipline with my old Webley Hurricane in Part 1). Now it is time to get down to business. You should master this pistol first before stepping up into $1,000 plus territory.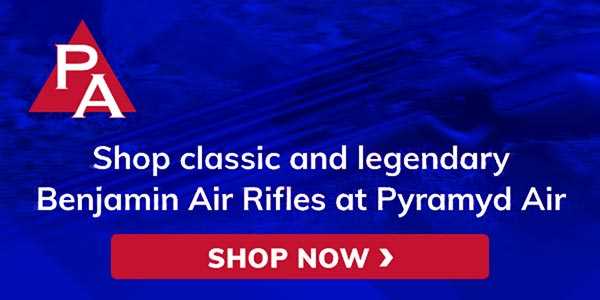 Measuring up to the V10
10-Meter air pistol is an ISSF sanctioned shooting event shot at the Olympics (the ultimate goal for aspiring competitive shooters working their way up through ISSF). Aside from standardized gun and grip designs, there are also maximum weights for the pistol, 1500 grams (3.31 pounds) and minimum trigger weights, 500 grams (17.5 ounces). On my scale the V10 weighs in at 1.95 pounds (884.5 grams) and using a Lyman trigger pull gauge, factory set trigger pull averaged 2 pounds, 2.1 ounces (966.7 grams). I left the trigger exactly as it came. The test gun had a very smooth, short (0.125 inch) trigger press and I am very comfortable with a 2 pound trigger pull, so as it came out of the box the V10's trigger was perfect, however, after my dry fire test, I adjusted the trigger blade angle slightly to the right to improve finger contact.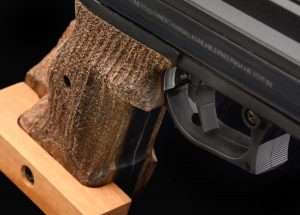 Before heading to the test range, a quick review of the V10 as I have set it up. I used a small wood rasp to smooth an edge at the top of the grip that was troubling my middle finger; I raised the palm rest 1/8th inch with a slight downward angle, and shifted the trigger blade just slightly right of center. This is as you see the V10 in the lead photo for this article.
Before loading the gun I began a short dry fire test. This is done by opening the barrel assembly, raising it about 6-inches and then closing it. This sets the trigger but does not put any appreciable amount of air into the cylinder, allowing the trigger to be pulled for practice. My first 10 live fire shots were used to chronograph the gun and adjust the sights. With a full pump the velocity with Meisterkugeln Professional Line 7.0 gr. lead wadcutters averaged 363 fps with a high of 369 and a standard deviation of 3 fps. The V10 is factory rated at 400 fps. I ran a second chronograph test using Sig Sauer 5.25 gr. Match Ballistic Alloy wadcutter pellets which averaged 400 fps with a high of 404 fps and a standard deviation of 3 fps. If you want the full ride, you need to shoot alloy pellets through the V10.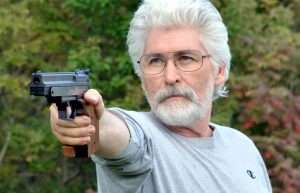 Slinging lead at 10-Meters
It took me 8 shots to get the rear sight adjusted. All my tests were shot with National 10 Meter Air Pistol Targets. Since I am only competing against myself I skipped to the final 10-Meter competition shooting 10 consecutive shots. (In reality I'd been eliminated by now, but what the heck).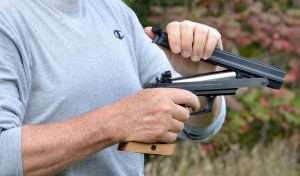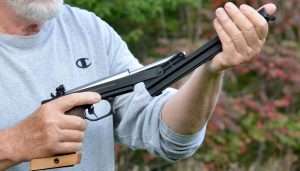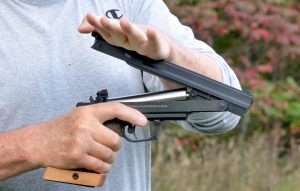 I decided to shoot the test with the Meisterkugeln lead wadcutters. With the sights adjusted, the trigger pull at its crisp 2 pounds, 2.1 ounces and the trigger blade perfectly meeting the first joint of my trigger finger, the V10 gave me a best 10-shot target measuring 0.93 inches with a best 5-shot group clustered into 0.5 inches. I found myself hitting a little high but with tight groups. With only three days shooting this air pistol I'm certain I could get tighter groups than I had with the Webley Hurricane (and I was using a two-handed hold with the Webley). Out of the box and with a few minor adjustments the Air Venturi V10 definitely delivers 10-Meter competition capability.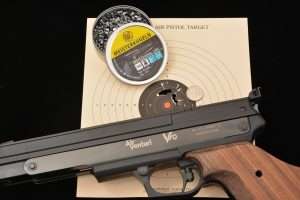 Next week in Part 4 we shift the emphasis to target shooting with Match Pistols.