Target Pistols and Target Shooters Part 4 Part 3 Part 2 Part 1
Match Pistols – The Classic Beeman P3
By Dennis Adler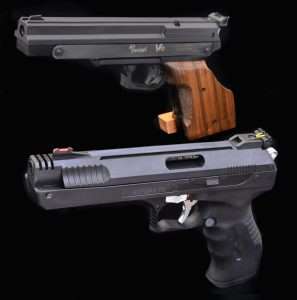 This is where it all began. We are talking about the history of Adult Airguns in America, and that history begins with Dr. Robert D. Beeman, the editor of my first airgun book, the First Edition Blue Book of Airguns published 17 years ago. But my history with Dr. Beeman goes further back to my role with the Blue Book of Gun Values as one of the contributing editors on black powder pistols and air pistols (along with fellow Pyramyd Air author Tom Gaylord). In 1998 Blue Book publisher Steve Fjestad and I spun off the black powder gun section into a separate book that is now published periodically (and currently edited by John Allen); along with a series of hard cover books that I have written on black powder arms. The reason that black powder guns were spun off from the regular annual Blue Book of Gun Values was simply that there wasn't enough room in the Blue Book to properly cover them. The same thing occurred in the 2000 edition of the Blue Book and the following year the First Edition Blue Book of Airguns appeared. I was the author and Dr. Beeman was the editor and co-author. By 2001 when the First Edition appeared the number of airguns available had grown exponentially and like the black powder guns needed to have their own dedicated book. That was 17 years ago. Today, there are so many more airguns (than black powder guns) that the latest airgun book (12th Edition) has grown from the original 160 pages to 840 pages! And much of that growth over the years begins with Dr. Beeman and the founding of Beeman's Precision Airguns in 1972.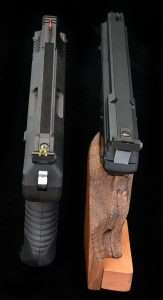 For the American marketplace, he took BB and pellet guns from being the first firearms that kids learned to shoot, to being the first airguns for adults. In fact, the terminology "Adult Airguns" begins with Beeman who started importing the finest quality, precision built airguns from Germany and England, airguns manufactured by historic firms like Weihrauch (founded in 1899) and Feinwerkbau (established in 1951), and from England, Webley (Webley & Scott, Ltd. founded in 1897). He then began designing his own airguns (air rifles and air pistols) built by these same world renowned manufacturers, along with others like Dianawerk (Mayer & Grammelspcher), as well as directly importing Feinwerkbau and Weihrauch models to the U.S. The presence of these famous airguns in America today is a direct result of Dr. Beeman's efforts. You really need a book just to cover Beeman and the products he is responsible for, and that includes one of the earliest modern style (handgun-like, rather than airgun-like) single-stroke pneumatic, 4.5mm models, the Beeman P3, introduced in 1999.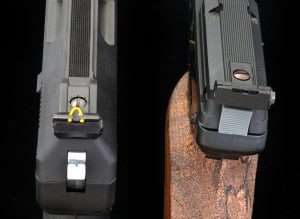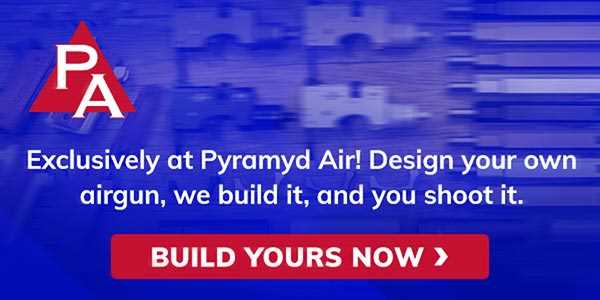 The P3's tale
With a passing resemblance to the old Webley & Scott Nemesis, the P3 is not a new air pistol, but rather much of what we see today in single stroke pneumatics that are contemporary evolutions of European (German) and British (Webley & Scott) designs. Most Beeman models have German origins, including the P3 model which is Dr. Beeman's version of the Weihrauch HW 40 PCA. The P3 was preceded by Beeman's larger (4.5mm, .20 and .22 caliber) P1 models, introduced in 1983 (and also still manufactured), and the P2 Model imported by Beeman from 1990 to 2001.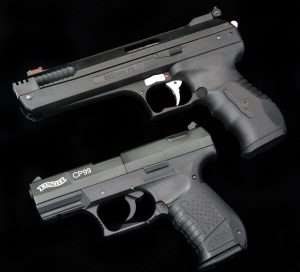 Changing of the Guard
After 37 years in business, in 2009 Dr. Beeman divided and sold Beeman Precision Airguns to two separate companies, with the Beeman Precision Airguns brand taken over by the Singapore Airgun Company; while Beeman's finer German-built airguns (known as the "Traditional Models") became independently owned with distribution through Pyramyd Air. The P3 falls into this latter category, while a much less expensive version of the P3, known as the Beeman P17, (introduced in 2010), is made by Singapore AC.
The original German version, still made by Weihrauch, is a high-quality, single stroke pneumatic that has a very "Walther P99-like" pistol grip and triggerguard design combined with an easily operated semi-auto style barrel assembly/overlever charging handle (like the Air Venturi V10). The P3, however, falls into the category of Match Pistol, which is not restricted in design like a 10-Meter pistol. Match Pistols are built for target shooting accuracy, as slow and procedural to operate as the entry level single stroke pneumatic 10-Meter airguns, but much more pistol-like in handling.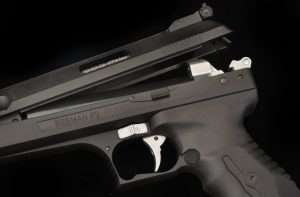 The P3 even has molded-in semi-auto features like slide and magazine releases, slide serrations and a magazine base plate at the bottom of the grip, all of which serve no purpose other than for appearance. The airgun does use a functional built-in muzzle break, which makes this almost recoilless airgun totally stable. The Beeman P3 also provides another advantage with target pistol type adjustable sights using fiber optics (traditional iron sights are optional), and a lighter weight polymer frame (again very Walther P99 like).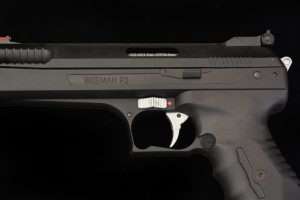 While contemporary in design, it is very simple in operation requiring no special levers to release the barrel assembly, just cock the hammer; as soon as the assembly is lifted the thumb safety on the left side of the frame is also automatically engaged. The P3 is a well established Beeman model and one that should not be overlooked when considering a quality pneumatic single shot target pistol. In the world of precision Adult Airguns created by Dr. Robert D. Beeman, the P3 at 18 years-old, is just coming of age.
In Part 5 we review the handling and operating details of this popular airgun.