Terminal accuracy with a pellet firing pistol Part 1
The limitations of a rifled barrel revolver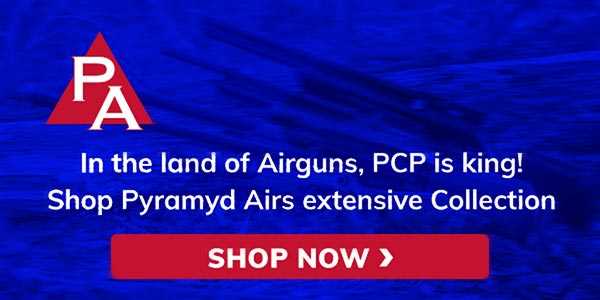 By Dennis Adler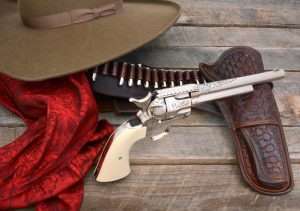 This is a test I have been waiting to do because pellet firing pistols (not competition target pistols) but CO2 BB magazine and cartridge-loading designs like the Colt Peacemaker, Dan Wesson Model 715, and Sig Sauer P226 and P320 semi-autos, are generally limited to ranges of 21 feet to 10 meters (33 feet). Beyond that velocity and accuracy begin to diminish. This is the accepted norm often referred to as "the nominal distance for blowback action semi-autos and pellet-firing revolvers." As my latest comparison between the rifled barrel Colt Peacemaker and smoothbore Schofield single actions demonstrated, 10 meters is where smoothbore and rifled barreled pistols begin to go their separate ways. The rifled barrel pistol, however, maintained a tight group out to 10 meters, and this raises the question, "How far can a pellet fired from a rifled barrel revolver or semi-auto pistol travel before its effective accuracy declines?"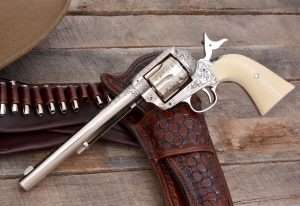 Taking the 7-1/2 inch Peacemaker out to 15 yards
To begin this study I am starting with the most accurate pellet cartridge-firing single action revolver on the market, the Umarex 7-1/2 inch Colt Peacemaker. I have already established higher than factory rated velocities by firing cast alloy wadcutters instead of lead, so once again Sig Sauer Match Ballistic alloy pellets will be used. The target is simply a large cardboard backstop on the pistol range with a single red dot as a POA, and the gun will be fired offhand using a two-handed hold.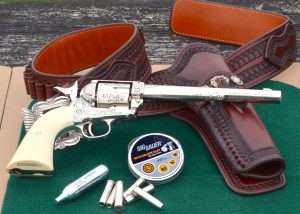 Stepping back to 15 yards is only 12 feet further than 10 meters, so it will be interesting to see how much the groups open up. A second test will then be shot from 25 yards using a rested position. There is no question that a pellet will travel much further than 25 yards but its velocity, trajectory and accuracy are rapidly diminishing as it travels downrange. And remember, we are only talking about rifled barrel pellet-firing revolvers and semi-auto pistols with average velocities between 350 fps to 400 fps. These comprise an entirely different category of airgun from higher-powered break action or pre-charged pneumatic 4.5mm pellet firing rifles and pistols (including some very expensive competition models) capable of superior accuracy and velocities better than double those of 12 gr. CO2 powered revolvers and blowback action semi-autos.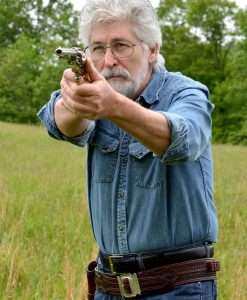 Peacemaker Scores
There is theory and then there is practical experience. At a range of 15 yards (45 feet) the Peacemaker did not lose significant accuracy, groups only opened up slightly. Point of aim had to be raised approximately two inches, whereas at 10 meters the sights were almost on POA. I was pleased to find that my groups from two separate 6-round sets were almost identical with a spread of 2.0 inches. I had four out of six shots more closely grouped and two flyers, which opened up the total spread. Of the closer four-round groups the measurement at 15 yards (45 feet) averaged 1.0 and 1.24 inches. This compares favorably to the Peacemaker's six-round groups at 10 meters (33 feet) which measured 1.1 inches. At this distance the Peacemaker is still a pretty accurate wheelgun with alloy pellets.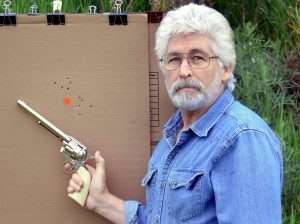 Next I just about doubled the distance, from 15 yards to 25 yards to see what happens to accuracy. With calm winds, a heavy overcast and a temperature of 61 degrees, this second this test was shot from a rested position (two-handed hold, elbows on the shooting bench but no sandbag). Starting with the same two-inch hold over (which I used as a baseline for correcting), I quickly found my shots hitting at the bottom of the target board. The necessary hold over went from around two inches at 15 yards to 18 inches at 25 yards and accuracy went out the door. The spread on target opened up to 5.2 inches for six shots. Thus 25 yards is beyond the Peacemaker's best accuracy. Having said that, all six shots were on the target and that means that you can hit a silhouette-sized target at 25 yards with a 4.5mm alloy pellet fired from a rifled barrel air pistol, just not with any precision.
What happened between 15 yards and 25 yards is the result of decreasing velocity and pellet trajectory, the laws of physics weighing in on a 5.25 gr. alloy wadcutter traveling at around 400 fps. From a sandbag rest I could probably tighten up the group by another inch, but 25 yards is simply where accuracy begins to decline with the rifled barrel 7-1/2 inch Peacemaker.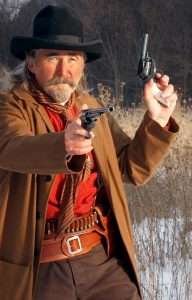 The real upshot of this test is that at 45 to 50 feet you can still shoot the pellet cartridge-loading Peacemaker with relative accuracy, and that's a fair shooting distance for real .45 caliber Colts. Not bad for a 12 gr. CO2 powered Single Action revolver!
Part 2 will be Round 2 with a corresponding test using the new Sig Sauer P320.
A Word About Safety
Single Action airguns provide the look, feel and operation of their cartridge-firing counterparts and this is one reason why they have become so popular. Airguns in general all look like guns, these two Western models even more so, and it is important to remember that the vast majority of people can't tell an airgun from a cartridge gun. Never brandish an airgun in public. Always, and I can never stress this enough, always treat an airgun as you would a cartridge gun. The same manual of operation and safety should always apply.