Terminal accuracy with a pellet firing pistol Part 2 Part 1
The limitations of a rifled barrel blowback action semi-auto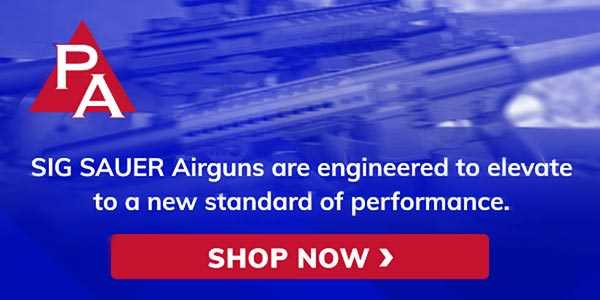 By Dennis Adler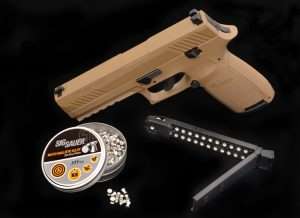 To be fair this is going to be a more challenging test because the same 12 gr. CO2 cartridge that had the solitary purpose of sending a 4.5mm alloy pellet downrange from a revolver now has the dual task of pushing the pellet down a rifled barrel and operating a blowback action slide. The velocity for the test gun, the new Sig Sauer P320, averaged 388 fps with Sig's own 5.25 gr. cast alloy wadcutter pellets. With that much velocity I expected the gun to do quite well at the 45 foot distance.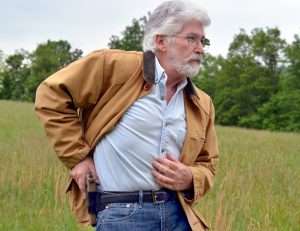 With a semi auto and a DAO at that, a great deal of the accuracy is going to rely on trigger pull. When it comes down to pulling the DAO trigger on a Sig Sauer P320, standard trigger pull on the centerfire model is factory rated at 5.5 pounds. The trigger on the P320 ASP CO2 model is also remarkably light for a double action only, with an average pull of 6 pounds, 3.5 ounces. It is a strong, straight pull with moderate stacking and a clean break, but requires almost a full release to reset. However, for this particular target shooting test, reset is of little consequence.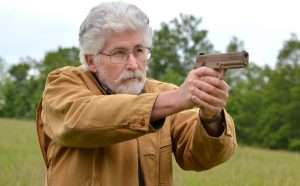 I used the same setup as the Peacemaker test, a large silhouette-sized cardboard backer and a red dot as a point of reference for sighting (I removed the red dot when I photographed the target). What I found interesting first and foremost was the P320 ASP's POA barely deviated between 10 meters and 15 yards (45 feet) so my aim was almost identical at the greater distance. From 10 meters the P320 had delivered a best 10-round group measuring 1.25 inches, and best 5-shot group measuring 0.75 inches.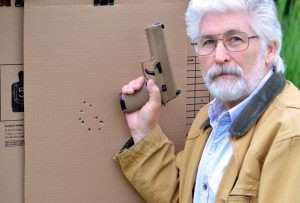 Just to recap before I tell you how the gun did at 45 feet, it has an internal rifled barrel length of 4.68 inches, so it is 2.07 inches shorter than the internal length of the rifled barrel in the Peacemaker. This sounds like a recipe for wider groups. At the extended 45 foot range, the Sig Sauer P320 ASP delivered a best 10 rounds at 2.125 inches and a best 5-rounds measuring 1.0 inches. That's almost identical to the Peacemaker at 45 feet.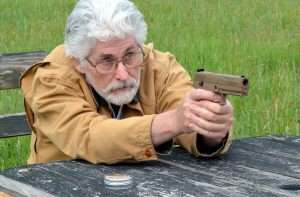 The real surprise came at 25 yards shooting from a rested position with the ASP. The pistol's white dot sights and very consistent, albeit heavier trigger pull kept the gun on point sending 10 rounds downrange with a spread of 6.0 inches but in fairly respectable groups with a closest 5-rounds measuring 3.5 inches. The Peacemaker's best at 25 yards was 5.2 inches, giving the semi-auto a decisive 1.7 inch advantage for tightest group.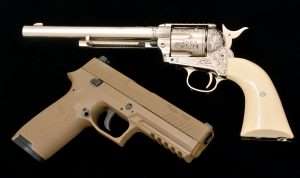 So, a blowback action does not necessarily mean a pellet-firing semi-auto can't equal the accuracy or performance of a legendary single action like the 7-1/2 inch Peacemaker. Sometimes modern technology is better, if not aesthetically, than at least downrange where it counts.
A Word About Safety
Single Action and semi-auto airguns provide the look, feel and operation of their cartridge-firing counterparts and this is one reason why they have become so popular. Airguns in general all look like guns, these two Western models even more so, and it is important to remember that the vast majority of people can't tell an airgun from a cartridge gun. Never brandish an airgun in public. Always, and I can never stress this enough, always treat an airgun as you would a cartridge gun. The same manual of operation and safety should always apply.