Testing the CZ 75 P-07 Duty Part 2 Part 1
Comparing the .177 caliber and 9x19mm CZ models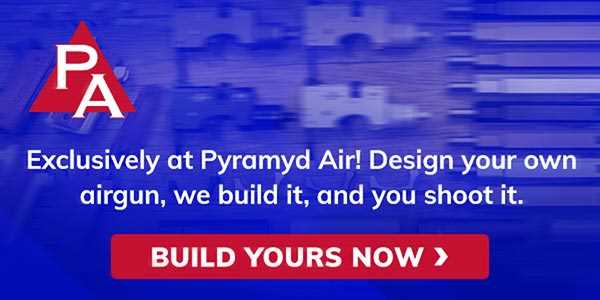 By Dennis Adler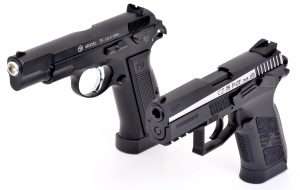 The ASG CZ 75 P-07 has the looks to make it a great CO2 model, an exterior that visually equals (and in a few ways surpasses) the cartridge model for looks, but it all boils down to handling and operation when shooting a CO2 version of a famous model like the CZ P-07. The airgun is an accurate representation of the original CZ 75 P-07 design with the round knurled hammer, (also used on the CZ 75 SP-01) and the deluxe finish with polished slide flats. This version of the cartridge model is sold by specialty retailers in limited editions and makes this CO2 version even more compelling; this is a great looking air pistol! ASG also has the standard matte black version, but the deluxe gun actually looks more real than the 9x19mm model.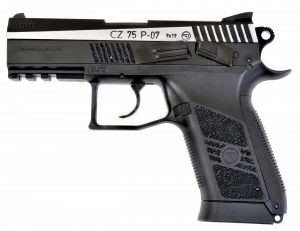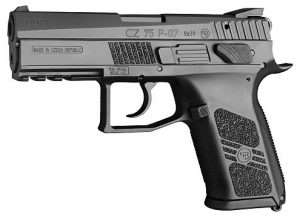 Sizing things up
The P-07 in 9x19mm (9mm) has an overall length of 7.2 inches, a height of 5.3 inches, width of 1.46 inches, and carry weight of 27.7 ounces. This puts the P-07 into the compact category along with models like the Glock 19, handguns large enough to serve the needs of both duty gun and concealed carry use. This was the goal of the polymer framed CZ 75-based model when the P-07 was introduced in 2009, a role it has quite adequately fulfilled for 8 years in both the original and slightly improved 2014 versions.
The ASG .177 caliber model specs out with a carry weight of 26.5 ounces empty, an overall length of 7.32 inches with a slightly longer tang (beavertail) grip design, a height of 5.375 inches with the extended CZ 75 SP-01 Phantom-style extended magazine base pad, and a width of 1.44 inches. Thus, it is within fractions of an inch and 1.2 ounces of the cartridge model.
Almost right in so many ways
 It is so close, yet there is frustration with the P-07 that stems from a manufacturing decision to make this gun work with a separate CO2 and BB magazine, while its larger counterpart, the CZ 75 CO2 model, also from ASG, uses a self contained CO2 and BB magazine. This is one of two features that keep the P-07 from being an even more extraordinary airgun than it is. It would require a rework of the internal mechanism and a shorter self-contained CO2 BB magazine to use the more accurate design. The question is if that's really necessary for this to be a good gun. For those who want the closest operation to a cartridge firing model as possible, the answer is yes, but overall, it is a minor point shared with many CO2 air pistols based on cartridge models. The full size CZ 75 was just a better fit for the self contained magazine. Arguably there are guns that are no larger than the P-07 that use self-contained CO2 BB magazines, so the onus falls at ASG's doorstep. Externally it makes no difference for the CZ's appearance, only for training use since one cannot properly duplicate reloading the P-07 with a stick magazine. And in that respect the P-07 falls below the mark. The other issue, as previously noted, is the non-functional right side ambidextrous thumb safety.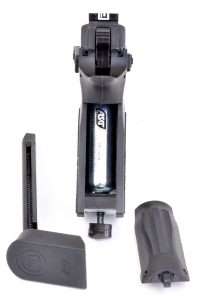 Downrange
Trigger pull on the P-07 is a lengthy 0.94 inches, 0.75 inches of which has zero resistance, then stacking for 0.24 inches to release. Trigger reset requires almost a full release of the trigger, but again there is less than 0.25 inches of actual resistance to fire. It is, however, disconcerting to have to release the trigger that far to reset. The sights are quick to align and were placing shots about 1-inch above and slightly left of POA at 21 feet.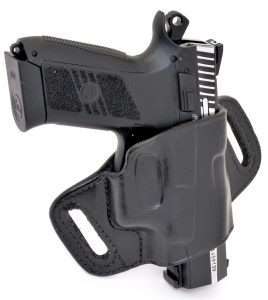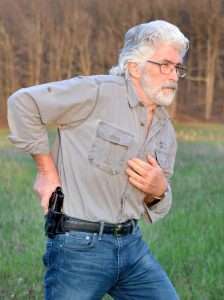 The CZ 75 P-07 chronographed at 323 fps, 326 fps, 324 fps, a duplicate, and 328 fps, for an average of 325 fps velocity with Umarex .177 caliber steel BBs. Average factory velocity rating is 325 fps with a high of 361 fps. Recoil is moderate for a blowback action CO2 pistol and there were zero issues with feeding, slide release, or lock back after the last round was discharged.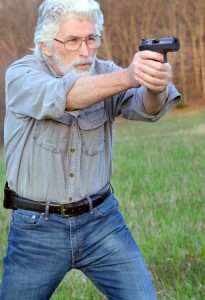 The stick magazine holds 20 rounds; I loaded 15 for the tests and fired using a Weaver stance and two-handed hold. My best target had 15 rounds fired in 5-shot groups measuring a total of 2.27 inches, with 5-shot groups averaging 1.25 inches.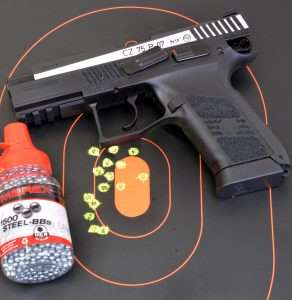 This airgun has quality looks, excellent fit and finish, decent accuracy, and were it not for the CO2 being loaded into the grip strap and the BBs into a separate stick magazine, it would be the equal of the CZ 75 air pistol for practical training use. It's a darn close second.
A Word About Safety
Blowback action models like the CZ 75 P-07 provide the look, feel and operation of their cartridge-firing counterparts. All arguns, in general, look like guns, but those based on real cartridge-firing models even more so. It is important to remember that the vast majority of people can't tell an airgun from a cartridge gun. Never brandish an airgun in public. Always, and I can never stress this enough, always treat an airgun as you would a cartridge gun. The same manual of operation and safety should always apply.