Testing the Umarex HK P30 Part 1 Part 2
A perfect Heckler & Koch full-sized training gun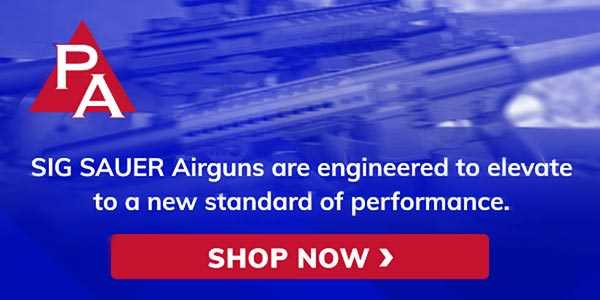 By Dennis Adler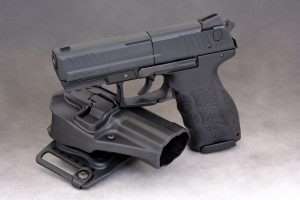 Heckler & Koch has always catered to a variety of end users from civilians to military and law enforcement by tailoring certain models in multiple variants, like its P30 Series which is offered in V1, V2 and V3 configurations. Adding to that selection is the new H&K licensed Umarex HK P30 CO2 model. This latest 4.5mm pellet firing semi-auto has its roots firmly planted in the first Umarex 4.5mm CO2 pistol to be adopted as a training gun, the Walther CP99. The HK model is quite a bit more advanced in its design, finish, and operating features, but at its core is the same superbly engineered internal mechanism that has made the CP99 a success for more than 16 years.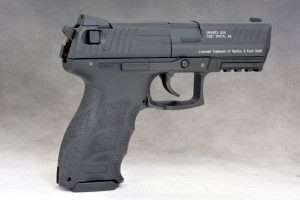 There are a variety of cartridge-firing HK P30 variations. As categorized by HK they include V1, an enhanced DAO with light trigger pull also designated as the LEM (Law Enforcement Modification). As required by some law enforcement organizations, a light trigger is not approved, thus HK has the V2 LEM with enhanced DAO and standard weight trigger pull. Last there is the V3, a traditional double action/single action (DA/SA) model with a hammer spur for manual cocking, and a manual decocker. This is the version duplicated by the Umarex HK P30 air pistol, which uses an 8-shot cast alloy rotary magazine loaded at the breech. Another feature shared by the 9mm and CO2 models is an ambidextrous magazine release integrated into the bottom of the triggerguard (like the original Walther P99 and CP99).
About the Gun
The Umarex HK P30 airgun is the full size V3 variation of Heckler & Koch's P30 Series introduced in mid 2007. The CO2 model has the same style V3 trigger design, manual safety and decocker as the 9mm. The 9mm P30 model has an overall length of 6.99 inches, a width of 1.37 inches, and height of 5.43 inches. The CO2 version also measures 6.99 inches in length, comes in at 1.25 inches in width, 5.5 inches in height (base of magazine to top of rear sight) and weighs 28 ounces empty, roughly 5-ounces more than the 9mm model.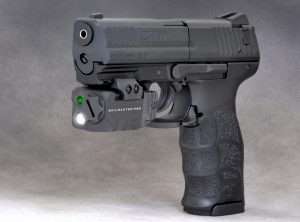 Made in Germany, the airgun uses a polymer frame like the 9mm model, with the balance of the components; slide, hammer, trigger, slide release and decocker, all metal with a black matte finish; the same as the 9mm P30. The airgun also has a full length Picatinny rail to mount a weapon light or light/laser combination for enhanced training exercises. For this review it has been equipped with a Crimson Trace Rail Master Pro.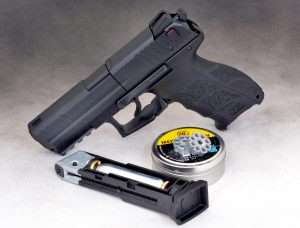 Another interesting feature of the Umarex HK P30 is the magazine, which can also be used to load 15 steel BBs. Used in conjunction with a BB adapter (in place of the rotary magazine), the P30 becomes a non-blowback action semi-auto BB pistol with a rifled barrel.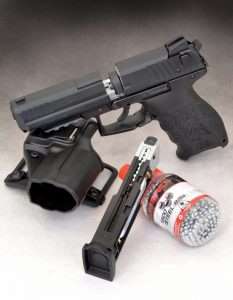 The one drawback to the Umarex HK P30 not having a blowback action is that you either have to fire every shot double action, or manually cock the hammer to shoot single action. This is the same situation with the Umarex Beretta 92FS and Walther CP88 DA/SA pellet models.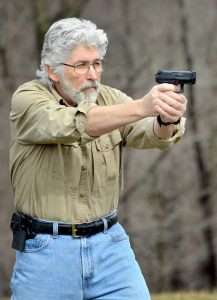 A word about safety
Models like the new Umarex HK P30 provide the look, feel and operation of their cartridge-firing counterparts. All arguns, in general, look like guns, but those based on real cartridge-firing models even more so. It is important to remember that the vast majority of people can't tell an airgun from a cartridge gun. Never brandish an airgun in public. Always, and I can never stress this enough, always treat an airgun as you would a cartridge gun. The same manual of operation and safety should always apply.