The 10/22 Air Rifle Kit Part 3
Pushing it to 25 yards
By Dennis Adler
Normally, 25 yards is not a great distance for high-power air rifles, but for one that is running on a pair of 12 gr. CO2 cartridges it could be a push. Not that a pellet can't travel that far, it certainly can and much further, but not accurately. What we are after here is proof that the Umarex Ruger 10/22 with its paired CO2 cartridges and the power of precision targeting with the Mantis 3-9×32 AO Mil-Dot scope can send a pellet 25 yards downrange and hit the target with consistent accuracy. With a scoped .22 LR Ruger 10/22 this would be a given, but with a CO2 version it is not.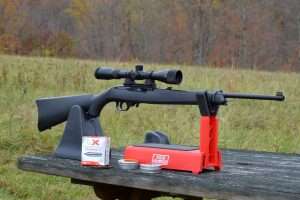 Setting up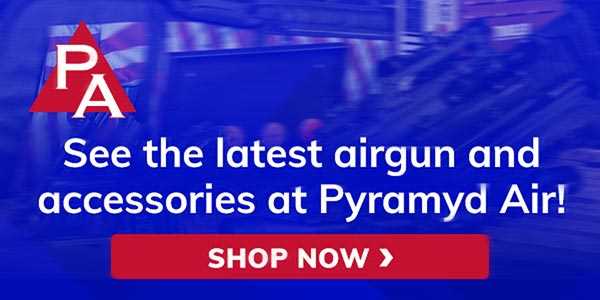 There are days I wish I had a 25 yard indoor range because today it is 55 degrees outside, not ideal for CO2 and it is mostly overcast. The good news is that it's fairly clam with a slight crosswind. I have several ways to shoot from the bench on the outdoor range, the Millett rests, a Case Guard rest and sandbags. I'm taking all of them with me to see what works best. To get the most velocity I am going to use the Sig Sauer 5.25 gr. Match Ballistic alloy wadcutters. There are a lot of different pellet options in lead and alloy but I like Sig alloy and Meisterkugeln lead wadcutters for their consistency. I also like H&N Sport Match Green 5.25 gr. alloy wadcutters and RWS R10 Match 7.0 gr. lead wadcutters, along with a handful of other top brands, but for this gun, at 25 yards, I think I will get my best results with alloy wadcutters.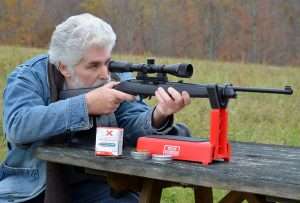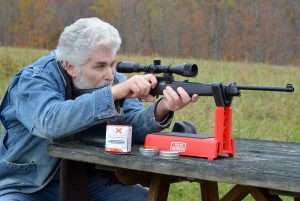 The lightweight Sig Match Ballistic delivered a fairly consistent trajectory which I could watch through the scope from about a third of the way downrange until the point of impact. I didn't take the chronograph with me but I would estimate the wadcutters were leaving the barrel at around 650 fps and they were slapping loudly into the target backboard. Shooting single action by cocking the trigger with the charging handle, it took a light press to send shots downrange and while I would have liked a tighter total spread I wasn't unhappy with my targets, which averaged 1.75 inches for 10 shots. After sighting in the scope, which now had the objective set to 100 yards for best clarity, and the zoom all the way out to 9X so the target filled the scope and the crosshairs were right over the red bullseye, I shot the 1.75 inch group which had five hits in the red at 1.0625 inches.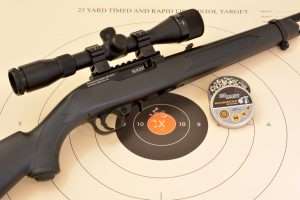 My second target was shot as a slight crosswind came up and rounds began hitting left of POA but grouping tightly. In trying to correct I threw a couple of flyers, then the wind settled down and I put the last five shots in the red. I shot a total of 20 rounds (two magazines) giving me a total spread of 1.50 inches with five in the red at 1.44 inches. My best 5-shot group out of the 20 rounds fired, was in the tight pattern to the left of the bullseye surrounding the 10 ring at 9 o'clock and measuring 0.625 inches, roughly the circumference of a dime. Of course, that's out of 20 shots. Still, at 25 yards I feel the Ruger 10/22 with Sig's alloy pellets acquitted itself quite nicely.