The Art of the Gun
Coming full circle with hand engraving
By Dennis Adler
We have stepped upon the coattails of greatness with the creation of the Peacemaker Airgun Builder, giving western air pistol enthusiasts the opportunity to experience what cowboys, lawmen, ordinary citizens, and quite a few famous outlaws with a full purse could do with the stroke of a pen, or a well phrased telegraph message. Case in point, on August 8, 1892 an order for 10 matching 5-1/2 inch barrel length Peacemakers, all with matching mother of pearl grips and nearly full engraving coverage were shipped from Colt's to the attention of Mr. A.E. Williams in care of Simmons Hardware Company in St. Louis, Missouri. The 10 matching revolvers, chambered in .45 Colt, were not for sale to customers in St. Louis but for a group of individuals who would ride into infamy on October 5, 1892, The Dalton Gang, with their historically failed attempt at robbing two banks at the same time in Coffeyville, Kansas. The engraved Peacemakers were intended as a symbol of the Dalton Brothers and their gang's solidarity. Bob and Grat Dalton died that October morning; their younger brother Emmett would be the only one of the five Dalton gang members to survive. It had taken just 15 minutes in Coffeyville, Kansas, at the hands of the armed citizens defending thier town and its banks to end the careers of one of the most notorious outlaw gangs of the early 1890's American West.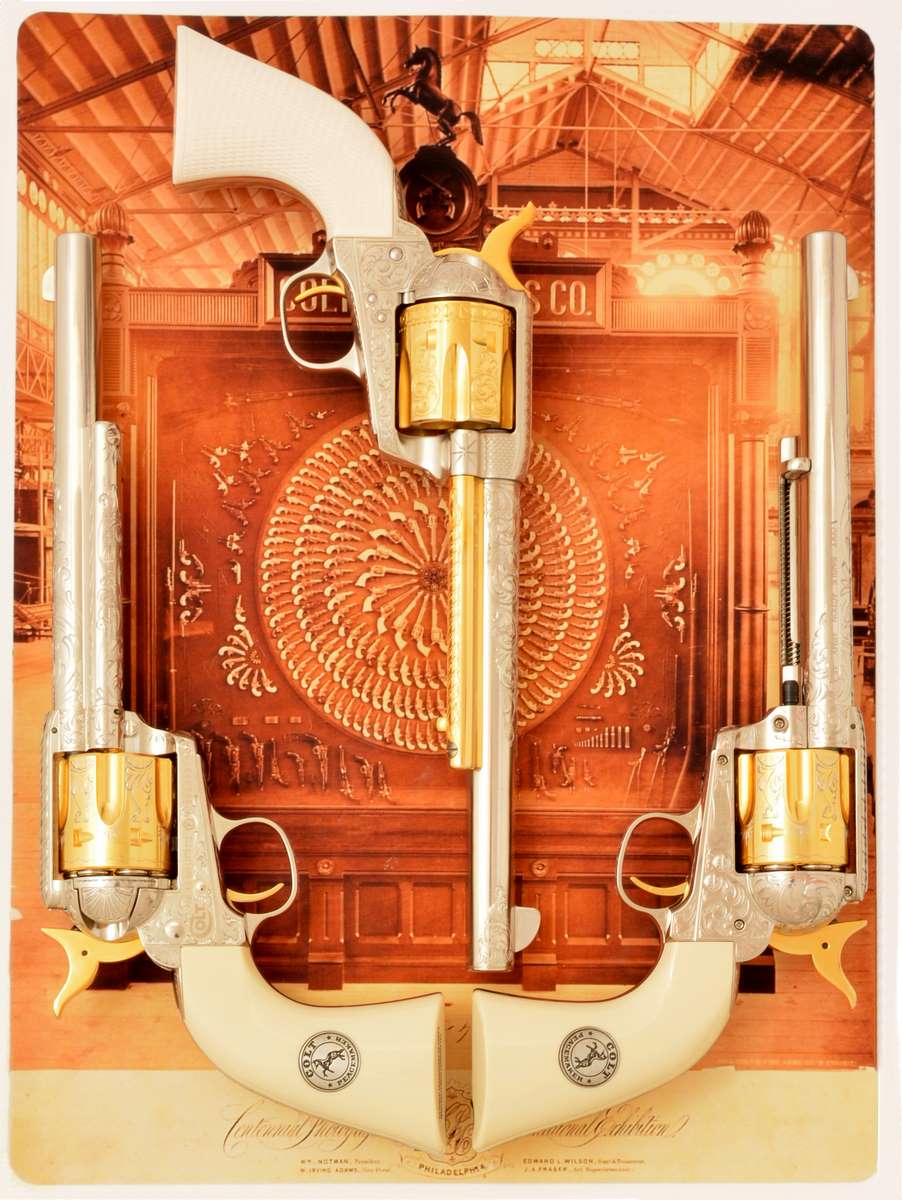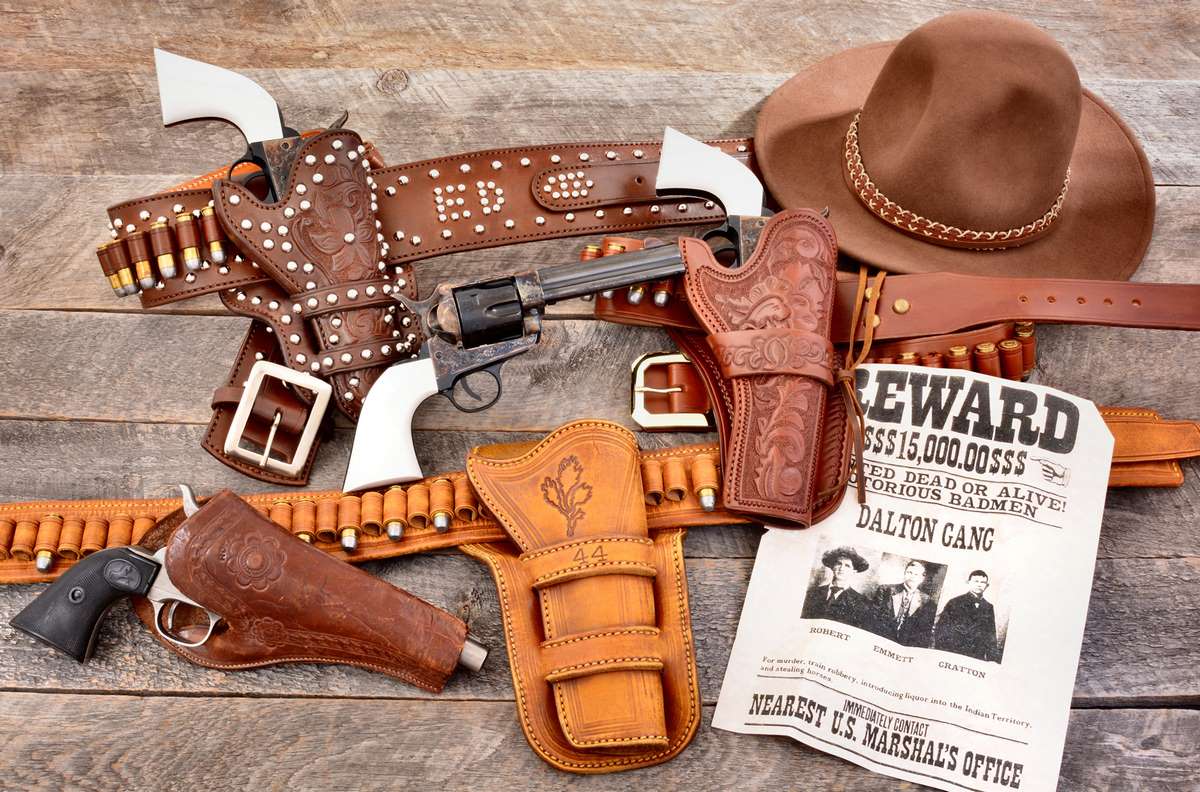 After recovering from multiple gunshot and shotgun wounds, Emmett was tried and convicted of second degree murder and sentenced to life in the state prison at Lansing, Kansas. He was just 21 years old. After serving 15 years of his sentence, Emmett was granted a parole by the Governor. Dalton moved back to Oklahoma for a short while, and then to California, tried his hand at real estate, spent some time with a Wild West show, and worked on a book about his family and the Coffeyville Raid. The book, When the Daltons Rode was published in 1931, and in 1940 it was made into a movie starring Randolph Scott. The surviving Dalton guns have found their way into private collections, like Bob Dalton's Colt (below), which was sold by Rock Island Auction Co. in 2012 for $109,000.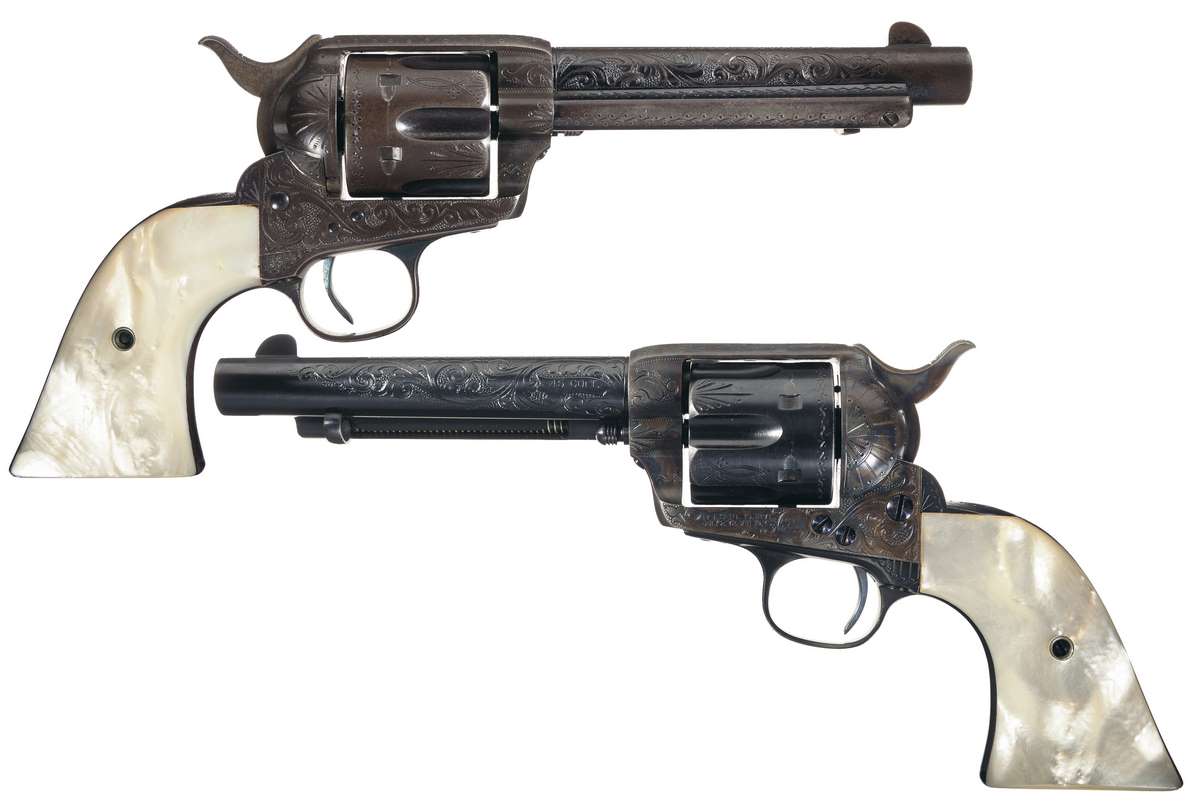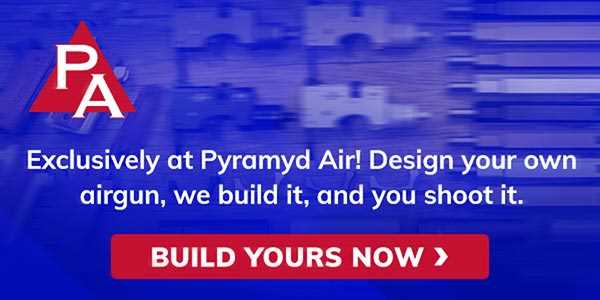 Of course, as many famous lawmen as outlaws had their Peacemakers engraved, as did many others from soldiers to cattlemen and ranchers. Many were gifts from the grateful people of a town to city officials or to a lawman for driving the outlaw element from the city, such as U.S. Marshal Bill Tilghman did in Perry, Oklahoma. An engraved gun could represent many things, have many meaning, or just be an attractive firearm for the sake of art, like the pinwheel of engraved Peacemakers displayed in the Colt's cabinet at the 1876 Centennial Exposition.
Graver and chaser hammer in the hand
Engraving was regarded as an art form long before handguns or rifles existed, finely embellished knives, swords, shields, and armor were presented to monarchs, high ranking officials and heads of state. The art of arms engraving is more than five hundred years old, but the 19th century almost stands alone as the epitome of firearms engraving. Colt's use of engraved firearms as presentation pieces to European royalty, Presidents, politicians and military officers goes back to the beginning of his first firearms manufacturing company in Paterson, New Jersey, (1835 to 1842), and continued throughout the remainder of his career as founder of the Colt's Patent Fire-Arms Mfg. Company. Even after his passing in January 1862, the Colt tradition had been firmly established, and the company continued on with the manufacturing and presentation of finely hand engraved revolvers. That practice, established by Samuel Colt more than 180 years ago, continues to this very day, even with the Colt CO2 Peacemakers.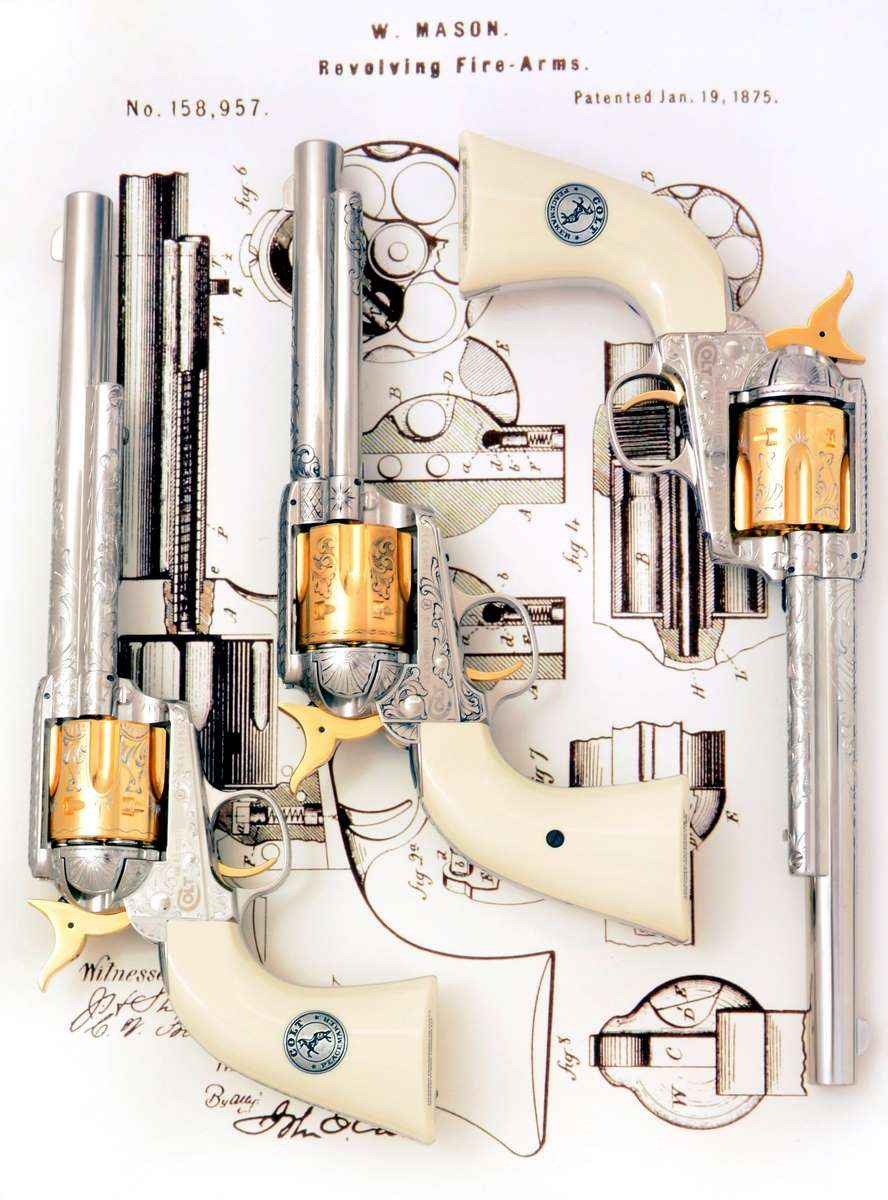 The aluminum alloy construction used for the Umarex Colt Peacemakers provides a metal that is strong, yet yields to the graver and chasers hammer in the hands of a skilled artisan and the possibilities for creating the same level of fine engraving used on Colt revolvers since the mid 19th Century is almost endless, as exhibited by the first pair of Airgun Builder ordered nickel and gold 7-1/2 inch models (above) just completed by John J. Adams, Jr. of Adams & Adams engraving in Vershire, Vermont.
Adams uses the same patterns as legendary engravers like Gustave Young, Cuno A. Helfricht, and famed New York City engraver Louis Daniel Nimschke, allowing an endless variety of design options and percentages of coverage. The nickel and gold pair is representative of Colt's "C Expert" style with over 75 percent coverage from the grip frame and triggerguard to the cylinder and barrel.
Style and purpose
The Umarex Colt Peacemakers have the same fine details and features of the centerfire models which makes it possible to engrave in exactly the same fashion. Engraving levels ranged from modest embellishment of the frame, "A" engraving, to slightly more coverage of the gun with "B" engraving, the most common "C" engraving (which can be taken a little further as "C Expert"), and 100 percent coverage or "D" engraving (this would also apply to later full coverage with cattlebrands).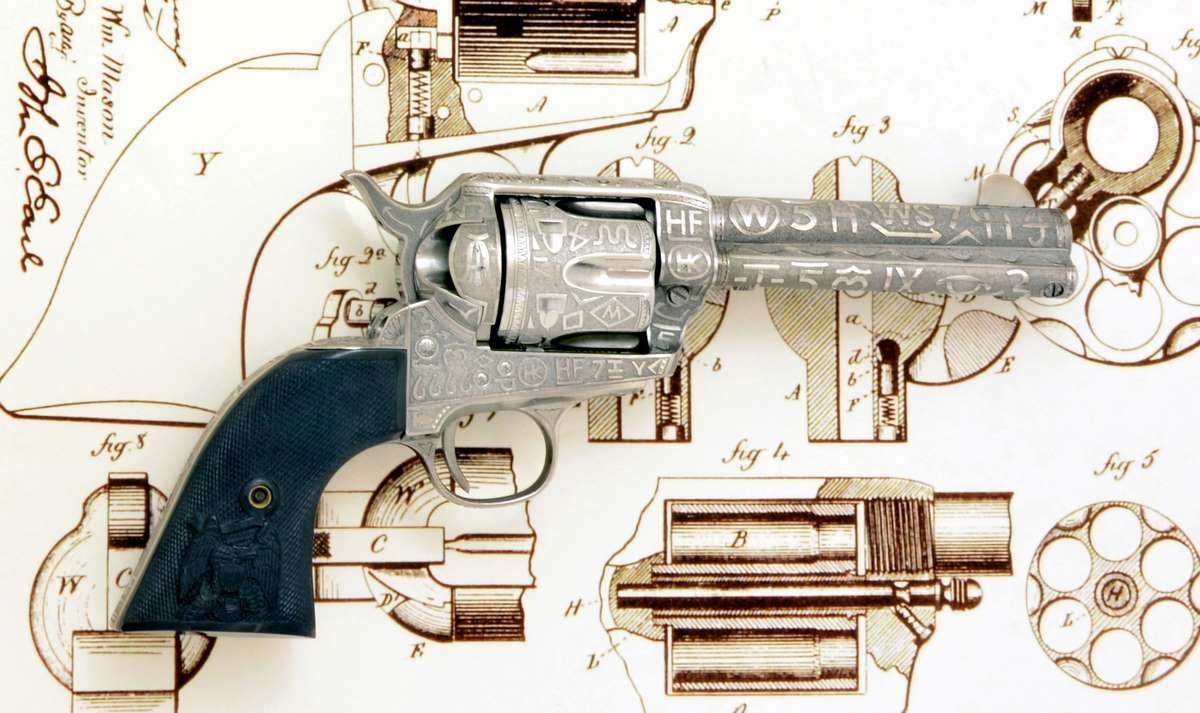 In engraving the latest CO2 models, Adams highlights the correct Colt markings and patent dates with border scrolls while using full coverage to eliminate the faint white letter warnings on the nickel guns to give the revolvers a very clean and authentic look. He also made use (on these two examples) of the copper plating beneath the nickel to add further detail to specific patterns. A coat of copper over the alloy (and steel for many plating types) is like putting down a primer before painting. If you break through the layer of nickel you will get golden like tones coming through. If you cut deeper, you break through into the white metal and can get a deeper alloy tone that complements the nickel plating, so there are different ways to go. Adams has used all three techniques for this pair.
The hand engraved patterns that were used on the 5-1/2 nickel and gold Nimschke (pictured) and the 7-1/2 inch nickel sold as limited editions by Pyramyd Air are examples of "C" engraving, just a little less coverage than the "C Expert" used for this latest pair.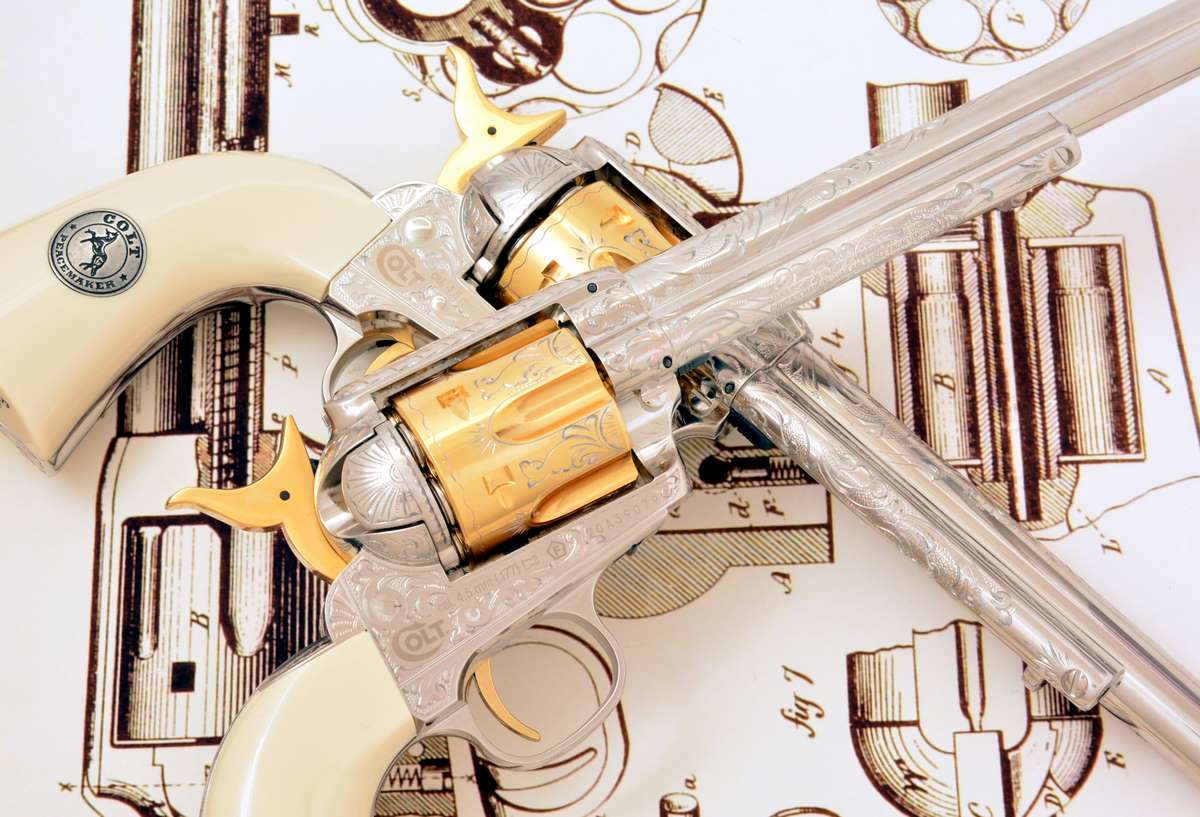 The Colt Custom Shop (and before that, the Colt factory engraving shop) have been producing hand engraved models since the establishment of the Colt's Patent Fire-Arms Manufacturing Co. Those same historic engraving patterns are still used at Colt's (which often uses Adams & Adams). John J. Adams Sr. has worked with Colt's for over 35 years and his son, John J. Adams, Jr., has worked for the Colt's Custom Shop and Smith & Wesson's Performance Center.
The Colt name and the historic engraving of Colt revolvers is woven into the very fabric of our western firearms history. Today as it was in the 1870s, nothing personifies handcrafted quality in a Colt Peacemaker like hand engraving.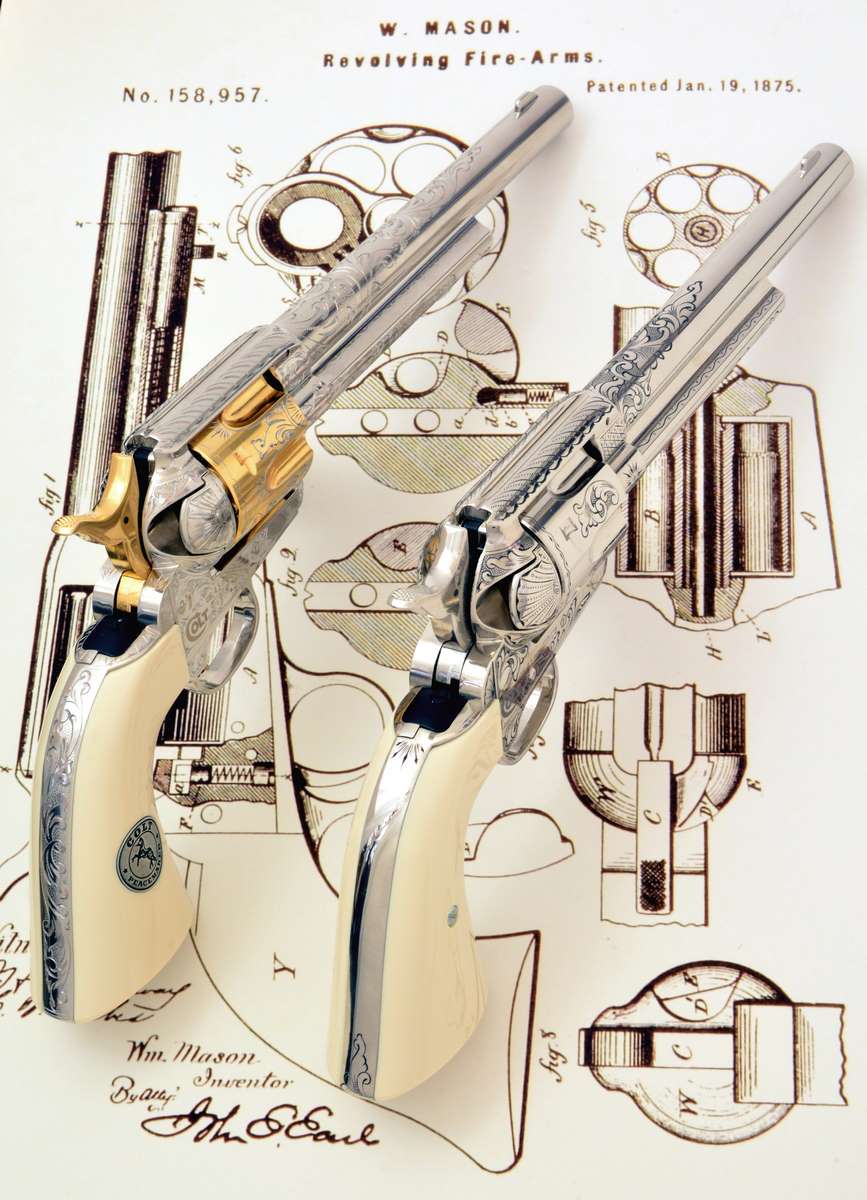 For more information and prices (based on the level of engraving desired) you can contact Adams & Adams at (802) 685-0019.