The BB Conundrum Part 3 Part 2 Part 1
Smart Shot, lead, steel and dust
By Dennis Adler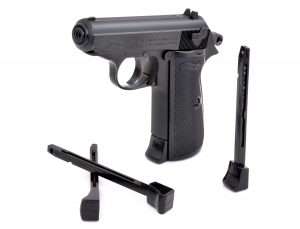 A pound of lead or a pound of Dust Devils will fall at the same rate of speed according to Galileo, but a 7.4 gr. lead BB will have a slower velocity than a 4.34 gr. Dust Devil. Galileo never had to deal with such problems. To begin our final installment let's review the velocities with the test guns fired using Smart Shot and Dust Devils.
The first gun up was the latest Umarex Walther PPK/S which sent the heavy copper plated lead shots downrange at a marginal average velocity of 228 fps, and even with .177 caliber steel BBs the PPK/S can barley do better than 290 fps. But loading the Walther with Dust Devil BBs gave the CO2 pistol a competitive average velocity of 315 fps. So, let's see what the PPK/S delivers in accuracy at that velocity, and not from 15 feet but a full 21 feet like other blowback action BB models that shoot in the 300 fps range.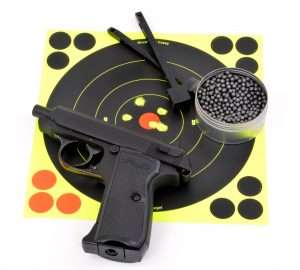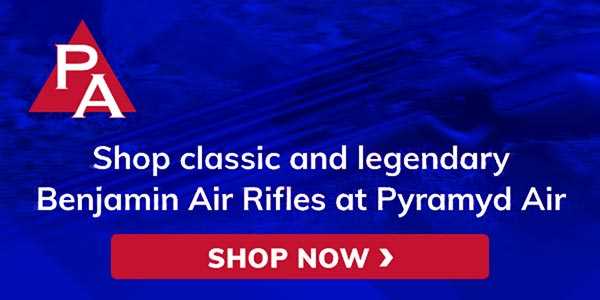 The PPK/S delivered a best five shots in the 10 and red bullseye of a Shoot-N-C target at 1.43 inches from 21 feet, and with the Walther at that range, any five shots in the 10 is a good score. I ran steel BBs through it at 21 feet and the average group measured a little over 2.25 inches. At 15 feet, which is optimum range for the little Walther, the Dust Devils grouped at 1.25 inches, so it's Dust Devils for the PPK/S.
Higher velocity vs. Smart Shot
I am going to start with the Sig Sauer P226 X-Five and Smart Shot from 21 feet. In the velocity test the Smart Shot had clocked 281 fps in the Sig which is about 20 fps slower than steel BBs. I didn't adjust POA and the heavier Smart Shot hit low, as expected, but put 10 consecutive rounds of the copper plated lead BBs at 1.22 inches, with seven of 10 rounds at 0.625 inches. Switching to Dust Devils, which had clocked 340 fps, 10 shots hit in the 10 and X rings just a bit wider at 1.75 inches, with three in the X and seven rounds grouped at 0.875 inches. The Sig has shot as tight as 0.562 inches with steel BBs.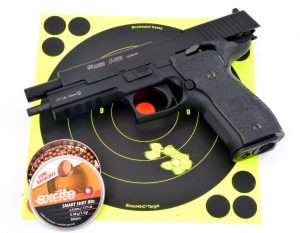 If you are wondering if the frangible Dust Devils leave behind any trace elements (dust) the answer is yes, and after my tests I cleaned all the barrels, slides, frame rails, and magazine wells (on guns that disassemble). This is nothing unusual, it would be a routine cleaning after shooting lead in any smoothbore air pistol, and Dust Devils leave a light powdery residue. Smart Shot and steel BBs (and alloy pellets) leave almost no trace at all and cleaning would be the routine 1,000 rounds as recommended. With Dust Devils a quick cleanup after a long shooting session would be prudent, and only takes a couple of minutes.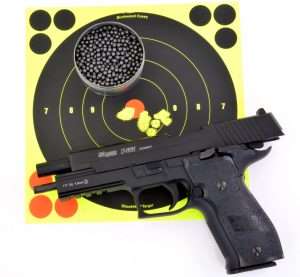 Next up the top training gun, the Umarex S&W M&P40 sends Dust Devils downrange. In the velocity tests the frangible BBs averaged 320 fps in the M&P40. At 21 feet the molded composite rounds surprised me by actually hitting low rather than high given their greater velocity, but this remained a constant throughout the M&P40 test. The Dust Devils punched 10 shots into 1.26 inches with enough overlapping to make the tightest group at 0.74 inches for five shots. To hit the bullseye I would have needed to hold over by about 1.5 inches. With Smart Shot the M&P40 again shot low, as expected, and delivered its best group at 1.50 inches with a 3-inch hold over. So, while both Smart Shot and Dust Devils work in the M&P40, unless you are shooting at reactive metal targets, 5.1 gr. steel BBs seem to be the best food for this blowback action model for maintaining POA accuracy.
The big Swiss Arms P92 clocked 330 fps with Dust Devils and 271 fps with Smart Shot. With steel BBs the gun averages 312 fps. With a normal 6 o'clock hold at 21 feet, the Dust Devils also shot low in the Swiss Arms model but delivered a best group of five shots below POA measuring 1.125 inches. Toward the end I adjusted my POA and put the last pair in the bullseye, which blew out my total spread to 2.25 inches. Again Dust Devils didn't gain anything with their added velocity but did not lose anything in accuracy either. Smart Shot runs at below 300 fps and I decided to adjust my POA up by 2 inches with the P92's fixed single white dot sights. This gave me a best group of 10 shots at 1.74 inches with a tightest group of 0.74 inches. My hold over to zero the 10 ring was 4.5 inches. So a lot of compensating to get the Smart Shot in the center with blowback action CO2 models designed for steel BBs. But, it can be done for shooting with hard surface and reactive targets.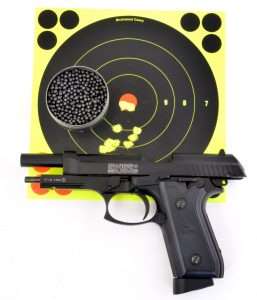 Speaking of hard surfaces, cardboard really isn't but if you look at the photo below you will see a pile of Dust Devil fragments that fell on the edge of the target stand from the baffle box above it. They aren't called Dust Devils for nothing.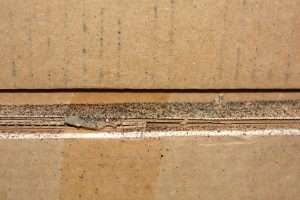 Among the non-blowback action models the USP delivered the goods at POA with eight out of 10 Smart Shot rounds measuring 1.437 inches and two flyers, which was entirely my fault pulling the heavy HK DAO trigger. You never can get enough practice!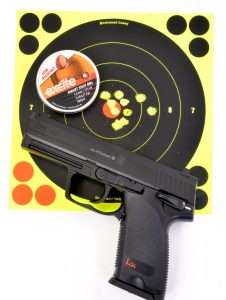 The wrap up
Smart Shot definitely has a place with blowback action CO2 pistols for use with metal and reactive targets in all of the air pistols tested and others that meet the same magazine restrictions. It functions well, and aside from lowering velocity and causing you to hold your POA high to hit the center of the target, has excellent safety advantages to minimize ricochets. As for me, Smart Shot in rifled barrels makes a lot of sense if it works with your airgun.
Dust Devils (which will be available very soon and can be pre-ordered) will be a boon to shooting reactive targets with a wide variety of pistols. It increases velocity (though not necessarily accuracy) and, as the first frangible BB, eliminates the likelihood of a ricochet from a steel or metal target. As a practice round with reactive targets in all of the pistols tested and many others, it will become both an asset for training and a safer way to shoot BBs indoors and out. On the cleanup side, they have that one disadvantage of leaving light residue spread out below the target, as well as inside the pistol, but it is an easy cleanup and helps promote good maintenance habits. It's a fair tradeoff for the advantages.