The Most Bang For Your Buck Part 2
What can $100 buy?
By Dennis Adler

For those of you who own and shoot centerfire pistols, the cost of a day's ammo at the shooting range can often reach $100, and after you are done, all you have is a lot of empty brass (if you police your brass and reload to save money on ammo) and the satisfaction of honing your target shooting skills and bringing home targets that reflect your day's efforts. What the blowback action CO2 models in this article do is duplicate that range time, and if you have a safe backyard shooting area or a basement set up with an air pistol range, you don't even need to leave the comforts of your own home. Dedicated airgun enthusiasts know this and gain the same benefits and satisfaction from target shooting with BBs or pellets as their centerfire handgun counterparts, only at a fraction of the cost. Skills learned with air almost entirely translate to shooting range experience with centerfire and rimfire pistols, more so the latter. A good blowback action CO2 pistol can come close to firing a .22, only with somewhat less recoil and much less noise. A .22 pistol with a sound suppressor is very close to a high performance blowback action CO2 pistol in feel and noise level. Blowback action CO2 models are good for practice, especially all of the models in this article, since they duplicate the look, feel, and operation of their centerfire counterparts.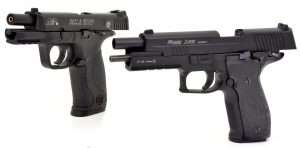 There is still no way to learn about recoil from a large caliber pistol by shooting its CO2 counterpart, and that is always a big surprise the first time you do it. For me it has always been the opposite since I started with centerfire guns and worked into air pistols, but that has also given me the experience to write about both the differences and similarities. Moreover, this article allows me to tell you through my experience which among these well-built blowback action pistols delivers the most accurate feel and handling to its cartridge-firing counterpart.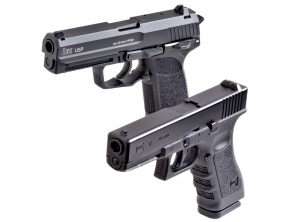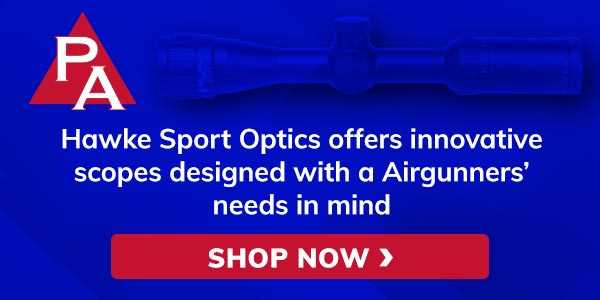 The learning curve with CO2 pistols (and I should include the better wheelguns here as well, like the Dan Wesson Model 715 and Colt Peacemaker pellet cartridge firing models) is about the same as with centerfire and rimfire guns. The better the air pistol in its overall weight, construction, operation and authenticity, the more value it gives for the dollar.
Outside of airgun enthusiast circles and those who use airguns for actual training surrogates, the majority of people think of BB guns, even pellet pistols, as toys. Perception is one reason even the blister packed, low-dollar BB pistols sold in the big box stores come marked THIS IS NOT A TOY. And Adult airguns, like the majority sold by Pyramyd Air, and every one of the CO2 models in this roundup, also bear the same warning. Even if you are strictly an airgun enthusiast, the line that separates these top blowback action models from their cartridge-firing counterparts is as thin as air.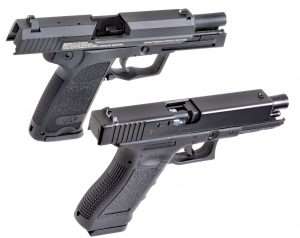 Less isn't more unless it is
The first gun to be considered as the most for the money is the object of that line; it is the Umarex Glock 17. Flat out, regardless of the packaging, the Glock 17 is as authentic in appearance as you can get for $100. Only the most trained eye could pick up the one obvious tell on the slide, the absence of a caliber marking. The safety warning and manual safety are so well placed on the Umarex Glock model that they do not intrude on the authentic look of the gun. It is both wonderful and unsettling. On face value, the G17 is everything airgun enthusiasts have been asking for, a blowback action CO2 model that looks exactly like its centerfire counterpart. As a training gun this is the optimum combination as it interchanges with centerfire model accessories.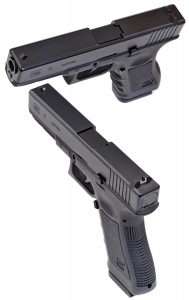 Even the .177 caliber muzzle is so far recessed inside the surrounding 9mm barrel muzzle (and also blacked out making it even harder to see looking head on) that you can't tell it from a 9mm Glock 17. What is unsettling is the possibility for someone mistaking the CO2 model for an actual Glock. That's why Glock chose to leave the 9x19mm caliber stamping off the slide. This is the kind of air pistol that my A Word About Safety warning at the end of some articles is meant for. On face value the Glock 17 should be the best CO2 model for $100. And if you are satisfied with it on face value, it is. But the Umarex Glock design gives up one feature to attain an advantage over the rest of the models in this article. It uses an enclosed blowback action design (some might call it cheaper, but they would be wrong) that increases velocity by better than 50 fps average over the other blowback action models. We are talking a high of 395 fps and an average of 376 fps compared to comparable CO2 models (some costing more) that average 310 to 330 fps. We are also talking about extending effective shooting accuracy with BBs from 21 feet to 10 meters.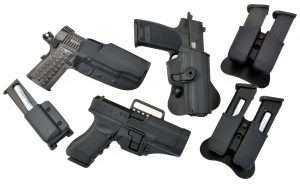 As those of you who followed my Replica Air Pistol of the Year series for 2018 know, the Glock lost out in the final comparison of features because in order to achieve its unrivaled performance, Umarex had to make a compromise, the gun cannot be field stripped. That has no bearing on its outward authenticity, handling, use of tactical lights and lasers, correctly sized CO2 BB magazines that fit centerfire mag pouches, or the gun itself, which fits all holsters for the centerfire pistol. If field stripping is a box that must be checked on your list, the Glock 17 is not the most gun for the money. As particular as I am with blowback action CO2 pistols, I am willing to give the gun a pass for everything else it brings to the game. It is only outdone by one other new pistol, which costs more than $100, the Springfield Armory XDM 4.5 which checks every box on every list but is priced out of this comparison.
What is next best?
That $100 bill can buy any of the air pistols shown, but none of them will out shoot the Glock 17 for velocity. All but one other (the VP9) are fully field strippable, and while a couple can match it for accuracy, a best 5-shots at 0.56 inches, only one air pistol in this price category can beat it, the Sig Sauer WE THE PEOPLE 1911, with a best 5-shot group measuring 0.437 inches. The Glock is tied with the HK USP and Sig Sauer P226 S X-Five for accuracy.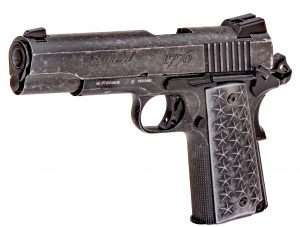 Except for the Glock, the other guns have the telltale white lettering on their slides or frames, though the Sig WTP is the least obtrusive due to the antiqued finish on the gun. The WTP's finish is another plus and minus situation depending upon how one feels about customized guns. The WTP is spot on for its WTP .45 ACP counterpart, but a far cry from a conventional 1911 finish. In many ways the real individual choice comes down to favorite guns. If you like Smith & Wesson, the M&P40 is a great choice and aside from the white letters, looks and handles exactly like the 9mm and .40S&W models and has the same great interchangeability with actual centerfire accessories and gear. The Swiss Arms Beretta 92FS-style pistol and Sig Sauer licensed (not Sig Sauer produced) P226 S X-Five BB model are also authentic to the centerfire models, but do not have the fit and finish of the Glock, Sig WTP and HK USP. These three are the best guns for the money, but if you are looking for one gun that stands out as having the best combination of velocity, accuracy, fit and finish, the Glock 17 is where your $100 should be invested.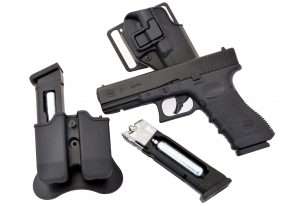 A word about safety
Blowback action airguns provide the look, feel and operation of their cartridge-firing counterparts and this is one reason why they have become so popular. Airguns in general all look like guns, blowback action models more so, and it is important to remember that the vast majority of people can't tell an airgun from a cartridge gun. Never brandish an airgun in public. Always, and I can never stress this enough, always treat an airgun as you would a cartridge gun. The same manual of operation and safety should always apply.
The Airgun Experience will return in one week. Cross your fingers for something new!