The Peacemaker you have been waiting for Part 2
The Nimschke 5-1/2 inch and 7-1/2 inch Umarex Colt Shootout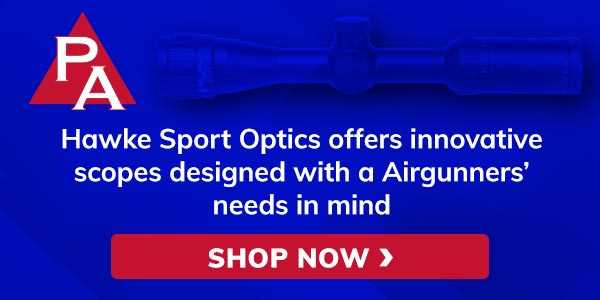 By Dennis Adler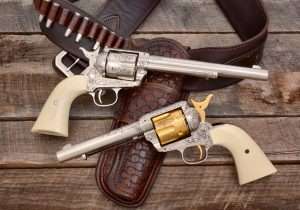 Pellets and rifled barrels generally ensure greater and more consistent accuracy and with single action revolvers. While aiming is modestly precise with a channeled rear and blade front sight, single action trigger control is excellent, and the 10 meter range ideal for testing the 5-1/2 and 7-1/2 inch Umarex Colt Peacemakers. Neither the nickel plating nor the hand engraving will make these two any more accurate, or easier to shoot, but it certainly makes them more enjoyable. Even an outlaw in the Old West had a sense of style, and certainly a lot of lawmen, at least when they were in town and dressed for business. On the trail, clothing usually suffered, but a good looking holster and a handsome sidearm often managed to survive, as evidenced by the number of historic holsters, belts, and hand engraved six-guns from the Civil War era to the end of the 19th century that have survived to the present day. Were it not for the hardiness of the originals, it's likely these two hand-engraved Umarex Colt Peacemakers wouldn't exist.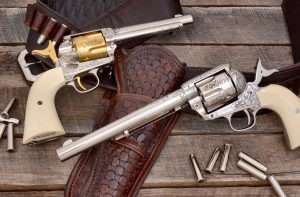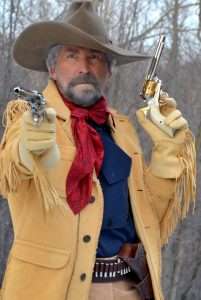 To put the Colt airguns to the test, I used Champion 50 foot Pistol Slowfire targets with the old Colt sights aimed squarely at the target's red bull's eye. With the 7-1/2 inch barrel, this was exactly POA at 10 meters. Trigger pull on the hand engraved guns measured 2 pounds, 9.6 ounces for the 7-1/2 inch model, and 1 pound, 10 ounces on the 5-1/2 inch. On a .45 Colt Single Action these would be hair pin triggers.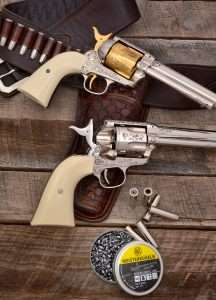 Ammo was Meisterkugeln Professional Line 7.0 gr. lead wadcutters. Average velocity for the 7-1/2 inch model was 416 fps. Fired offhand using a two-handed hold, my best six-round groups measured 1.20 inches with 1 in the bull's eye and five closely arced over the 8 and 9 rings from 10 o'clock to 2 o'clock, and 1.01 inches all grouped in the 8 and 9 rings at 2 o'clock with five of six in one ragged line. (This is the best group I have had thus far testing 7-1/2 inch models. I'll call it "My lucky shot" group. Average with the 7-1/2 inch model overall has been 1.25 inches). Now for the 5-1/2 inch model at 10 meters, same shooting stance, same ammo, and almost the same accuracy.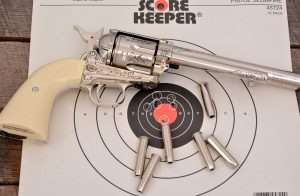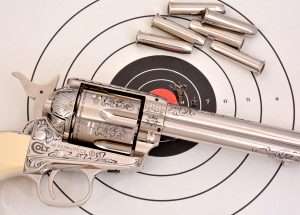 The best six-shot group with the 5-1/2 inch Nimschke hand engraved nickel and gold model measured 1.25 inches with two in the bull's eye. Average velocity was 385 fps, so that extra length of barrel on the 7-1/2 inch Peacemaker gives the 7.0 gr. wadcutters a little more speed downrange. As for overall accuracy it's within 0.25 inches average between the two guns, so both proved to be pretty true at 10 meters.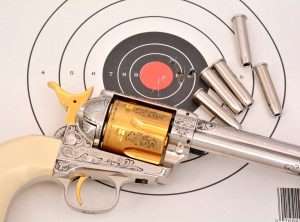 The final choice really comes down to barrel length, as both of the Adams & Adams hand engraved Umarex Colt Peacemakers can perform with style.
A word about safety
Single Action airguns provide the look, feel and operation of their cartridge-firing counterparts and this is one reason why they have become so popular. Airguns in general all look like guns, the Colt Peacemakers more so, and it is important to remember that the vast majority of people can't tell an airgun from a cartridge gun. Never brandish an airgun in public. Always, and I can never stress this enough, always treat an airgun as you would a cartridge gun. The same manual of operation and safety should always apply.