The Webley's Reprise
The MK VI is back and in three distinct versions Part 1
By Dennis Adler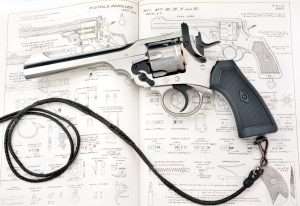 In 1915 the British military adopted the most ruggedly built revolver in the world, the Webley & Scott MK VI as its standard issue sidearm, but this was not the first Webley to be carried into battle by British troops. Webley & Scott revolvers were first issued to Her Majesty's soldiers as far back as 1887. The Webley's topbreak design is, in fact, deeply rooted in the late 19th century beginning with  Over the next three decades Webley & Scott made improvements in the topbreak design through the MK II, III, IV, and V, with the MK VI being developed in the early 1910s.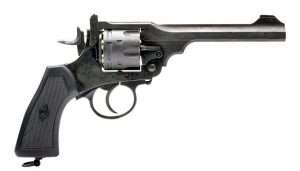 Webley & Scott MK VI models remained in production from 1915 to 1935 and were still carried by British forces two years after WWII! The smaller caliber Webley MK IV version, chambered in 38/200 caliber (.38 S&W and not to be confused with the 4-inch barrel length Mark IV Service Model chambered in .455 Webley), remained in use until 1963; thus you have a revolver design that in its various iterations and chamberings was used continuously for more than three-quarters of a century.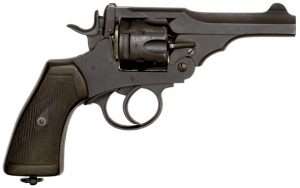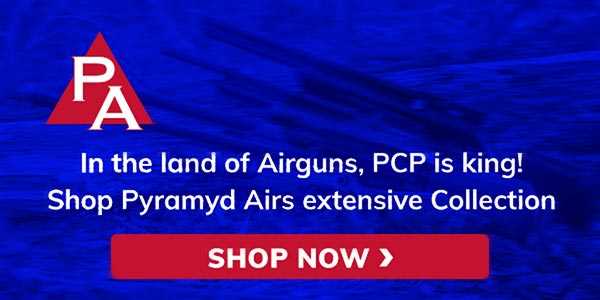 Why a Webley Airgun?
The MK VI CO2 models are quite literally the culmination of a story that began when young Philip Webley married Caroline Davies, the daughter of British bullet mold manufacturer William Davies. Webley and his brother James had established Webley Brothers – Percussioners, Gun Lock & c. in 1835. Three years later management of Davies' company was turned over to his son-in-law Philip and brother James, when they began the production of percussion sporting guns. In 1838 the Davies and Webley companies merged under the name P. Webley & Sons. Philip and Caroline Webley's sons, Thomas and Henry, joined the family business in the 1860s, by which time P. Webley & Sons was manufacturing several types of percussion arms, including single and double action percussion revolvers, as well as early centerfire cartridge models. (Great Britain, France, Belgium, and Germany were well ahead of America in the manufacture of metallic cartridge loading firearms).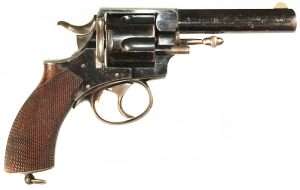 In 1867 Webley introduced its first double action model known as the RIC, so named for its adoption by the Royal Irish Constabulary. A full decade before Colt's first double action models, the RIC became famous not only in Great Britain and Europe but in America. Among famous American military men who owned Webley RIC revolvers was Lt. Col. (and former Civil War General) George Armstrong Custer. It is believed he was carrying one of the RIC revolvers at the fateful Battle of Little Bighorn in 1876. Available in nine different calibers during its production run, Webley manufactured the RIC Models for a remarkable 72 years from 1867 up until 1939!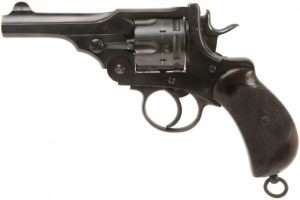 In 1878 another Webley model became a staple of the American West with the arrival of the small Webley British Bulldog revolver. Two years later the first Webley MK I topbreak was introduced, and by 1887 Webley revolvers had become Great Britain's official sidearm. In order to expand financially and competitively, in 1897 Webley and world renowned British shotgun manufacturer W&C Scott & Sons merged to form Webley & Scott Revolver and Arms Company, Ltd. in Birmingham, England.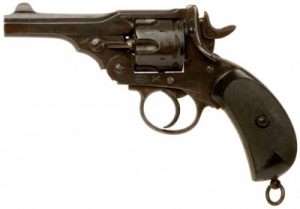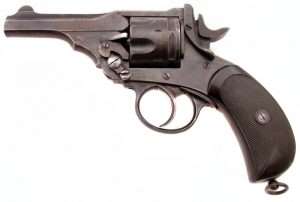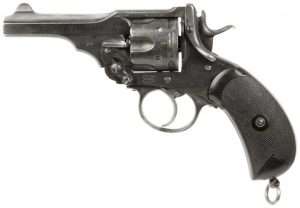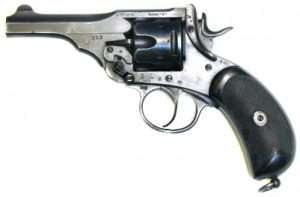 Throughout its history Webley & Scott manufactured some of the finest shotguns and handguns the world has ever known. Webley topbreak pistol designs evolved from the MK I (c.1880-1894) through the MK II (1894-1897) and MK III (1897-1899), highly successful MK IV (1899-1914), the short-lived MK V (1913-1915) and culminated in the improved 1915 Model MK VI (1915-1919 and Service Model 1922-1935). There is no doubt today why the Webley remains one of the most sought after British handguns for military arms collectors, and why Webley & Scott, with an equally distinguished history manufacturing airguns since the early 20th century, decided to reproduce the MK VI as a CO2 powered BB cartridge loading model in 2015, exactly 100 years after the .455 caliber model was adopted by the British Military.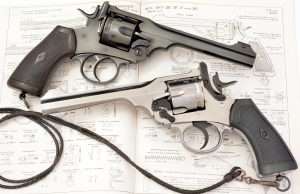 In 2016 Webley & Scott added the Battlefield Finish, with a modestly antiqued (holster worn and battle aged) appearance representative of many original Service Models from the era. In addition to its aged finish, the most important difference from the original 2015 black Parkerized-style BB cartridge Service Model, was the addition of a rifled barrel and 4.5mm pellet-loading cartridges. More recently Webley & Scott added a third variation, a pellet firing model with a high polish nickel silver finish. Neither the Battlefield Finish nor Nickel Exhibition pellet-firing models were exported to the U.S. until this month making these two new models the very latest in Webley & Scott's long history as both a manufacturer of cartridge-firing arms and world class air pistols and rifles.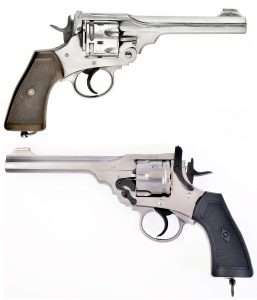 In Part 2 the MK VI gets ready for its first test.