Three guns at 10 paces Part 2 Part 1
How important is barrel length?
By Dennis Adler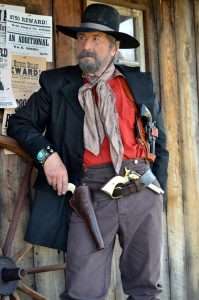 Although Colt's offered many barrel lengths, the company only considered the 1888 Sheriff's Model with 3-1/2 inch barrel, the 4-3/4 inch, 5-1/2 inch and 7-1/2 inch barrel lengths as "standard" models, everything else was a special order barrel. The 5-1/2 inch and 4-3/4 inch were introduced in 1875, technically, three years after the 7-1/2 inch model designed by William Mason was accepted by the U.S. Ordnance Department as the Army's new military issue sidearm. That was in 1872 not 1873. While the Peacemaker is regarded as an 1873 model, the first patent was granted on September 19, 1871. A second patent was received on July 2, 1872 and both patent dates were stamped on the left side of Singe Action Army frames produced through 1875. That year Mason and Colt's were granted a third patent for the design dated January 19, 1875. All three patent dates were stamped on frames beginning early that year. This was known as the three line patent date stamp and 5-1/2 inch models have three patent dates on their frames.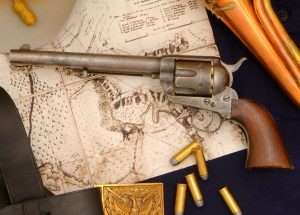 Between 1890 and 1891 the three patent dates were changed from three lines to two lines and stamped PAT. SEP. 19, 1871 on one line, and JULY 2, 72, JAN 19, 75 below. This is the style patent stamp used on the Umarex Colt Peacemaker models. In 1892 Colt's introduced the transverse cylinder latch, the style also used on the Umarex models, which are all post-1892 frame designs.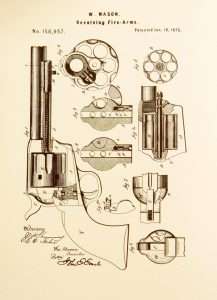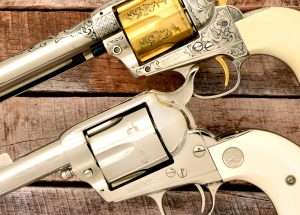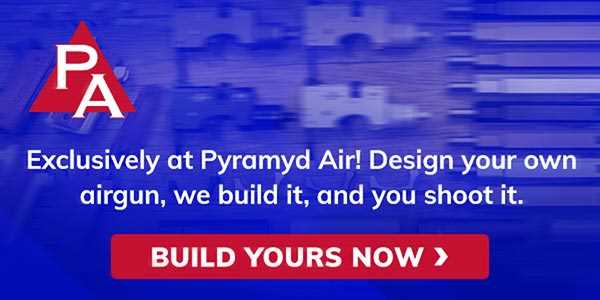 Popularity of the 5-1/2 inch barrel
There are likely more 5-1/2 inch barrel length 1875 to pre-WWII Colt Peacemakers than any other length. In fact, of the 37,063 Single Action Army models ordered for the U.S military with 7-1/2 inch barrels, a total of 14,900 were altered by the Springfield Armory in 1898, refurbished and returned to the U.S. government with their barrels shortened to 5-1/2 inches! Previously, the Army had sent 2,000 revolvers to Colt's for refurbishing in 1895-96, and 1,200 of those were also shortened to 5-1/2 inch barrel lengths. While the 7-1/2 inch model was most often illustrated in Colt's advertising and regarded as the standard Single Action Army version, the number of 5-1/2 inch models being carried by lawmen, outlaws, and cowboys from the 1870s to the early 20th century, and by the U.S. Cavalry in the 1890s, certainly hinted that the 7-1/2 inch wasn't the most popular barrel length.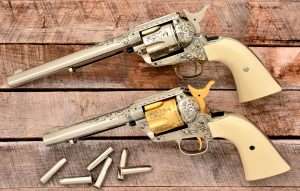 The 5-1/2 inch was a little lighter, better balanced in the hand, and faster to draw from an open holster (the Cavalry for the most part still used full flap or half flap holsters for revolvers). The 5-1/2 inch model was also preferred over the 7-1/2 inch by quite a few lawmen and some very famous Texas Rangers. So its seems appropriate that the number two gun for this test of accuracy vs. barrel length is the Umarex Colt 5-1/2 inch model. As noted in Part 1, the 5-1/2 inch model has a ½-inch recess from the pistol's .45 Colt caliber muzzle to the actual 4.5mm rifled steel barrel liner. So it is a 5.0 inch barrel vs. a 6-3/4 inch barrel at 10 paces today.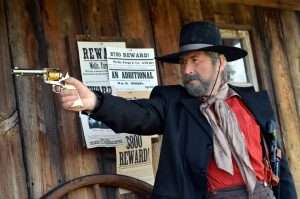 The 5-1/2 inch CO2 Peacemaker sends 7.0 gr. lead wadcutters downrange at an average velocity of 342 fps. The gun has a maximum rated velocity of 410 fps but I have never come closer than 360 fps. Firing offhand at 10 meters I couldn't buy a bullseye but managed to group pairs to the right of center with a total spread for six shots of 0.875 inches and a best five measuring 0.687 inches. Pretty close to matching the 7-1/2 inch model's accuracy, my best five offhand with the longer barrel measured 0.685 inches.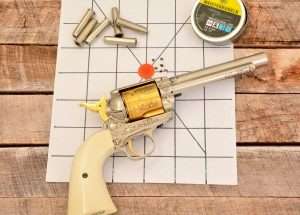 Firing from the pistol rest the 5-1/2 inch barreled hand engraved Nimschke model sent six rounds into a 0.875 inch spread around the bullseye with one in the red and a best five shots also at 0.875 inches. The 5-1/2 inch CO2 Peacemaker is just about equal to the 7-1/2 inch for overall accuracy and both can easily keep six rounds at under an inch from 10 meters. Now, can a 3-1/2 inch rifled barrel Peacemaker (or rather Ace) do the same?