Training with Airguns
The trigger pull conundrum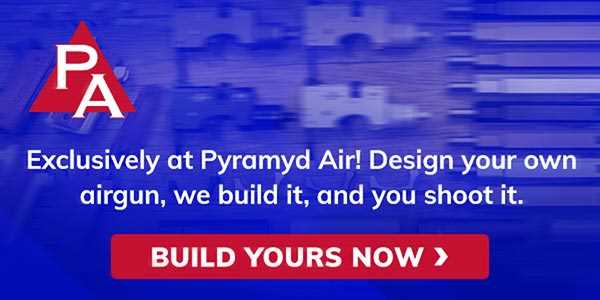 By Dennis Adler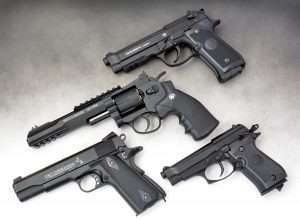 Blowback action airguns, and cartridge loading BB or pellet revolvers, are designed to be as close as possible to their cartridge-firing counterparts in features and operation, but not everything can be accurately recreated. Obviously, there is no appreciable recoil with an air pistol or the sound of gunfire, (of course, with the increasing use of noise suppressors on cartridge-firing handguns and rifles, the latter is becoming less of a defining characteristic, but that's another story for another time).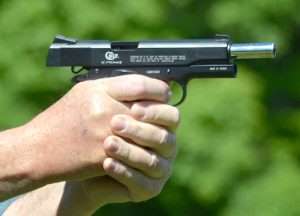 From a training perspective, blowback action CO2 semi-autos are designed to provide the sensation of a handgun slide being driven back after a round is fired. The slide's job is to first eject the spent shell casing as it travels back, then at the end of its rearward motion either re-cock an internal hammer or striker, or an external hammer. At this point, the compressed recoil spring takes over and drives the slide forward again to strip a new round from the magazine, chamber it, and return to its locked position so the gun can fire again. This is the process with all semiautomatic handguns, and with the exception of ejecting a spent shell case, it is the same process with a blowback action CO2 semi-auto. And this brings us to the one part of every handgun that puts all of this into motion, the trigger.
Three trigger types
There are three basic types of trigger in use on the majority of handguns and in practice they are the same mechanisms whether firing a BB, a pellet, or a bullet. There are double action/single action (DA/SA) triggers for semi-autos and revolvers; double action only (DAO), for semi-autos and revolvers with internal or shrouded hammers; and single action (SAO), for semi-autos, as well as revolvers. For revolvers, this generally relates to 19th century-style handgun designs like a Colt Peacemaker.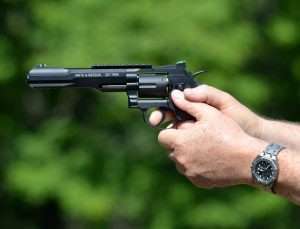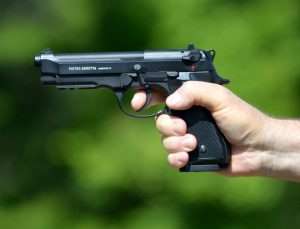 The goal with a quality CO2 pistol (revolver or semi-auto) is not only to give it the look and feel of a cartridge-firing handgun, but a trigger that also operates and feels the same. Those with the best triggers are the best airguns to train with, because trigger control can make or break the accuracy of a handgun, no matter what is coming out the end of the barrel. This is where training with an airgun begins.
Double Action, Single Action Revolvers
Manufacturers like Umarex have put great effort into getting the triggers right on their CO2 handguns (and rifles). Revolver triggers in particular have a hard job because they not only have to fire the handgun; they also have to rotate the cylinder when the gun is fired double action. Thus the trigger pull is considerably greater. Fired single action, when the hammer is manually cocked, (which is what actually rotates the cylinder) trigger pull is generally very light. On cartridge-firing revolvers, trigger pull can also be adjusted by a qualified gunsmith (or gunmaker) for competition shooting.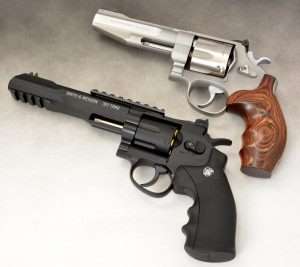 For Umarex, the DA/SA hallmark is the S&W TRR8 airgun based on the series of TRR8 models produced over the years by Smith & Wesson, including the current M&P version. This is a very good starting point for our exploration of airgun triggers. The cartridge-firing TRR8 is an 8-shot .357 Magnum, which had its beginning with an S&W Performance Center model known as the 627-PC, (pictured with the S&W TRR8 airgun). The Umarex model is based on the S&W M&P 357 TRR8. The M&P version is designed both for competitive shooting and special weapons and tactical use. It can also accommodate optics and laser/tactical light combinations by adding rails. The S&W TRR8 barrel is already drilled and tapped for mounting an accessory rail, whereas the TRR8 airgun comes already equipped with frame and under barrel rails. In comparison, the Performance Center pistol's trigger pull averages 10 pounds, 12 ounces double action and 5 pounds, 13.5 ounces single action. Trigger pull on the Umarex TRR8 averages 9 pounds, 2.5 ounces double action and 5 pounds, 6.5 ounces single action. This is very close to the trigger pull on cartridge-firing models.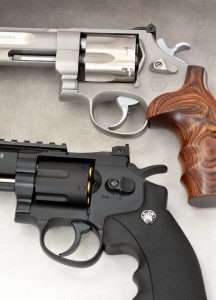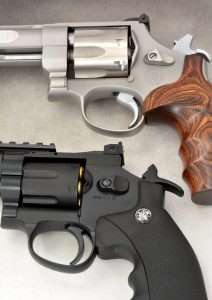 Staging a revolver trigger
Firing single action, by first cocking the hammer, you can perfect target shots with the Umarex TRR8 as you would with a cartridge gun, since trigger pull is short and light by comparison. Like the .357 Magnum version, the Umarex trigger can also be staged when firing double action (a fixed point where the trigger stops momentarily as the cylinder rotates into battery).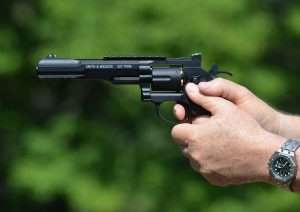 Learning how to consistently lock the action at this point allows a more accurate and smoother pistol shot for slow fire target shooting. There is, however, a fine line between finding this point and pulling all the way through to discharge the gun double action. The airgun allows you to learn this by feel and to establish muscle memory for trigger pull operation. Even if you never own a .357 Magnum M&P TRR8, the lessons learned about trigger control are not wasted.
Semi-Auto triggers
Like revolvers, semi-autos can use a single action trigger, like a Colt Model 1911 for example; a double action/single action trigger, such as a Beretta 92 A1, Walther P99 and PPK; or a DAO (double action only) trigger.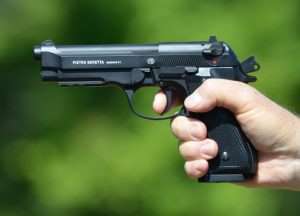 I am going to use the Umarex Beretta Model 84 FS air pistol featured in the last article as an example, and while it does not have a proper DA/SA trigger like the cartridge-firing Beretta or the new Umarex 92 A1, it has a trigger that can teach you a great deal about reset.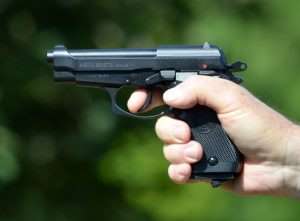 This varies from one handgun design to another, but is simply the point when the trigger, when released after firing the gun, moves forward until it resets the sear to engage the pistol's hammer or striker. Some pistols require almost a full release of the trigger to reset, others have a short reset, and this can apply to either a single action or double action trigger. A short reset makes rapid fire easier since the trigger finger moves less distance to fire again. This same dynamic applies to air pistol trigger designs. The Umarex Beretta Model 84 FS has a short reset trigger. This is something you will not find on a lot of air pistols and that makes it worth owning just for this feature alone!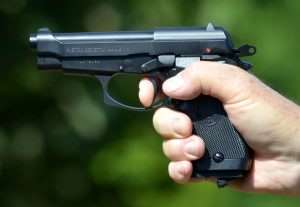 Without recoil, without the sound of gunfire, you can focus on trigger control, learn how it feels, what to feel and how to make the best use of that experience, especially learning how to use trigger reset to your advantage for followup shots. Training with a quality air pistol will make you a better marksman when you step up to the firing line with a cartridge gun.
A word about safety
Blowback action airguns provide the look, feel and operation of their cartridge-firing counterparts and this is one reason why they have become so popular. Airguns in general all look like guns, blowback action models more so, and it is important to remember that the vast majority of people can't tell an airgun from a cartridge gun. Never brandish an airgun in public. Always, and I can never stress this enough, always treat an airgun as you would a cartridge gun. The same manual of operation and safety should always apply.