Umarex 850 M2 Part 2
Latest evolution of a classic Hammerli air rifle
By Dennis Adler
Air rifles that are not copies of semi-auto or select-fire rifles are a different breed of airgun than I usually cover in Airgun Experience and the few exceptions, like the Air Venturi Seneca Aspen, have been impressive new designs. The Umarex 850 M2 is neither new nor technically impressive but rather familiar and welcomed because it continues a design by Hammerli that was always well liked by air rifle enthusiasts. The handful of improvements the M2 brings to the design are almost inconsequential for general sport shooting, but each adds to the versatility of the gun for target and precision shooting. With the addition of the short Picatinny rails around the forearm adding a UTG 28ST bipod (or any rail-mounting bipod) takes the 850 into new territory for target work. Combined with a good scope, the 850 in .22 caliber is a much more capable air rifle than its predecessor.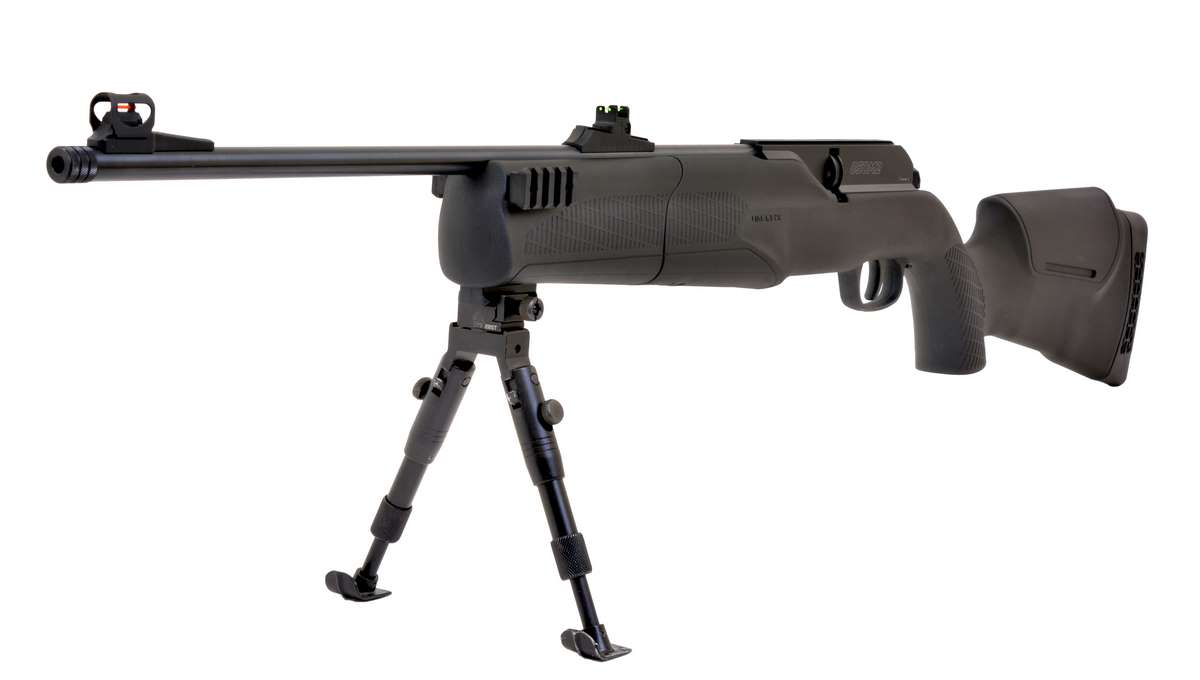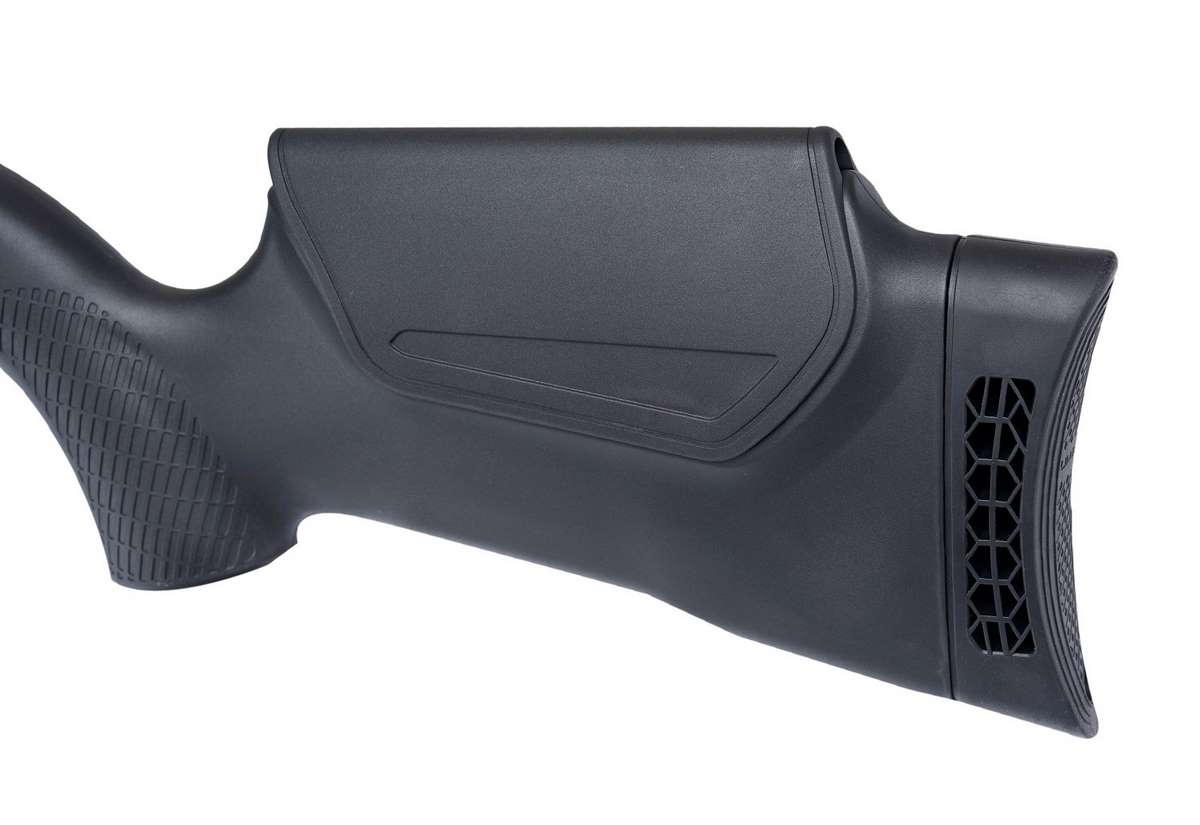 Running through the steps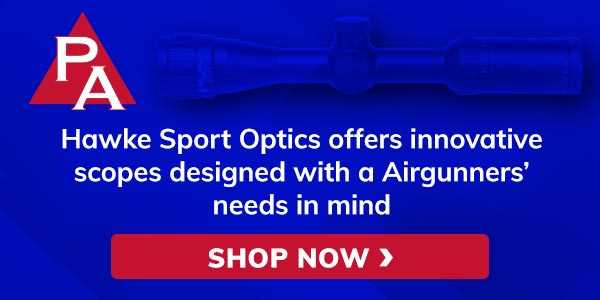 For me, and probably for a good many of you, the 850 M2 is a different kind of CO2 air rifle. Most of you have been looking at ways to upgrade some of the better CO2 models like the Mosin-Nagant and M1 Carbine with optics and it has been a little challenging. The 850 M2 makes it easy, and also gives you far greater range and accuracy being a pellet rifle. Pesky varmints beware! The M2 in .22 caliber has the FPE to bring down small game.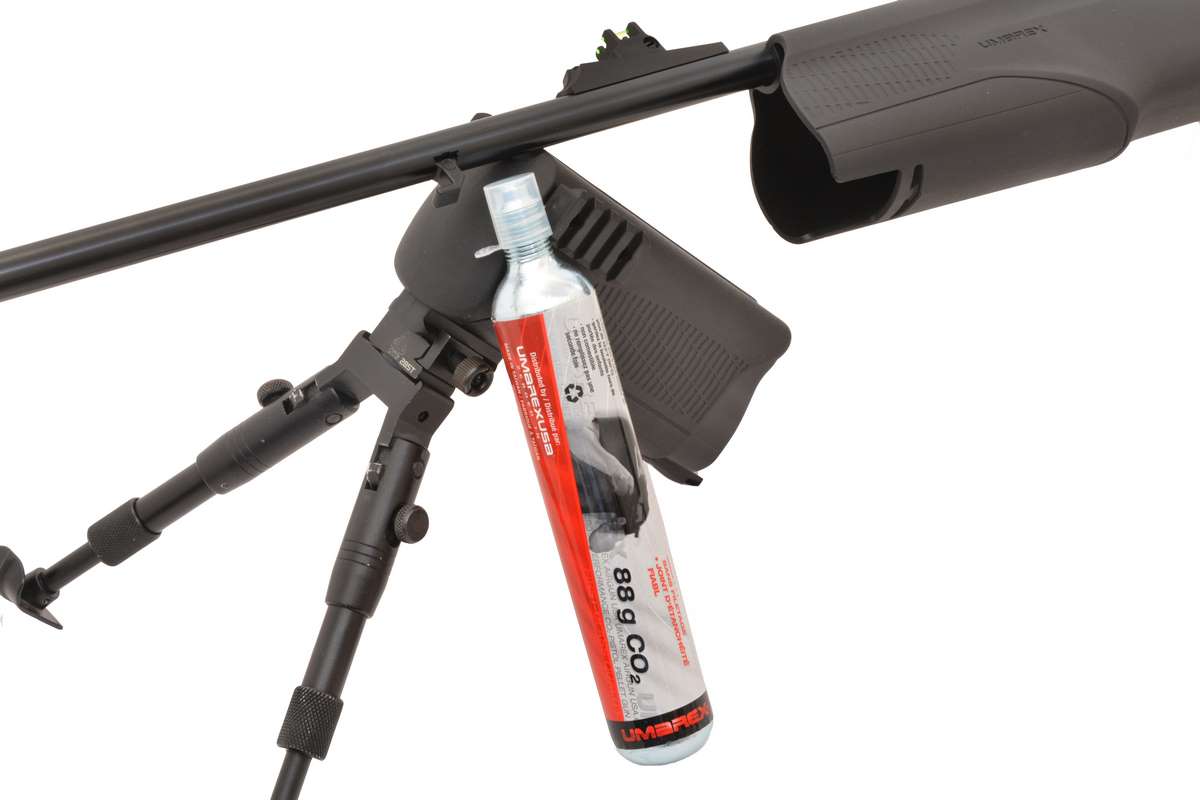 One of the advantages and disadvantages of a CO2 rifle like the 850, that is powered by an 88 gram cylinder, is the sense of commitment to shooting. You get more from an 88 gram CO2, more power, more shots, but like any CO2 cartridge, it is not intended to remain in the gun for extended periods. The 88 gram gets you up to 200 shots with velocities in the low to mid 600 fps range (Umarex states 620 fps with alloy pellets and 530 fps with lead pellets), but 200 shots at 8-shots per rotary magazine equals 25 reloads. For target practice, with more costly .22 caliber pellets, and the price of 88 gr. cartridges, roughly $16 for two from Air Venturi, a few dollars more for other brands, and around $10 for 200 quality .22 caliber pellets like H&N Sport Baracuda Hunter Extreme or Baracuda Match, (or less costly H&N Sport wadcutters at under $6 for 250), it averages about .72 cents per every eight shot magazine fired, or $17 and change for 200 shots with quality pellets and an 88 gram CO2. Compared to rimfire ammo you can get 500 rounds of Federal Champion for less than $20 (about 0.4 cents per shot and times 8, just 3.2 cents compared to .72 cents with the air rifle. You can get 200 rounds of CCI for about $11, so bottom line, shooting an air rifle like the 850 M2 can be a little more expensive than a .22 caliber rimfire rifle. Of course, you'd be hard pressed to go plinking in your backyard with a .22 rifle, unless your back yard has a lot of acreage and not too many neighbors. If you live out in farming and ranching country like I do, you can probably shoot all day. (Rare is the weekend, when I don't hear someone firing a semi-auto rifle within earshot.) The 850 M2 isn't the least expensive way to shoot with CO2, but it is actually as much or more fun than a rimfire rifle!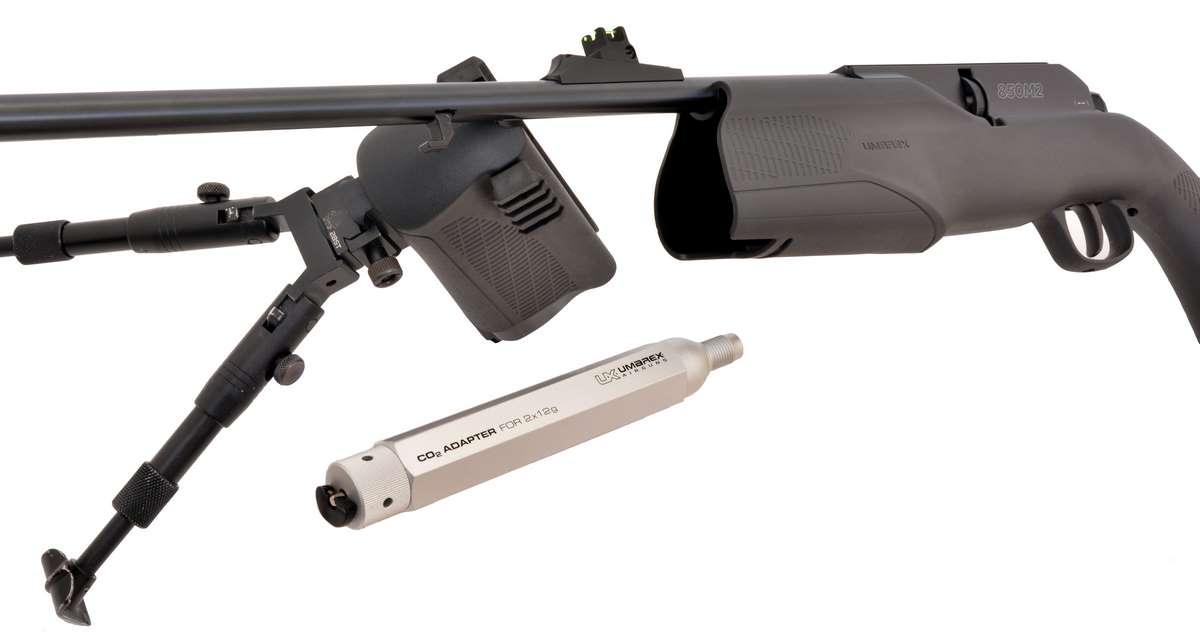 This is where the auxiliary dual 12 gr. CO2 adapter come into play. The device was originally developed for the 850 Air Magnum in 2012 (five years after its introduction) as part of a combo accessory kit that included the dual 12 gr. adapter and a Walther 6×42 scope. The 2×12 CO2 adapter was also part of the 850 Air Magnum classic version which came with a hardwood stock. As a separate accessory, the adapter sells for $29.99. The Umarex adapter works with the original, 850 Air Magnum, new 850 M2 as well as the Umarex Air Javelin and other CO2 powered airguns and air rifles made for 88-gram tanks.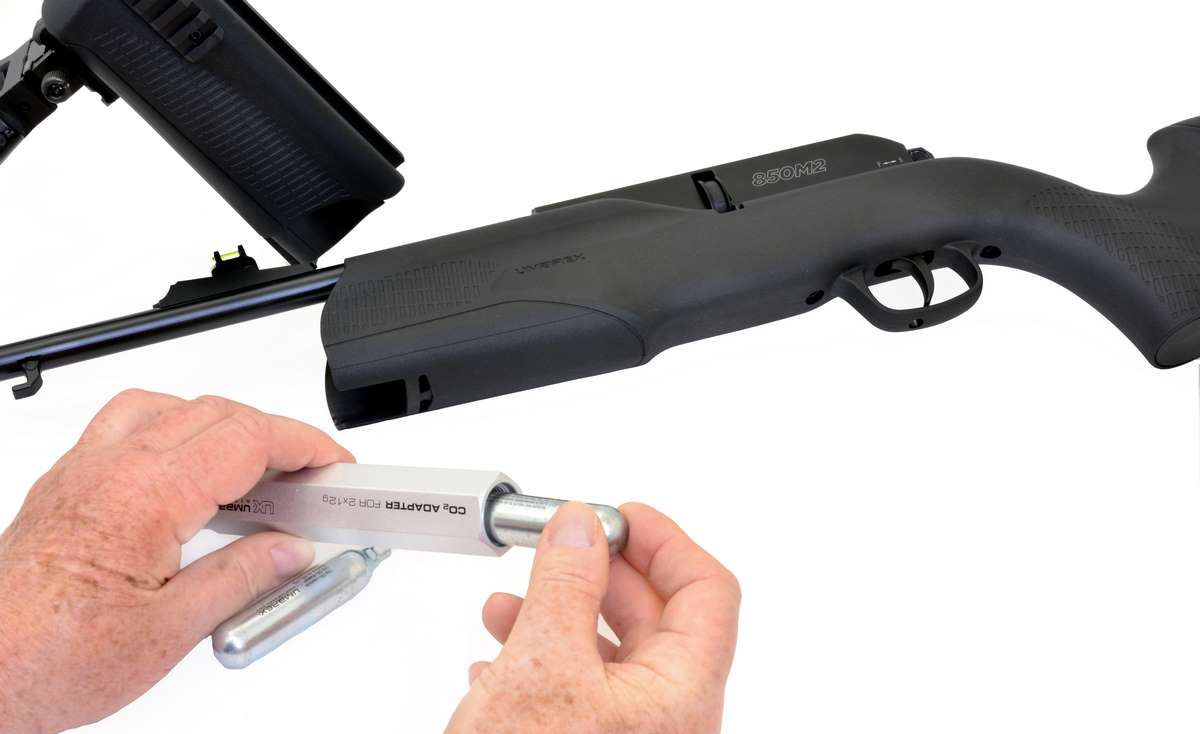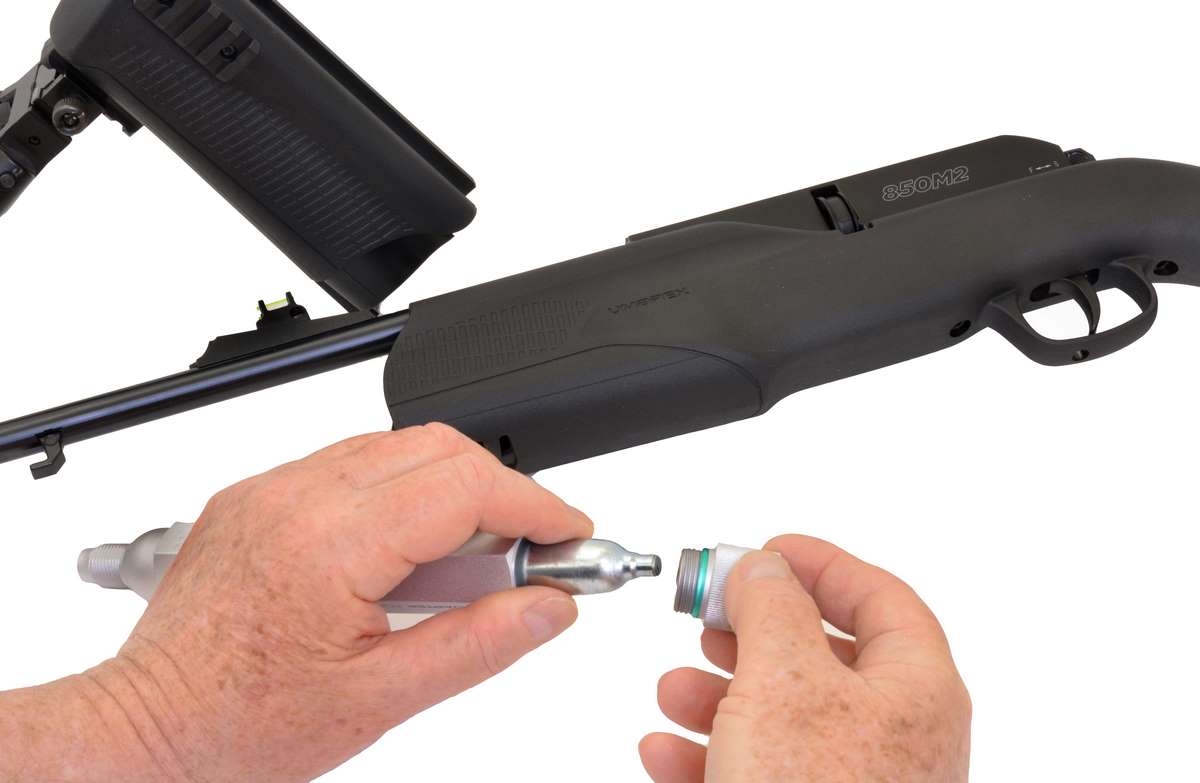 This makes 12 gram CO2 cartridges, which are far less expensive and easier to find in retail stores, suitable for the 88 gram guns and is especially beneficial for those who want to take fewer shots. And unlike an 88 gram, the 2×12 adapter can be unscrewed from the rifle without losing the remaining CO2 in the cartridges. A box of 12 Umarex 12 gr. CO2 cartridges sells for around $9 and that gives you six CO2 reloads for the 850 M2 at a cost of $1.50 each. It's really a win-win accessory, and where we begin with evaluating the .22 caliber 850 M2 for average velocity.
Loading CO2 into the 2×12 Adapter
This is just like loading 12 gr. CO2 back-to-back in the Legends Cowboy Lever Action Rifle or the M1A1 Thompson/MP40 magazines. The 12 gr. facing in is pierced by a pin at the front of the air chamber, and when the rear cap is screwed down the piercing pin in the cap punctures the forward facing CO2. The polished air chamber fills with the CO2 from both cartridges and becomes a pre-charged cylinder that can be threaded onto the CO2 collar inside the 850 M2's receiver, just like an 88 gr. CO2.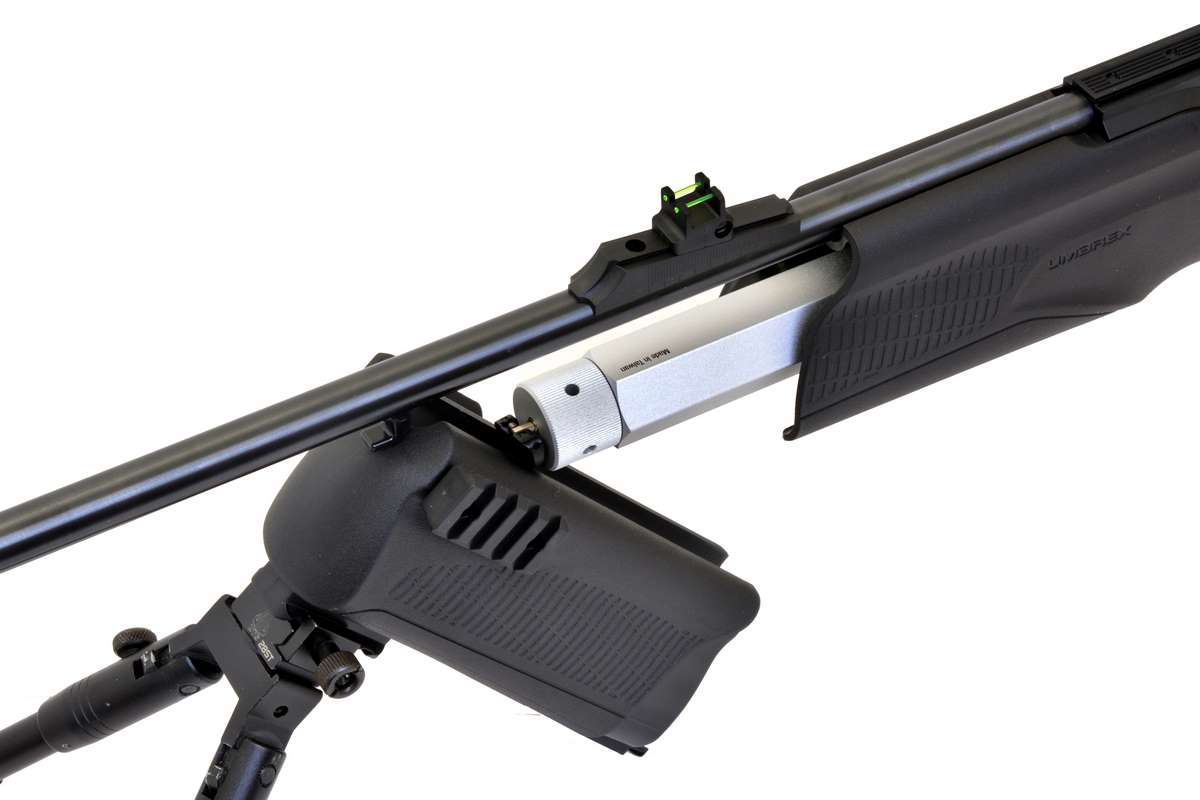 The full-size 88 gr. is standardized (88 gr. and 90 gr.) for air rifles like the Sig Sauer MCX, for example, which load the 88 gr. directly into the rear of the receiver after removing the shoulder stock. The stock then shrouds the CO2 canister. It is quite the opposite with the Umarex 850 M2 (and 850 Air Magnum) which loads the CO2 into the front of the receiver after removing the forward portion of the forend. Same results, though, and honestly, this feels better because you have a much better shoulder stock with the 850 M2 compared to the tactical style of guns like the Sig Sauer. Whether you use the 2×12 gr. adapter or the full 88 gr. the 850 M2 will deliver peak performance, just for fewer shots with the 2×12 gr.
Today, I am going to chronograph three different H&N Sport .22 caliber lead pellets, first 13.73 gr. Sport wadcutters, then 21.14 gr. Baracuda Match domed pellets, and last 18.62 gr. Baracuda Hunter Extreme hollow points used for small game hunting.  The comparisons will also be rated in muzzle energy. And we begin clocking the lighter weight H&N wadcutters powered by the 2×12 gram CO2 adapter. The Sport clocked an average velocity of 555 fps which generates 9 ft. lbs. of energy (13 joules for those in Europe). The highest velocity with the Sport pellets was 566 fps, which increases energy to 10 ft. lbs. and 13 joules. Standard deviation for eight shots was 7 fps.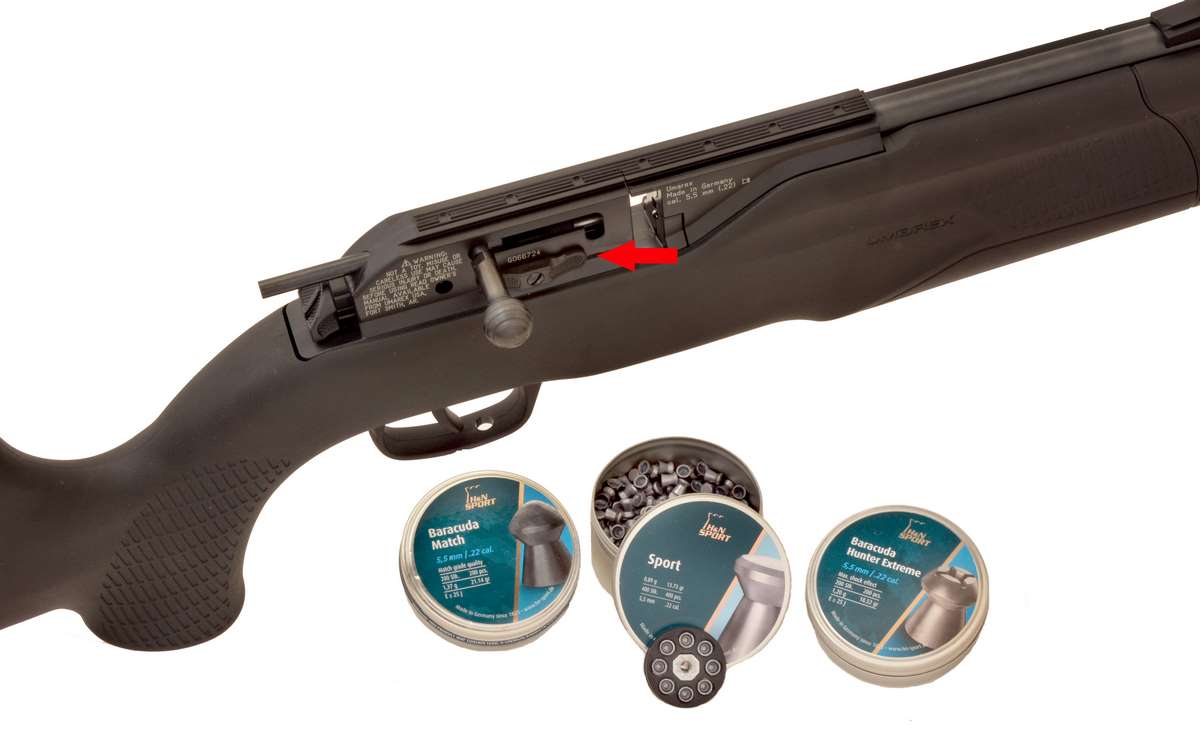 The Baracuda Match clocked an average of 457 fps generating 10 ft. lbs. (13 joules), with a high of 468 fps, 10 ft. lbs. (but 14 joules). The heavy hitting 18.52 gr. Hunter Extreme hollow points averaged 485 fps and 10 ft. lbs. of energy (13 joules). That is sufficient velocity and FPE for small game (from medium to large birds up to squirrel sized game and rabbit sized game, optimally 9 FPE or better).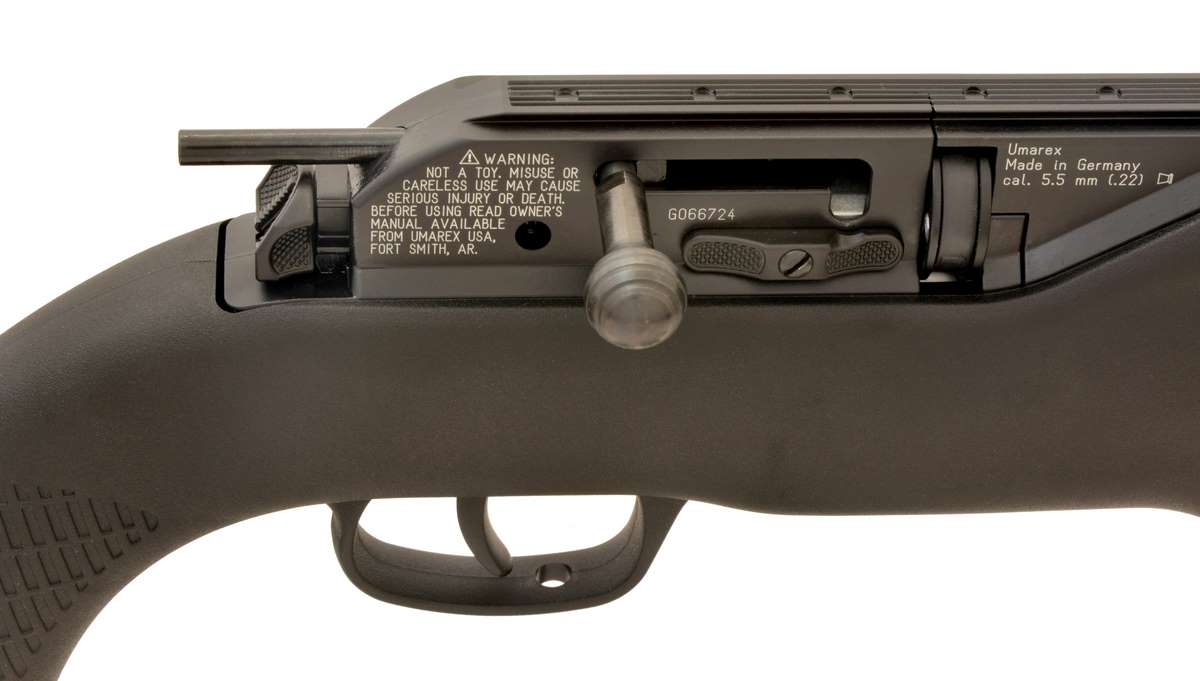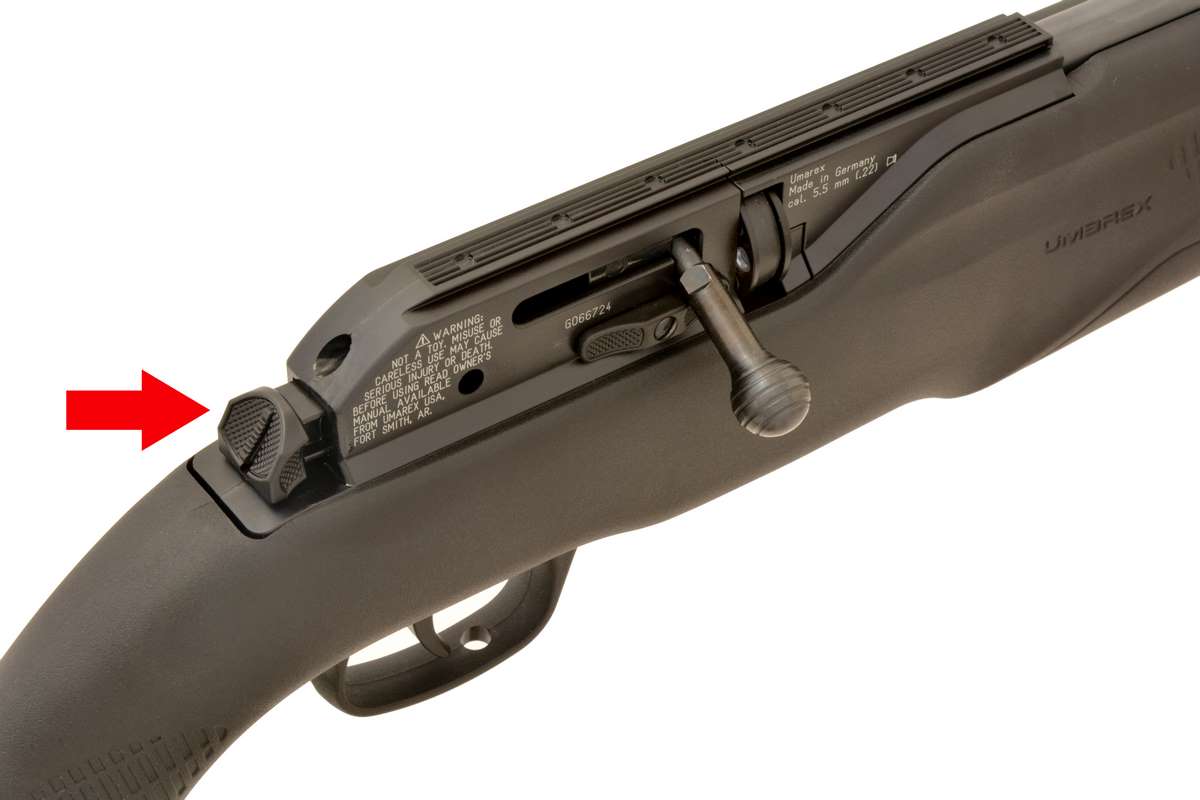 First impressions with the 850 M2 are that like its famous Hammerli predecessor, the M2 shoulders easily, balances well, and the light adjustable trigger (left as sent to me by Umarex) has a very smooth pull that averaged 3 pounds, 4.4 ounces.
In Part 3 it's into the field for some long range shooting with open sights (weather permitting).